Garlic Butter Salmon in Foil Recipe
This Garlic Butter Salmon in Foil recipe is an ultra-easy dinner to make during your busy weeknights. It's ready in less than 30 minutes. The sauce is absolutely delicious and made with the melted butter, minced garlic, some fresh herbs and lemon slices. I'm absolutely sure that you'll love this butter sauce.
This salmon recipe is also a great dinner option if you need to make something very quick. This salmon is cooked in less than 30 minutes. On top of that, you probably have all the ingredients in your pantry to make this salmon recipe.
The longest thing you need to do is to melt the butter, mince the garlic and squeeze the lemon juice. Then you just need to whisk everything together and pour the butter sauce over the salmon.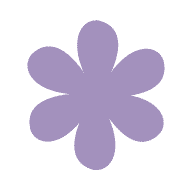 MY OTHER RECIPES
Season it with salt, black pepper, oregano and red pepper flakes. Then, fold the sides of the foil over the salmon and bake it (don't forget to preheat the oven). Then, in less than 30 minutes or so you'll have this delicious baked salmon recipe to serve for dinner.
Everybody will love this salmon recipe because it's a very family friendly recipe to make during the busy week nights.
This recipe was first published in March 2017. I updated this post in June 2018 with new pictures and content.
Which type of salmon is best for you?
People always discuss about this topic because of the wild salmon fillet from Alaskan and the farmed Atlantic salmon fillet.
Farmed salmon is raised in fish farms, also known as aquacultures. On the other hand, wild salmon is raised in its natural habitat such as rivers and oceans. Also, the diets are different: wild salmon eats organisms found in its natural environment and farmed salmon eats processed feed.
The wild salmon color will be more intense and vibrant than farmed salmon too.
But, it is important to keep in mind that farmed salmon is still very healthy. It's a good source of Omega-3 fatty acids and vitamins A and D also. However, wild salmon packs more nutritional benefit per ounce.

Is fresh salmon better than frozen to make this recipe?
You can make this salmon recipe with either fresh or frozen salmon. I normally use fresh salmon fillet because I find it easily at my local grocery store.
Seafood has a very fast freezing process. You can cook frozen salmon in a pan, in the oven and on the grill. Remember to pull the frozen fillet from the freezer in the morning and put it into the fridge to thaw. It'll be perfect to make this salmon recipe at dinnertime.
Can I use parchment paper instead of aluminum foil to make this Salmon Recipe?
Yes and no. Let me explain it better for you. For this salmon recipe, we'll steam the salmon fillet and then, we're going to broil it.
If you want to skip the broiler step, you sure can use parchment paper (affiliate link). Just remove the salmon from the oven and make sure it reaches the internal temperature of 145F. Please, remember to always insert the meat thermometer into the thickest part of the salmon.
If you prefer to bake and broil the salmon, you need to use aluminum foil. Foil is more resistant to high temperatures.
The steam step is great to keep the salmon moisture and flavourful. That's why this is the most important step. And the broil step gives this salmon recipe a crisp and caramelized crust. Yum!
Can I use Clarified butter (Ghee) to make this recipe?
Before answering this question, let me explain what is ghee. It' s just a kind of clarified butter that it's made by melting regular butter over medium high temperature.
The butter separates into liquid fats and milk solids. When the milk solids are removed, you have your clarified butter. Because the milk solids are removed, ghee contains less lactose then regular butter. Besides that, ghee has a high smoke point, which is great for cooking.
It's easy to make homemade ghee (here is a great tutorial teaching how to make it). But I normally buy ghee online at Amazon since it's more convenient.
You can find here a great list of ghee to buy it. And yes, you totally can use ghee to make this recipe, although regular butter is also delicious in this recipe too. You can also use olive oil if you prefer.
This post contains affiliate links. For more information, please visit my disclosure page here.
What is the best seasoning for salmon?
I use to say that salmon goes really well with almost any type of spice you would like to use.
My favourite seasonings to make this salmon recipe are: garlic, salt and black pepper, Italian seasoning, fresh parsley or dill. Mm… The best! Simply delicious!
How long do you cook salmon in the oven at 400?
It will depend on the size and the thickness of your salmon filet. If your filet is very thick I would say about 15 minutes in the oven at 400ºF. But it has a normal size I would say about 12-13 minutes or until salmon flakes easily with a fork.
You can serve this Salmon Recipe with:
Garlic Parmesan Cauliflower Rice
Want other salmon recipes? Try these favorites:
Watch Below How to Make This Garlic Butter Salmon in Foil: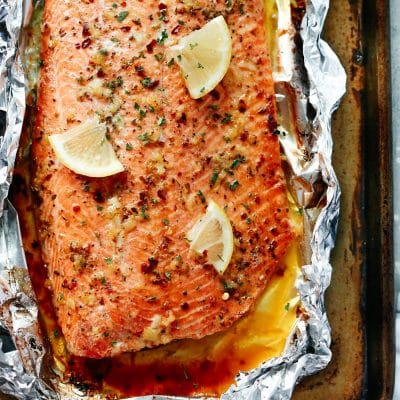 Garlic Butter Salmon in Foil
This Garlic Butter Salmon in Foil is an ultra-easy and a flavourful dinner to make during your busy weeknights. It's ready in less than 30 minutes and is delicious with salads and roasted veggies.
Ingredients
1 ¼ pound salmon
2 tablespoons lemon juice
2 cloves garlic — minced
3 tablespoons melted butter or melted Ghee
1/2 teaspoon salt
¼ teaspoon black pepper
¼ teaspoon oregano
1 tablespoon chopped parsley — for garnishing
Instructions
Preheat oven to 375 degrees F. Line a

baking sheet

with

foil

. The piece of foil should be big enough to fold over and seal the fish.

In a small bowl, add lemon juice, garlic, and melted butter or melted ghee. Whisk everything together.

Place salmon on prepared baking sheet.

Pour the butter mixture over the salmon.

Season with salt, pepper, oregano, and red pepper flakes.

Fold the sides of the foil over the salmon. Make sure it is well sealed so the sauce does not leak.

Place into oven and bake until cooked for about 12-16 minutes*.

Open the foil and broil the fish for 2-3 minutes. Be careful not to burn the fish!

Remove from the oven. Using a spoon, pour some of the butter sauce left in the foil onto the salmon before serve. Then, garnish with parsley.
Course: Main Course
Cuisine: American
Keyword: Baked Salmon recipe, Garlic Butter Salmon in Foil, gluten-free, low-carb, Salmon recipe
Nutrition Information
Amount per serving (1/4) — Calories: 250, Fat: 18.1g, Saturated Fat: 6.9g, Cholesterol: 105mg, Sodium: 201mg, Carbohydrates: 0.5g, Fiber: 0.1g, Sugar: 0.1g, Protein: 29.6g
If you make this recipe, please don't forget to snap a photo and hashtag it #primaverakitchen. I really want to see!
This post contains affiliate links. For more information, please visit my disclosure page here.
If you like this Garlic Butter Salmon in Foil recipe, please share with your friends and family. Do you want to taste more? Subscribe to my newsletter and follow Primavera Kitchen on Twitter, Pinterest, Google+, Instagram, and Facebook for all delicious recipes updates. As always, I really appreciate you stopping by.
As a memory, I kept the original photo from 2017!