This delicious spicy salmon recipe is made with loads of flavorful spices and yummy melted butter. Whip it up fast! Your salmon will be done baking in just 20-25 minutes. Don't forget to turn on the broiler for a few minutes to crisp things up.
Buttery, mouthwatering spicy salmon recipe is perfect when you need an easy weeknight dinner, though it also feels a bit fancy and works nicely for hosting company. Another great plus? It's undoubtedly versatile and goes with almost any side dish!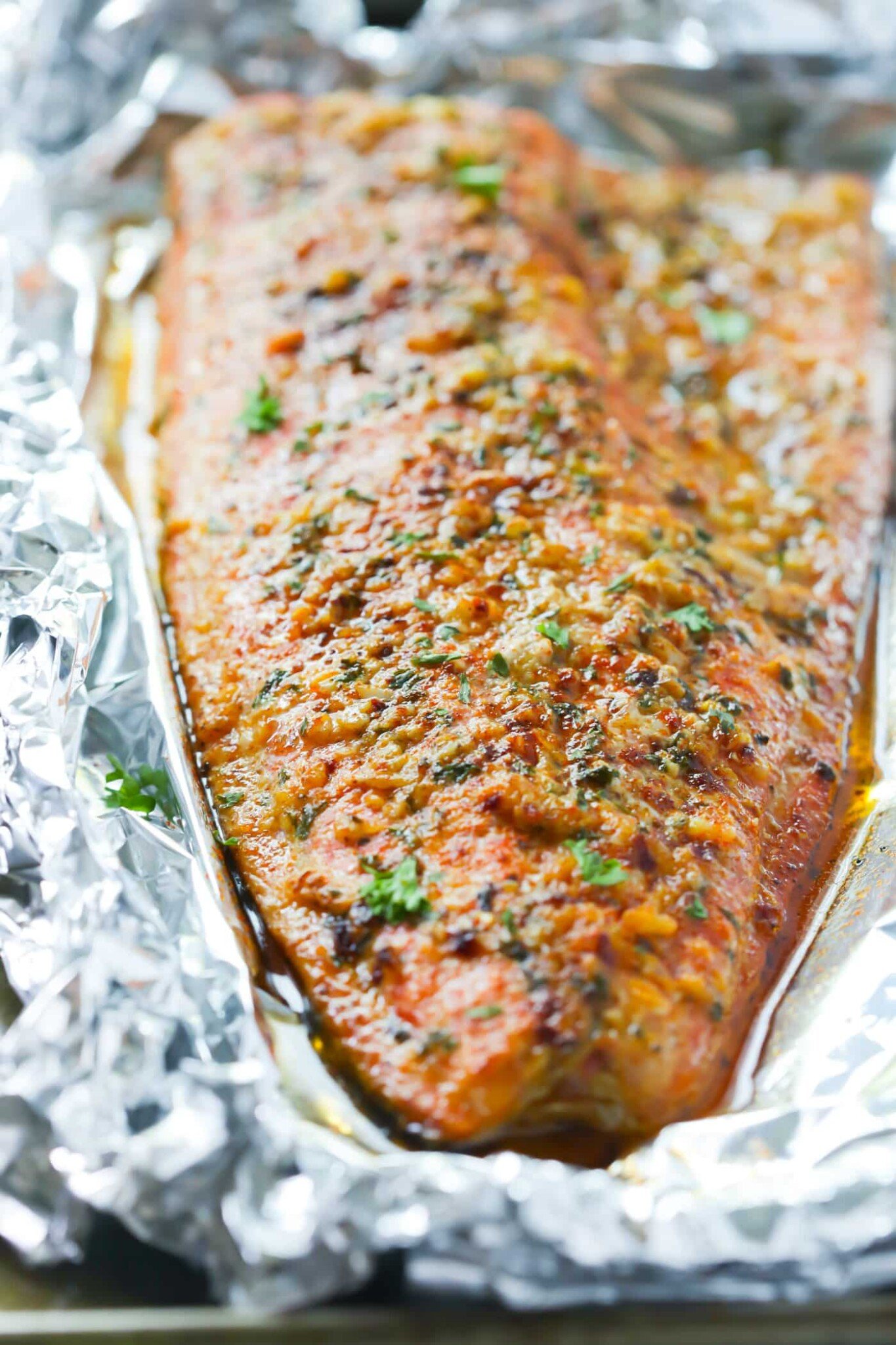 If you're looking for another quick and easy fish recipe, be sure to check out my Garlic Butter Halibut Fish or Baked Tilapia, Garlic Butter Cod or Easy Grilled Fish Tacos!
How To Make This Spicy Salmon Recipe
Ingredients
Salmon fillets — You'll need one pound of fresh, wild caught or farm raised salmon!
Butter — I prefer unsalted, though either will work.
Seasonings — I generally use onion powder, crushed red pepper flakes for some heat, smoked paprika, salt, pepper and dried parsley.
Garlic — Mince up one fresh clove, you can also use a jar of minced garlic.
Parsley or green onions – for garnish.
Instructions
Prepare salmon:
First, preheat your oven to 375°F (190°C).
Line your baking sheet or an oven safe pan with a VERY big sheet of aluminum foil, you want it to be large enough that it will fold over the fish, covering it while it bakes.
In a small bowl to the side, melt your butter, then whisk all seasonings and minced garlic into the butter. Place fish on the foil and drizzle with butter and seasonings, use a pastry brush to spread mixture evenly over salmon.
Cover and bake:
Loosely fold foil over the salmon so that it's completely covered and scrunch the edges together to create a seal to prevent butter and seasonings from running out.
Bake for 20-25 minutes.
Uncover and broil:
Remove salmon from the oven and carefully unfold the foil to expose fish.
Return to the oven and broil for 3-4 minutes, on high, to create a nice golden brown finish on top.
Allow spicy salmon to rest for a few minutes, then serve and enjoy!
Recipe Tips
Instead of chopping up a whole garlic clove, you can use about a teaspoon of jarred, minced garlic to save some time.
Wrap foil loosely around the fish. If you wrap it too tightly, it will cling to the top of the fillet and might pull off some of the fish when you remove it.
You do not need to flip your salmon halfway through baking, simply leave it in the same position and it will cook evenly.
The broiler works fast, so keep a close eye on things to avoid burning your fish.
Recipe Variations
Make it sweet: Add a drizzle of honey to your butter and spice mixture, agave nectar also works.
Try it mild: Leave out the crushed red pepper flakes for a milder flavor profile and certainly feel free to play around with any spice combo you like!
Add some citrus: Top your fish with lemon slices while it's baking for a bit of citrus flavor. Or squeeze a little bit of lime juice/lemon juice on top of it before serving.
Extra spicy: If you're a spicy food lover, add some cayenne pepper to your spice mix and take things to the next level. Or you can add sriracha and a bit of soy sauce too.
Make packets: Cut your salmon into four, quarter pound fillets and cook in individual packets, kind of like this salmon and asparagus (feel free to add some veggies into your individual packs).
How To Store Leftovers
To Store: Allow any leftover salmon to cool down, then transfer it to an airtight container and store in the refrigerator for up to 3 days.
To Freeze: Leftovers are also freezer friendly! Transfer cooled fish to a freezer bag or freezer-safe container and store frozen for up to 4 months.
To Reheat: Thaw leftovers in the refrigerator overnight (if reheating from frozen). Warm in the microwave, air fryer, oven or in a skillet on the stovetop with a drizzle of olive oil. You can also shred or chop leftovers to make a chopped salmon salad, there's no need to reheat if you go this route.
What To Serve With Spicy Salmon
Recommended Tools For This Recipe
Baking Sheet: Approximately 18×13 inches. This baking tray is flexible and stackable, making it easy to store, saving more space. It also has high-quality non-stick coating.
Aluminum Foil: Any brand will work fine. But I like this one because it's a recycled aluminum foil and the package has a tab that keeps the box fully closed for storing after use
Pastry Brush: I recommend silicone because the silicone bristles will not break or shed in your food.
Frequently Asked Questions
What is the different between wild-caught and farm-raised salmon?
Wild caught salmon is just what it sounds like, fish caught in rivers, lakes or the ocean! Farmed salmon are bred and raised in large tanks or cages so they can be easily harvested and sold.
Is salmon good for you?
Salmon's a great addition to your healthy diet. It's high protein and contains lots of omega-3 fatty acids, it's also rich B vitamins and a good source of potassium.
Should I cook salmon covered or uncovered?
I definitely recommend cooking it covered because this will trap moisture and keep your fish fillet from drying out. Plus, it keeps all of the spices and butter with the salmon, which makes this Spicy Salmon much more flavorful.
Spicy Salmon Recipe
This delicious spicy salmon is made with loads of flavorful spices and yummy melted butter. Whip it up fast! Your salmon will be done baking in just 20-25 minutes. Don't forget to turn on the broiler for a few minutes to crisp things up.
Instructions
Preheat oven to 375℉ (190℃). Line a baking sheet with foil. The piece of foil should be big enough to fold over and seal the salmon completely.

In a bowl

, add melted butter, onion powder, crushed red pepper, smoked paprika, garlic, salt, black pepper and dried parsley. Whisk together until everything is combined.

Place salmon onto prepared baking sheet.

Pour the butter mixture over the salmon and spread evenly with a silicone basting brush or a spoon.

Fold the sides of the foil over the salmon. Make sure it is well sealed so the sauce does not leak.

Place into oven and bake until cooked through, for about 20-25 minutes. (Baking time may vary slightly due to the thickness of fish and the power of your oven.)

Open the foil and broil the fish for 3-4 minutes. Please, be careful not to burn the fish.

Remove from the oven and serve it with veggies, salad, rice, or quinoa. Enjoy!
Tips
Use a jar of minced garlic to save time, if desired. 
Do not wrap the salmon too tightly as the tin foil can take off some of the salmon, making it less pretty when serving.
There's no need to flip spicy salmon halfway through baking. 

The broiler works fast, be careful not to burn you fish.

If you have leftovers, make this Chopped Salmon Salad recipe. It's amazing, perfect for lunch to bring to work and super healthy. Yum!
HERE is a full list of salmon recipes that are great for eating healthier with good quality protein. And HERE is a list of delicious side dishes to go with this spicy salmon recipe.
To store: Put leftover salmon into an airtight glass container and refrigerate for up to 3 days.
To reheat: Rewarm leftovers in the microwave or air fryer. 
To freeze: Place in a freezer-safe bag once the salmon has reached room temperature. Store frozen for up to 4 months.
Nutrition Information
Serving:
1
/4
Calories:
250
kcal
(13%)
Carbohydrates:
0.5
g
Protein:
29.6
g
(59%)
Fat:
18.1
g
(28%)
Saturated Fat:
6.9
g
(43%)
Cholesterol:
105
mg
(35%)
Sodium:
201
mg
(9%)
Fiber:
0.1
g
Sugar:
0.1
g
Nutrition information is calculated using an ingredient database and should be considered an estimate.
And if you like this Spicy Salmon Recipe, please share with your friends and family. Do you want to taste more? Subscribe to my newsletter and follow Primavera Kitchen on Twitter, Pinterest, Instagram, and Facebook for all delicious recipes updates. As always, I really appreciate you stopping by.