This pan seared blackened salmon recipe uses a homemade spice blend for crispy, flavorful fish. Make this 15 minute recipe for a delicious dinner!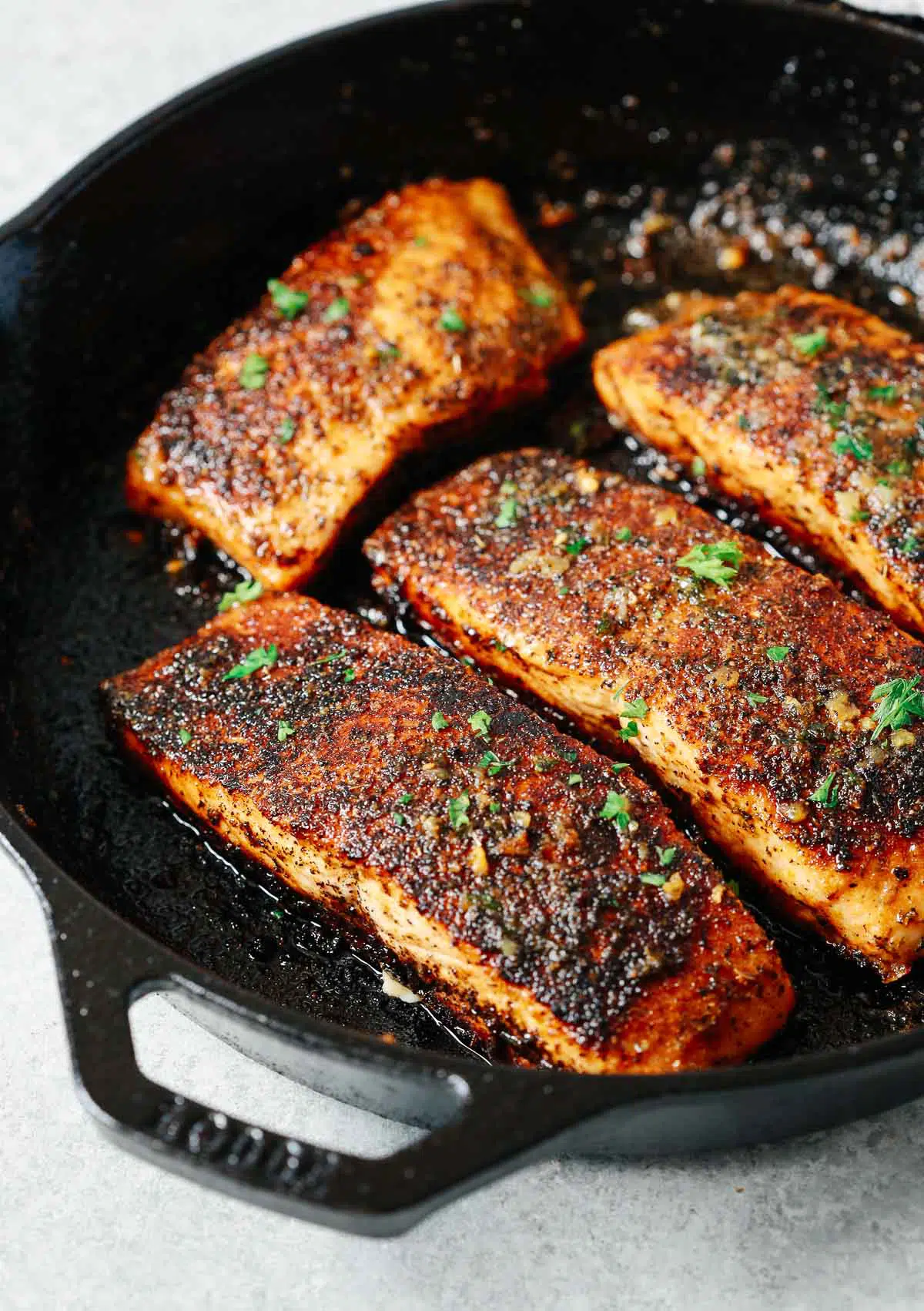 Quick and easy recipes are perfect for busy weeknights or full weekends. Being busy shouldn't prevent you from enjoying a healthy meal that's full of flavor.
This blackened salmon recipe really ticks all the boxes as it uses spices that are pantry staples and it takes only 15 minutes to make.
Salmon is such a simple protein to make and is rich in healthy fats, making it's a great choice for any meal! Salmon is also rich in Omega-3 fatty acids and rich in protein. Even better, if you have cut fillets frozen in your freezer, it doesn't take long to thaw it in cold water if you've forgotten to put it in the fridge the night before!
If you are looking for more salmon recipes, please try these ones too: How to Cook Salmon in the Oven, Easy Broiled Salmon Recipe, Air Fryer Salmon and Garlic Butter Baked Salmon.
What are blackening spices?
Blackening Seasoning is a specific seasoning blend, similar to Cajun or Creole seasoning. The spices used will vary by recipe, but the overall flavors are savory with a bit of heat.
However, the term blackening ALSO refers to the cooking process that is used to make the dish.
Subscribe for new recipes & a free e-cookbook
To blacken food is to cook it over high heat after applying the blackening spices. Essentially, the spices are burned, creating a black crust with smoky flavour on the outside of the food.
This particular blackened salmon recipe is fairly mild in flavor. To boost the spice level, add some cayenne pepper to the spice blend.
For this recipe, you'll need just salmon fillets, olive oil and your favorite spices.
How do you know when my blackened salmon is fully cooked?
The FDA states that once the salmon has reaches an internal temperature of 145°F as its thickest part, it is fully cooked.
If you don't have a meat thermometer, you can check when your salmon is fully cooked, by using a fork to check if it the fillet flakes apart easily.
How to make blackened salmon
Coat the fish in oil and spices, then sear over high heat to form a nice crust. Then, cook until the fish is cooked through and serve with your favorite sides.
INSTRUCTIONS
Make the spice blend: Combine all of the spices in a small bowl and mix together well. Be sure to measure them all out so the flavor balance is just right. This spice mixture will make your salmon very flavourful.
Prep the fish: Next, pour oil over the fillets and coat one side with the blackening spices. Gently pat the fish with your fingers so the fish is evenly covered.
Cook the salmon: Heat oil in the pan until it's shimmering and hot. Add the fish with the spice side down and sear until the spices are blackened. Then, reduce heat, flip, and cook until opaque and flakey. Top with parsley and fresh lemon wedges (optional) before serving. If you wish, squeeze some fresh lemon juice on top of salmon.before serving.
If you wish, squeeze some fresh lemon juice on top of salmon.
Recipe notes
Proper tools – It's important to use a good spatula to flip the salmon so it doesn't break apart. Fish spatulas are designed specifically for this purpose, but a wide flat spatula will work just as well.
Cooking pans – Because of the high temperature needed, a large cast iron skillet is the best pan to use. If you don't have one, stainless steel is the next best choice. Non-stick pans can be used, but the fish won't get as black as with the other pans.
Storage – Transfer leftover salmon fillets to an airtight glass container and keep in the refrigerator for 3-4 days. Or, portion them out into meal prep containers to have for lunches throughout the week.
Reheating – For best results, heat in a pan on the stove so the blackened salmon stays crispy. You can also heat in the microwave along with some sides for a full meal at once.

Frequently Asked Questions
How To Keep The Seasoning On
Be sure you pat dry the salmon before you season it. Since you are brushing oil onto the fillet first, the water would prevent the oil from coating the salmon. Once you've pat it dry, the oil and seasoning will stick much better.
What is that white stuff that comes out of salmon?
Sometimes while salmon cooks, there's some white liquid that comes out of the salmon fillets. It might look weird but not to worry, it's perfectly fine to eat.
The white stuff is called "albumin" and it's just protein that solidifies as salmon cooks. If it bothers you, you can scrape it off.
Should I remove the skin from the salmon before cooking?
There's no need to remove the skin before you cook it! The skin gets so crispy and is so tasty! For the crispiest skin, cook the salmon skin side down first. It's also easier to flip the fish with there's a layer of skin on it.
Ways to use this blackened salmon recipe
If you have leftover salmon and want to change things up, here's some ways to enjoy the salmon:
salmon tacos: shred the salmon up and serve it in a taco with a delicious salad on the side.
salmon pasta: roughly chop up the salmon and add it to a pasta. Pour some olive oil on top of your salmon pasta and it will be amazing.
salmon salad: break up the salmon and toss it in a leafy salad or greek salad. This Salmon Chopped Salad and Easy Salmon Salad Recipe is also really good.
salmon fried rice: break up the salmon and toss it in some fried rice
You can make salmon meal-prep for your lunch week since salmon stays go in the fridge for up 4 days.
You can also make salmon patties. These are delicious and easy to make.
You can swap the spicy salmon for this blackened one in this Spicy Salmon Sweet Potato Skillet.
Other Salmon recipes to try:
All of these recipes are just as easy to make as the blackened salmon recipe, and there are a variety of flavors to choose from!
Blackened Salmon Recipe
This easy and pan seared blackened salmon recipe uses a homemade spice blend for crispy, flavorful fish. Make this 15 minute recipe for a delicious dinner!
Instructions
In a small bowl, add paprika, onion powder, garlic powder, dried, salt and pepper. Mix all together well.

Brush ½ tablespoon of olive oil on top of salmon fillets.

Sprinkle the spice mix on the flesh side of the salmon only. Using your fingers, tap the spicy mix on top of the salmon (on the flesh side).

In a non-stick skillet or cast iron skillet, heat 2 tablespoons of olive oil over medium heat. Wait 2 minutes and then add the salmon fillets and cook for about 3-5 minutes. Time will depend on the thickness of the salmon fillets. Reduce the heat to medium-low and flip the salmon fillets over and cook for more 3-4 minutes.

Before serve, garnish with parsley. Serve it with steamed broccoli, mashed cauliflower or roasted veggies. Enjoy!
Tips
Click HERE to watch the web story. 
Make sure the pat dry the salmon before cooking so you get a nice sear.
Keep the skin on the salmon so it's easier to flip.
I love the sear I get from using my cast iron skillet. I highly recommend buying one if you don't already have one. 
To store: Store leftover salmon in the fridge in an airtight container for up to 4 days.
To reheat: You can reheat salmon on the stovetop or microwave. 
To freeze: Freeze in a freezer-safe bag once the salmon fillets have reached room temperature. Freeze for up to 4 months.
Nutrition Information
Serving:
1
/4
Calories:
313
kcal
(16%)
Carbohydrates:
3
g
(1%)
Protein:
32
g
(64%)
Fat:
20
g
(31%)
Saturated Fat:
4
g
(25%)
Polyunsaturated Fat:
5
g
Monounsaturated Fat:
9
g
Cholesterol:
83
mg
(28%)
Sodium:
732
mg
(32%)
Potassium:
42
mg
(1%)
Fiber:
1
g
(4%)
Nutrition information is calculated using an ingredient database and should be considered an estimate.
Watch the Web Story HERE.