This pan seared salmon recipe makes a healthy, quick and easy weeknight dinner. Make this healthy meal in under 15 minutes and with just four ingredients! Best pan seared salmon recipe ever!
Looking for more healthy salmon recipes? Some of my favorites are: Easy Broiled Salmon Recipe, How to Cook Salmon in the Oven, Simple Garlic Butter Salmon Recipe and Easy Chopped Salmon Salad.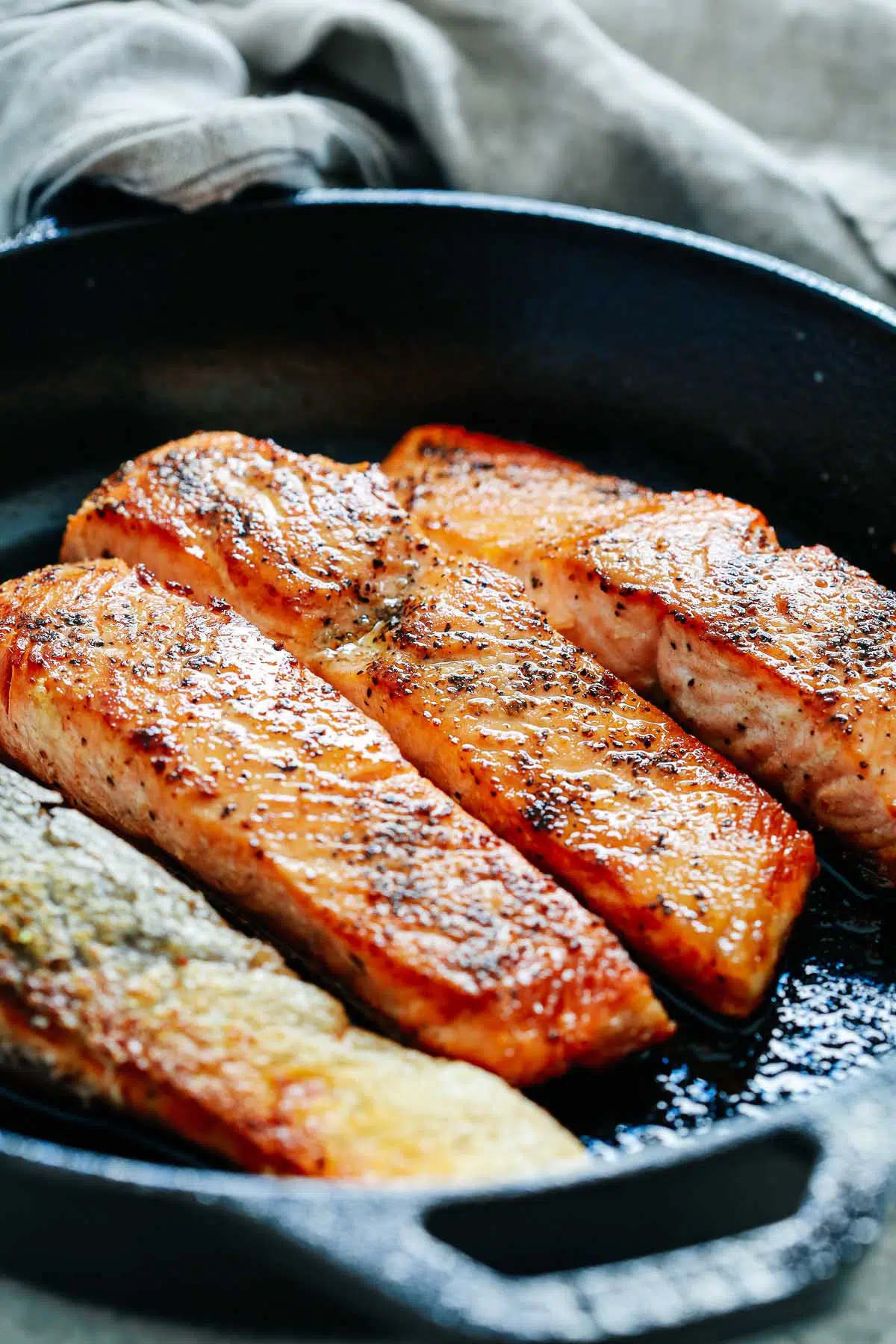 Sometimes simple is better when it comes to making dinner. Fish is an easy protein to cook, and it can be made in just a few minutes on the stove. It works with everything like my Sear Salmon Salad or in a chopped salad.
Plus, you won't need to make a special trip to the store since this pan seared salmon recipe uses basic pantry staples.
Ingredients to make seared salmon
This Pan Seared Salmon recipe is impossibly easy! Just season the fish and then cook in a nonstick skillet until the skin is crispy and the fish is flaky – it's that simple!
Salmon fillets – Choose fillets with the skin on. If possible, use wild salmon instead of farmed for fewer calories and higher mineral content.
Butter – Substitute with olive oil or use ghee to make this salmon recipe Paleo and Whole 30 friendly.
Subscribe for new recipes & a free e-cookbook
Salt and pepper– Because of the high heat from the pan, any fresh herbs will burn when cooked. Instead, keep things simple with basic seasonings.
Lemon Juice – It's optional, but I recommend. Just drizzle some fresh lemon juice on top of the salmon before serving.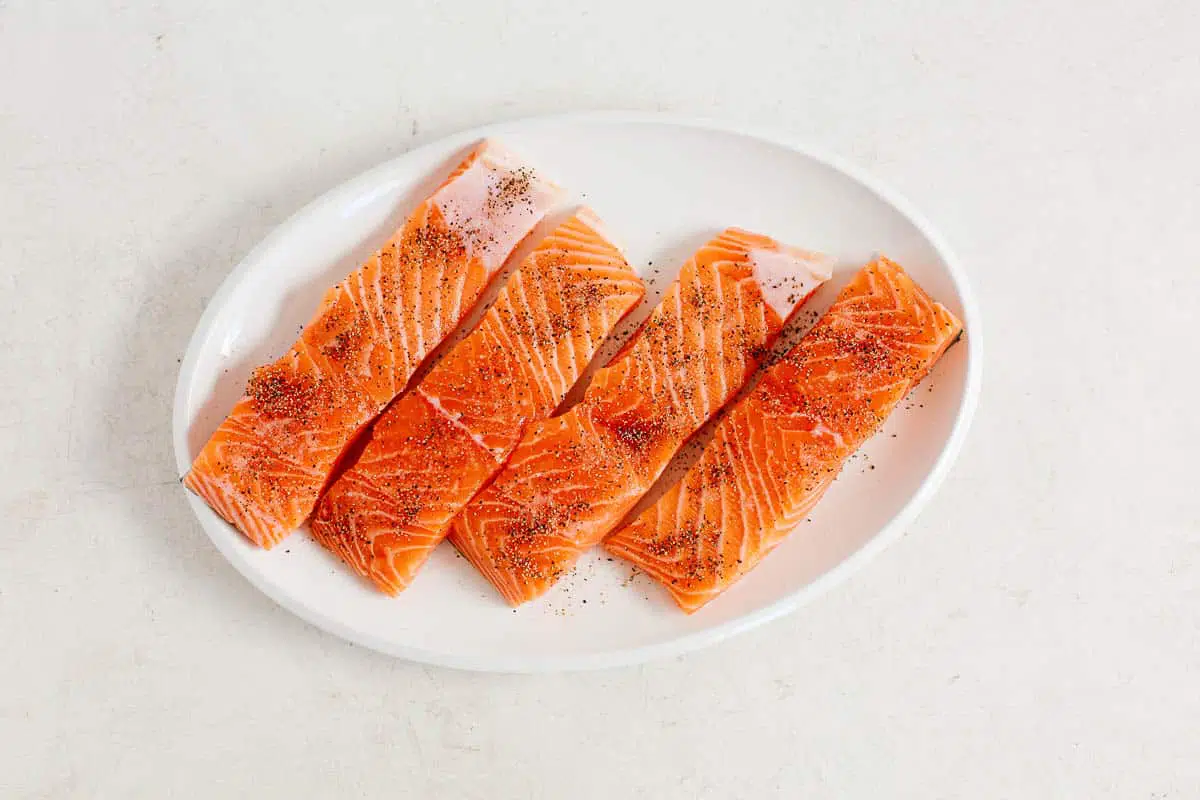 How to Cook Salmon in a Pan
Season the fish
Pat the salmon dry with a paper towel. Having a dry surface helps the skin to become crispy when it hits the hot pan. Also, the seasoning will stick better to dry fish.
Then, add salt and pepper to both sides. I just seasoned my salmon fillets with kosher salt and pepper but you can also use paprika.
Cook and serve
Heat a dry cast iron skillet. NOTE: To prevent the butter from burning, add it after the pan is hot. Pour some extra virgin olive oil too if you prefer to mix butter with olive oil.
Next, lay the fish carefully into the pan, skin side down. Flesh side up.
Cook until the fish turns opaque most of the way up the sides, then flip and cook until done.
Transfer the pan seared salmon to a serving platter, skin side up, so the crispy skin doesn't get soggy. The outside of the salmon will be crispy and the inside will be tender.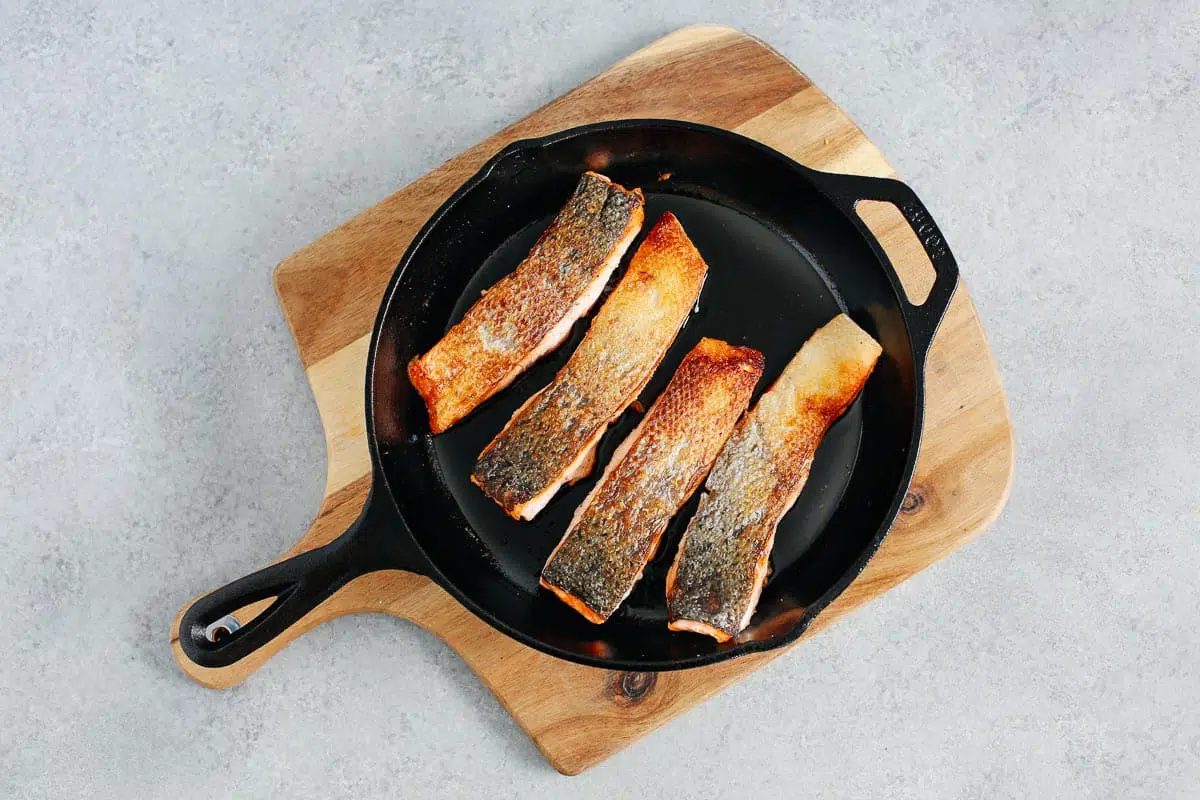 How long to pan sear salmon recipe
The exact length of time will depend on how thick the fish fillets are. However, it's easy to tell when salmon is cooked through by following these simple tips:
Flakes easily: Insert a fork at an angle just below the surface into the thickest part of the fish and twist. The layers of the salmon should easily separate from each other.
Looks opaque: Raw fish has a translucent and somewhat transparent appearance. When cooked, the meat becomes less see-through but should still glisten.
Internal temperature: Fished should be cooked until a thermometer inserted in the middle reaches 140-145 degrees F. Any more than that and it will be dry and overcooked.
Tip: Brine the Salmon
This step is optional if you don't have a lot of time to cook. But it helps the salmon fillets to be crispier  on the outside, moist on the inside piece of salmon without white stuff that comes off of the salmon when it's cooked.
How To Store Seared Salmon Leftovers
Storage – Transfer leftovers to an airtight container and keep in the refrigerator for up to 4 days.
Reheating – Place salmon on a plate and heat in the microwave or on the stove until the fish is warmed through. You may need to add more butter or oil for added moisture.
Non-stick pan– It's extremely important to use a well seasoned, good quality pan. This ensures that the fish won't stick to the pan. Because higher heat creates crispier skin, I recommend using a cast iron skillet as it's one of my go to skillets and use it for everything like my pan-seared steak (Web Story).
Frequently Asked Questions
Is Wild Salmon Better?
I encourage you to make an effort to choose wild salmon when you are shopping. It has more omega-3s compared to farmed salmon. The calorie and fat content are lower and the overall nutrition is better in wild salmon compared to farmed salmon.
In addition, there is a lower environmental impact when you purchase wild salmon. A cheaper alternative is purchasing frozen wild-caught salmon instead of fresh. All you have to do is thaw it overnight in the fridge.
Should I Remove The Skin From The Salmon Before Cooking?
There's no need to remove the skin before you cook it! The skin gets so crispy and is so tasty! For the crispiest skin, cook the salmon skin side down first. It's also easier to flip the fish with there's a layer of skin on it. Talking about flipping the fish, use a fish spatula to do that because it makes pan frying easier.
How To Keep The Seasoning On
Be sure you pat dry the salmon before you season it. Since you are brushing oil onto the fillet first, the water would prevent the oil from coating the salmon. Once you've pat it dry, the oil and seasoning will stick much better.
What sides go with Sear salmon?
Just about any of your favorite sides will pair nicely with the subtle flavors of this fish.
Here are some of the most common side dishes, but feel free to try anything else you think might be delicious!
Mashed cauliflower (here's a Whole30 version too)
Tossed spinach salad with juicy tomatoes, chopped onions, olives, some capers, chopped parsley and feta cheese on top
Pasta or zucchini noodles
Ways to use this salmon
If you have Pan Seared Salmon leftover and want to change things up, here are some ways to enjoy the salmon:
salmon tacos: shred the salmon up and use it as a taco filling.
salmon pasta: roughly chop up the salmon and add it to a pasta or pasta salad.
salmon salad: break up the salmon and toss it in a leafy salad or greek salad.
salmon fried rice: break up the salmon and toss it in some fried rice
You can make salmon meal-prep for your lunch week since salmon stays go in the fridge for up 4 days.
You can also make salmon patties. These are delicious and easy to make. Try to make these patties with avocado coleslaw. Yummy!
You can also serve it with brown rice, broccoli, roasted potatoes and tomato salad.
Other Delicious Salmon Recipes to try:
For a little more heat, try my Easy Cedar Plank Salmon. It's made on the grill instead of the stove but is just as simple as this recipe. Otherwise, here are some other salmon dishes made with a variety of flavours:
If you like seafood too, please try my scallop recipe and my garlic butter shrimp recipe.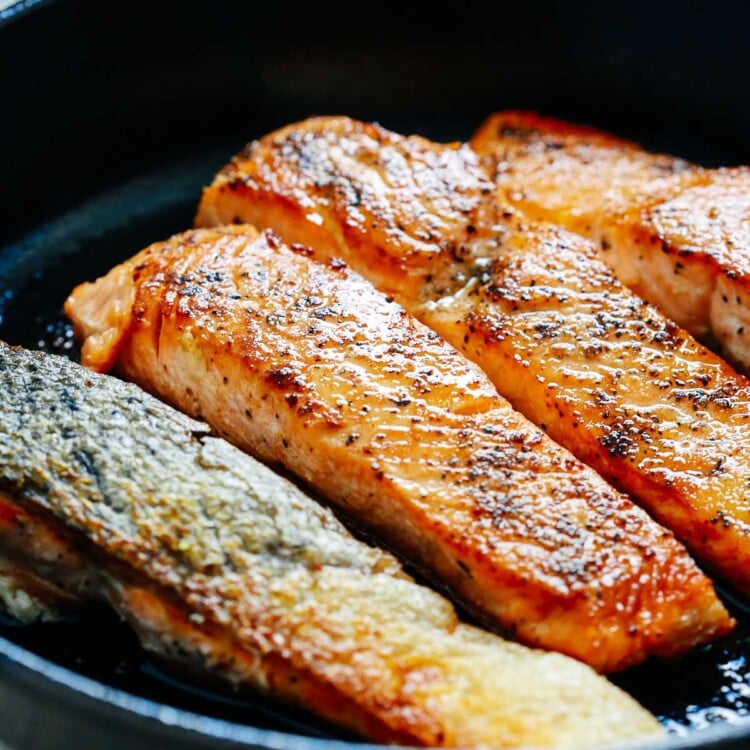 Pan Seared Salmon Recipe
This pan seared salmon recipe makes a quick weeknight dinner. Make this healthy meal using three ingredients, and in under 15 minutes!
Ingredients
4

salmon filets

skin, about 6 ounces each
Instructions
Heat your cast iron skillet over medium heat. Pat salmon dry with paper towel and season both sides with salt and pepper.

When your skillet is near smoking, add in the butter, let it melt for 30 seconds.

Add in the salmon (skin side down). Let the salmon cook without moving. It's about 5 minutes depending on how thick your salmon fillet is.

Flip, and cook for 2 more minutes. You know when it's time to flip when the sides of the salmon look about 2/3 opaque and cooked through.

Remove from the pan and set it aside (skin side up). Enjoy!
Tips
Click HERE to watch the web story. 
Make sure the pat dry the salmon before cooking so you get a nice sear.
I recommend wild salmon as it has fewer calories and higher mineral content than farmed salmon.
The skin gets so crispy and is so tasty, so keep the skin on!
To store: Store leftover salmon in the fridge in an airtight container for up to 4 days.
To reheat: You can reheat salmon on the stovetop or microwave. 
To freeze: Freeze the salmon in a freezer-safe bag once they have reached room temperature. Freeze for up to 4 months.
Nutrition Information
Serving:
1
/4
Calories:
253
kcal
(13%)
Protein:
26
g
(52%)
Fat:
16
g
(25%)
Saturated Fat:
7
g
(44%)
Monounsaturated Fat:
2
g
Cholesterol:
79
mg
(26%)
Sodium:
199
mg
(9%)
Potassium:
2
mg
Nutrition information is calculated using an ingredient database and should be considered an estimate.