This mouthwatering Mediterranean chicken recipe can be made in less than 30 minutes! Perfect for a busy weeknight when you need to get dinner on the table fast. It's packed full of flavor so the whole family will love it. Make it with just one pan for easy cleanup, it's even gluten-free, low-carb and paleo!
I love skillet meals so much. They're extremely easy to make, super convenient and cleanup is a breeze when you've only got one pan to wash.
If you enjoy this quick skillet recipe, be sure to check out some of my other favorites like this Ground Turkey Sweet Potato Skillet, Zucchini Lasagna Skillet, Asparagus Sweet Potato skillet or my mouthwatering Skillet Chicken Fajitas!
Want more Mediterranean flavor in your life?! Be sure to try my Instant Pot Mediterranean Chicken Recipe, Easy Mediterranean Chopped Salad, Easy Mediterranean Salad Recipe (Web Story), and Mediterranean Cauliflower Salad.
Ingredients to Make This Mediterranean Chicken
Chicken — I generally buy boneless, skinless chicken breasts though boneless skinless chicken thighs will also work! I recommend buying free range, organic meat whenever possible.
Seasonings — Onion powder, ground coriander seed, paprika, crushed red pepper flakes, salt and black pepper. Fresh parsley or oregano for topping.
Olive oil — Or you can substitute ghee.
Onion — Yellow, white or red onions.
Garlic — Fresh garlic tastes best, in my opinion, but you can also buy a jar of sliced garlic to save some time.
Tomatoes — Canned, diced tomatoes with juices. I like to use the Italian flavor! If your canned tomatoes don't have much juice, add a little bit of chicken broth.
Black olives — Or substitute kalamata olives.
Feta — Salty feta crumbles are my favorite part of this recipe, goat cheese is also a great option!
Instructions to Make Mediterranean Chicken
Season chicken:
Start things off by preheating your often. Set it to 400°F (200°C).
Place chicken breasts in a large bowl, drizzle with olive oil and sprinkle with seasonings, then stir well until each piece of chicken is fully coated!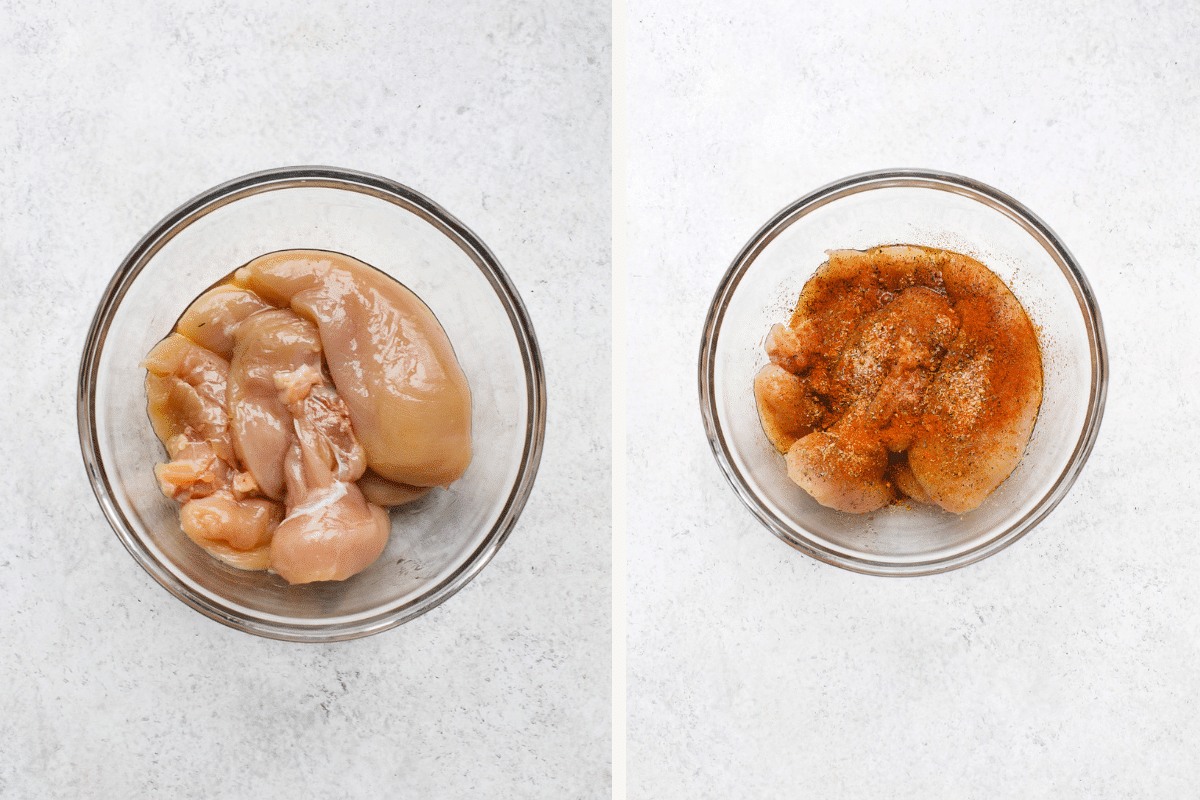 Sear chicken:
Place an oven-safe skillet on the stovetop and turn heat to medium-high. Let the pan get nice and hot!
Sear seasoned chicken in the hot pan, cook it for 2-3 minutes per side until golden-brown. Remove chicken from the pan and set aside (note: it doesn't need to be fully cooked through at this point).
Sauté onion:
Now add your diced onion to the skillet, if you want, you can also add a bit more olive oil. Sauté onions for 3-5 minutes, until they begin to soften, then add garlic and cook 30 seconds longer.
Add your canned diced tomatoes and stir to combine!
Bake and serve:
Nestle chicken back into the skillet along with onion, garlic and tomatoes. Transfer to the oven and bake for approximately 20 minutes, or until the chicken reaches an internal temperature of 165°F.
Remove skillet from the oven and garnish with black olives and feta cheese crumbles. Serve and enjoy!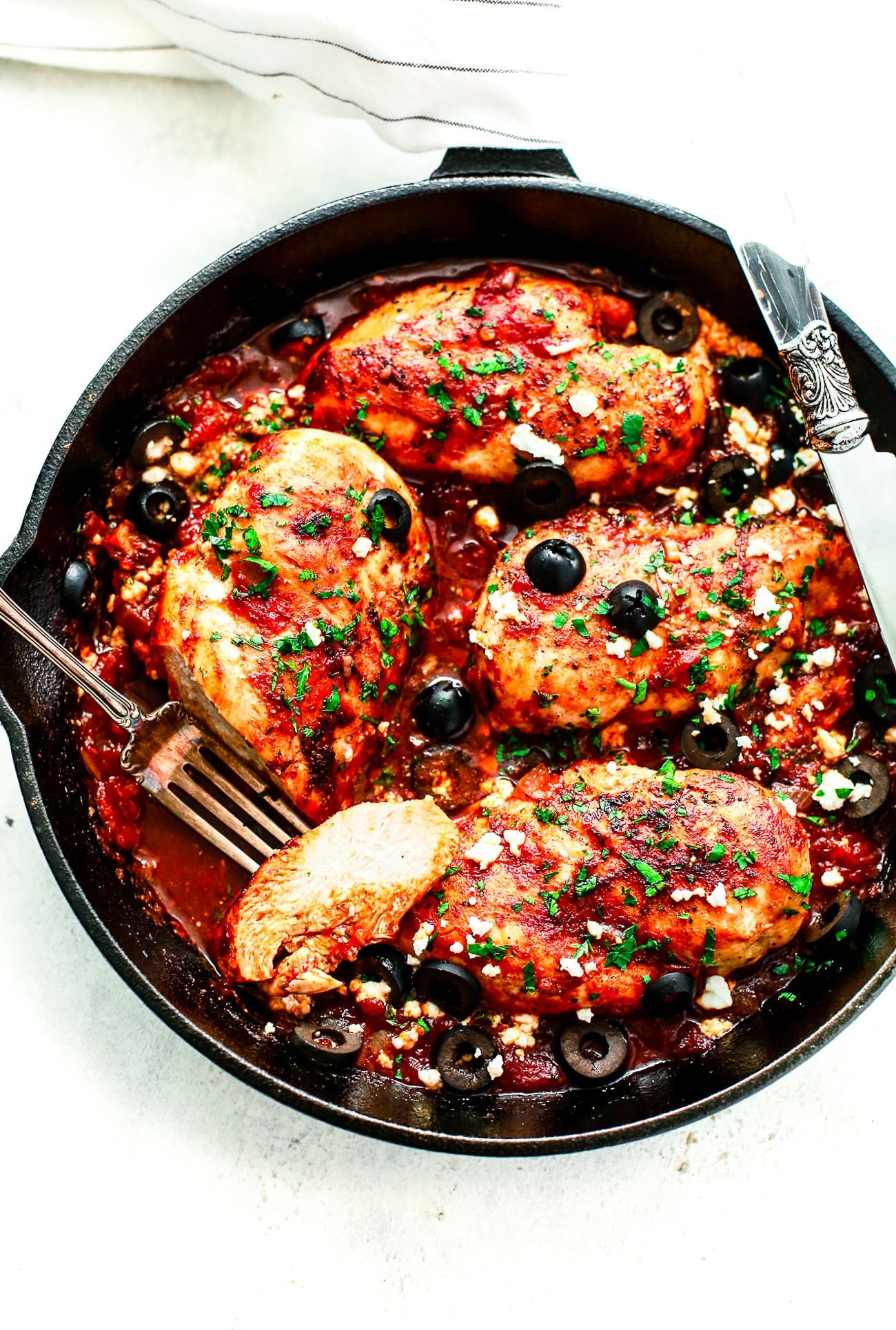 Recipe Tips
If you're sensitive to spicy food, I highly recommend going easy on the crushed red pepper flakes. They are really hot! You can always add more later on if you want a bit more heat.
A meat thermometer comes in super handy when making this chicken skillet. Avoid overcooking your meat so it stays nice and juicy, rather than becoming dry and rubbery.
I absolutely love the San Marzano brand of diced tomatoes. They are super high-quality and have the best flavor with a touch of sweetness, totally worth the extra cost!
Add some fresh herbs for topping.
How To Store Leftovers
To Store: Allow leftovers to cool and place them in an airtight container, then refrigerate up to 4 days.
To Freeze: This recipe is also freezer friendly! Transfer leftovers to a freezer bag or freezer-safe container and store frozen for up to 3 months.
To Reheat: Thaw chicken in the refrigerator overnight (if reheating from frozen). I usually reheat my leftovers in the microwave, but you can also warm them in a skillet on the stovetop.
What To Serve With Your Mediterranean Chicken Recipe
This quick, yummy dinner goes with lots of different sides! Here are a few ideas for inspiration:
Recipe Variations
Protein: Instead of chicken, you can make this Mediterranean Chicken with pork chops or fish. Keep in mind that the cook time for different meats and fish will vary, adjust accordingly.
Add some legumes! Beans and legumes would go nicely in this Mediterranean Chicken recipe, and they're popular in Mediterranean cooking. Throw in some canned chickpeas, cannellini beans or navy beans. Or you can add some vegetables too such as artichokes (artichoke hearts), cherry tomatoes and zucchini to make a one pot dinner.
Toppings: Feel free to mix things up and use different types of olives, or even substitute capers! You can also top this dish with pine nuts and a drizzle of balsamic glaze. If you don't like feta, goat cheese is a nice alternative.
Add greens: Easily sneak in some hidden veggies! Add spinach to your sauce and cook until it's wilted, no one will even know it's there.
Dairy free: It's super easy to make this recipe dairy free, all you have to do is leave out the feta cheese! You can also serve feta on the side so those who want cheese can add it separately.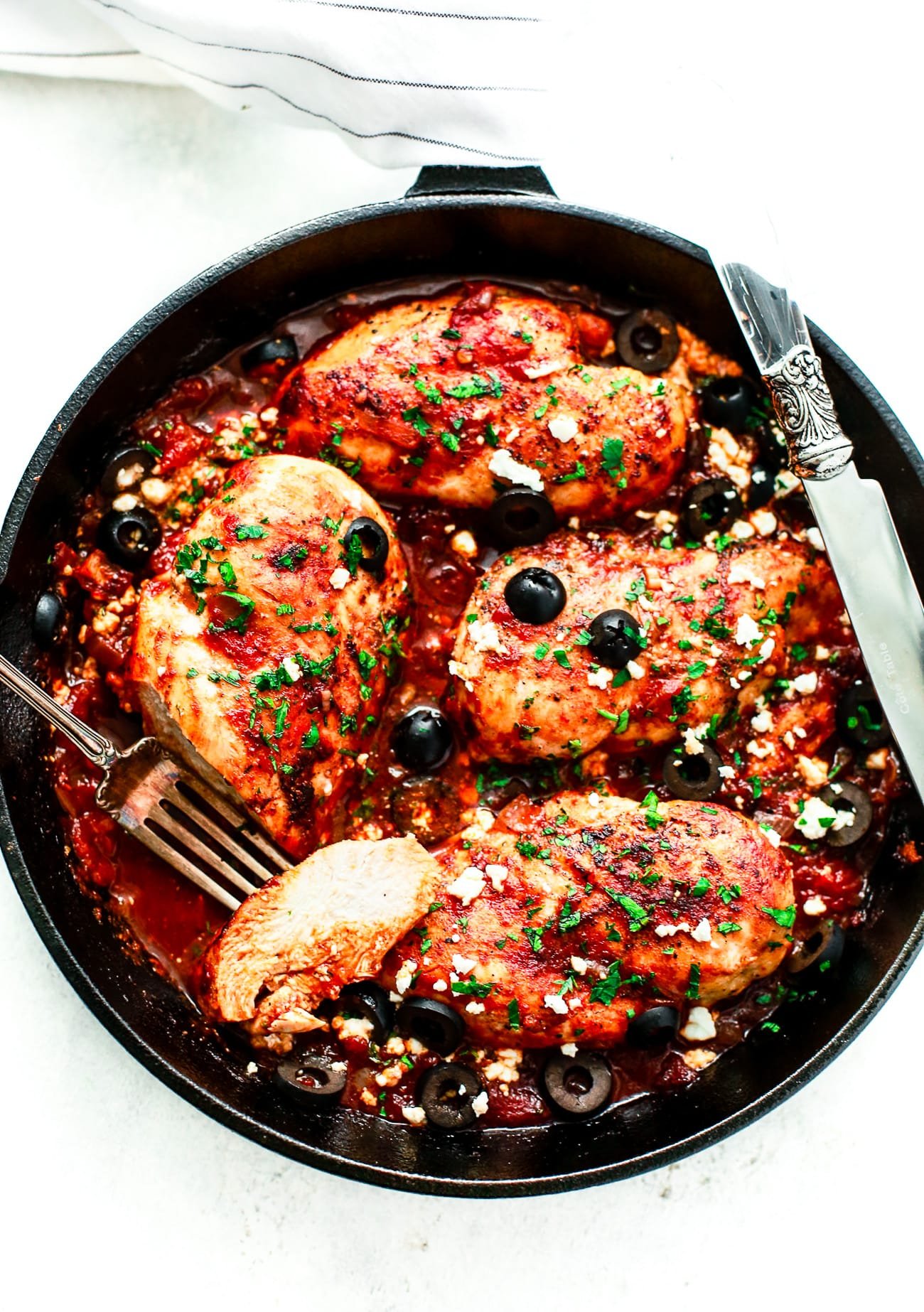 Recommended Tools
Cast Iron Skillet. A great, oven-safe option.
Large Bowl. For seasoning chicken.
Small, Sharp Knife. For prepping onion and garlic.
Frequently Asked Questions
Is this recipe gluten free?
Yes! This Mediterranean Chicken recipe is naturally gluten free and can easily be made dairy free by leaving out the cheese.
Why is my chicken dry?
If your chicken seems dry or rubbery, it's likely overcooked. I highly recommend using a meat thermometer for this recipe, that way you'll know exactly when your chicken reaches an internal temperature of 165°F and avoid overbaking.
What makes this dish Mediterranean?
This recipe uses lots of ingredients that are common in Mediterranean cooking. Tomatoes, olives, feta cheese and chicken are all prominent in this type of cuisine!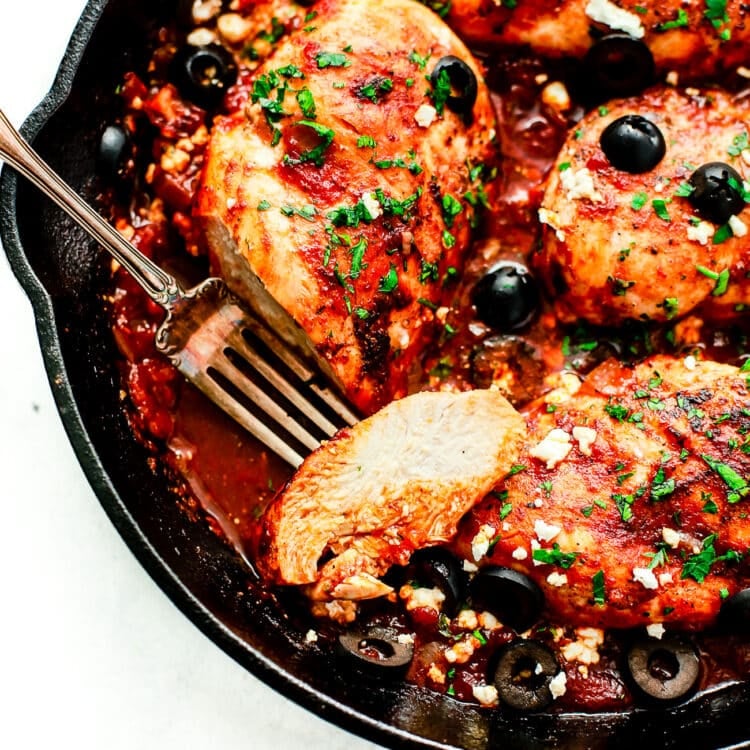 Mediterranean Chicken Recipe
This mouthwatering Mediterranean chicken skillet can be made in less than 30 minutes! Perfect for a busy weeknight when you need to get dinner on the table fast. It's packed full of flavor so the whole family will love it. Make it with just one pan for easy cleanup, it's even
gluten-free
,
low-carb
 and
paleo
!
Instructions
Pre-heat oven to 400ºF.

In a large bowl add chicken, olive oil, onion powder, coriander, paprika, crushed red pepper, salt and pepper. Mix everything to combine well.

In an 8 to 10-inch skillet

, heat oil over medium-high heat.

Add the chicken and sauté until golden brown, but they won't be cooked through. Set aside.

Add onions and cook for about 3-5 minutes. Add garlic and cook for 30 seconds. Add diced tomatoes and stir everything well.

Bring the chicken back to the skillet.

Place the skillet in the oven and bake for about 20 minutes or until the chicken reaches an internal temperature of 165ºF.

Remove from the oven and before serving top with black olives and feta cheese. Enjoy!
Tips
Start with minimal crushed red pepper flakes and add more after tasting. You don't want to accidentally make this too spicy. 
Careful not to overbake the chicken or it'll become dry and rubbery.
I find that San Marzano tomatoes have to perfect amount of sweetness. It's worth the extra dollars!
To store: Store leftover chicken in an airtight container for up to 4 days in the fridge. 
To reheat: You can reheat in the microwave when ready to eat. 
To freeze: Freeze the cooked chicken in a freezer-safe bag or container for up to 3 months.  
Nutrition Information
Serving:
1
/6
Calories:
232
kcal
(12%)
Carbohydrates:
5
g
(2%)
Protein:
33
g
(66%)
Fat:
8
g
(12%)
Saturated Fat:
2
g
(13%)
Cholesterol:
99
mg
(33%)
Sodium:
600
mg
(26%)
Fiber:
1
g
(4%)
Sugar:
3
g
(3%)
Nutrition information is calculated using an ingredient database and should be considered an estimate.
And if you like this Mediterranean Chicken Recipe, please share with your friends and family. Do you wanna taste more? Subscribe to my newsletter and follow Primavera Kitchen on Twitter, Pinterest, Instagram and Facebook for all delicious recipes updates. As always, you are really appreciated for stopping by.