Cauliflower bites recipe are the perfect easy side dish, snack or appetizer! They're super easy to make and packed with incredible flavor. On top of that, they're healthy and yummy.
These delicious little bites are so versatile. You'll only need six simple ingredients to whip them up, and they're ready in just 30 minutes. I also love how flexible this recipe is, you can have all kinds of fun and experiment with the spices tucked away in your cabinet. And this recipe is also low-carb for this reason I didn't use panko, panko breadcrumbs, bread crumbs or flour. It's super easy to make and delicious.
I love roasted veggie sides all year long, but I especially enjoy them during the colder months when I'm craving warm foods. If you're looking for more easy, healthy vegetable sides try my Roasted Green Beans With Spicy Tahini Sauce, Easy Roasted Asparagus, Roasted Brussels Sprouts, Roasted Cauliflower Recipe or these delicious Roasted Sweet Potato cubes.
However, if you're serving this crispy cauliflower bites recipe as an appetizer and need more bite-sized, finger food options try my Eggplant Pizza Bites, Easy Shrimp Guacamole Bites, Garlic Butter Steak Bites or these fantastic Easy Deviled Eggs!
How To Make Cauliflower Bites
Ingredients
Cauliflower — I generally purchase a whole head of fresh cauliflower and cut it into pieces, but you can definitely buy a bag of pre-chopped florets at the store to save some time if necessary.
Butter — Both salted and unsalted will work. If you use salted butter, be careful not to overdo it with the added salt when seasoning your florets. Olive or avocado oil can also be substituted.
Cheese — Freshly grated parmesan is my go-to for this recipe.
Spices — Salt, black pepper and paprika.
Optional — Chopped fresh parsley leaves make a beautiful garnish for these cauliflower bites. You can also use dried parsley leaves.
Instructions
Prep work:
Start by preheating your oven to 425°F and grease a large baking sheet with olive oil , cooking spray or butter. You can also use parchment paper if you prefer.
Cut cauliflower into florets and rinse well.
Wring moisture out of florets using a clean kitchen towel or cheesecloth. This will help make the bites crispy rather than soggy.
Season cauliflower:
Place florets in a large bowl and drizzle with savory, melted butter. Mix well until all pieces are coated.
Thoroughly mix in your seasonings and shredded parmesan cheese.
Roast cauliflower:
Subscribe for new recipes & a free e-cookbook
Arrange seasoned florets in a single layer on your greased baking sheet. Sprinkle with a little bit of extra cheese, if desired!
Bake for 20 minutes, or until the edges become crispy. If you prefer, you can also add it to the air fryer basket and cook for 5-7 mins.
Serve:
Transfer roasted cauliflower bites to a serving dish and garnish with a bit of fresh parsley (*garnish is optional, but delicious and pretty)! Serve with blue cheese dressing, hot sauce, buffalo sauce or any other dressing you prefer. This recipe also goes really well with chicken wings, buffalo wings and celery sticks. They're all great snack or appetizer recipes to join the party.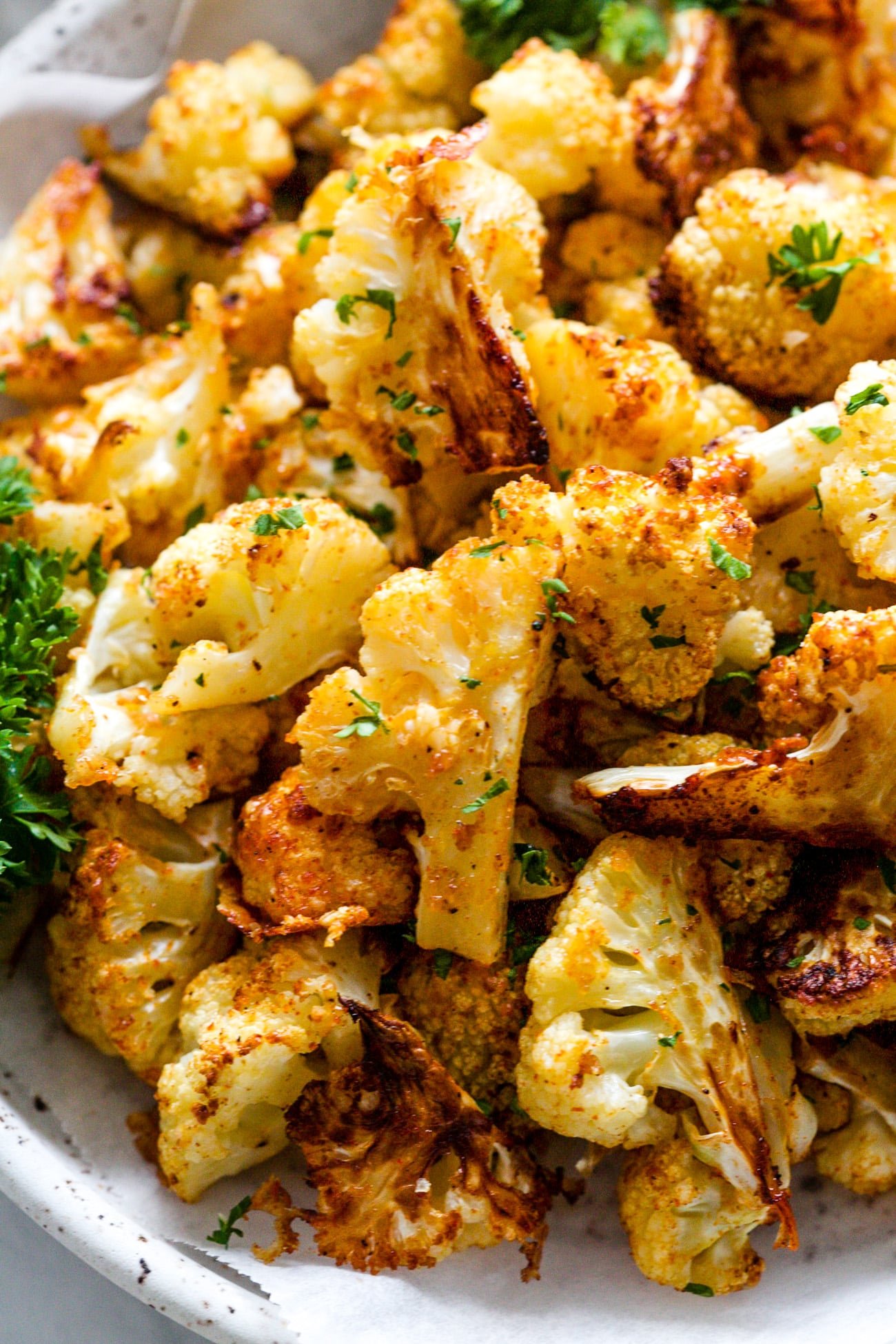 Recipe tips:
Generally, I buy a full head of cauliflower for this recipe and chop it up myself. If you need to save some extra time, look for bagged, pre-cut cauliflower if the produce section at your local grocery store.
After rinsing your cauliflower, be sure to dry it REALLY well. I recommend using some cheesecloth or a clean kitchen towel to wring excess moisture from your florets, because they turn our crispier when water is removed.
It does take a little extra time to grate or shred your own cheese, but if you've got a few minutes to spare, it's totally worth it! Freshly shredded parmesan cheese will melt much more smoothly into your florets and result in the best possible flavor for your bites.
When roasting your florets, don't overcrowd the baking sheet. Try to leave a bit of space between pieces. This will help them to brown more quickly and evenly.
Recipe Variations
Cheese: My go-to for this recipe is freshly grated parmesan cheese. Mix things up with another hard cheese like Asiago, Romano or Manchego. If you want to incorporate softer cheeses, I would recommend adding them in the last 5 minutes of roasting rather than sprinkling them on at the beginning as they'll melt much faster and burn.
Veggies: Incorporate broccoli, carrots or brussels sprouts and make a cheesy, roasted vegetable mixture.
Spices: If you're feeling creative, have some fun and experiment with your favorite seasonings. Try garlic powder, onion powder, turmeric or smoked paprika instead of regular. Dried herbs like rosemary, oregano or Italian seasonings would also be delicious! If you like spicy food, add some heat with a pinch of red pepper flakes or cayenne pepper.
How To Store Leftovers
To store: Allow leftovers to cool completely, then place them in an airtight container and refrigerate for up to 4 days.
To freeze: Leftover cauliflower bites can also be frozen! I recommend placing cooled florets on a baking sheet in a single layer. Place your sheet in the freezer for an hour or two. Once cauliflower pieces are individually frozen, you can place them all together in a Ziploc bag and freeze for up to 3 months.
To reheat: Thaw cauliflower overnight in the refrigerator or in your microwave (if reheating from frozen). You can then reheat fully by microwaving on high, in 30 second increments, until warmed though. Personally, I prefer to reheat my cauliflower in the oven, toaster oven or air fryer as microwaving can cause mushiness. Simply bake or air fry thawed florets at 400°F until they're hot and crispy. Allow bites to cool slightly and enjoy.
More Cauliflower Recipes
Want to put more nutritious Cauliflower on your table? I've got lots of delicious recipes for you to try!
Frequently Asked Questions
What are cauliflower bites made of?
Typically, just a few simple ingredients: cauliflower florets, butter or oil, freshly grated parmesan cheese and lots of delicious seasonings (use your favorites)!
Are cauliflower bites keto?
Cauli bites are a great addition to a keto diet. They're very low carb and you get some fats from the oil or butter used in roasting.
What goes well with cauliflower bites?
Eat your bites solo or dip them in Creamy Avocado Sauce, ranch, blue cheese or thousand Island dressing.
Watch the Cauliflower Bites Web Story.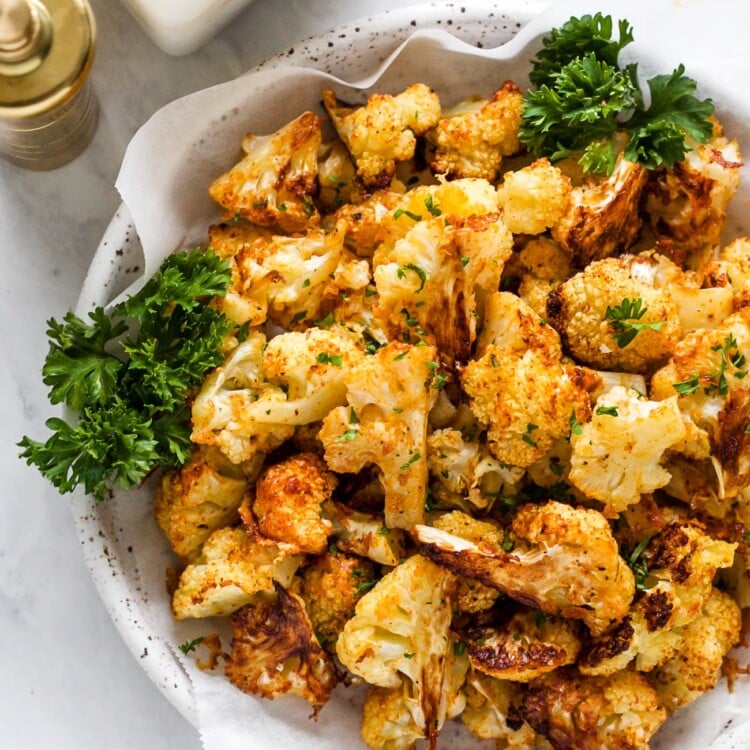 Cauliflower Bites Recipe
Cauliflower bites are the perfect easy side dish, snack or appetizer! They're super easy to make and packed with incredible flavor. On top of that, they're healthy and very low carb.
Instructions
Preheat oven to 425 degrees F. Grease a baking sheet with butter or olive oil. Set aside.

Add cauliflower florets to a large bowl and drizzle with melted butter. Toss well until florets are well coated.

Sprinkle parmesan cheese, paprika, salt and pepper over the butter-coated cauliflower florets. Mix all the ingredients together to combine.

Arrange cauliflower in a single layer on the prepared baking sheet and roast for 20 minutes or until edges begin to crisp.
Tips
You can buy pre-cut cauliflower to save time on prepping.
Dry cauliflower very well and wring out extra moisture with cheesecloth or a clean kitchen towel. 
For best results, shred a block of fresh parmesan cheese.
Don't overcrowd your baking sheet. Leave a little space between florets when roasting.
To store: Store leftover cauliflower bites in an airtight glass container for up to 4 days in the fridge. You can also use a silicone or Ziploc bag to store them.
To reheat: Reheat in the microwave for 30 to 60 seconds. You can also reheat in the oven, toaster oven or an air fryer at 400°F (I prefer these methods over the microwave as bites will get crispy again).
To freeze: Transfer the cauliflower bites to a freezer-safe bag for up to 3 months.
Nutrition Information
Serving:
1
/4
Calories:
88
kcal
(4%)
Carbohydrates:
4
g
(1%)
Protein:
4
g
(8%)
Fat:
6
g
(9%)
Saturated Fat:
3
g
(19%)
Monounsaturated Fat:
1
g
Cholesterol:
11
mg
(4%)
Sodium:
335
mg
(15%)
Potassium:
178
mg
(5%)
Fiber:
2
g
(8%)
Sugar:
2
g
(2%)
Nutrition information is calculated using an ingredient database and should be considered an estimate.
If you like this Cauliflower Bites recipe, please share with your friends and family. Do you want to taste more? Subscribe to my newsletter and follow Primavera Kitchen on Twitter, Pinterest, Instagram, and Facebook for all delicious recipes updates. As always, I really appreciate you stopping by.