Do you love potato salad, but hate all the carbs and calories that come with it? How about trying this Cauliflower Potato Salad Recipe? It has all the flavors of the traditional potato salad, but it has no potato, is low carb, and healthier!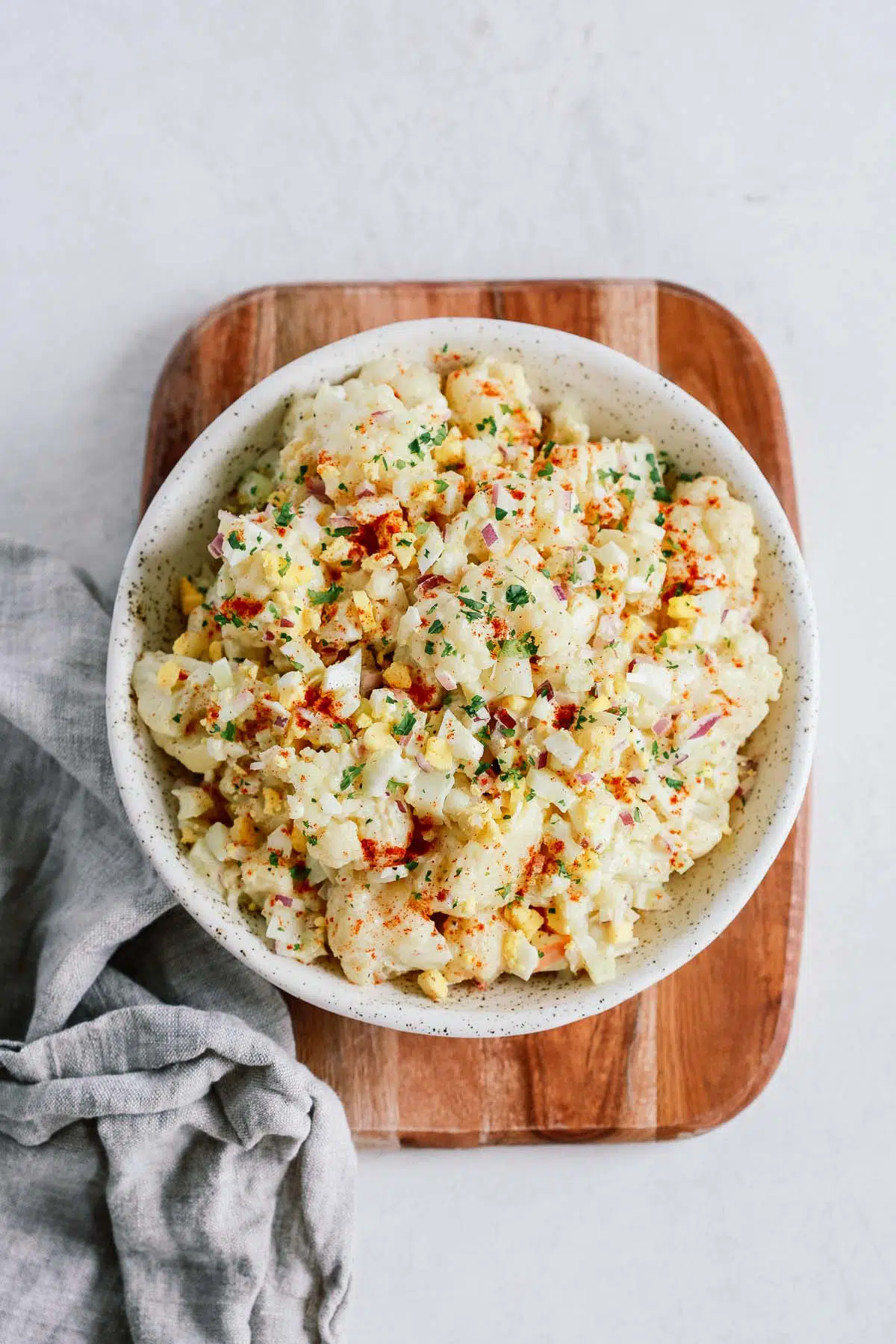 It has everything you want in a potato salad, but without the potato. Made with hard boiled eggs, easy mayo, it comes together super fast!
A few days ago, I was thinking what to do for lunch. I opened my fridge and I noticed I had a cauliflower head there waiting for me to eat.
Looking for more cauliflower salads? Just check these ones: Cauliflower "Rice" Tabbouleh Salad Recipe, Mediterranean Cauliflower Salad, Creamy Avocado Cauliflower Salad, and Roasted Butternut Squash Cauliflower Salad.
I guess I took time to try this recipe because I was a little skeptical of people saying Cauliflower Potato Salad tastes as good as the classic potato salad. And I have to say that it DOES. Of course, cauliflower and potatoes are not the same vegetables, but they have similar consistencies and texture — just like this Whole30 Mashed Cauliflower Recipe!
On top of that, what brings the real potato flavor to this Cauliflower Potato Salad is the typical seasonings used for potato salad.
Cauliflower is a blank slate when it come to cooking, because it takes well to whatever flavors you put with it, like potatoes do, but without all those carbs. But cauliflower is way more versatile than that.
Subscribe for new recipes & a free e-cookbook
This salad is ready for your picnics, barbecues (bbq) and parties. It might remind you of a deviled egg, because of the hard boiled eggs and paprika, but the red onion, celery and scallions take it to the next level.
I didn't add bacon or dill pickles to this salad, but if you prefer you can add them too. I also replaced fresh dill for fresh parsley but you can also use chives instead.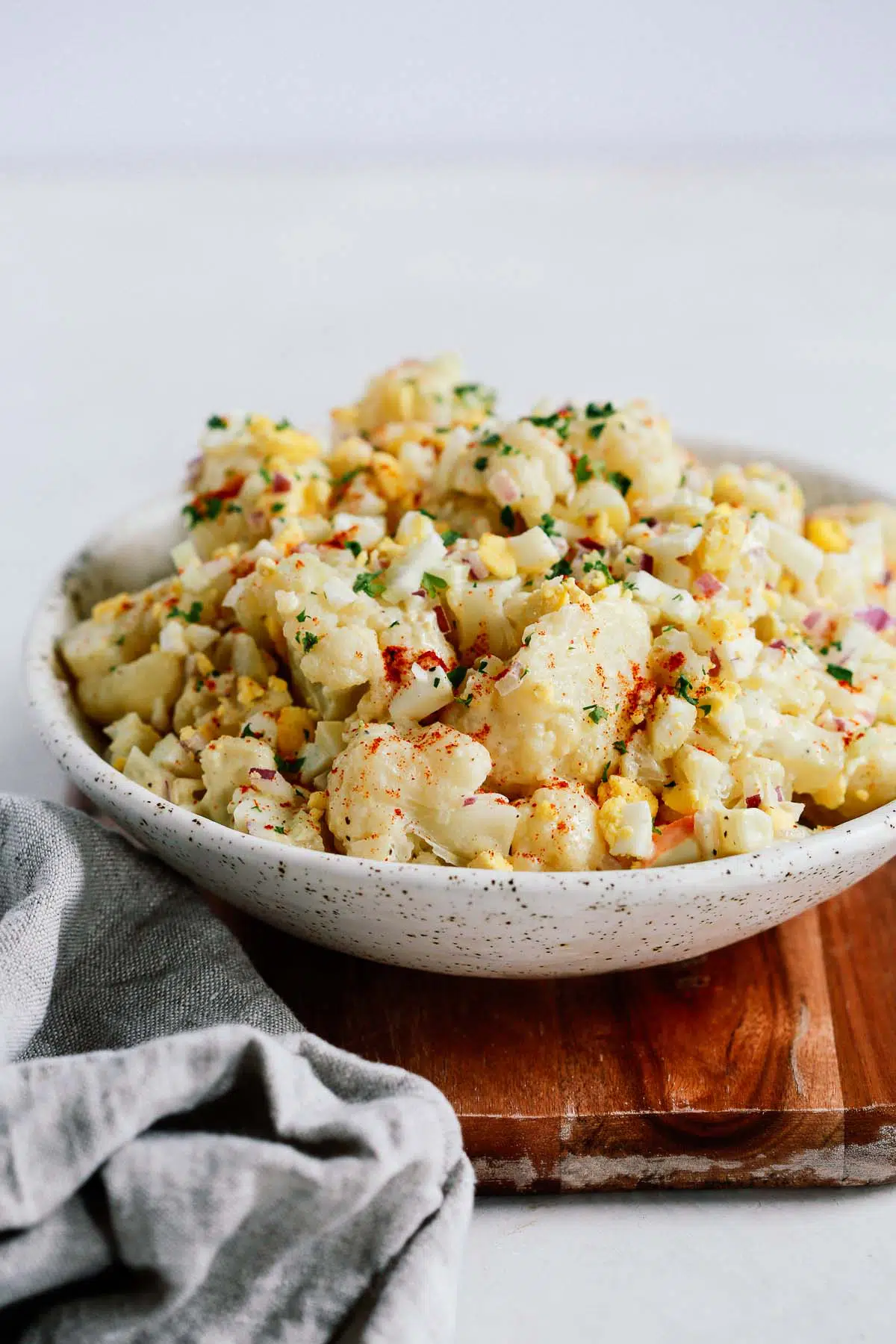 How do you Boil Cauliflower for "potato salad"?
The instructions to boil cauliflower are pretty easy as you can see below:
Bring a pot of salted water to a boil over high heat.

Add the chopped cauliflower florets (it's a good idea to try to cut them into small, bite-size pieces), cover the pot, and cook the cauliflower for about 5 minutes or until they're tender.

Drain the cauliflower in a large colander and rinse it under cold water to stop the cooking process.
How to Make this Cauliflower Potato Salad
Assembling this recipe is a snap. For easy meal prep, you can make the hard boiled eggs a day or so ahead of time if you like. I explain how to do that in my Easy Deviled Eggs recipe.
In a large bowl, add the cooked cauliflower florets and all the ingredients for the salad. Mix all well and set aside.
Then, make the dressing. The dressing requires mayo and comes together fast by combine all the ingredients for the dressing in a small bowl and whipping everything together well.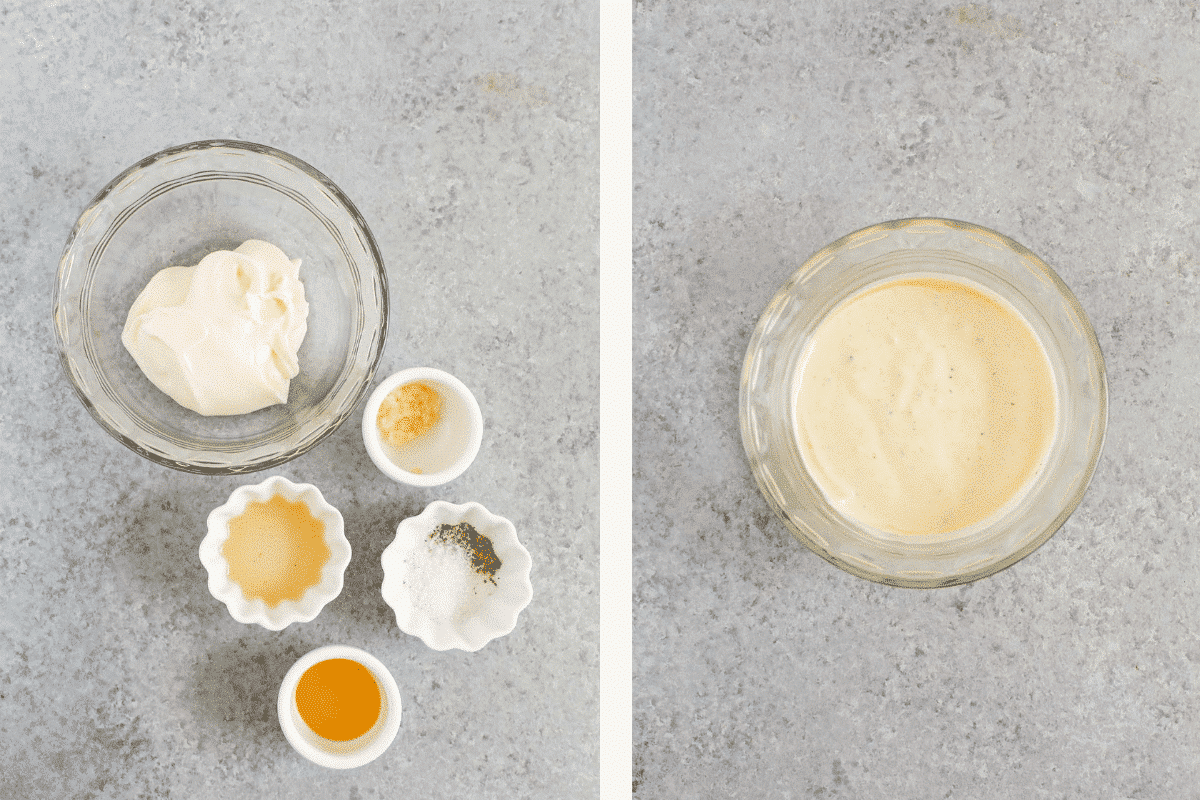 Pour it on top of the salad and mix all together to combine.
The salad itself is garnished with thinly sliced scallions and ready to go.
What Kind of Mayo To Use
I love using a homemade mayo, and my 1-Minute Homemade Mayonnaise makes it hard to resist. It's foolproof and fast.
Once you make it, you'll wonder why you never tried it before. It's fresh, and you know what's in it because you made it yourself.
However, if you have a good quality, store-bought mayo in the fridge, go ahead and use it. It will still be delicious, and it'll still be a low-carb, keto, gluten-free potato salad.
If you don't have mayo or if you can't eat mayo, you can replace it for Greek yogurt.
Serving and Storing
Eggs: You can make them a couple days ahead of time. Just keep them in the fridge until you're ready to assemble the salad.
Cauliflower: You can steam this veggie ahead of time and store in the fridge, covered, for a day.
Dressing: Yes! Noticing a trend? You can make the mayo ahead of time, as it will keep for a couple of days.
If you're not making and eating the salad immediately and would rather prep ahead, prep the components separately and store them separately. Then, when it's time to assemble, put them all in a bowl and go for it. This also prevents the salad from getting too soggy.
This salad tastes good at room temperature, but can also be chilled, once dressed, for a short bit right before serving. You'll love this creamy dressing made with cup mayonnaise, dijon mustard, apple cider vinegar and salt and black pepper. Optional: you can add a little bit of olive oil, if you prefer.
All these ingredients together make this Cauliflower Potato Salad tastes as good as the traditional potato salad, without all the carbs and the calories. Enjoy!
More Cauliflower Recipes to Try:
I thought, "What I should make with this cauliflower?" I have already made lots of different recipes such as cauliflower pizza dough, cauliflower tots, mashed cauliflower, garlic parmesan roasted cauliflower, mashed cauliflower shepherd's pie and so on. Then, I remembered I've always wanted to make Cauliflower Potato Salad and I haven't yet! I am glad I made it because it's delicious just like my other low-carb recipes made with cauliflower.
I'm sure one of these protein dishes will go very well with your keto potato salad.
Want another salad recipe? You should try my Avocado Egg Salad Recipe, Couscous Salad and Chicken Salad!
Watch the Web Stories HERE.
Cauliflower "Potato" Salad Recipe
Do you love potato salad, but hate all the carbs and calories that come with it? How about trying this Cauliflower Potato Salad Recipe? It has all the flavors of the traditional potato salad, but it has no potato, is low carb, and healthier!
Instructions
Cut the cauliflower head up into florets and remove the stem from the cauliflower.

Steam the head of cauliflower by filling a large pot with about 2 cups of water and place a steamer basket in the bottom. Bring the water to a boil. Place the cauliflower florets into the steamer basket.

Cover the pot and steam until the cauliflower florets are fork tender (6-8 minutes). Remove from the heat and let the cauliflower cool down for 5 minutes.

Place the steamed cauliflower in a bowl and add all the remaining ingredients for the salad (not including the ingredients for topping). Set aside.

In a small bowl, add all the ingredients for the dressing and whisk everything together to combine.

Taste to check the seasoning and pour the dressing over the salad.

Mix all together until well combined. Top with paprika and fresh chopped parsley. Enjoy!
Tips
You can buy pre-cut cauliflower florets to save time on prepping.
When selecting cauliflower, make sure they feel heavy for their size.
This salad tastes good at room temperature but can also be served chilled.
To store: Keep this recipe refrigerated for up to 4 days. When serving, do not leave it out at room temperature for too long.
Nutrition Information
Serving:
1
/6
Calories:
117
kcal
(6%)
Carbohydrates:
6
g
(2%)
Protein:
4
g
(8%)
Fat:
9
g
(14%)
Saturated Fat:
2
g
(13%)
Polyunsaturated Fat:
4
g
Monounsaturated Fat:
2
g
Cholesterol:
75
mg
(25%)
Sodium:
317
mg
(14%)
Potassium:
342
mg
(10%)
Fiber:
2
g
(8%)
Sugar:
2
g
(2%)
Nutrition information is calculated using an ingredient database and should be considered an estimate.
And if you like this Cauliflower Potato Salad recipe, please share with your friends and family. Do you want to taste more? Subscribe to my newsletter and follow Primavera Kitchen on Twitter, Pinterest, Google+, Instagram, and Facebook for all delicious recipes updates. As always, I really appreciate you stopping by.