This vibrant spring mango quinoa salad is filled with colors and textures. It is an easy healthy dish that it is equally delicious served warm or chilled.
Yesterday, when I left from work the day, I had a VERY beautiful thought, "I can't go home before the sun sets". But the reality is that I had lots of things to do at home. So I went home, worked a little bit more, and then I prepared this mango quinoa salad for me and my hubby. I was so excited to see that beautiful blue sky again. For the first time this year, we have dinner this year on the patio!! Isn't that wonderful?
I love to be able to eat outside, enjoying the gorgeous nature. We live in a condo, but we're on the second floor. Because of this, we have a nice patio where I have a table with 4 chairs and a BBQ. It even gives me some space to have few pots to plant some veggies like tomatoes and bell peppers. I can share some pictures and talk more about it in another post.
So back to the dinner! I guess the neighbors had the same idea because they were eating outside as well. It is so funny, in winter, everybody seems to be hibernating like bears… hahhaha! I am saying that because yesterday was the first time I saw my neighbors next door since October! I know it is a shame, but it's so cold here from December to March. We are always inside. For this reason, it is difficult to meet our neighbors.
When I woke up this morning at 6:30 am, the room was so bright because the sun was already shinning and it brought a huge smile on my face. Oh God, I totally love the sun!! Maybe you think I am silly for being so happy with the blue sky and the sunshine, but if you lived in Canada, you know what I mean. During 4 months of the year, you wake up and it is dark and by 4 pm, it is already dark again. Please, don't think I am complaining about living in Canada because I'm not. I love this country form the bottom of my heart. I am just explaining why I love spring and summer so much! 😉
Now, let's talk a little bit about this mango quinoa salad. As I said, I came home and was very busy. The first thing that crossed my mind was, "I don't have time to cook, I will order a pizza". But I am really committed to eating healthier during the entire week (on the weekends, I scrap the diet a little bit because I am human … hahhaha! Excuses!!) I thought, "I'll make a quick easy quinoa salad and we will feel very satisfied." It took me only 30 minutes from chopping all the ingredients and cooking the quinoa. Fast and easy! I also thought, "Wouldn't it be great to add mango in here?" Like as I said before, I love fruit in my salads. It tastes delicious and you can have it with delicious lemon chicken legs, Couscous Salad or a maple-mustard salmon. Yummy!
Got extra mango? Boy, do I have some recipes for you to try! Check out my Mango Green Smoothie, and Black Bean Mango Salad Recipe!
Want to browse all of my healthy recipe posts? Check out these 15 Spring Recipes! Follow my Primavera Kitchen Board on Pinterest!!! For this period of the year, I also have great Pinterest Boards such as Quinoa Dishes, Spring Recipe, and Healthy Dinner where you can find such recipes like my Spring Quinoa Salad Recipe. I hope you enjoy all the delicious and healthy recipes I have there!!
Mango Quinoa Salad Recipe
This vibrant spring mango quinoa salad is filled with colors and textures. It is an easy healthy dish that it is equally delicious served warm or chilled.
Instructions
Place the cooked quinoa in a large bowl and add bell pepper, black beans, mango, salt and ground black pepper.

Garnish with parsley before serving.

This salad is good served at room temperature or chilled.

Enjoy!
Tips
Remember to rinse the quinoa before cooking so they don't taste bitter.
Try to dice the mango into small pieces so you can get the perfect mouthful with each bite.
You can thaw frozen mango if you do not have fresh mango.
To store: I recommend not adding the dressing to the salad if you plan on storing it in the fridge as it can get soggy. This salad lasts for up to 4 days in the fridge when stored separately.
Nutrition Information
Serving:
1
/4
Calories:
255
kcal
(13%)
Carbohydrates:
42
g
(14%)
Protein:
10
g
(20%)
Fat:
6
g
(9%)
Polyunsaturated Fat:
1
g
Monounsaturated Fat:
1
g
Sodium:
178
mg
(8%)
Potassium:
606
mg
(17%)
Fiber:
9
g
(38%)
Sugar:
8
g
(9%)
Nutrition information is calculated using an ingredient database and should be considered an estimate.
If you like this mango quinoa salad recipe, please share with your friends and family. Do you want to taste more? Subscribe to my newsletter and follow Primavera Kitchen on Twitter, Pinterest, Instagram, and Facebook for all delicious recipes updates. As always, I really appreciate you stopping by.
.
More delicious quinoa salad recipe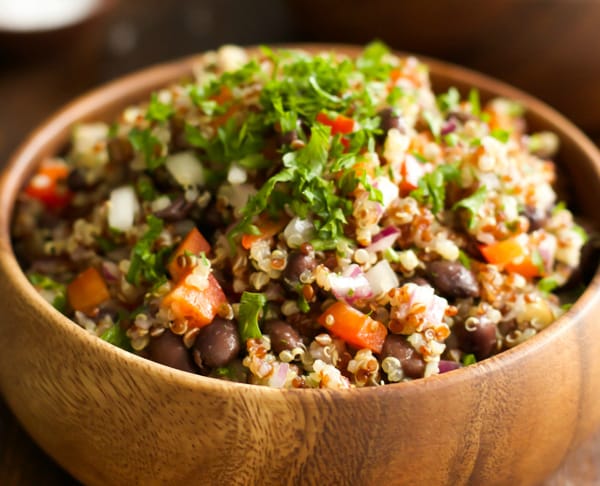 Quinoa Salad with Roasted Asparagus