Spinach Fruit Salad Recipe
Spinach fruit salad that's full of spring's bounty. Fresh strawberries, pineapple and blueberries pair amazingly well with walnuts and red onions.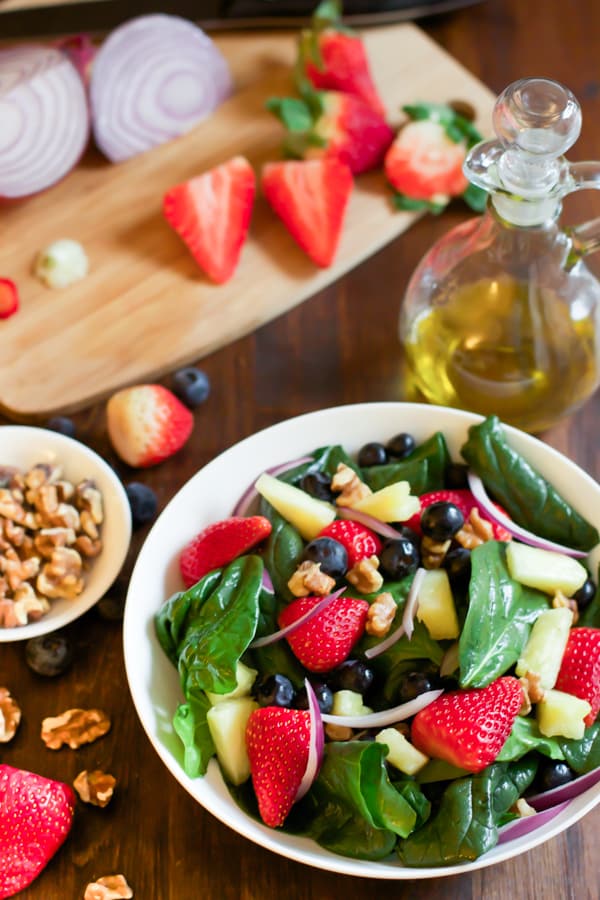 I love a good salad, especially for lunch so I don't feel like sleeping when I go back to work. Salads are also a good option if you are very busy and don't have much time to prepare your lunch. It is so easy to make that you can bring the ingredients to work and assessable it there. How easy and simple is that?
So, today I brought you a solid base of leafy greens salad, packed with some of my favorite fruits. This time I used blueberries, strawberries, and pineapple just because I love adding fruits to my salads. But you can add more fruits for a different taste, or omit, as you prefer. It is really up to you. Either way, you'll have a delicious salad to fill your body full of nutrients!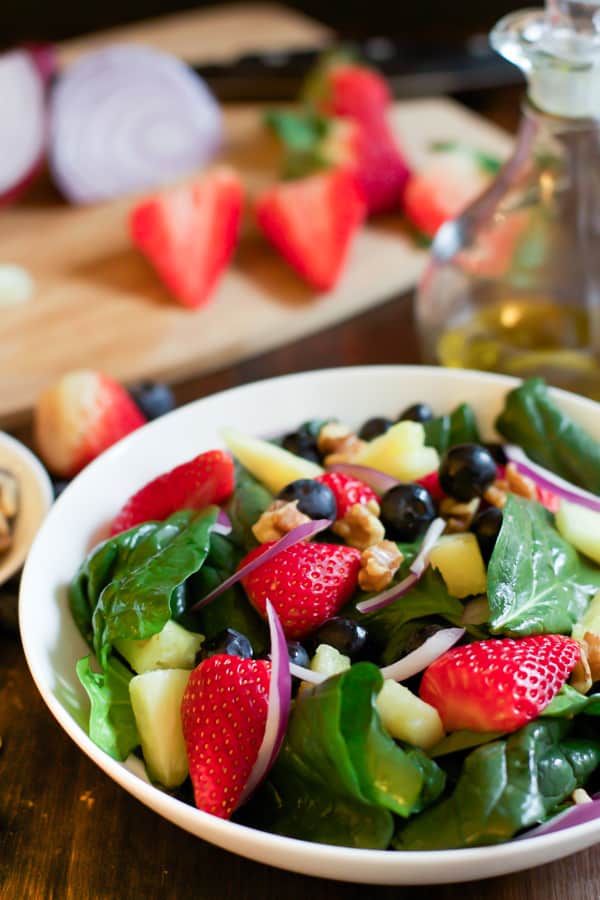 I also topped my green fruit salad with walnuts because I like a crunchy texture such as walnuts, almonds, pumpkin seeds, sunflower seeds, croutons and so on. As you wish you could add any other nuts you have on hand. It is really your choice.
For the dressing, I made an easy and quick dressing because homemade salad dressings are so much healthier and tastier than the store-bought ones. Also, when you make your own salad dressing you can avoid the high sodium and preservatives that come in the bottled ones. This is a beautiful and healthy meal made in no time.
This is a super easy salad that takes less than 10 minutes to make. Serve as a side salad for two or alternatively, add grilled chicken strips, salmon, grilled steak, tofu to make this salad a main dish. I really hope you enjoy this salad as much as I did.
This Spinach Fruit Salad recipe was originally created for Food Fanatic. So, be sure to visit them too!

If you like this Spinach Fruit Salad recipe, please share with your friends and family. Do you wanna taste more? Subscribe to my newsletter and follow Primavera Kitchen on Twitter, Pinterest, Google +, Instagram and Facebook for all delicious recipes updates.