Subscribe to receive new recipes!
Taste more! Sign up and you'll be getting to your inbox brand new content weekly such as recipes, cooking tips, videos and my FREE E-COOKBOOK.
This gluten-free and low fat Ground Turkey Sweet Potato Skillet will be ready to dig in less than 30 mins and you will be amazing by the flavourful of it. It's a perfect ONE-PAN meal for your family to enjoy!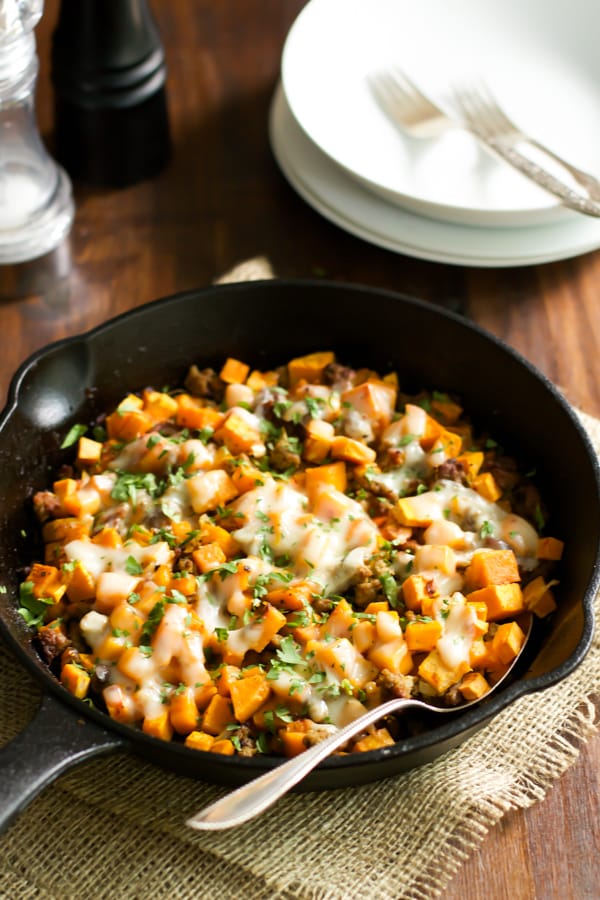 I don't know about you guys, but I am very excited for the Holidays. This year I will be celebrating Christmas with my family in Brazil. Oh Gosh, I can't even describe with words how much happy I am, especially because it will be my first Christmas with my family since 2010.
Also, my family is getting bigger. My lovely sister is pregnant and the baby will probably due at the end of November. So, I am leaving today for Brazil because I just cannot miss this special moment in our lives. It is my first nephew and her first son who will be with us on Christmas. How wonderful is that?? I just can't wait!! I am counting the hours to get there.
My husband will join me on the Holidays, but for him it will be his first Christmas without snow 😉 He is Canadian and Christmas and hot weather just don't go together. Of course he will have a very different experience, but I am sure he will enjoy it because we celebrate this special date pretty much like everybody else in the world.
As I said I am leaving today and I will come back only in January. That's right!! I will be in Brazil for two months (YESSSSS… So happy) which means I will be posting from the hot weather and where the sun shines there all year long 😉 Don't wrong, I'll be posting new recipes every week from Brazil and I am sure you will love all the flavourful, healthy and delicious recipes I'll be creating down there. South America has lots of great ingredients that make any dish even tastier. If you don't want to miss anything from this blog you just need to subscribe to my newsletter and you will receive new recipes into your inbox plus a free E-cookbook.
Before I leave I just want to share with you guys a recipe that I made few days ago for my husband and me on the weekend. It was a chilly Sunday day I was thinking of making my skinny lasagna rolls or my gluten-free zucchini lasagna cause I was feeling like eating a comfort food since it is getting cold in here. But, I decided to make something with sweet potato because I had lots of sweet potato in my kitchen. I thought to make my favourite sweet potato soup, but my husband said he felt like eating something with meat. Then, I decided to make this gluten free and low fat ground turkey with sweet potato skillet to warm us up a little bit. It is so easy and quick to make.
In half a hour this dish will be ready to dig in and you will be amazing by the flavourful of it. It is definitely a delicious comfort food to share joy. I hope you enjoy guys. Thanks a lot for reading. Want to browse all of my healthy recipe posts? Follow my Primavera Kitchen Board on Pinterest and Healthy Fall Recipes Pinterest Board. Please, if you recreate this Ground Turkey Sweet Potato Skillet recipe, please take a picture and tag #primaverakitchen on Instagram! I would love to see your version. Thanks a lot.
Video of the Recipe: Ground Turkey Sweet Potato Skillet
Ground Turkey Sweet Potato Skillet
A healthy gluten free ground turkey sweet potato skillet meal that is definitely a delicious comfort food to share joy.
Author:
Primavera Kitchen
Ingredients
2 tbsp extra-virgin olive oil
1 lbs extra-lean ground turkey
1 tsp garlic clove, minced
½ cup onions, diced
½ cup yellow pepper, diced
1 ½ cup sweet potato, diced
Salt and freshly ground black pepper
A pinch of red chili flakes
½ cup shredded mozzarella cheese
Fresh parsley for garnishing
Instructions
In an iron cast skillet, heat olive oil over medium high heat.
Add ground turkey and garlic.Use a wood spoon breaking up the turkey while it cooks.Stir occasionally and cook for about 7 minutes.
Add onions and yellow peppers and cook until onions are gold brown.
Add the sweet potato, chili pepper, salt and pepper.
Cover the skillet and cook until they are tender. Don't forget to stir occasionally. If necessary, add more olive oil or a little bit of water to cook faster the sweet potato.
While the sweet potato is cooking pre-heat the oven to 400 degrees.
When the sweet potato is tender, add shredded mozzarella cheese and bring the skillet to the oven to melt the cheese* (see note below).
When the cheese melts, remove from the oven and garnish with parsley.
Notes
* You can just put the lid on the skillet for 5 minutes. The cheese will melt.
**You can keep this recipe in the fridge for up 6 days.
If you like this Ground Turkey Sweet Potato Skillet recipe, please share with your friends and family. Do you wanna taste more? 
Subscribe to my newsletter
 and follow Primavera Kitchen on 
Twitter
, 
Pinterest
, 
Google +
, 
Instagram
 and 
Facebook
 for all delicious recipes updates. As always, you are really appreciated for stopping by.
Taste more Sweet Potato Recipes
Sweet Potato Green Beans Shrimp Skillet
Turkey Sausage Skillet with Brussel Sprouts and Sweet Potatoes 
Ground Turkey Sweet Potato Stuffed Peppers