6 easy recipes you can make in a pre-seasoned skillet
I bought my Pre-seasoned Skillet 2 years ago and since then I've been used it a lot especially when I want to make something very fast, but of course full of flavour. This type of pan is great because it does not easily scratch like stainless steel and aluminum pots, you can use it in the oven or stovetop, and if you keep it seasoned well food will not stick. Talking about seasoned, this skillet comes pre-seasoned, so you don't need to season the pan before it's first use. But, if you don't maintain this pre-seasoning, you'll need to apply a new coat, which is very easy to do.
It is unbelievable that everything you cook in a heavy cast-iron skillet somehow tastes even better. This type of pan is also amazing because cast iron creates superior heat retention, heats and cooking evenly. You can even use it for camping. So, how versatile is that? It is probably the most versatile pan you can own.
Check out the listing on Amazon – it has a 4.6 star rating from 5,246 reviews. These reviews are pretty good and I can say too that I love this one for the reasons expressed before.
This post contains affiliate links. For more information, please visit my disclosure page here.
---
1. Sweet potato, Kale and Shrimp Skillet – It is gluten-free and healthy easy dish without sacrificing in flavour! Enjoy!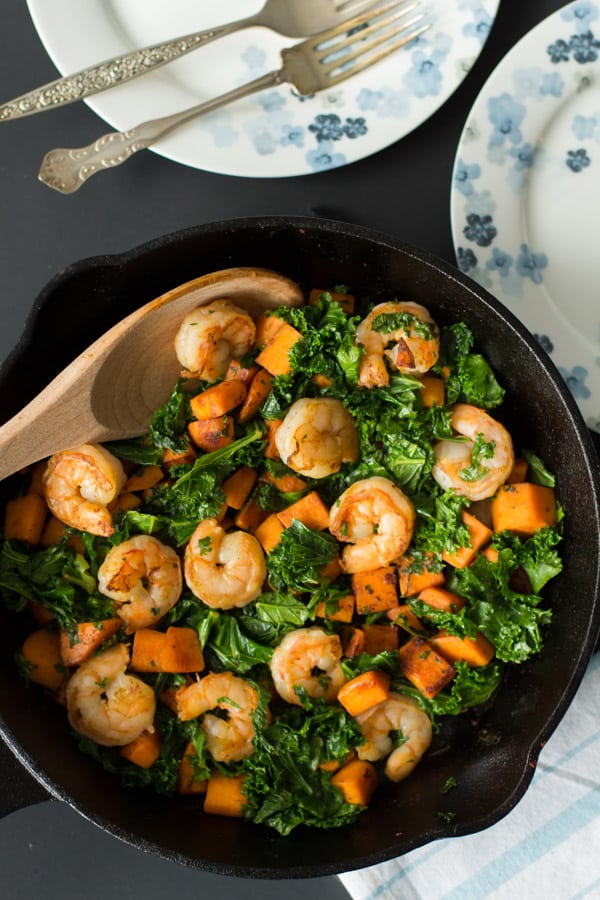 2. Ground Turkey Sweet Potato Skillet – A healthy gluten free meal that is definitely a flavourful comfort food to share joy.
3. Quick and Easy Boiled Salmon – If you are looking for a quick and easy broiled recipe, you are definitely at the right place. It only requires 4 ingredients and you will have a delicious and perfect heart-healthy meal for your busy weeknights.
4. Sausage Asparagus Quinoa Pasta – This is a quick-to-make combination of quinoa pasta with Italian sausage, asparagus and Parmesan cheese. It is very filling and satisfying dinner dish.
5. Fusilli with Mushroom and Roasted Butternut Squash – This is a great recipe for you and your family enjoy for a quick dinner.
6. Shrimp Fried Rice with Broccoli – It is very flavourful, easy to make and it is gluten-free meal! You can add any veggie, rice, soy sauce and you are done.
If you like this 6 easy recipes you can make in a pre-seasoned skillet post, please share with your friends and family. Do you wanna taste more? Subscribe to my newsletter and follow Primavera Kitchen on Twitter, Pinterest, Instagram and Facebook for all delicious recipes updates. As always, you are really appreciated for stopping by.