Simple Kale Salad with Avocado Dressing, which is so delicious, and it's done in 5 minutes by pulsing the dressing ingredients in a food processor. Easy, healthy, gluten-free, low-carb and paleo friendly!
Can you believe 2017 has already come and gone? Isn't that crazy?! It was a year filled with so much joy in my personal and professional life. In 2017, my husband, son and me had a great vacation in July. We visited England, Scotland and Ireland. It was a trip that we will never forget. So fun! We also went green by changing our car to an electric one. And this year was so special too because we could see the quick development of our son. It's incredible how much they accomplish in only one year. I think children grow faster in their first year than at any other time in their lives. Incredible!
Tomtom learned how to walk, eat by himself, speak some words, brush his teeth, put on and off his shoes and to understand three languages (Portuguese, English and French). Oh yes this was an incredible year for him and consequently for us too because it's so worth it to see your child grow into this amazing human being, day by day. For me as a mom, there isn't anything more wonderful and enjoyable than that.
Professionally, in 2017 I redesigned my blog that I was planning to do for over a year. My blog also reached over a million pageviews monthly this year and it made me believe that all we need to realize our dreams is faith, passion and hard work. I also worked with some great brands that I love such as Barilla, De'Longhi and went to some awesome blog events. On top of that my social media followers grew consistently and lots of my recipes became very popular on online such as my Garlic Butter Salmon in Foil, Garlic Parmesan Roasted Cauliflower, and Asparagus Stuffed Chicken Breast. I'm continuing to grow and I'm very happy for that. Looking back, I'm humbled by all that we accomplished in 2017. More people than ever are sharing my recipes and raising awareness about the importance of eating homemade and healthy food.
It isn't easy to run an online business and I couldn't do it without you. So, thank you for making all this hard work so worthwhile. Thank you so visiting my site, for making my recipes, for sharing all over social media and for all the support.
Subscribe for new recipes & a free e-cookbook
Now that we are in 2018, it's time to set "realistic" goals and do whatever we can to realize them. Some of my goals for this year are:
Work harder to bring you the best of the best healthy recipes you can possible cook. I want to make this site bigger to reach even more people who want to eat healthier. I have this true desire of helping as much people (including me) as I can, to eat healthier and better.
Use my time wisely by focusing on what really matters and getting more organized. Spend more time with my family and when I say time I mean "quality time" by being fully in the present moment when I'm with them. No computers, no cell phones, no TV! Only us three! My son Tomtom (Thomas) is good with that. He and my husband are truly joy in my life.
Exercise 5 days of the week, meditate first thing in the morning, drink 10 glasses of water, go to bed earlier and wake up earlier.
These are my goals. They are big, but I think they are absolutely reachable and realistic. And now I want to hear from you. What are your goals in 2018?
But before, if your New Year's Resolution is to lose weight, get fit and get healthy, then this first recipe of the year will help you! This Simple Kale Salad with Avocado Dressing is all what you need to start your year right off. It's healthy with lots of ingredients good-for-you such as kale (loaded with fiber), avocado (loaded with good fat) and much more. I love using kale in salads like this Sweet Potato Chicken Kale Skillet because it's so good for you. I even use it to make Spicy Kale Chips!
This salad is not rich in protein but you can pair it with a delicious broiled salmon or roasted chicken breast. Mm.. Delicious! This salad is also super easy to make, gluten-free, low-carb, Whole30 and paleo friendly. If you're looking for another low-carb recipe, try my Garlic Shrimp with Zucchini Noodles and Garlic Parmesan Cauliflower Rice Recipe.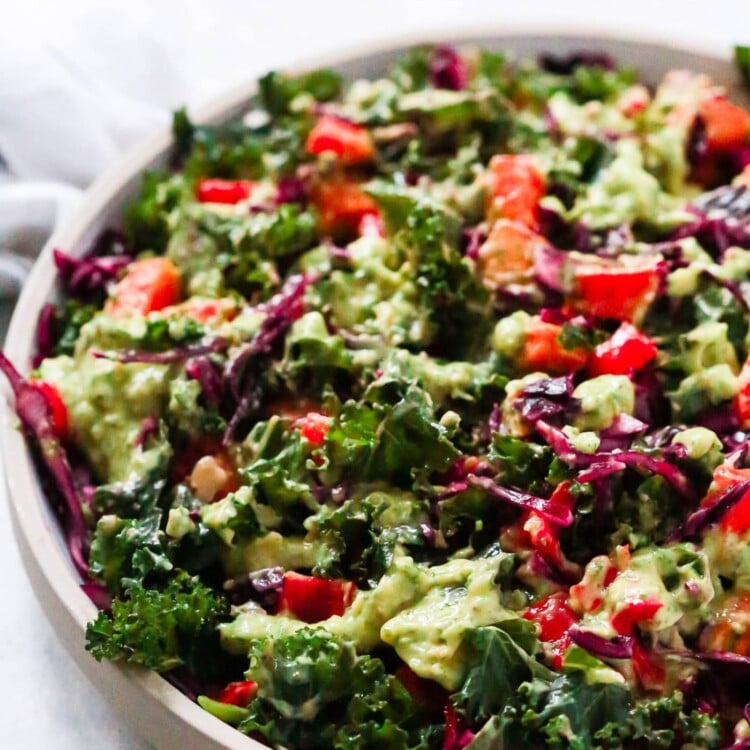 Simple Kale Salad with Avocado Dressing (+ Reflections on 2017 and Goals for 2018)
Simple Kale Salad with Avocado Dressing, which is so delicious, and it's done in 5 minutes by pulsing the dressing ingredients in a food processor. Easy, healthy, gluten-free, low-carb and paleo friendly!
Instructions
In a large salad bowl, add kale, red cabbage, red onions and bell pepper. Set aside.

In a food processor, pulse all ingredients until smooth. Add less water if you prefer your dressing creamer. The amount of water will depend on what consistency you want.

Taste to check the seasoning and pour over the salad. Mix everything very well. Enjoy!
Nutrition Information
Serving:
1
/6
Calories:
269
kcal
(13%)
Carbohydrates:
13
g
(4%)
Protein:
4
g
(8%)
Fat:
24
g
(37%)
Saturated Fat:
3
g
(19%)
Sodium:
44
mg
(2%)
Fiber:
5
g
(21%)
Sugar:
4
g
(4%)
Nutrition information is calculated using an ingredient database and should be considered an estimate.
And if you like this Simple Kale Salad with Avocado Dressing recipe, please share with your friends and family. Do you wanna taste more? Subscribe to my newsletter and follow Primavera Kitchen on Twitter, Pinterest, Google +, Instagram and Facebook for all delicious recipes updates. As always, you are really appreciated for stopping by.