These 10 Easy Summer Salad Recipes are perfect for summer parties, picnics and barbecues. They are super easy to make, fresh, flavourful, colourful and healthy. They are also all go-to recipes for summer meals.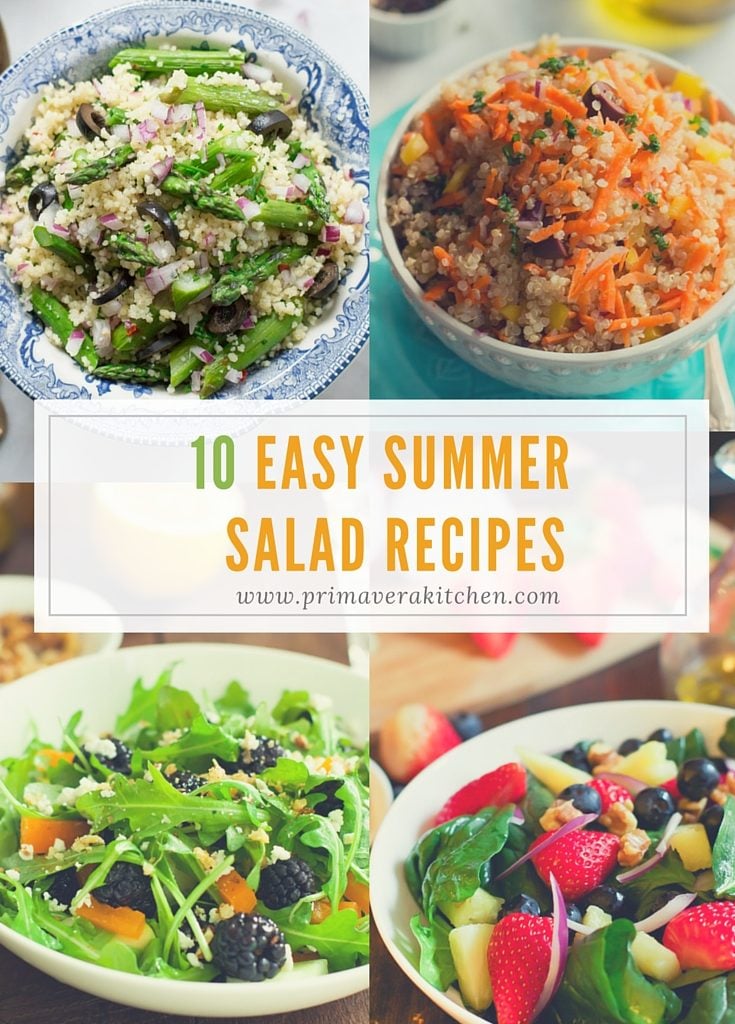 Today I am sharing the most popular salad recipes from the blog and I am sure you will enjoy it during this summer time because summer is made for salad, right? These 10 Easy Summer Salad Recipes are super quick to make, fresh, bright, healthy and easily transported. You and your family will enjoy these salads all summer long. And I bet you will never get tired of these 10 Easy Summer Salad Recipes because they are made with a variety of seasonal ingredients such tomatoes, asparagus, mango, corn and so on.
They are perfect for summer potluck, picnics, barbecues, pool/patio/backyard parties, or a light and fresh dinner! Hope you enjoy all these 10 salads as much as I do!
---
Carrot Quinoa Salad – It is filled with shredded carrots, red onions, bell pepper and olives. It is ready in 20 mins.
Shrimp Quinoa Salad – It is protein-packed, easy to make and very irresistible!
Subscribe for new recipes & a free e-cookbook
Quick Easy Red Cabbage Salad – This is very gluten-free and comes together in minutes.
Asparagus Salad – It is tossed with asparagus, whole wheat couscous, kalamata olives and homemade vinaigrette.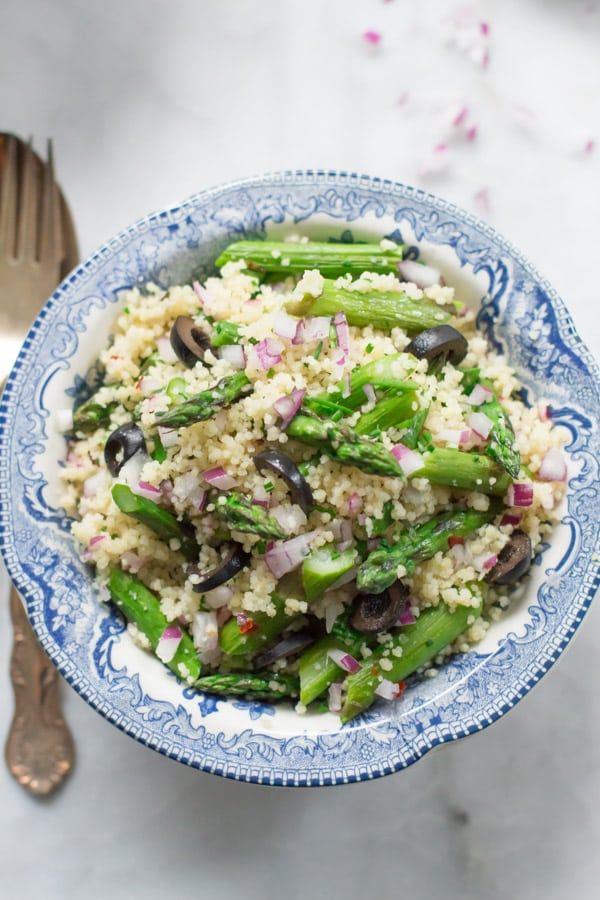 Quinoa Greek Salad – It'll be great at your next big barbecue.
Spinach Fruit Salad – This is made with fresh strawberries, pineapple and blueberries. It is amazing for summer.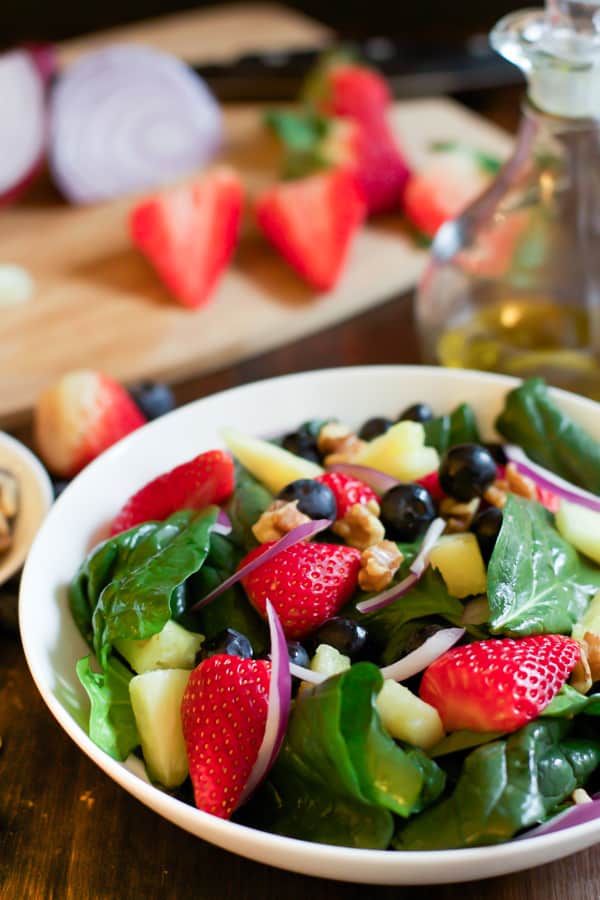 Arugula Blackberry Salad –  It has everything you want in a summer salad like plump blackberries, pineapple and peppery arugula.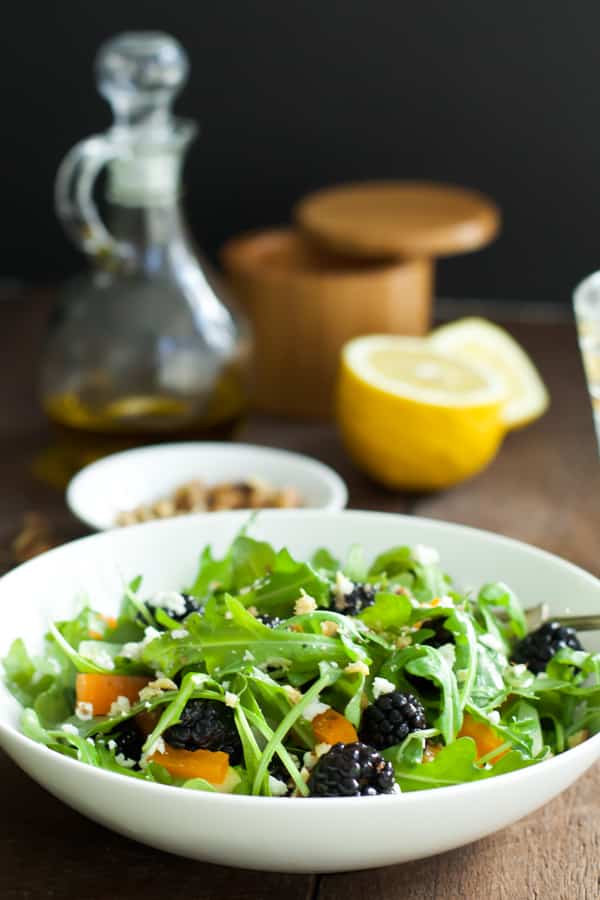 Black Bean Mango Salad – This is bright, fresh, and easily transported! It is great for a BBQ party.
Easy and Quick Quinoa Salad – It is made with a homemade vinaigrette dressing, black beans, red onions and parsley!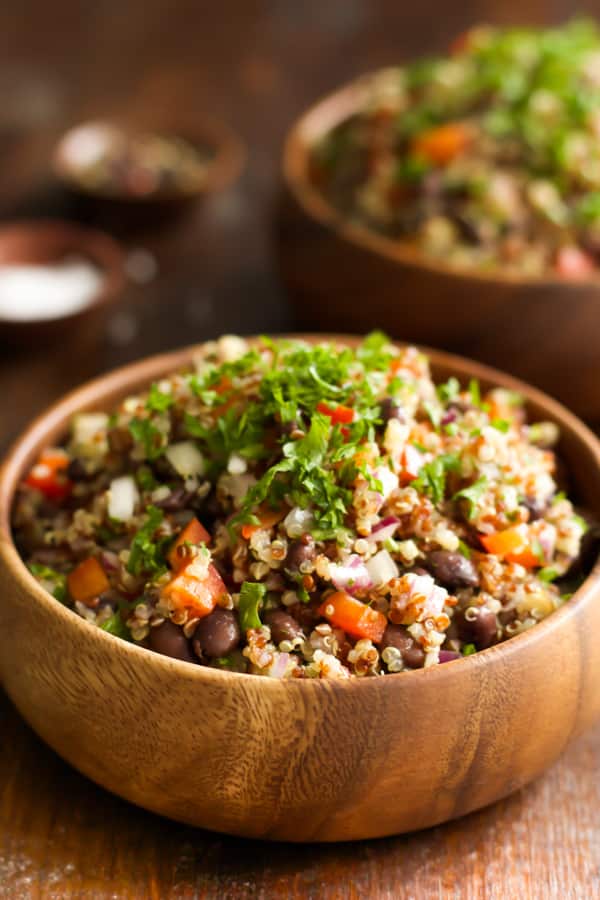 Tabbouleh Salad – It is loaded with tomatoes, cucumber, scallions, chopped parsley and bulgur.
Please, if you recreate one of these recipes, please take a picture and tag @primaverakitchen and #primaverakitchen on Instagram! I would love to see your version. Thanks a lot.
And if you like these recipes, please share with your friends and family. Do you wanna taste more? Subscribe to my newsletter and follow Primavera Kitchen on Twitter, Pinterest, Instagram and Facebook for all delicious recipes updates. As always, you are really appreciated for stopping by.