Take a look at this awesome round-up of my favorite 9 healthy fresh quinoa salads. These salads are loaded with nutrients and delicious ingredients that you want to dive into.
If you visit my blog often you should already know my love for quinoa salads. Almost every week I try to create a salad using this pseudo gain because it is so fulfilling and nutritious (if you would like to know more about its benefits, please click here) and goes really well with lots of different ingredients such as fruits, veggies, meat, nuts and spices. I mean the sky is the limit when we are talking about quinoa salads. Quinoa salad is definitely my favourite type of salad and side dish. So, today I stopped here very quick to share with you some of my popular quinoa recipes from this blog. This quinoa recipe roundup will help you to get creative in your kitchen today using quinoa as the main ingredient.
I really hope you enjoy and let's get start it.
---
1. Easy and Quick Quinoa Salad – It is vegan and gluten free salad. It is loaded with beans, red onions, pepper and parsley!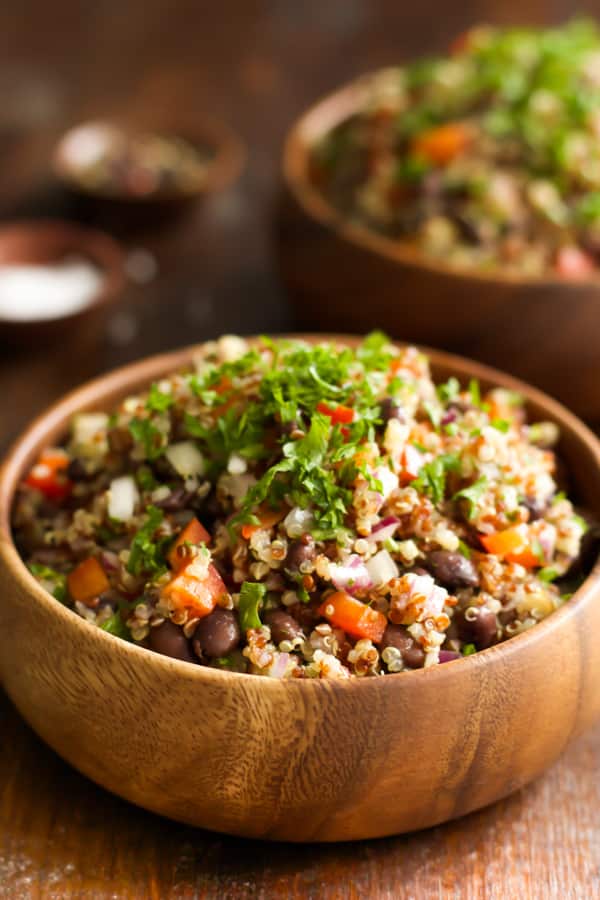 2. Mango Quinoa Salad – This delicious salad is filled with colours and textures. It is equally delicious served warm or chilled.
Subscribe for new recipes & a free e-cookbook
3. Quinoa Salad with Roasted Asparagus – It is quick and easy to make for your busy days! It is made with red onion, pepper, asparagus, quinoa and vinaigrette!
4. Quinoa Greek Salad – It is earthy, briny, and all about the tang thanks to feta and vinaigrette. It'll be great at your next big barbecue.
5. Mediterranean Quinoa Salad – All you need is to add cherry tomatoes, bocconcini, fresh basil and vinaigrette to the cooked quinoa.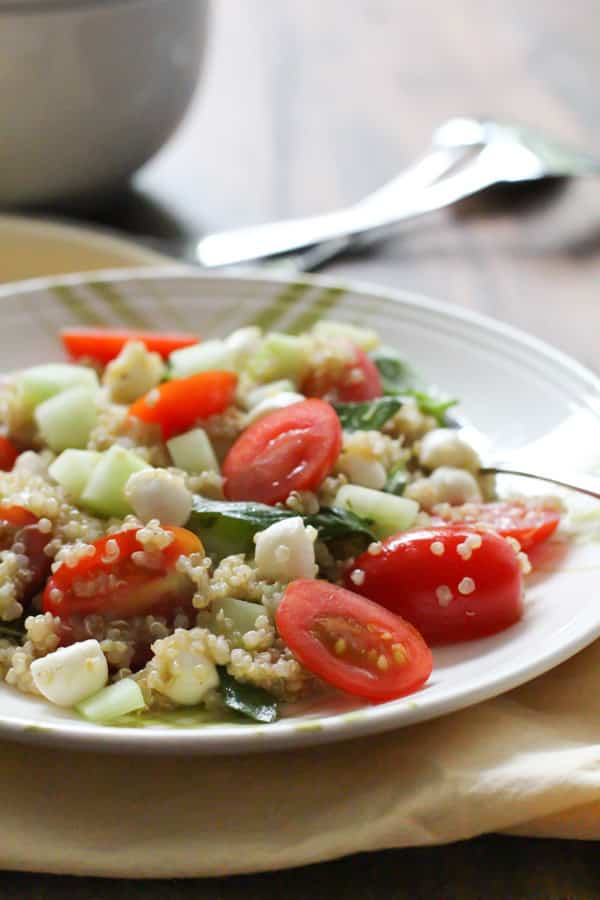 6. Kalamata Collard Quinoa Salad – It couldn't pack any more flavor into one dish. Make it for lunch, dinner, or as a side to any protein you'd like.
7. Roasted Brussels Sprouts Quinoa Salad – It makes a fantastic lunch or side to dinner. Toss some chicken in for a full meal!
8. Quinoa Cabbage Salad – This is full of color, crunch, and quinoa! Betcha can't say that five times fast.
9. Warm Collard Quinoa Salad – This salad is a healthy great meal for lunch and dinner. It is so simple to prepare and full of nutrients.
Please, if you recreate this recipe, please take a picture and tag @primaverakitchen and #primaverakitchen on Instagram! I would love to see your version. Thanks a lot.
If you like this post, please share with your friends and family. Do you wanna taste more? Subscribe to my newsletter and follow Primavera Kitchen on Twitter, Pinterest, Instagram and Facebook for all delicious recipes updates.