This Baked Eggs with Veggies recipe is low carb and gluten-free. It's loaded with veggies such as turnip, sweet potato, zucchini, and homemade tomato sauce. 
Hello guys,
How are you doing? I am very excited about meeting friends and waiting for my nephew to be born here in Brazil. Meanwhile, I am enjoying spending time with my sister and doing things together because when he arrives, we will have time only for him 😉
Here in Brazil, we don't celebrate Thanksgiving. So, in the middle of November, we already start to decorate the house for Christmas. Yes, I know it may seem very early, but that's the way we do in northeastern Brazil. Last weekend, we went to the shopping mall and bought some Christmas decorations and ornaments for our tree. In Brazil, we don't use a real tree a lot. It is very rare to find one and for this reason, we have a fake one. Of course, I prefer the smell of a real pine tree, but I am pretty happy with my fake tree too. Believe or not, we already had so much fun preparing it and now it is all done.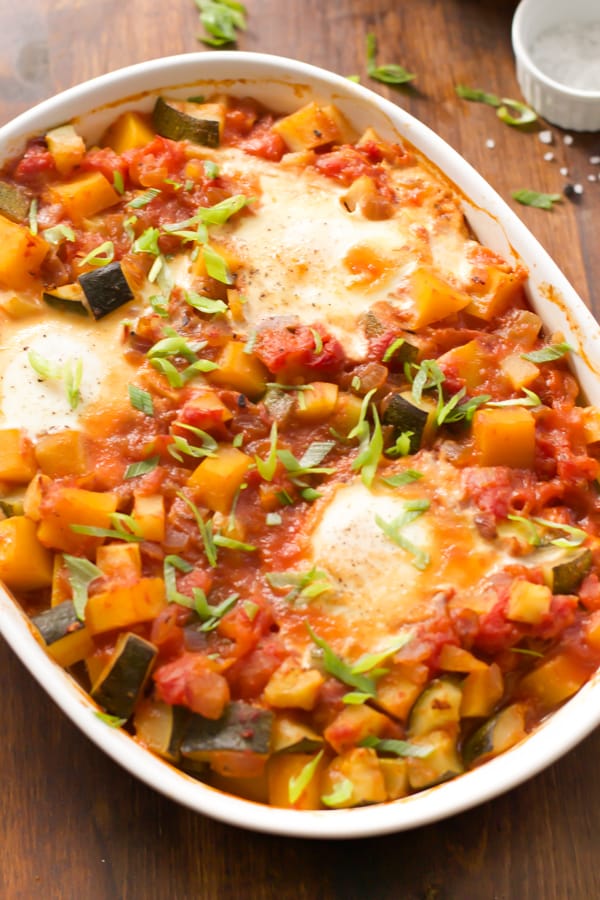 Today I am sharing with you a delicious and easy gluten-free Baked Eggs with Veggies dish. This baked eggs with veggies is one of my favorite baked dishes because you can add any vegetables you want or have on hand. If you don't have one of the ingredients, you can add another one like broccoli, carrots, or even eggplant. I also used turnips in the recipe because they are a great potato substitute. Turnips contain fewer calories per serving than potatoes and also they provide a good source of vitamin C. This dish is delicious because of the eggs. I just added three eggs to this dish, but you can put as much as you want. It is up to you.
Subscribe for new recipes & a free e-cookbook
If you're looking for more gluten-free recipes, you should try my Turnip and Carrot Slow Cooker Beef Stew, Healthier Slow Cooker Beef Stew, Easy Egg Salad Recipe (Web Story), and my Zucchini Noodles with Tomato Sauce and Shrimp!
Thanks a lot for reading. Want to browse all of my healthy recipe posts? Follow my Primavera Kitchen Board on Pinterest!!! I also have an awesome Healthy Fall Recipes and Side Dishes for Thanksgiving Pinterest Boards.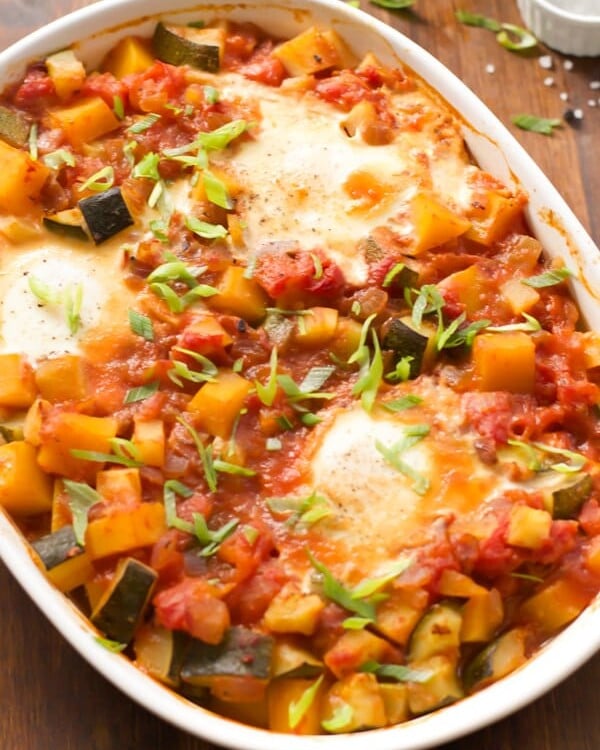 Baked Eggs with Veggies
This Baked Eggs with Veggies recipe is low carb and gluten-free. It's loaded with veggies such as turnip, sweet potato, zucchini, and homemade tomato sauce.
Instructions
Preheat oven to 400 degrees F.

In a large pan, add olive oil over medium-high heat.

Add onions and garlic. Cook until the onions are brown. Stir frequently.

Add sweet potato and turnip. Cook for about 5 minutes.

Add zucchini, diced tomato, and tomato sauce.

Cook until veggies are tender. If necessary, add water to help to cook the veggies.

Spread vegetable mixture evenly in the greased baking dish (casserole dish).

With the back of a large spoon, make three indentations in the veggies mixture.

Crack 1 large egg into each indentation, keeping the yolk intact.

Season eggs with salt and pepper.

Bake for about 15-20 minutes or until the eggs whites are set.

Remove from oven and garnish with green onions
Tips
Feel free to add additional eggs if you prefer.
Make sure you cut your vegetables into small bite sized pieces that are uniform in size so they bake evenly.
Other vegetables you can add or swap with are broccoli, carrots, or even eggplant.
To store: Store the baked eggs with veggies in an airtight container or tightly wrapped in the fridge for up to 4 days.
To reheat: You can reheat the dish in the microwave.
Nutrition Information
Serving:
1
/4
Calories:
240
kcal
(12%)
Carbohydrates:
30
g
(10%)
Protein:
8
g
(16%)
Fat:
11
g
(17%)
Saturated Fat:
2
g
(13%)
Polyunsaturated Fat:
1
g
Monounsaturated Fat:
6
g
Cholesterol:
123
mg
(41%)
Sodium:
361
mg
(16%)
Potassium:
776
mg
(22%)
Fiber:
6
g
(25%)
Sugar:
13
g
(14%)
Nutrition information is calculated using an ingredient database and should be considered an estimate.
If you like this Baked Eggs with Veggies recipe, please share with your friends and family. Do you want to taste more? Subscribe to my newsletter and follow Primavera Kitchen on Twitter, Pinterest,  Instagram, and Facebook for all delicious recipes updates. As always, I really appreciate you stopping by.
More Recipes
Sweet Potato Zucchini Casserole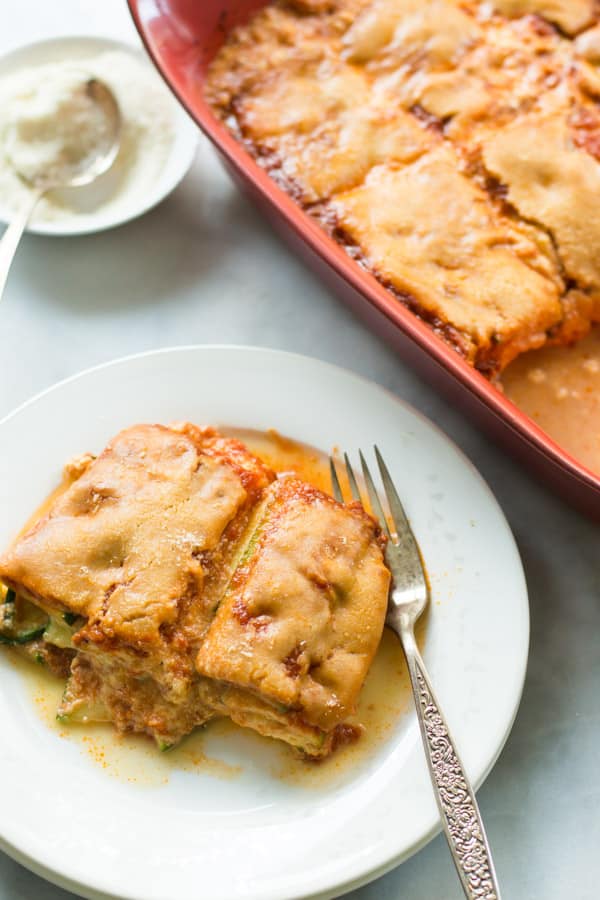 Baked Potato with Lemon Shrimp
Easy and delicious Roasted Root Vegetable With Thyme