How about chilling out with this refreshing Caipirinha (Brazilian drink)? It is made with lime, sugar, ice, and cachaça. This is a light version with honey!
How about chilling out with this refreshing tropical cocktail? I thought it is a great way to watch the World Cup drinking this traditional Brazilian drink called Caipirinha. Are you tuning in to the World Cup? I am. How could I not enjoy soccer? I grew up in Brazil where everybody is COMPLETELY crazy for this sport. Soccer is not only a sport but it is considered an art by the Brazilians. That shows how much people down there love soccer.
In my home, I have the World Cup on all day. It's exciting for me. I am getting sad already since it's almost over. Of course, I am cheering for Brazil, but I've got to be honest, I wish Canada took its national soccer program more seriously and I would have two teams to cheer for 😉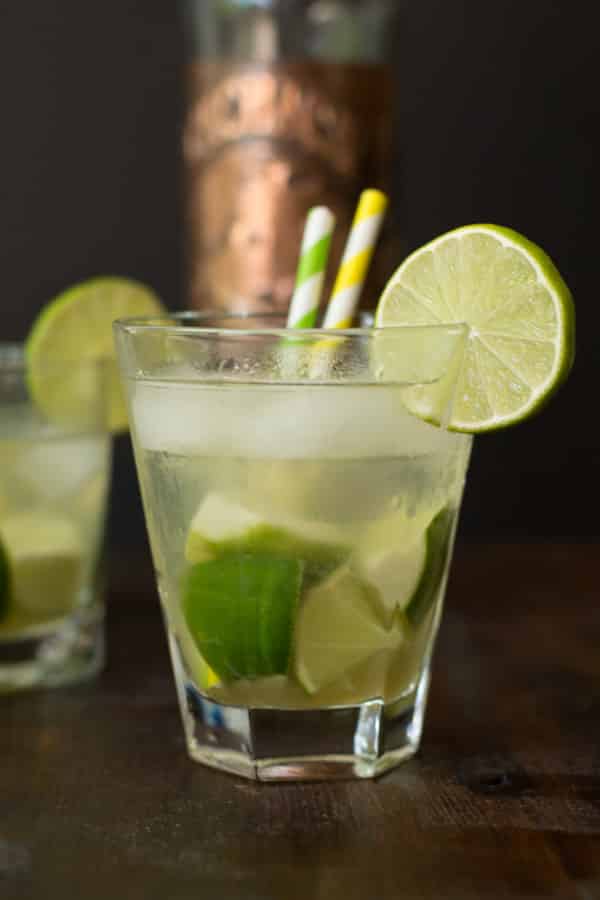 So, want a fun way to celebrate this huge event with the national cocktail? Make Caipirinha, made with lime, sugar, ice, and cachaça, which is a sugarcane-derived product. The alcohol results from the fermentation of the sugarcane juice that is distilled. If I can explain quickly what cachaça is, I would say it's a Brazilian version of rum. This drink is sold all over Brazil in pubs, restaurants, bars, parks, and beaches (yes, alcohol is allowed to be consumed at the parks and beaches). Also, there are many variations of this drink because instead of using cachaça, some people just use vodka or add different fruits like strawberry, kiwi, pineapple, and so on. When Caipirinha is made with vodka, people call this drink Caipiroska.
Subscribe for new recipes & a free e-cookbook
One last thing, I just would like to say that I tried to make this drink a little lighter and for this reason, I used one tablespoon of honey instead of two tablespoons of sugar like the traditional recipe calls for. But, if you prefer to make the traditional recipe, just go ahead and try it 😉 To balance things out, I usually like to enjoy Easy Nutritious Green Juice Recipe the next day.
Want to throw yourself a party to enjoy this caipirinha with? Try my Blender Brazilian Shrimp Pie and Mango Quinoa Salad then end off the evening with this caipirinha and homemade Raspberry Ice Cream! Don't like raspberry? Here are 10 more healthy ice cream recipes for you to try instead!
Caipirinha (Brazilian Drink)
How about chilling out with this refreshing Caipirinha (Brazilian drink)? It is made with lime, sugar, ice, and cachaça. This is a light version with honey!
Ingredients
Instructions
In a small glass, add lime and honey.

Using a pestle or a wooden spoon gently mash the lime and the honey together. Do not squeeze the lime too much.

Add ice and the cachaça. Enjoy!
Tips
When muddling the lime with the honey, be careful not to mash them too much or the lime may become bitter. 
After cutting the lime, remove the white pith as it will add bitterness to the drink.
To store: You can make extra and store it in the fridge in an airtight container. Simply skip adding the ice until ready to enjoy. 
Nutrition Information
Serving:
1
/2
Calories:
90
kcal
(5%)
Carbohydrates:
12
g
(4%)
Sodium:
1
mg
Potassium:
40
mg
(1%)
Fiber:
1
g
(4%)
Sugar:
9
g
(10%)
Nutrition information is calculated using an ingredient database and should be considered an estimate.
I hope I inspired you to create a delicious drink in your own kitchen today.
If you like this recipe, please share with your friends and family. Do you want to taste more? Subscribe to my newsletter and follow Primavera Kitchen on Twitter, Pinterest, Google+, Instagram, and Facebook for all delicious recipes updates. As always, I really appreciate you stopping by.
Thanks for reading 😉