Vegetarian Meal-Prep recipe is one of the best ways to pack your body with good nutrients and feel satisfied. It's also great for a vegetarian, paleo and whole30 dinner.
As you may notice, one thing that really helps me stick to a healthy living plan is meal prep. For sure, it's easier to eat healthy when you meal-prep. And since I've been posting lots of meal-prep recipes here, I hope you all enjoy them as much as I do.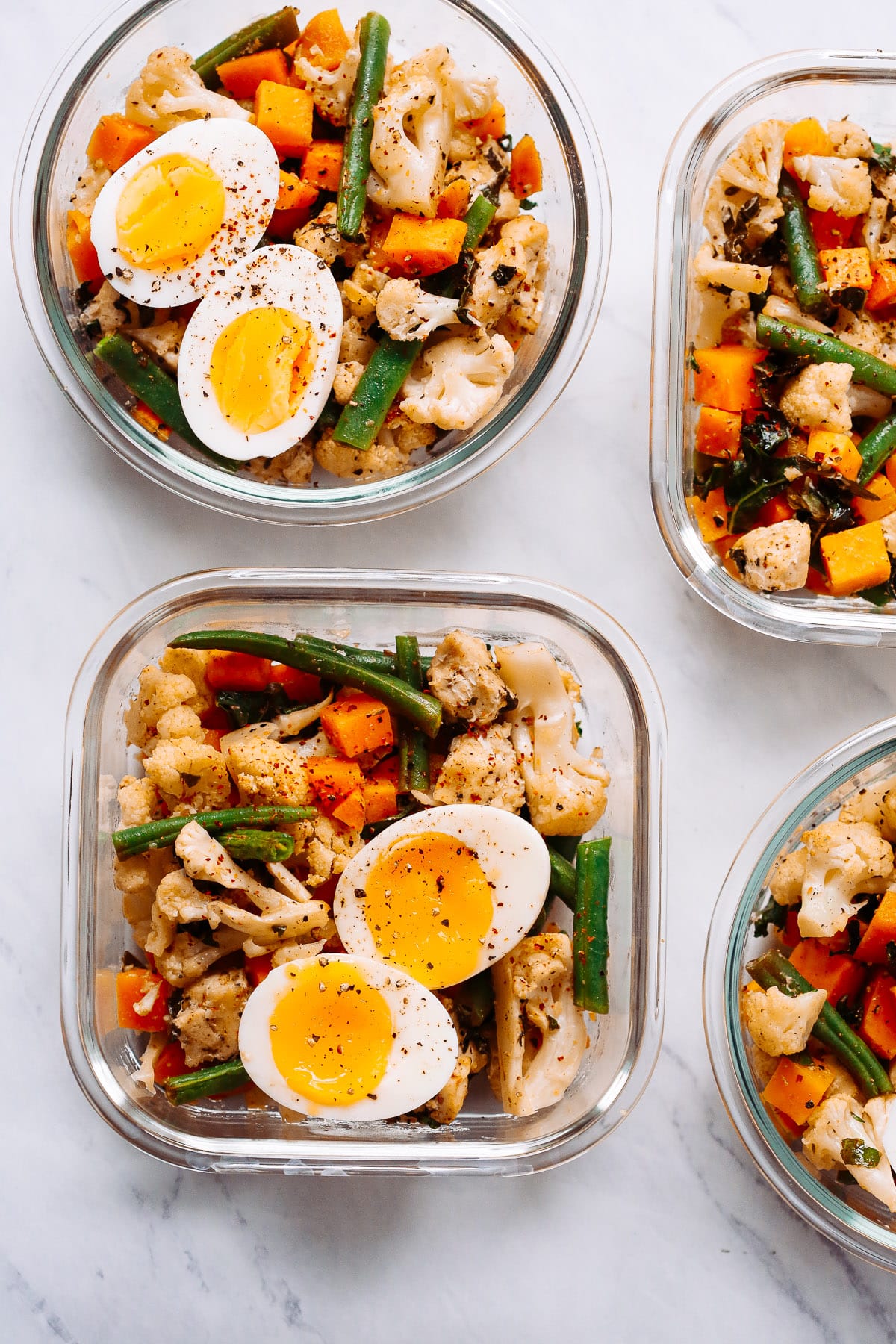 This Vegetarian Meal-Prep recipe is great because you can't go wrong with roasted vegetables, right? They're absolutely tasty with good seasonings and your favourite type oil such as olive oil, avocado oil or coconut oil. This meal prep is also gluten-free and dairy-free.
Also, they're so quick to make and really great this time of year (winter) when you just want to use your oven and roast everything you can.
If you've got leftovers, you can even put them in! I made this Sheet Pan Shrimp Boil Recipe recently and added some leftover corn to the meal prep bowl too!
How to make this vegetarian meal prep
Prep work:
Preheat your oven to 425°F.
Rinse all veggies and pat them dry with a clean kitchen towel.
Peel and cube your sweet potato. Remove kale stems and chop into bite-sized pieces. Cut cauliflower into florets and halve green beans.
Roast vegetables:
Subscribe for new recipes & a free e-cookbook
Line a large baking sheet with parchment paper for easy cleanup, then arrange all prepared veggies (except for green beans) on the sheet. Avoid overcrowding as this can prevent browning.
Drizzle vegetables with olive oil, salt, black pepper, turmeric and garlic powder. Toss until all veggies are well coated in spices.
Roast for 15-20 minutes, stir in green beans and roast 10 minutes longer.
Hard boil eggs:
While your vegetables are roasting, get to multi-tasking and make your hard boiled eggs!
Assemble bowls:
Remove veggies from the oven and let them cool.
Portion into 4 containers and top each with a hard-boiled egg. And there you have it, easy vegetarian lunches prepped in advance!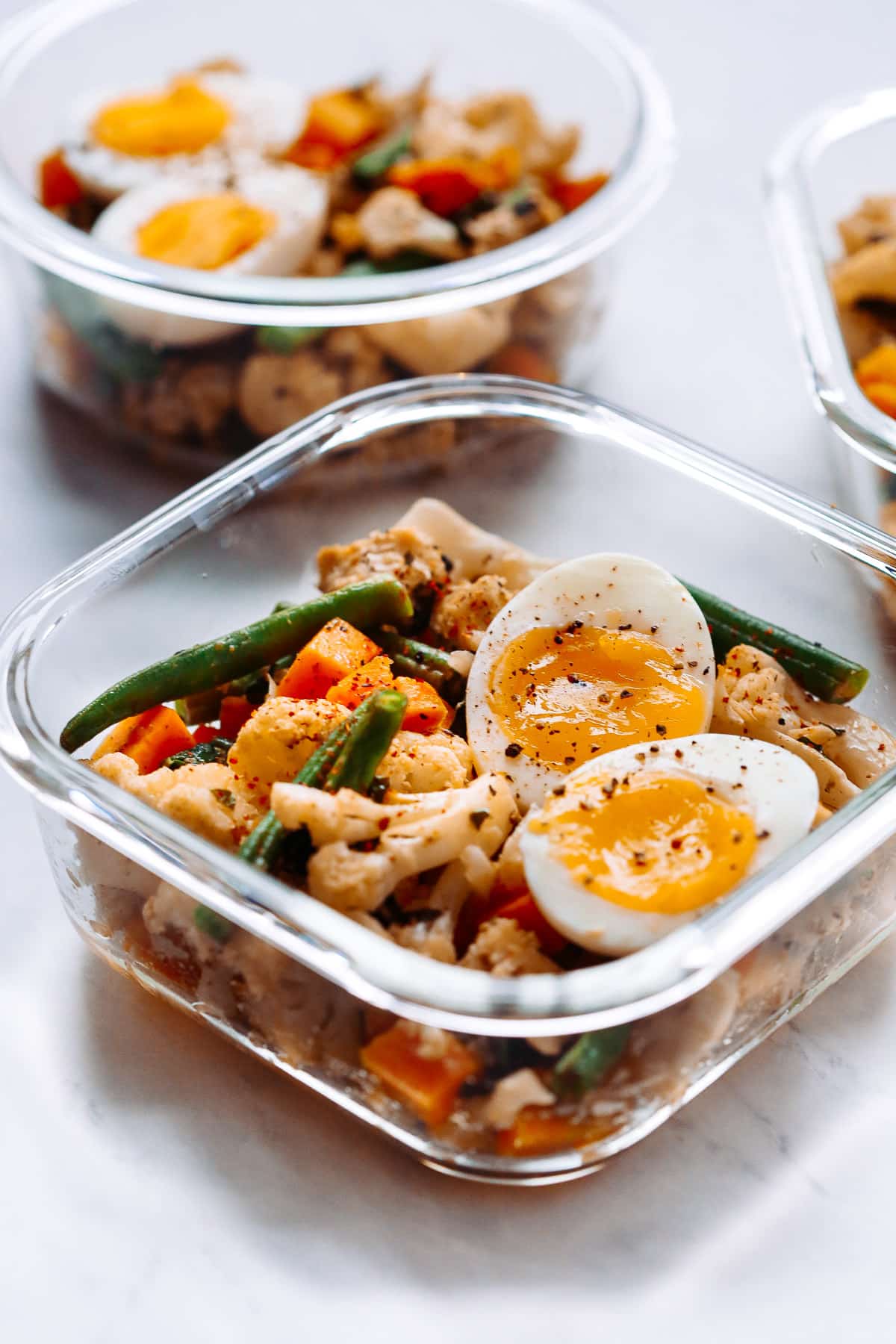 How do I make hard boiled eggs?
It's so easy and here are the steps to make them. You can also check out my How to Hard Boiled Eggs for tips and notes! You can also make Instant Pot Hard Boiled Egg instead.
Place the eggs in a pot and cover them with cold water.
Bring to a boil over medium-high heat.
Cover the pot and remove from the heat.
Set aside for about 10 minutes. Drain, cool in ice water and peel.
Got extra eggs? Try my Easy Egg Salad Recipe or my Kale Salad with Crispy Sweet Potato!
How long do you boil for soft eggs?
I love soft boiled eggs and follow the instructions below to make them:
Place the eggs in a pot and cover them with water.
Bring water to a boil.
Cover the pot and again remove the pot from the heat and set aside.
If you like a runny yolk, five minutes is the perfect time for you. But if you like firmly set yolk, seven minutes is the time you need to wait.
Then, drain, cool in ice water and peel. Enjoy!
Recipe Tips
Buy pre-chopped veggies to save time in the kitchen.
Top your roasted veggies bowls with your favourite sauces such homemade mayo and green sauce.
Add the vegetables in a single layer to the baking sheet to avoid they become mash.
Toss the cut vegetables with olive oil, but make sure the pieces are coated on all sides to avoid the veggies to get dry.
Cut them into roughly the same size. This way all of the veggies will cook at the same time.
You can also add other type of veggies you like such as tomatoes, potatoes, onion, red onions, butternut squash, bell peppers and so on. Whatever you have on hand.
If you want to make it vegan just replace eggs for tofu, chickpeas, quinoa or black beans.
This healthy meal prep recipe is great with side dishes like brown rice, wraps, zucchini noodles, soups or chickpea salad. This easy meal prep goes really well with delicious whole grains too.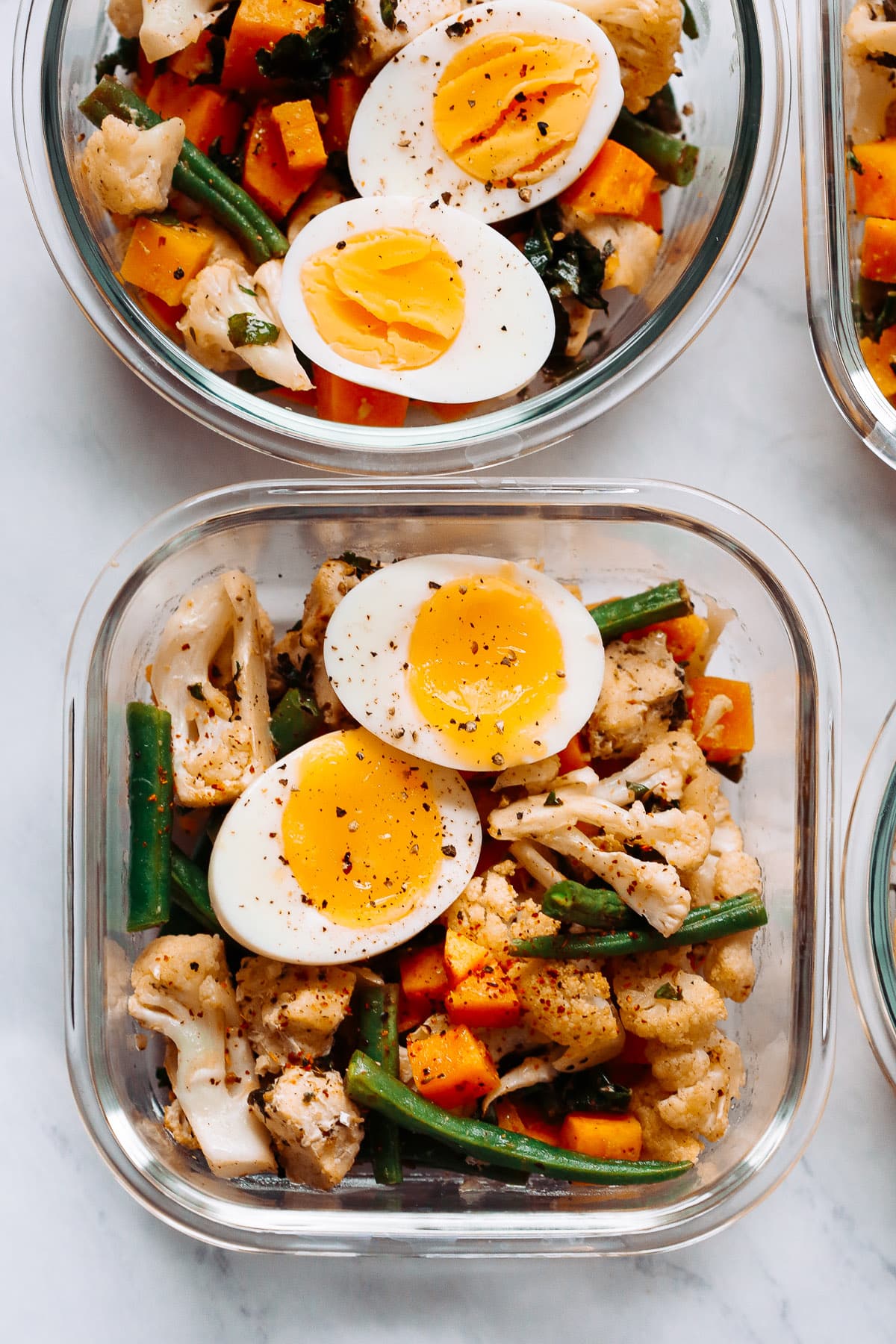 How To Store Leftovers:
To Store: These vegetarian meal prep bowls can be stored in the refrigerator for up to 4 days.
To Freeze: The roasted veggies in this recipe (sweet potato, kale, cauliflower and green beans) should freeze pretty well! If you swap for alternate veggies, note that high water content vegetables don't tend to taste good once thawed. Also, I don't recommend freezing hard-boiled eggs as they'll become rubbery.
To Reheat: Remove hard-boiled egg and place it to the side. Heat veggies in the microwave or oven, and then return egg to the bowl.
Frequently Asked Questions
Can I swap the boiled eggs for other type of protein?
Absolutely! If you're not looking for vegetarian meal prep ideas, you can replace boiled eggs for roasted chicken, baked fish or even Italian sausage if you prefer.
Can I use different vegetables in my Vegetarian Meal-Prep?
You certainly can. Feel free to add or substitute vegetables, as desired. Sometimes I enjoy using purple sweet potato, cabbage, brussels sprouts, broccoli, carrots, beets or turnips.
How long can meal prep last in the fridge?
It will, of course, depend on the ingredients used. These particular vegetarian meal prep bowls will last up to four days in the refrigerator.
Can roasted vegetables be made ahead of time and reheated?
They can be! Re-heat your vegetables in the microwave or use the oven. Just be sure to remove your hard-boiled egg beforehand.
Watch the Vegetarian Meal Prep Web Story.
More Easy Vegetarian Lunches:
Vegetarian Meal Prep Recipe
Easy Roasted Veggies Meal-Prep Bowls recipe is one of the best ways to pack your body with good nutrients and feel satisfied. It's also great for a vegetarian, paleo and whole30 dinner.
Instructions
Preheat the oven to 425ºF degrees.

Line a baking sheet with parchment paper. Arrange your vegetables (except green beans) in a single layer on the prepared baking sheet. Toss with olive oil, garlic powder, turmeric, salt and pepper.

Roast for 15-20 minutes. Then, remove from the oven, add the green beans, return the baking sheet to the oven and roast for 10 minutes or until all the veggies are tender.

Divide roasted veggies between four 22 or 24oz meal prep containers and add the eggs on top. Store in the fridge for up to 4 days. Enjoy!
Tips
If you use frozen vegetables, do not thaw them and roast them from frozen. They will need additional time.
Do not overcrowd the baking sheet. Use two if necessary. This helps them roast better as they'll steam if they are too close to each other.
You can save yourself preparation time by buying pre-cut vegetables.
To store: Store the roasted veggies meal prep in airtight containers in the fridge for up to 4 days
To reheat: Reheat the meal prep in the microwave or oven.
Nutrition Information
Serving:
1
/4
Calories:
254
kcal
(13%)
Carbohydrates:
25
g
(8%)
Protein:
13
g
(26%)
Fat:
13
g
(20%)
Saturated Fat:
3
g
(19%)
Polyunsaturated Fat:
2
g
Monounsaturated Fat:
7
g
Cholesterol:
185
mg
(62%)
Sodium:
1011
mg
(44%)
Potassium:
993
mg
(28%)
Fiber:
8
g
(33%)
Sugar:
8
g
(9%)
Nutrition information is calculated using an ingredient database and should be considered an estimate.