A super-easy Garlic Shrimp Asparagus Skillet recipe that is low-carb, gluten-free, whole30, and paleo-friendly! Perfect for a busy weeknight since this one-pan meal will be ready in 20 minutes or so.
Today, I'm so excited to share this new recipe with you because it's delicious, and it has been about 2 weeks since I've written a post. I apologize for that, but I decided to take a vacation to spend time with my family. We went to the UK (London, Liverpool, and Wales) because my husband had to go there for work. We took advantage of this opportunity and stayed in Europe for three weeks. It was very exciting!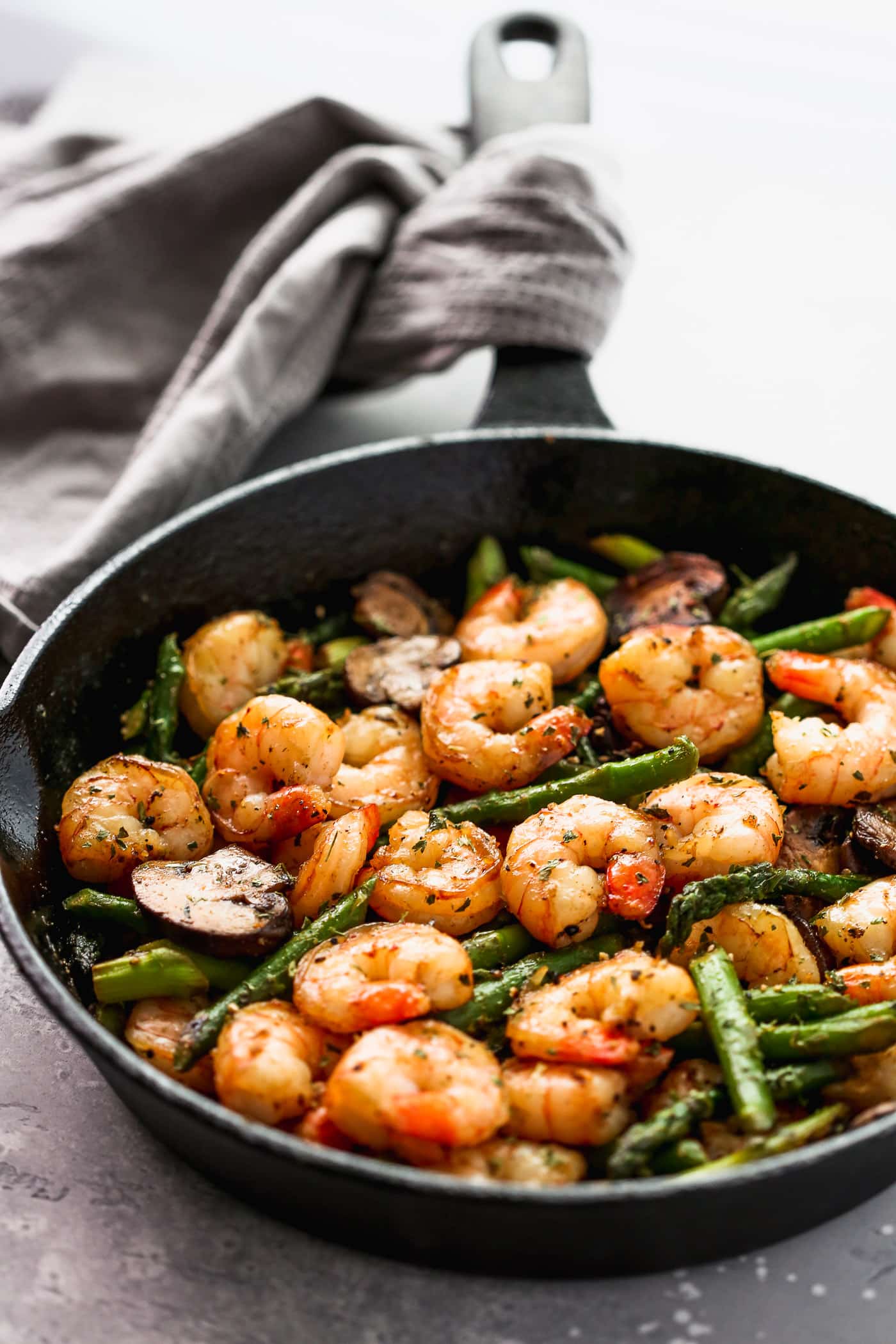 We visited lots of new places, cities, castles, met great people, and ate great food, too. My toddler loved everything. He was very excited, especially about the train rides. 😉 I will post photos about our trip on the blog soon. Stay tuned!
I felt so happy about being able to provide him with such an amazing experience at a young age. To travel and show him all these different cultures is one of the great gifts we can give him.
We arrived home last Friday night and relaxed over the weekend. I also organized our home, unpacked, did laundry, cooked, and cleaned a bit. Normally, we go to Montreal for Easter because my husband's family lives there. But we were very tired from the trip, so we decided to stay in Toronto.
On Sunday, we had an Easter Egg Hunt for my son, and he had a blast. He was very excited about the eggs because inside of them were toys for him. I didn't want to give him chocolate because I think he's too young for that now. Then, we headed home and spent the rest of the day watching movies. It was great! It's funny because every time I come from a long vacation I feel more tired than when I left. It should be the opposite, but I guess it's because all the activities we ended up doing during our holidays.
Subscribe for new recipes & a free e-cookbook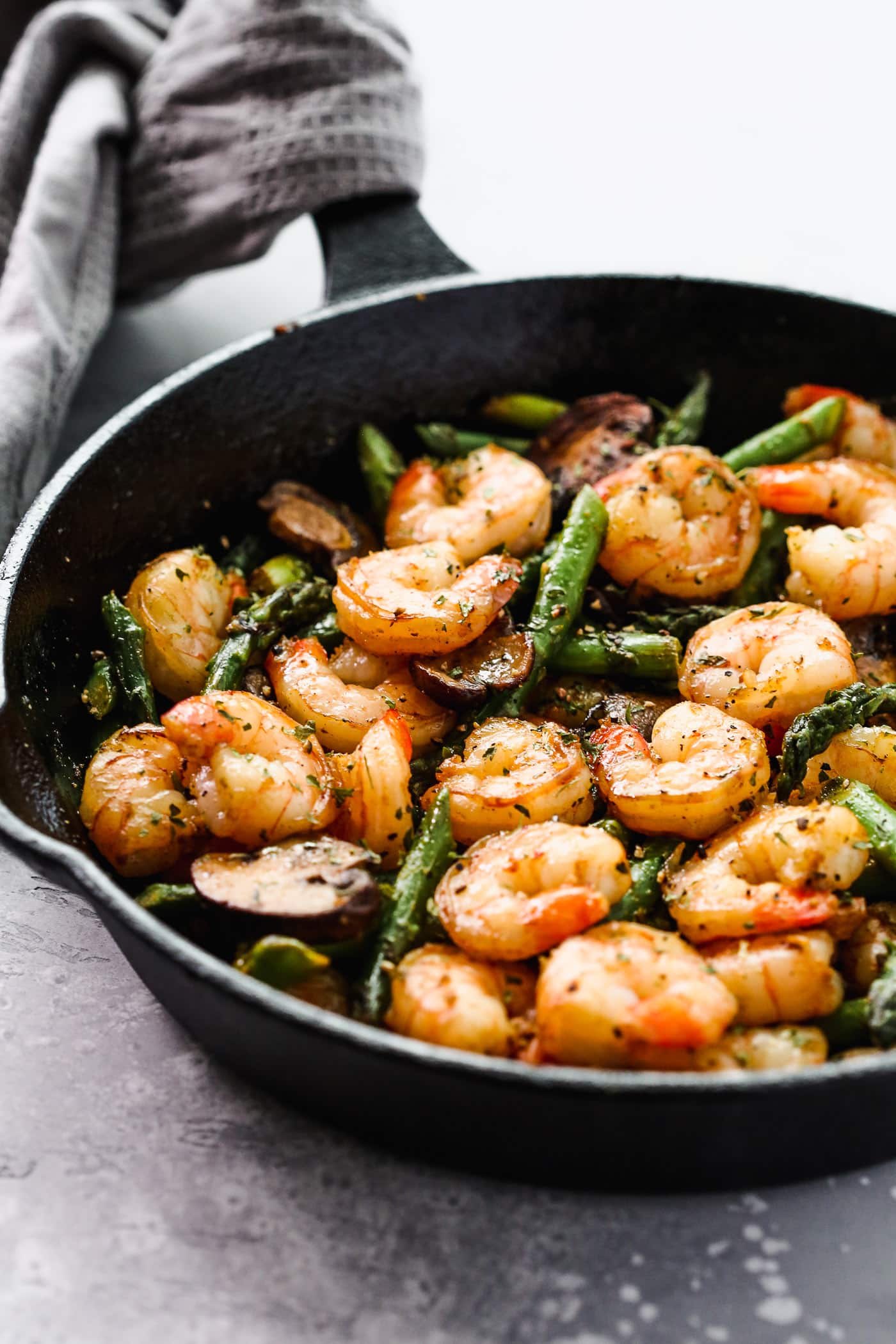 Now that I am home and back to my routine, I have to say that I'm very happy about it. It's always nice to be back in the comfort of our own home and bed. Don't you think? I am back to the blog and excited to share this Garlic Shrimp Asparagus Skillet recipe with you.
This is one of my favourite skillet recipes, and as you see from my blog, I have lots of one-pan meals that are absolutely delicious, such as Chimichurri Chicken Green Beans Skillet, Mushroom Cauliflower "Rice" Skillet, Ground Turkey Skillet with Green Beans, Mediterranean Chicken Skillet, Shrimp Vegetable Skillet, and the most popular recipe on the blog Ground Turkey Sweet Potato Skillet. They are all one-pan meals that take less than 25 minutes to complete and serve 4 people. Also, all these recipes are great as leftovers, too. It's always a plus, right?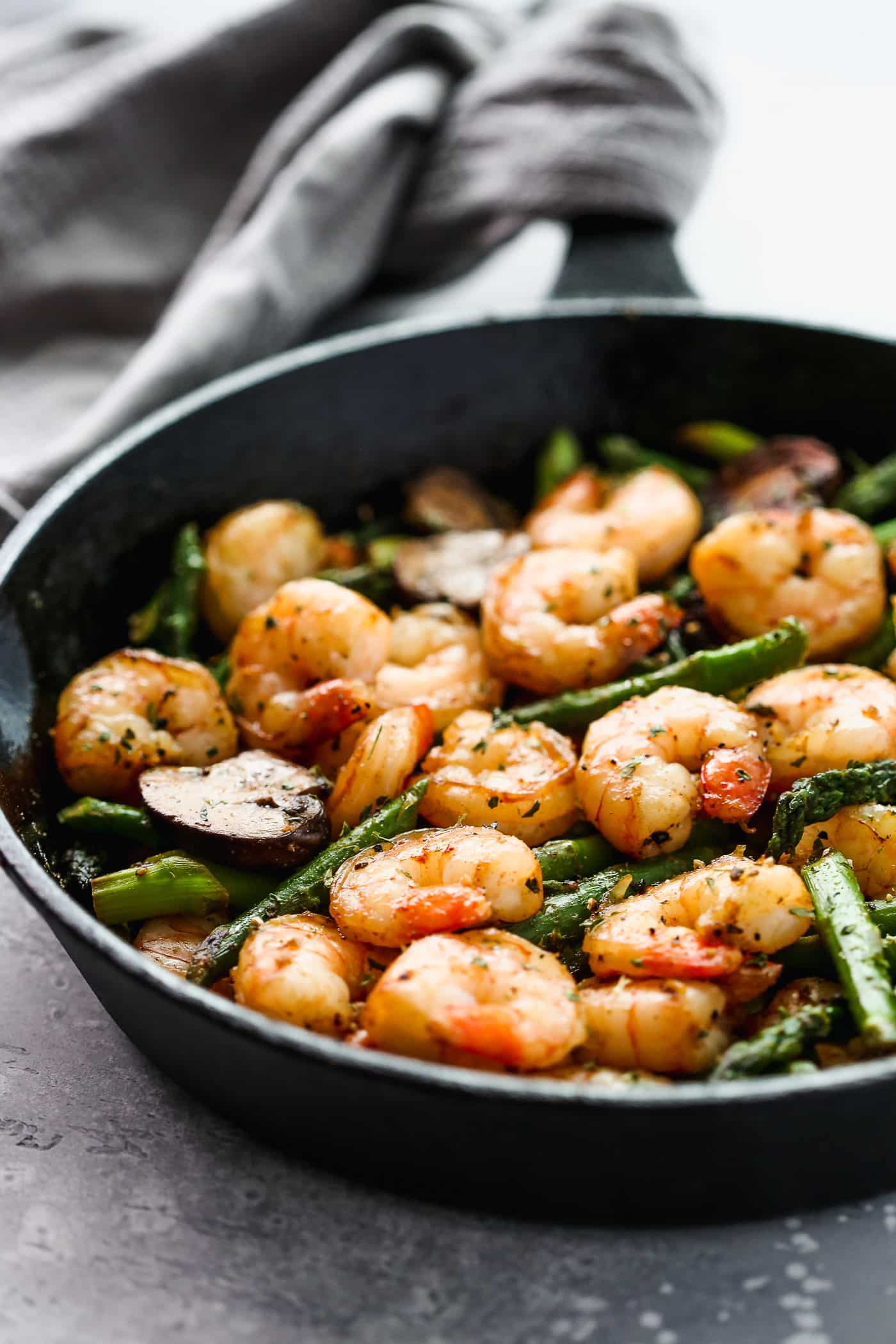 5 reasons why you should make this Garlic Shrimp Asparagus Skillet Recipe:
Do I need a cast iron skillet to make this recipe?
No, but you definitely should! I'm a HUGE fan of cast iron skillets (see my 50 Healthy Cast Iron Skillet Recipes or 15 Healthy Skillet Dinner Recipes if you don't believe me haha), and they are my favourite type of
skillet in the world. Why? They are affordable, last a lifetime, and make food taste even better because it's pre-seasoned. Also, you can sauté, sear, fry, bake, and stir fry with it. Although mine doesn't have the helper handle, this one from Lodge does, which is better for carrying the pan around. You can get yours on Amazon here or at any kitchen/cookware store.
Want other gluten-free/low-carb shrimp skillet recipes? Try these favorites:
Shrimp Vegetable Skillet: Perfect for meal-prep, and it's ultra-easy to make and is loaded with veggies. It's a low-carb, whole30, gluten-free, and paleo one-pan meal.
Got extra asparagus? Try this Asparagus Sweet Potato Chicken Skillet and Parmesan Lemon Asparagus Skillet!
See below for how to make this Garlic Shrimp Asparagus Skillet Recipe: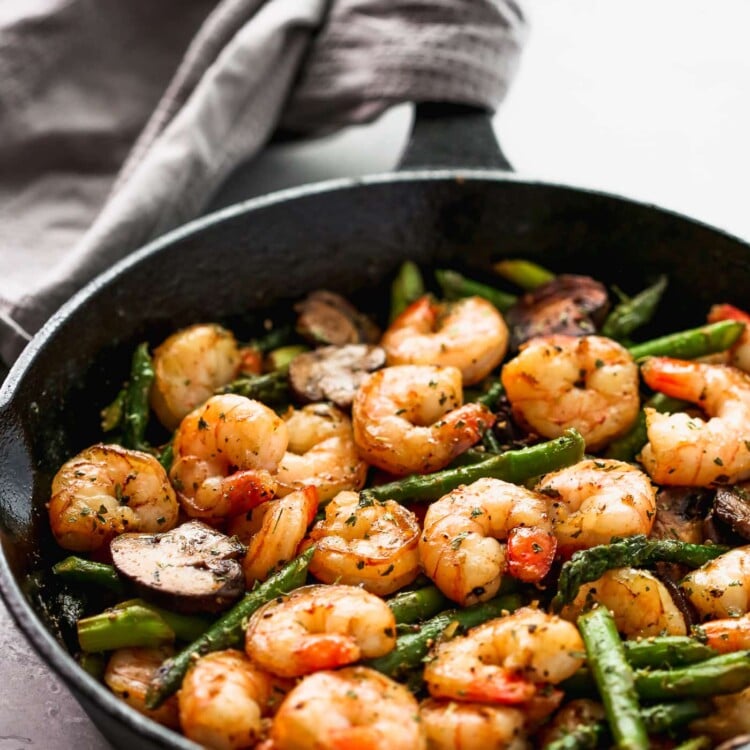 Garlic Shrimp Asparagus Skillet
This super-easy Garlic Shrimp Asparagus Skillet recipe is low-carb, gluten-free, whole30, and paleo-friendly! Perfect for a busy weeknight since this one-pan meal will be ready in about 20 minutes.
Instructions
In a bowl, add the shrimp, salt, pepper, red pepper flakes, and onion powder. Mix everything well.

Add the garlic, and sauté for 30 seconds. Add the shrimp, and sauté for about 4 minutes or until the shrimp are cooked through. Be careful not to overcook them because they will have a rubbery texture. Set aside.

In the same skillet, add 1 tablespoon of olive oil and the mushrooms. Sauté for 5 minutes. Then, add the asparagus, and cook until it's tender. Stir occasionally.

Return the shrimp to the skillet, and mix everything well to combine.

Garnish with fresh parsley. Enjoy!
Tips
Do you love one-pan meals with shrimp and lots of veggies? Great because I have lots of other recipes just like this one for you. Try this Chimichurri Shrimp Broccoli Skillet, and you'll be amazed by the flavour. I also love this Shrimp, Bell Pepper and Onions Skillet and the Sweet Potato, Kale and Shrimp Skillet because they are all done in 20 minutes or so, super-delicious, and loaded with veggies. You'll love them. I promise!!
Try to use the largest skillet you have, as it'll help prevent the ingredients from overcrowding. 
The ends of asparagus are tough, so make sure to remove them!
Buy shrimp that is pre-peeled to save yourself the effort from doing it. 
To store: Leftovers can be stored in the fridge for up to 3 days.
To reheat: You can microwave leftovers or reheat on the stovetop.
Nutrition Information
Serving:
1
/4
Calories:
187
kcal
(9%)
Carbohydrates:
8
g
(3%)
Protein:
20
g
(40%)
Fat:
9
g
(14%)
Saturated Fat:
6
g
(38%)
Cholesterol:
173
mg
(58%)
Sodium:
233
mg
(10%)
Fiber:
3
g
(13%)
Sugar:
3
g
(3%)
Nutrition information is calculated using an ingredient database and should be considered an estimate.
And if you like this Garlic Shrimp Asparagus Skillet recipe, please share it with your friends and family. Do you want to taste more? Subscribe to my newsletter, and follow Primavera Kitchen on Twitter, Pinterest, Instagram, and Facebook for all delicious recipe updates. As always, I really appreciate you stopping by.