This cozy curry shrimp is full of deliciously warm spices, veggies, tomatoes and creamy coconut milk. It's something the whole family will love! Best of all, it's ready in 20 minutes or less which makes it the perfect weeknight dinner option.
Curries are absolutely perfect for crisp fall evenings. They're a great go-to when you need an easy, healthy meal to heat up your home. And, if you've got any leftovers, they make for an excellent lunch the next day.
Looking for some more tasty curry recipes? Check out my Easy One Pot Cauliflower Curry or this Spicy Carrot Soup.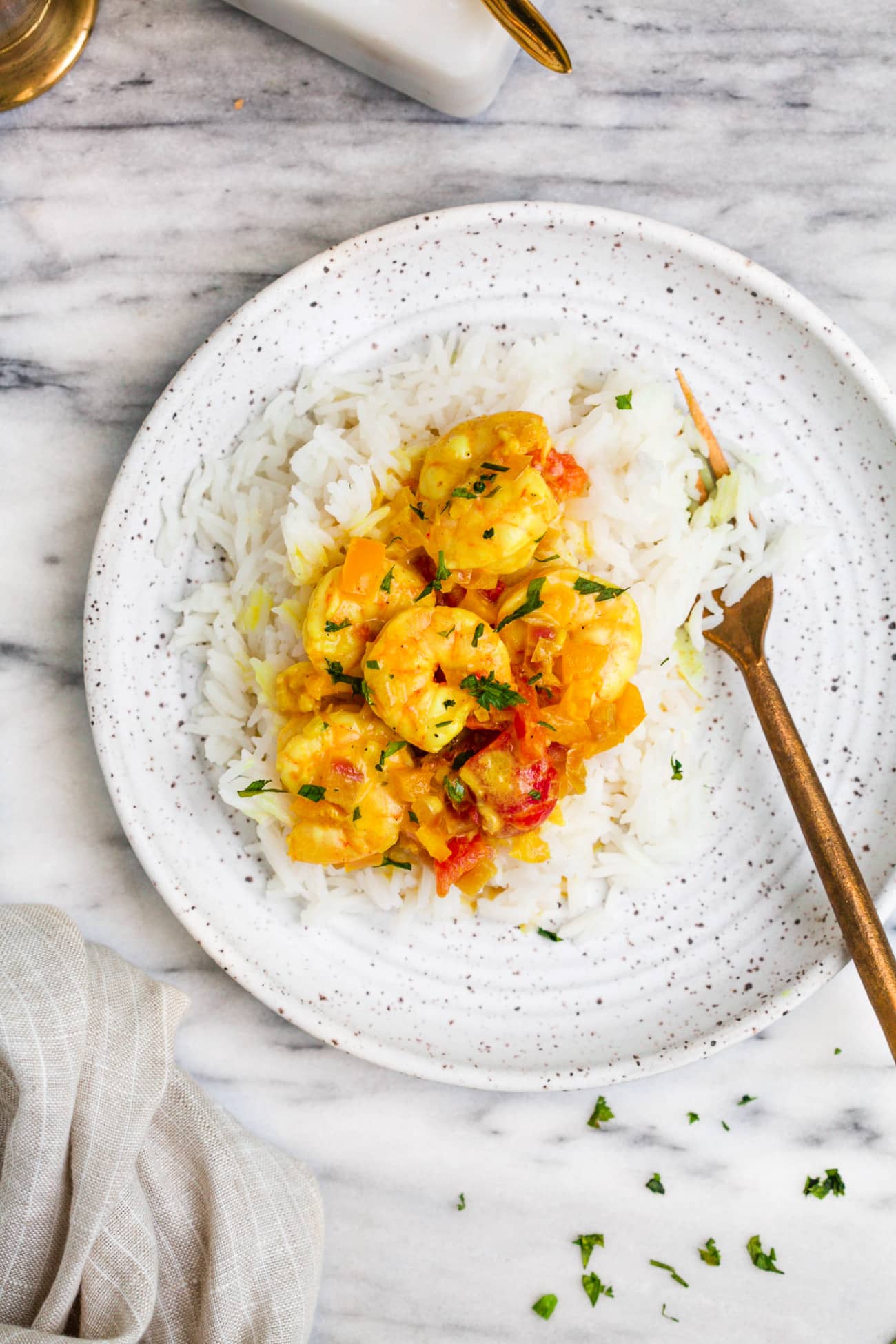 I love how easy this dish is. Because shrimp cooks so quickly, any meal made with this protein can generally be whipped up really fast! If you're in the mood for seafood and want to get dinner on the table in under 30 minutes, try this incredible Shrimp Vegetable Skillet!
How To Make
Ingredients
Shrimp — Look for large, peeled and deveined shrimp at the grocery store. This is going to be the most convenient option as peeling shrimp yourself will take some extra time. If you can't find fresh shrimp, frozen will do the trick.
Lime juice — You can use bottled lime juice, but I recommend fresh because it offers the best and brightest flavor.
Oil — Either vegetable or extra virgin olive oil will work great.
Fresh veggies — Minced garlic, chopped red onion and yellow bell pepper. If you're feeling adventurous, mix things up and use a different color of bell pepper!
Spices — Ground cumin, ground coriander seed, curry powder (or also red curry), salt and pepper. Some recipes call for ginger, turmeric, chili powder and even cayenne pepper. I didn't want to make it very spicy, so I didn't add then. But if you prefer, please feel free to add them.
Canned diced tomato — Be sure to include juices from the can. You also can use tomato sauce if you prefer.
Coconut milk — For this recipe, you'll want to buy canned coconut milk rather than a box or carton. Canned coconut milk is extra thick, creamy and delicious. It can often be found in the baking or Asian foods aisle at the grocery store. If you use coconut cream, add a little bit of water to the pan since the sauce can become very thick.
Herbs — A little bit of chopped fresh parsley or cilantro will add fresh flavor and gorgeous color to your curry dish.
Instructions
Prepare shrimp:
Place shrimp in a small bowl. Sprinkle with salt and pepper and drizzle with lime juice. Mix until all shrimp are well coated with juice and seasonings.
Allow this mixture to rest for about 15 minutes.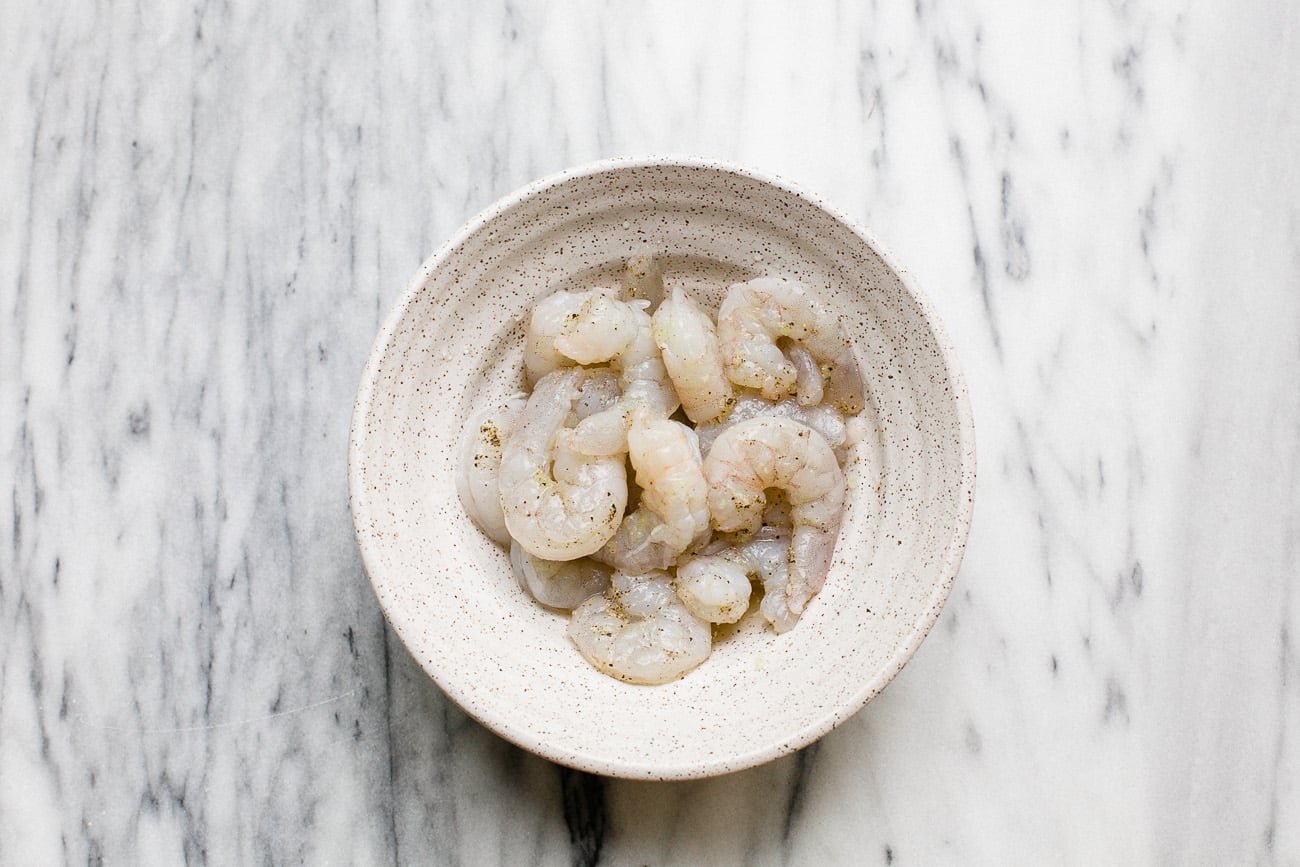 Sauté and season veggies:
Measure oil into a large pot on the stovetop and turn heat to medium. Please, don't cook this recipe in a large skillet. You need a large pot to make this shrimp curry recipe.
Add chopped onion, bell pepper and minced garlic. Sauté ingredients until onions become tender, this should take around 3-5 minutes.
Add cumin, ground coriander, curry powder, salt and pepper to the pot. Mix well.
Add liquids:
Subscribe for new recipes & a free e-cookbook
Add diced tomato with juices and canned coconut milk to the pot. Increase heat and bring everything to a boil for 3-5 minutes.
Reduce heat and allow mixture to calm to a simmer. Add shrimp and cook for 2 minutes, until pink.
Serve:
Serve immediately with fresh chopped cilantro or parsley for garnish. This shrimp curry is fantastic all on its own or spooned over some fluffy rice or basmati rice or even brown rice.
Recipe Tips
Avoid purchasing shelled shrimp! You can save lots of prep time with an already peeled and deveined option. Sometimes, you'll need to look in the frozen section to find it.
If you buy frozen shrimp at the grocery store, let it thaw in the refrigerator overnight before use.
Make sure not to over-marinate your shrimp. It only needs about 15 minutes and will begin to cook in the lime juice if left much longer.
Whenever possible, use fresh lime juice for this recipe. Bottled will do the trick, but it can taste a bit stale in comparison. Fresh lime juice has much better flavor.
When making curry, add just a bit of salt and black pepper. Once it's done, do a taste test and add a little more if desired.
In a pinch you can use half and half or heavy cream instead of canned coconut milk. Canned coconut milk is typically located in the baking or Asian foods isle at the grocery store.
Shrimp only needs a couple of minutes to cook and can become tough or rubbery if left for too long. Be careful not to overcook.
Shrimp Curry Variations
If you're feeling creative or simply have extra produce to use up, you can definitely play around with this versatile recipe.
Veggies: try adding some cauliflower, green peas, zucchini, yellow squash, carrots or diced butternut squash.
Potatoes: chopped russet, gold or sweet potatoes would all be delicious.
Legumes: mix in some beans, lentils or chickpeas.
How To Store Leftovers
Allow leftover curry to cool and transfer it to an airtight container. Store in the refrigerator for up to 3 days.
This curry can also be frozen for up to 3 months. Be sure to leave some space in your container as liquids will expand as they freeze.
Reheat your curry in the microwave or in a pot on the stovetop until hot. Because it's thick, you'll need to stir the curry often while it's heating up.
More Shrimp Recipes
Want even more shrimp on your dinner table? The following recipes are great to make a quick one-pan meal for your family to enjoy for dinner.
Frequently Asked Questions
What is shrimp curry?
Curry is made with a base of chopped fresh veggies seasoned with curry powder and other spices like coriander, cumin, salt and pepper. Add some creamy coconut milk and diced tomatoes to create a delicious savory broth and simmer shrimp in the broth for just a couple of minutes. This dish is very often served over rice.
What does curry sauce mean?
This term simply refers to the broth or sauce in a curry dish. It's typically made from coconut milk, diced tomatoes and lots of delicious seasonings.
How long does shrimp take to cook?
Shrimp cook really fast. Once you add them to the curry, they'll only need to simmer for a couple of minutes before turning pink (which signals they are done).
Where did shrimp curry come from?
Curry originated in southeast Asia. Sometimes this dish contains shrimp but often it has other types of fish or meat. Vegetarian curries are also common.
How long does shrimp curry last in the fridge?
If stored properly in an airtight container, curry will last up to 3 days in the refrigerator. Leftovers make the best, easy lunch!
Watch the Shrimp Curry Recipe Web Stories.
Shrimp Curry Recipe
This cozy curry shrimp is full of deliciously warm spices, veggies, tomatoes and creamy coconut milk. It's something the whole family will love! Best of all, it's ready in 20 minutes or less which makes it the perfect weeknight dinner option.
Instructions
In a bowl add shrimp, salt, black pepper, and lime juice. Mix everything together and let it rest for about 15 minutes.

In a large pot, add oil over medium heat.

Add onion, bell pepper, and garlic. Sauté until onions are tender (3-5 minutes)

Add cumin, coriander, curry powder, salt, and pepper. Stir to combine everything well.

Add tomatoes and stir in the coconut milk. Bring to a boil. Cook for about 3-5 minutes. Bring to a simmer and add the shrimp to the pot.

Cook everything together for 2 minutes or until the shrimp is pink.

Before serving, garnish with chopped cilantro or parsley.
Tips
Buy peeled and deveined shrimp to save time on prepping.
Don't over-marinate the shrimp as the lime juice will cook it. 
Careful not to overcook the shrimp as it'll become rubbery.
To store: Store leftover curry in an airtight container in the fridge for up to 3 days. 
To reheat: Reheat the curry in the microwave or on the stovetop until hot. Since it's thick, you'll need to stir it throughout. 
To freeze: Freeze the curry for up to 3 months. Make sure you leave space when freezing as liquid expands as it freezes.
Nutrition Information
Serving:
1
/4
Calories:
265
kcal
(13%)
Carbohydrates:
16
g
(5%)
Protein:
25
g
(50%)
Fat:
11
g
(17%)
Saturated Fat:
4
g
(25%)
Polyunsaturated Fat:
2
g
Monounsaturated Fat:
5
g
Cholesterol:
172
mg
(57%)
Sodium:
356
mg
(15%)
Potassium:
457
mg
(13%)
Fiber:
2
g
(8%)
Sugar:
6
g
(7%)
Nutrition information is calculated using an ingredient database and should be considered an estimate.
And if you like this One-pan Coconut Shrimp Curry recipe, please share it with your friends and family. Do you want to taste more? Subscribe to my newsletter and follow Primavera Kitchen on Twitter, Pinterest, Google+, Instagram, and Facebook for all delicious recipe updates. As always, I really appreciate you stopping by.