This baked chicken wings will help you make delicious wings without the grease. Make them for an easy dinner tonight or a game-day snack!
Chicken wings are such a great protein because they're inexpensive, tender, and have so many flavor options. Unfortunately, deep-frying can be time-consuming and messy, and it uses so much oil. This oven baked chicken wings recipe gives you that same crispy texture without all the hassle.
If you're looking for more delicious chicken wings recipes, check these ones out: Salt and Pepper Chicken Wings and Air Fryer Chicken Wings Recipe, and Easy Chicken Wings Recipe.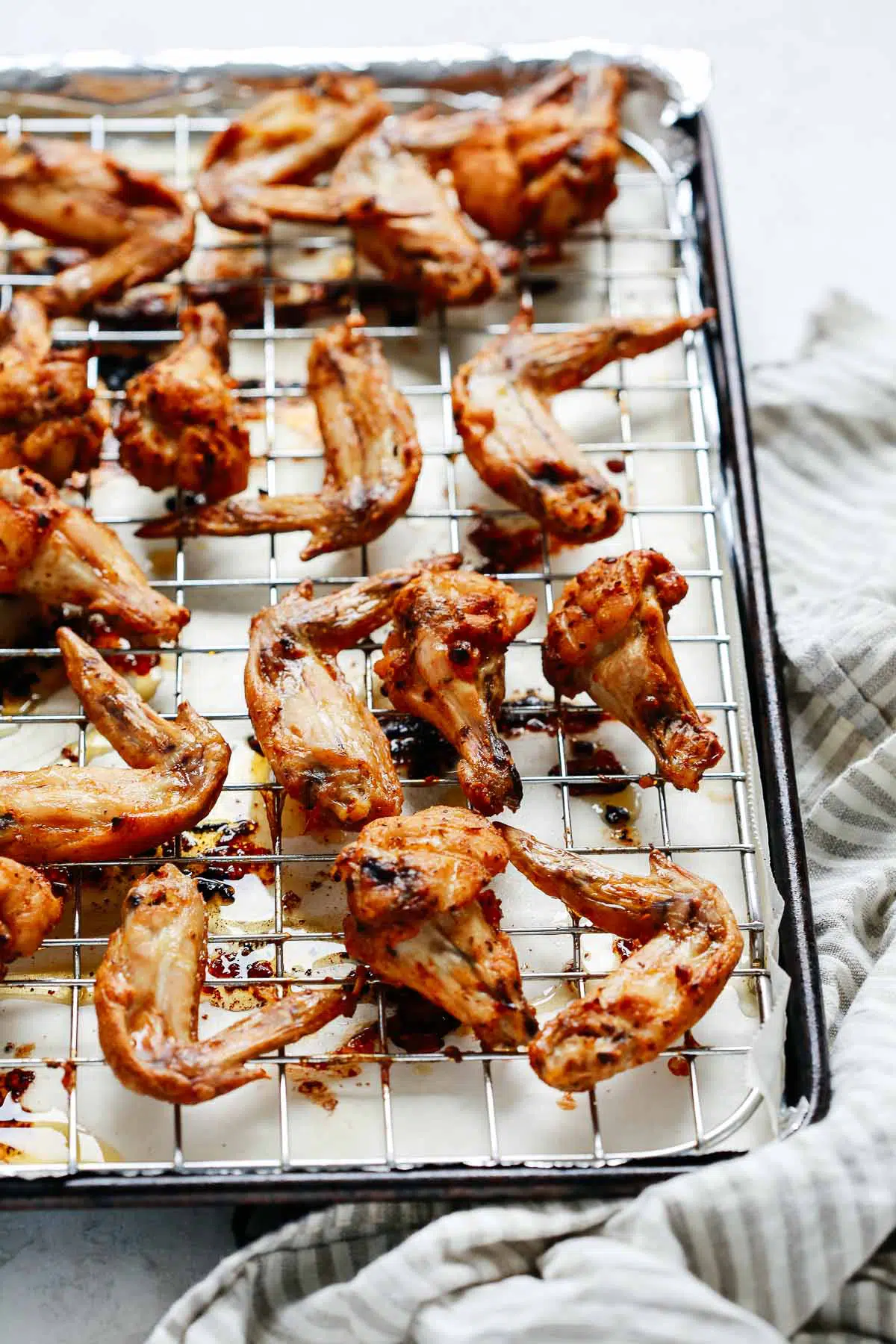 Another great thing about crispy baked chicken wings is that they make an easy weeknight dinner or a Sunday afternoon appetizer. There's a reason they're a popular choice for game day!
Using a flavorful spice blend means you can eat them as-is or pair them with a variety of dipping sauces. One thing's for sure – this crispy oven baked chicken wings recipe is sure to be a hit!
Ingredients For Baked Chicken Wings
Chicken wings — Make sure to pat your wings dry with a paper towel before adding seasonings. This will make them crispier!
Spices — Freshly ground black pepper, sea salt, garlic powder and Cajun seasonings. Feel free to experiment and use different options, if desired. If you don't like spicy food, try paprika as a substitute for Cajun seasoning.
Subscribe for new recipes & a free e-cookbook
Chopped fresh parsley leaves — Optional for garnishing.
How to make our crispy baked chicken wings recipe
Place the raw chicken wings into a large mixing bowl, then measure out your spices.
Blend all the spices together in a small bowl.
Sprinkle the spice blend over the chicken and toss, making sure every piece is coated.
Wrap a baking sheet with aluminum foil (rimmed baking sheet) and place a layer of parchment paper over the foil. Place a wire cooling rack on top.
Place the chicken wings on the wire rack in a single layer. Then, adjust your oven rack to the upper-middle position. Place the baking sheet in the oven.
Bake at 425 degrees F. for 45-50 minutes, turning once about halfway through. Keep an eye on them towards the end, as baking time will depend on your oven. They should be a nice golden brown color when they're done. Perfectly crispy with absolutely no deep frying!
how To Season Chicken Wings
One fun thing about making chicken wings in the oven? You can season them however you want and create lots of different chicken wing recipes! And of course, you can totally make multiple flavors of wings at one time for some fun variety. Try using onion powder, dill, rosemary, smoked paprika, Italian seasonings, chili powder, oregano or any of your other favorites. You can also use soy sauce, ginger, lemon pepper, sesame oil and so on.
How Long To Bake Chicken Wings
When you bake wings at 425°F, it will take around 45-50 minutes to get a nice, extra crispy skin. Deep frying is a lot faster, but oven baked chicken wings are so much healthier! Towards the end of your bake time, use a food thermometer and test the thickest piece of meat to make sure it's reached an internal temperature of at least 165°F.
What To Serve With Baked Chicken Wings
Crispy baked chicken wings are often served with carrot and celery sticks, but they're so versatile and go great with a lot of different sides. You can serve it with some healthier ranch dressing or blue cheese dip.
Also, try serving them with Corn Salad, tortilla chips and Peach Salsa, Air Fryer Potato Wedges, Shrimp Avocado Cucumber Salad, Easy Coleslaw or this Healthy Potato Salad Recipe!
Sauces For Baked Chicken Wings
The options are endless! Try dipping your chicken wings in bbq sauce, spicy sriracha, chili sauce, soy or teriyaki sauce, mayonnaise, hot sauce, buffalo sauce, ketchup, mustard, healthier ranch dressing, blue cheese dressing, thousand island dressing, sweet honey or my mouthwatering Creamy Avocado Sauce.
Recipe tips and notes
Add a little oil if you wish: Apply a drizzle of melted butter or spray some vegetable oil to your chicken before tossing it with the spices. As a result, it will help the spices to stick to the meat. Also, it prevents them from burning while in the oven. If you decide to use oil, pat the wings dry with a paper towel first to reduce the moisture.
Flip the chicken: Flipping the wings halfway through the baking process allows them to get crispy on both sides. Otherwise, one side will be extra crispy and the other will be like normal baked chicken.
Tip for easy cleanup: Because the baking sheet is lined with foil and parchment paper, clean up couldn't be any easier. You probably won't even need to wash the pan itself! Place your cooling racks soak in hot soapy water, and they will clean up easily as well.
Baking powder: You can also add 1 teaspoon of baking powder when you are seasoning the chicken wings and before baking them. It will help them to be crispier. Please, do not use baking soda.
Frequently asked questions
How do I adjust the spice level?
Making the recipe as shown, the chicken will have some kick to it.
This being said, to increase the spice level, just add extra cayenne pepper and red pepper flakes. For a milder flavor, substitute paprika for the Cajun seasoning.
Can I use frozen wings to make this recipe?
Yes, but make sure to thaw them completely before preparing them. Putting them in the refrigerator overnight works well.
Should Chicken Wings Be Thawed Before Baking?
Yes. Before baking chicken wings in oven, allow them to thaw in the refrigerator overnight. You can also defrost them in the microwave if you forget to transfer them to the fridge!
How Do I Make My Baked Chicken Wings Extra Crispy?
To make extra crispy chicken wings in the oven, make sure to pat the meat dry before seasoning. Less moisture is key. You can even let the wings dry out for an hour or two in the refrigerator to reduce moisture even further.
What Are The Best Ways To Reheat Chicken Wings?
To avoid sogginess, I recommend reheating your chicken wings in the oven, toaster oven or air fryer at 350°F until warmed through completely.
Watch the Web Stories HERE.
Baked Chicken Wings
This baked chicken wings recipe will help you make delicious wings without the grease. Make them for an easy dinner tonight or a great game-day snack!
Instructions
Preheat oven to 425 F degrees. Line a baking sheet with aluminum foil and on top of it with parchment paper. Then, place a cooling rack on top of the preparing baking sheet. Set aside.

In a small bowl add black pepper, salt, garlic powder and Cajun seasoning. Mix well. Set aside.

In a large bowl, add all chicken wings, and the mixture of spices. Mix everything very well to combine.

Place the wings in a single layer on the prepared baking sheet.

Bake for about 30 minutes, remove from the oven, flip them and bake for more 15 to 20 minutes or until they're golden crisp. Time will depend on the power of your oven.

Before serving, sprinkle with more salt and pepper if necessary and garnish with chopped green onions.
Tips
For more mild flavour, swap in paprika for Cajun seasoning.
Pat dry the chicken wings dry before preparing as it'll help the wings crisp up better.
Make sure to flip the chicken or only one side will crisp up.
To store: Store leftover chicken wings in an airtight container for up to 4 days. 
To reheat: Reheat the chicken wings in the microwave or oven to keep the skin crispy. 
To freeze: You can freeze cooked chicken wings for up to 3 months in a freezer-safe bag or container. 
Nutrition Information
Serving:
1
/4
Calories:
503
kcal
(25%)
Carbohydrates:
1
g
Protein:
41
g
(82%)
Fat:
36
g
(55%)
Saturated Fat:
10
g
(63%)
Polyunsaturated Fat:
8
g
Monounsaturated Fat:
14
g
Cholesterol:
170
mg
(57%)
Sodium:
1031
mg
(45%)
Potassium:
385
mg
(11%)
Nutrition information is calculated using an ingredient database and should be considered an estimate.