Baked chicken breast recipe is always a budget-friendly and wholesome, healthy dinner. This recipe uses a simple, 3-step process to ensure the best tender, juicy, and flavorful chicken, every time!
If you like juicy, tender, easy to make chicken recipes like this one you'll love these recipes too: Baked Chicken Breast (Web Story), Baked Chicken Drumsticks, Air Fryer Chicken Breast Recipe and Rosemary Lemon Roasted Chicken Breasts.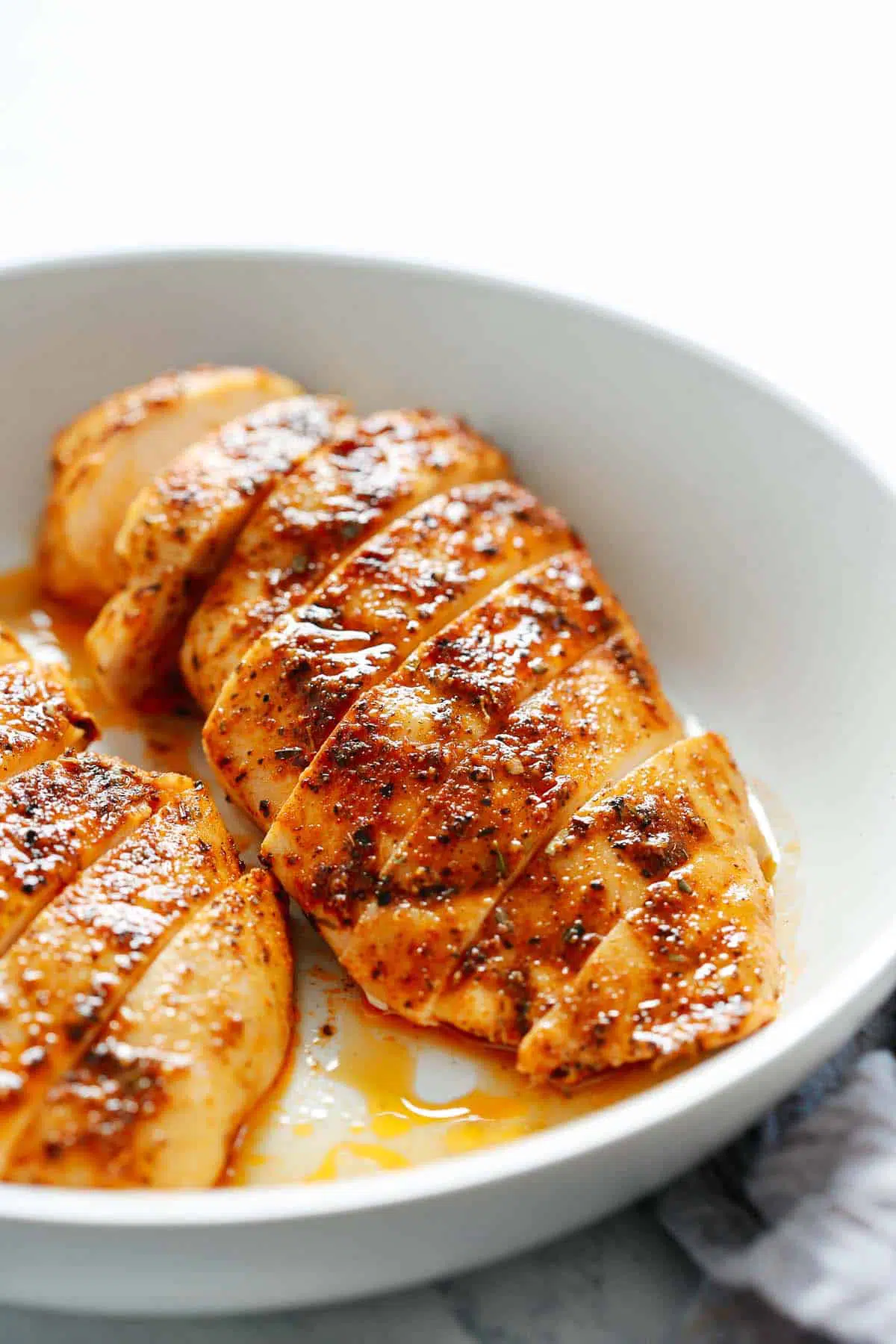 Today I'm sharing with you one of my favorite ways to make chicken; roasted breast chicken. I love this recipe because it only needs ingredients you have on hand such as chicken breast, olive oil, Italian seasoning, paprika and garlic powder. It's so simple, right?
Making this recipe involves brining the chicken, then seasoning and baking it. The entire process takes just 35 minutes, so it is perfect for an easy weeknight dinner.
Ingredients to Make Baked Chicken Breast
Brining chicken is the key to juiciness, but for the best flavor, you will also need to add seasoning. For this baked juicy chicken breast recipe, the seasoning is simple.
Extra virgin olive oil — You can also use avocado oil!
Chicken — Boneless and skinless chicken breasts. I like to purchase free-range, organic options whenever possible.
Seasonings — Italian seasonings blend (storebought or homemade), garlic powder, paprika (or smoked paprika), salt and black pepper.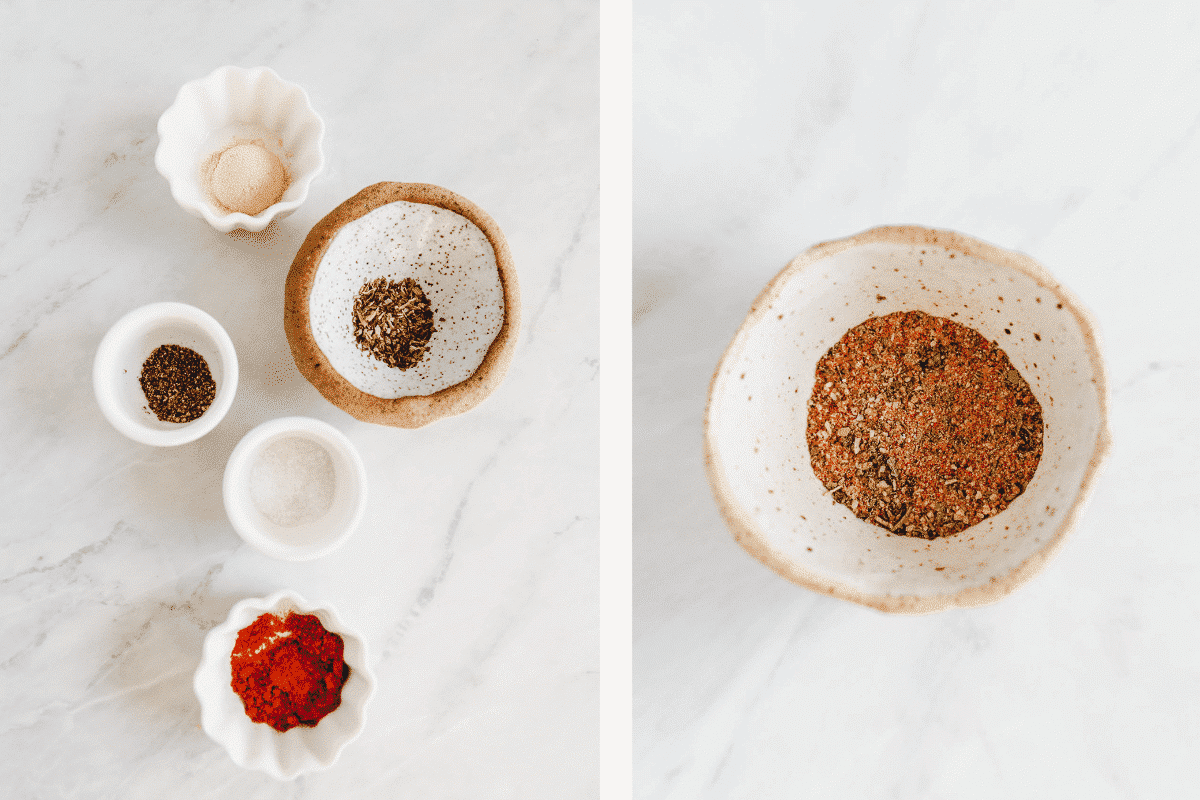 How to make this baked chicken breast recipe
As mentioned earlier, there are just 3 steps involved in making the perfect baked chicken breast dinner. Here's how it's done!
Subscribe for new recipes & a free e-cookbook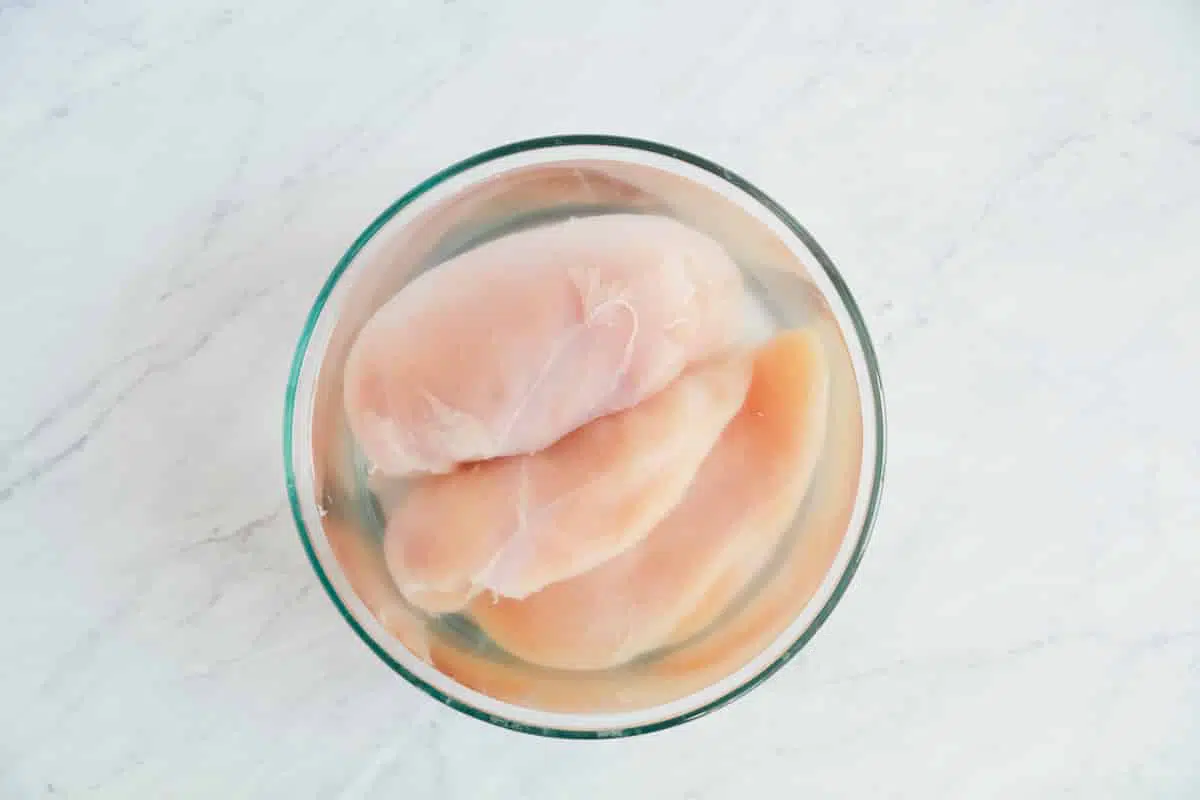 BRINE – The benefits of brining chicken and how to make brine are mentioned above. However, the complete instructions are also in the recipe card.
SEASON – In a small bowl, combine the seasoning ingredients together. Then, place the chicken breasts in a baking pan. Brush a light coating of oil on both sides of each chicken breast. Then,

sprinkle the seasoning mixture evenly over the chicken on both sides.
COOKING CHICKEN BREAST
Bake the chicken for 20 minutes, or until the internal temperature of the chicken reaches 163 degrees F.
Note: Chicken will continue to cook as it rests. As a result, the internal temp will increase to 165 F. At this point, the chicken will be firm to the touch, with no pink flesh visible.
For the most accurate reading, use an instant-read thermometer.
When the cooking time finishes, remove the baked chicken breast from the oven. Then, place the chicken breasts onto a cutting board and allow them to rest for 10 minutes. After resting, slice and serve.
Brine chicken before baking
Brining chicken before baking it makes a huge difference! It's easy to do, and it helps to keep the baked chicken breast meat tender and juicy.
Plus, there is a bonus to doing this. If your chicken is still partially frozen, brining it in lukewarm water will help bring the chicken to room temperature.
Important note: To avoid any risk of bacterial contamination, you should always prepare the baked chicken breast recipe as soon as the brining process is complete.
For this recipe, the brine is just a simple salt water solution. You will need to dissolve 2 tablespoons of kosher salt into 2 cups of warm water.
How To Store Leftovers
To Store: Allow leftovers to cool and place them in an airtight container, store in the refrigerator for up to four days.
To Freeze: Leftover baked chicken breast is also freezer friendly! Cloak in plastic wrap or place in an airtight, freezer-safe container and store frozen for up to 3 months. You can also shred your chicken before freezing and use it in chicken soup or casserole.
To Reheat: Thaw leftovers in the refrigerator overnight (if reheating from frozen). Reheat in the microwave or oven. You can also enjoy leftovers cold in a yummy chicken salad.
What To Serve With Baked Chicken
This juicy oven baked chicken breast recipe is one of the most versatile things you can make in the kitchen. It will go with almost any side you can think of:
Add grains to your spread! Stick with some simple fluffy rice or quinoa. You can also make this flavor-packed quinoa salad with black beans and veggies if you want a bit more flair. For a low carb option, consider trying this insanely delicious golden cauliflower rice.
Recipe Variations
Make it spicy: Add a large pinch of cayenne pepper for some nice heat! Or, you can make a homemade Cajun seasonings blend instead (store-bought is also fine).
Add some citrus: Drizzle chicken with a bit of fresh lemon or lime juice before baking for a bit of extra zesty flavor.
Mexican seasonings: Use spices like taco seasoning, ground cumin, chili powder, oregano, garlic powder and onion powder for Mexican-inspired taste.
Use chicken thighs! If you prefer chicken thighs over breast meat, feel free to make the swap.
Garnish: You can garnish this recipe with fresh herbs like parsley, thyme or even cilantro for a Mexican flavor.
Recommended Tools For This Recipe
Large Bowl: You'll need a large glass bowl for brining chicken. Using a large bowl to season your chicken breasts is beneficial for better flavor distribution, less mess, convenient handling, and time efficiency.
Baking Dish: Or large casserole dish or a baking sheet. It's important that the baking dish should be large enough to allow the chicken to be laid in one single layer.
Pastry Brush: Apply olive oil to chicken for evenly distributes oil for better flavor and browning.
Do you still want more? Try these Best Chicken Breast Recipes!
Frequently Questions Asked
Should you brine chicken before baking?
Yes! Brining is an important step and will make your chicken much more flavorful. It's an easy way to hydrate meat, making it juicy and extra tender.
How long should you brine chicken breast?
How long you brine chicken breast really depends on how large the breasts are. Average size chicken breasts (6 to 10 ounces) only need to sit in the brine for 15 minutes. For larger breasts, 20 to 25 minutes is perfect. Keep in mind that it is possible to brine chicken too long. This is because over time, the salt in the brine will work into the meat. As a result, the baked chicken breast can end up much too salty. To prevent this from happening, you should brine chicken breast for no longer than 30 minutes.
Baked Chicken Breast Recipe
Baked chicken breast recipe is always a budget-friendly and wholesome, healthy dinner. This recipe uses a simple, 3-step process to ensure the best tender, juicy, and flavorful chicken, every time!
Instructions
First, brine your chicken breasts by combining the warm water and 2 tablespoons of kosher salt in a large bowl. Stir it well until salt is dissolved in the water. Add the chicken breasts and let it sit for 15-30 minutes.

Preheat oven to 450F and coat a baking dish with cooking spray. Then, remove the chicken from the brine and pat the chicken dry with a paper towel. Place the chicken in a single layer in a prepared baking sheet and brush the top of it with olive oil.

In a small bowl, add Italian seasonings, paprika, garlic powder, salt and black pepper. Mix everything well. Then, sprinkle the seasoning mixture evenly over the chicken on both sides.

Bake for 18-20 minutes, or until the chicken is cooked through and reached the internal temperature of 165F. I recommend using a cooking thermometer to know precisely the temperature.

Remove it from the oven, transfer to a serving plate, cover with aluminum foil and let it rest for about 5-10 minutes before slicing and serving it.
Tips
Get similar-sized chicken breasts so they cook evenly.
Make sure the chicken breasts do not overlap. This will help them cook evenly. Making sure there's space between them will allow for the hot air to reach all of the chicken breasts.
To store: Store leftover chicken breasts in an airtight container for up to 4 days in the fridge. 
To reheat: You can reheat in the microwave when ready to eat. You can also eat chicken cold.
To freeze: You can freeze chicken breasts in a freezer-safe bag or container for up to 3 months. You can also shred them before freezing so you can quickly add them to soups or salads. 
Nutrition Information
Serving:
1
/3
Calories:
168
kcal
(8%)
Carbohydrates:
1
g
Protein:
26
g
(52%)
Fat:
11
g
(17%)
Saturated Fat:
2
g
(13%)
Polyunsaturated Fat:
1
g
Monounsaturated Fat:
7
g
Cholesterol:
59
mg
(20%)
Sodium:
418
mg
(18%)
Potassium:
237
mg
(7%)
Nutrition information is calculated using an ingredient database and should be considered an estimate.
Watch the Web Stories HERE.
And if you like this Baked Chicken Breast recipe, please share with your friends and family. Do you want to taste more? Subscribe to my newsletter and follow Primavera Kitchen on Twitter, Pinterest, Instagram, and Facebook for all delicious recipes updates. As always, I really appreciate you stopping by.