These 18 Healthy Pantry Recipes are delicious and perfect for every meal of the day. You'll find recipes that are also healthy but simply made with pantry staples and affordable ingredients.
How are you doing today? I hope you and your family are safe and well!
The world seems pretty scary and overwhelming at the moment. It feels like all of a sudden the world went upside down. But in difficult times like this, we should be able to help each other, because we're in this together. So, I thought it would be a good idea to share with you my favourite healthy recipes made with pantry staples. These recipes are great to make while we're all self quarantining and doing social distancing right now.
These pantry recipes use very simple ingredients like canned beans, tomato sauce, canned tuna, pasta, quinoa, rice. The best part of these healthy pantry recipes is that probably you already have most all the ingredients on hand.
Before I go, I also want to ask you to stock up only what is necessary for you and your family for two weeks. We need to be kind and think about our neighbours too. Remember, we are all in this together 😉
_________________________________________________________________________
Subscribe for new recipes & a free e-cookbook
How to Stock a Pantry
Here is a great pantry list of items for you to use when you are stocking your pantry. I divided it in four parts: pantry staples, fridge, freezer and counter.
Pantry Staples
Pasta (Here I'm talking about any kind of pasta: regular pasta, whole wheat, rice/quinoa pasta, gluten free and so on)
Pasta Sauce or Pizza sauce
Dried Beans
Canned Beans (any kind of beans – kidney, navy, pinto, black beans and chickpeas)
Lentils
Canned Sardinhas
Canned Salsa
Breadcrumbs or Panko for gluten-free
Protein Bars for quick snack
Protein Powder (Vegan or Keto friendly)
Nuts (almonds, Brazil nuts, cashews, pecans, peanuts and so on)
Olives (green and blacks)
Seasonings/Dried Herbs and Spices
Olive oil and other kind of oils you prefer to use for cooking such as coconut oil.
Baking items such as flour (all purpose or almond, cassava, coconut flour), sugar (coconut sugar, white sugar, brown sugar), baking soda, baking powder, cocoa powder and so on.
Honey and Maple Syrup
Bread/gluten-free bread (you can easily freeze it if you buy more than one bag)
Tortillas and pita
Fridge 
Eggs
Butter (also, if you buy in bulk, store some in the freezer!)
Cheese (I prefer to buy hard cheese because it last longer such as Cheddar, Marble, Provolone, Gouda and Parmesan).
Chicken breast (if you buy 2 pounds or more store some in the freezer!)
Ground beef/turkey (again, leave 1 pound in the fridge and the rest store in the freezer!)
Frozen shrimp
Frozen or packed salmon
Some veggies such as carrots, leafy green, bell peppers, tomatoes, broccoli, brussels sprouts, zucchini and cabbage.
Some fruits like berries
Pasta, like tortellini and ravioli
Freezer
Frozen mixed berries (perfect to make smoothies, oatmeal and/or on top of waffles and pancakes)
Frozen bananas (peeled and quartered – perfect for smoothies too or oatmeal)
Frozen peas
Frozen green beans
Frozen spinach/kale/arrugula (add it in smoothie, soups and stews)
 Counter
Onions
Sweet potatoes and regular potatoes
Avocados (when you open it, store in the fridge)
Cauliflower
Broccoli
Squashes such as butternut squash, acorn squash and spaghetti squash
Apples
Bananas
Orange/grapefruit
Mango
This is a complete list to give you some inspirations, but of course, you don't need to keep all these ingredients in your pantry all the time. Using a few items from each category, I promise to you that you will create delicious and healthy meals just like the recipes below for you and your whole family.
_________________________________________________________________________
Easy and Healthy Pantry Recipes
One-Pan Chicken and Cabbage – This recipe is great because you can make it only using cabbage, can of tomato sauce, chicken breast, chicken broth, onions and bell pepper. Even if you don't have onions or bell pepper, it will work just fine.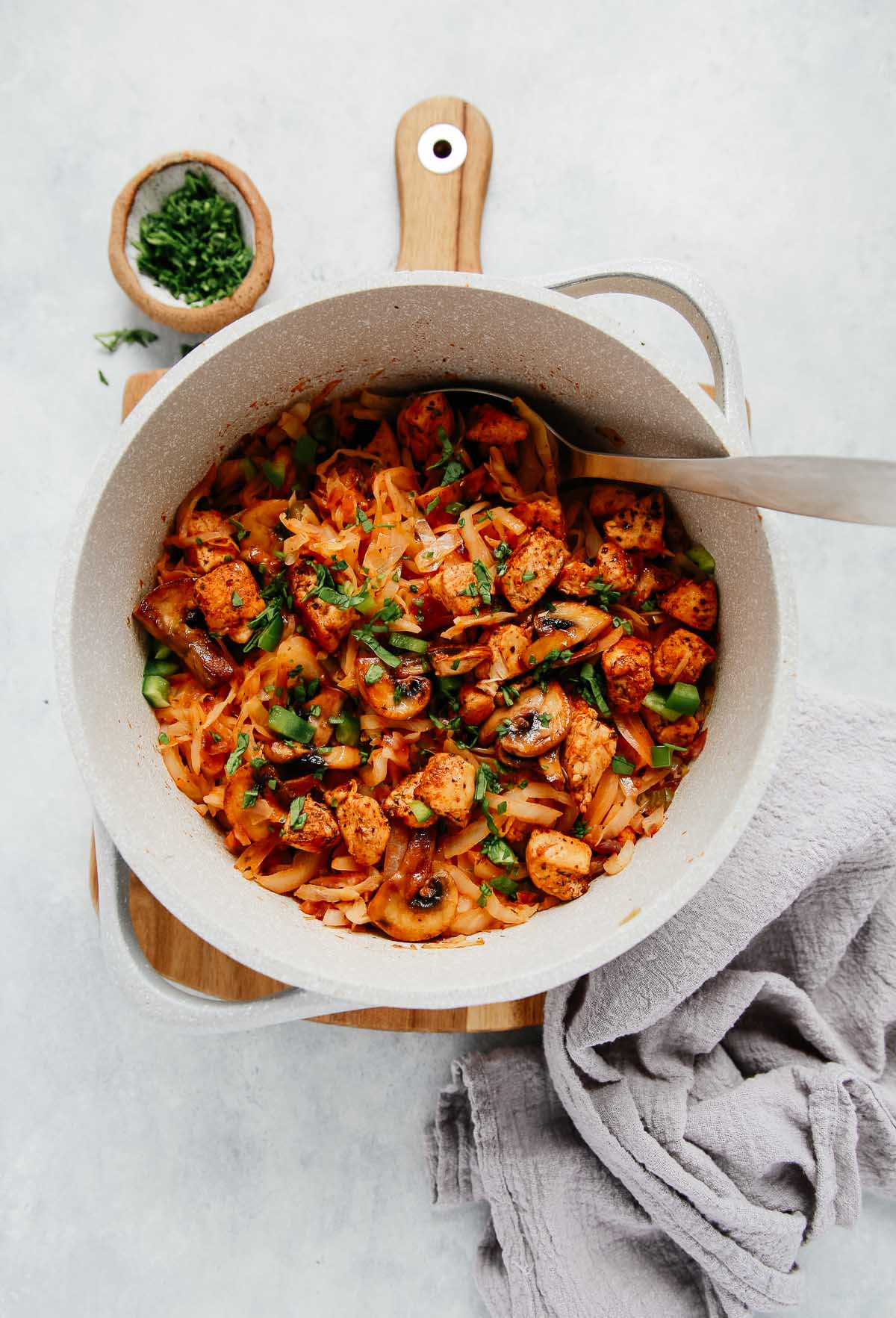 Beef and zucchini skillet recipe makes a quick evening meal, using only zucchini, potatoes and beef.  Full of flavor and nutrition, it is ready is about 30 minutes.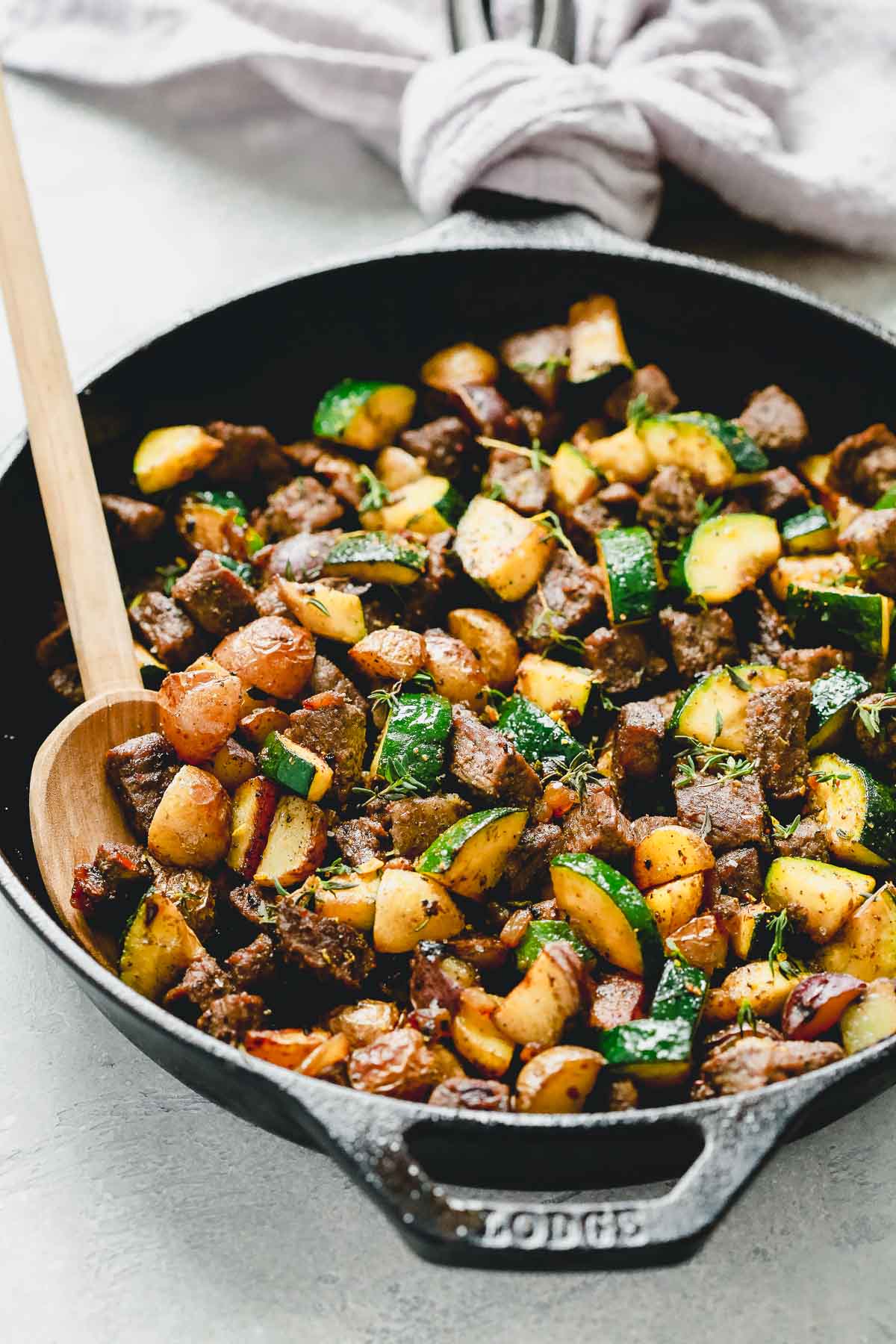 Spicy Green Beans Chicken Skillet – You'll need some seasoning that probably you already have in your pantry such as paprika, garlic powder and red hot pepper. Also, fresh or frozen green beans and chicken breast. Simple and easy!
This delicious, low-carb, and one-pan Ground Turkey Skillet with Green Beans Recipe is definitely an easy-to-make and tasty meal for your family dinner. Use green beans (frozen green beans too, ground turkey and a can of tomato sauce)!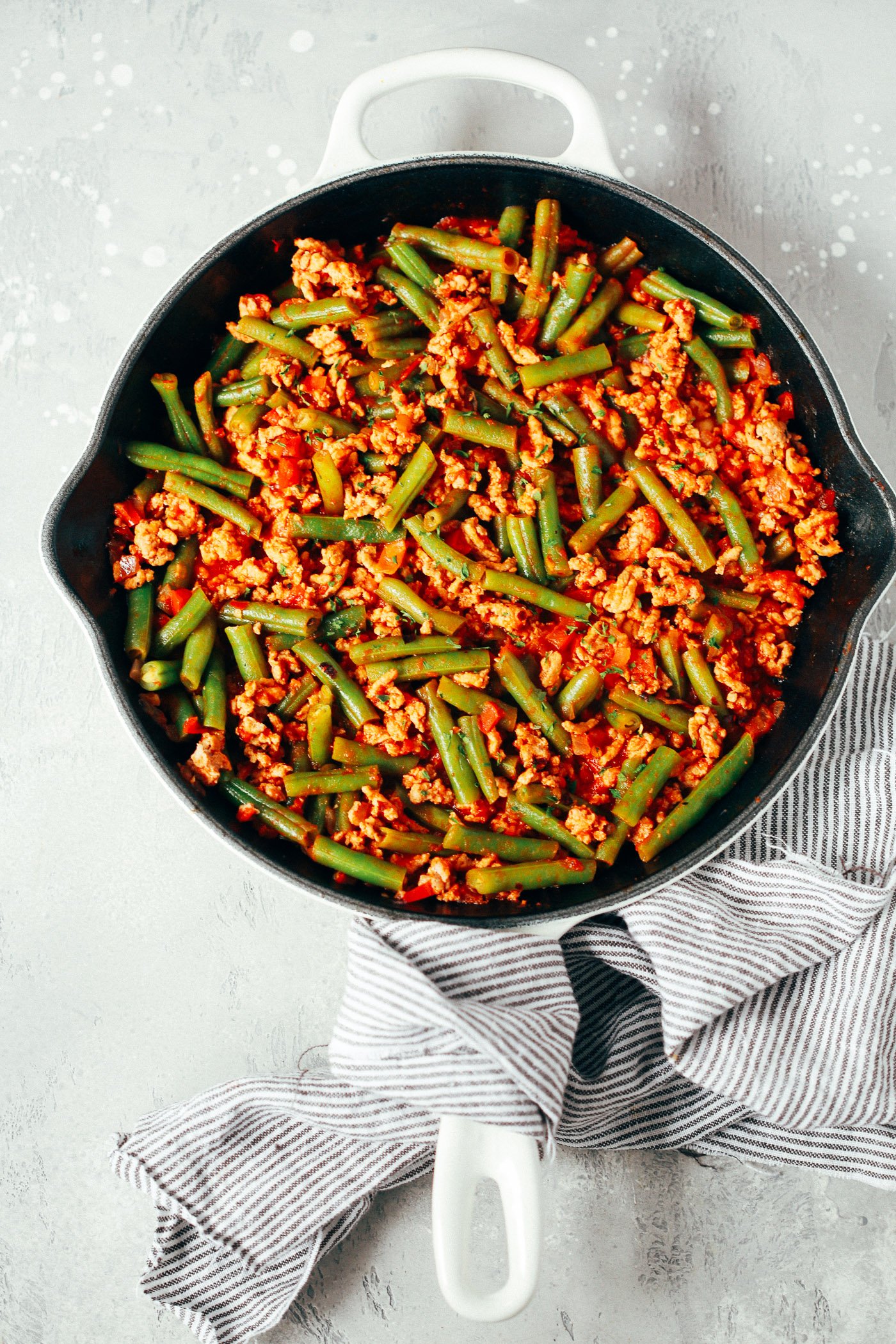 This Ground Turkey Sweet Potato Skillet will be ready to eat in less than 30 minutes, and you will be amazed by how flavourful it is. You only need ground turkey, sweet potatoes and some spices. It's a perfect ONE-PAN meal for your family to enjoy!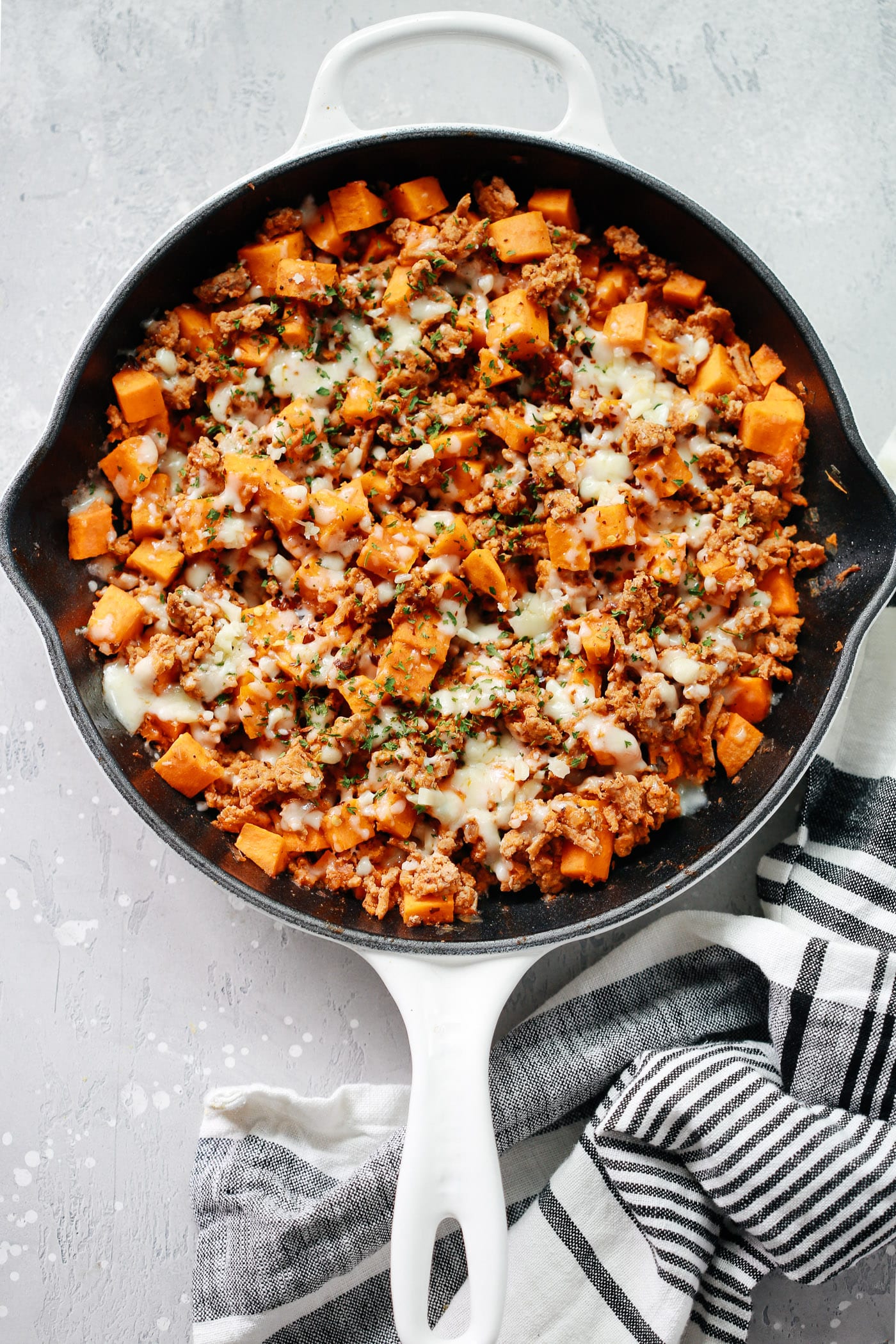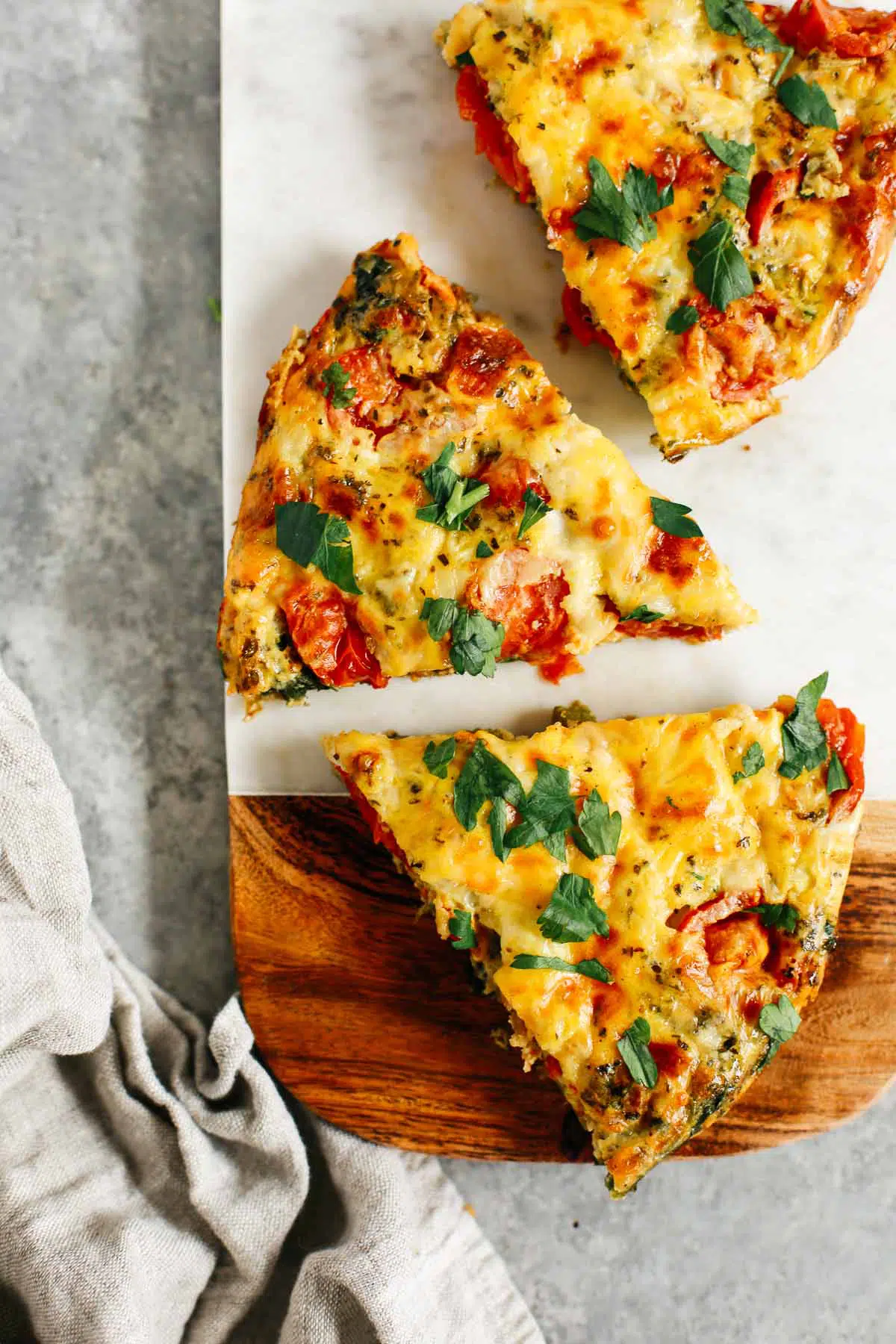 Keto chili has all the great flavors of traditional chili without the extra carbs. You'll need ground beef (it can be frozen), can of diced tomatoes, can of tomato sauce and few spices.
Having a Whole30 jambalaya recipe is great. Using only cauliflower rice, can of tomato sauce, some dried spices, frozen shrimp and sausage, you will have a delicious dinner tonight.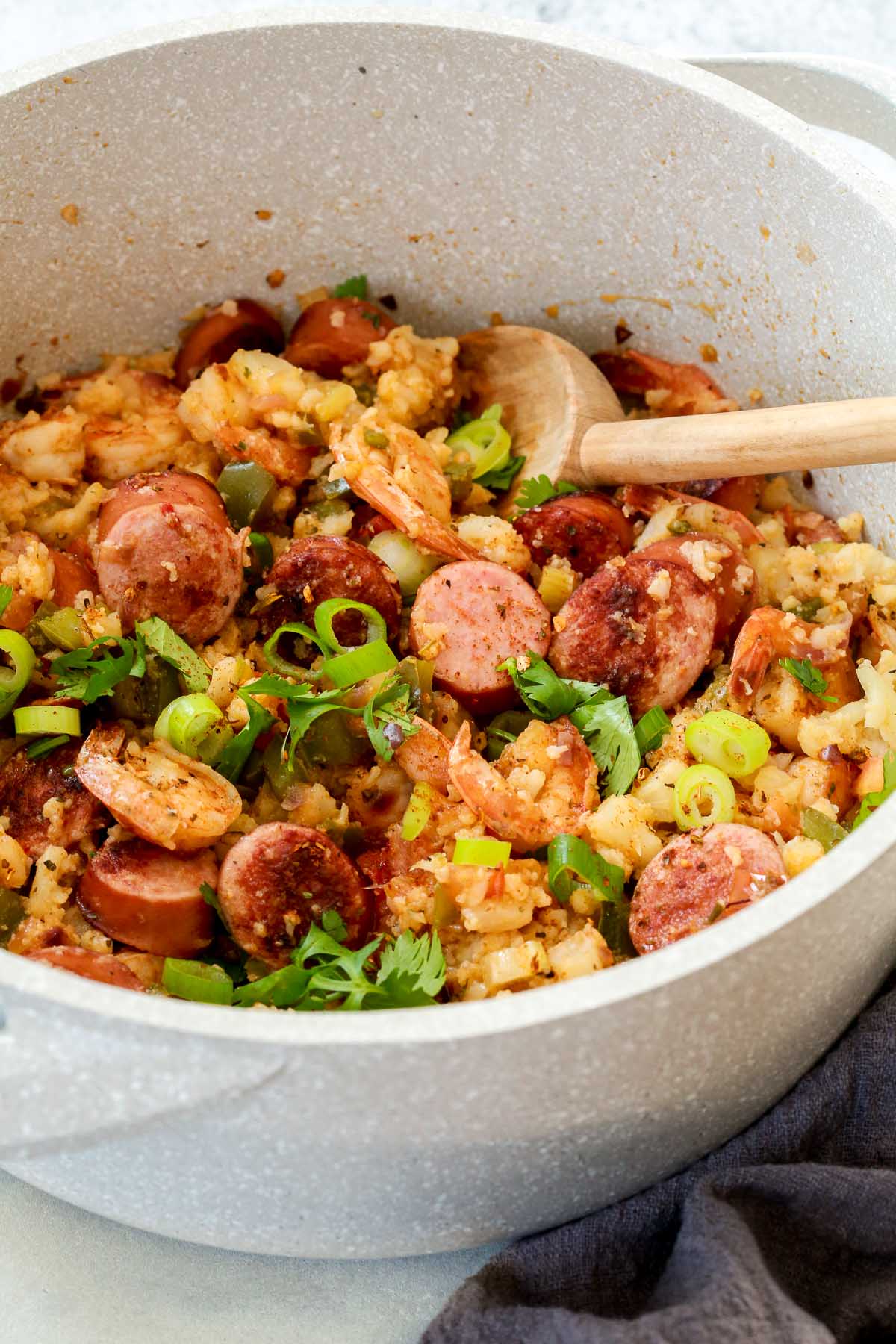 Quick Easy Bean Salad – With some cans of beans, can of corn, can of olives and a good dressing, you'll have a delicious and healthy side dish!
This Quick Easy Tuna Pasta recipe is a delicious, healthy meal to make when time is short. You also will need can of tomato sauce, can of tuna and quinoa fusilli pasta. Super easy and quick to make.
These Sweet Potato Tuna Patties are very soft inside and crispy on the outside. It is delicious, easy, quick, you only need eggs, sweet potato, can of tuna, almond flour or breadcrumbs and some seasoning.
This super easy and satisfying Sausage Quinoa Pasta is tossed in a can of tomato sauce and parmesan cheese. This is a perfect filling pasta dish for your busy weeknight.
This is an Ultra-easy Slow Cooker Chicken Chili you will ever make. Dump can of beans, can of diced tomatoes, can of tomato sauce, some spices and let the slow cooker do the rest for you.
This Slow Cooker Sweet Potato Chili is made with a mixture of extra-lean ground turkey, sweet potato, onion, bell pepper, tomatoes, and can of beans. It is a perfect hearty bowl of chili for a cold day! 
Switch things up by adding some new ingredients to your traditional rice recipe and have this delicious Leek Kalamata Rice meal for your dinnertime!
Quinoa chicken salad makes a quick and easy side or main you can serve hot or cold. Delicious and packed full of good-for-you ingredients too!
This delicious Coconut Berries Oatmeal is filling, vegan and gluten-free. It is made with coconut milk, chia, rolled oat and chia seeds (all pantry stables).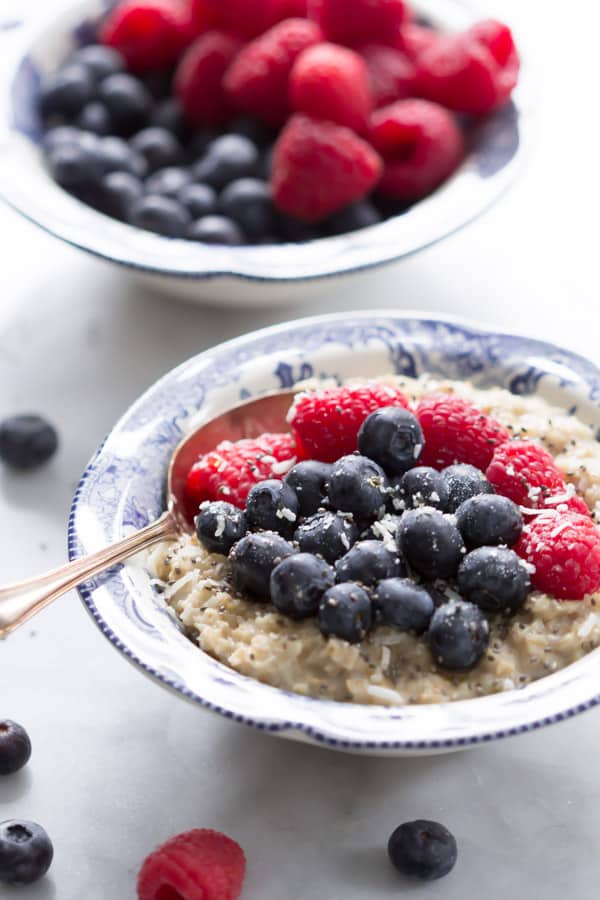 This Roasted Blueberry Oatmeal is a healthy and delicious way to start your day. It is made with coconut milk and the berries are roasted with maple syrup.