Simplify your weeknight dinner with this Chicken Mushroom Recipe. This requires little effort and it is very flavourful. Make this recipe in only 20 minutes!
Chicken dinners don't need to be complicated. All you really need are healthy veggies and a few spices for flavor. So, if you're looking for more chicken breast recipes, check these out: Baked Chicken Breast Recipe, Mushroom and Cabbage (Meal-Prep), Air Fryer Chicken Breast Recipe and Asparagus Stuffed Chicken Breast.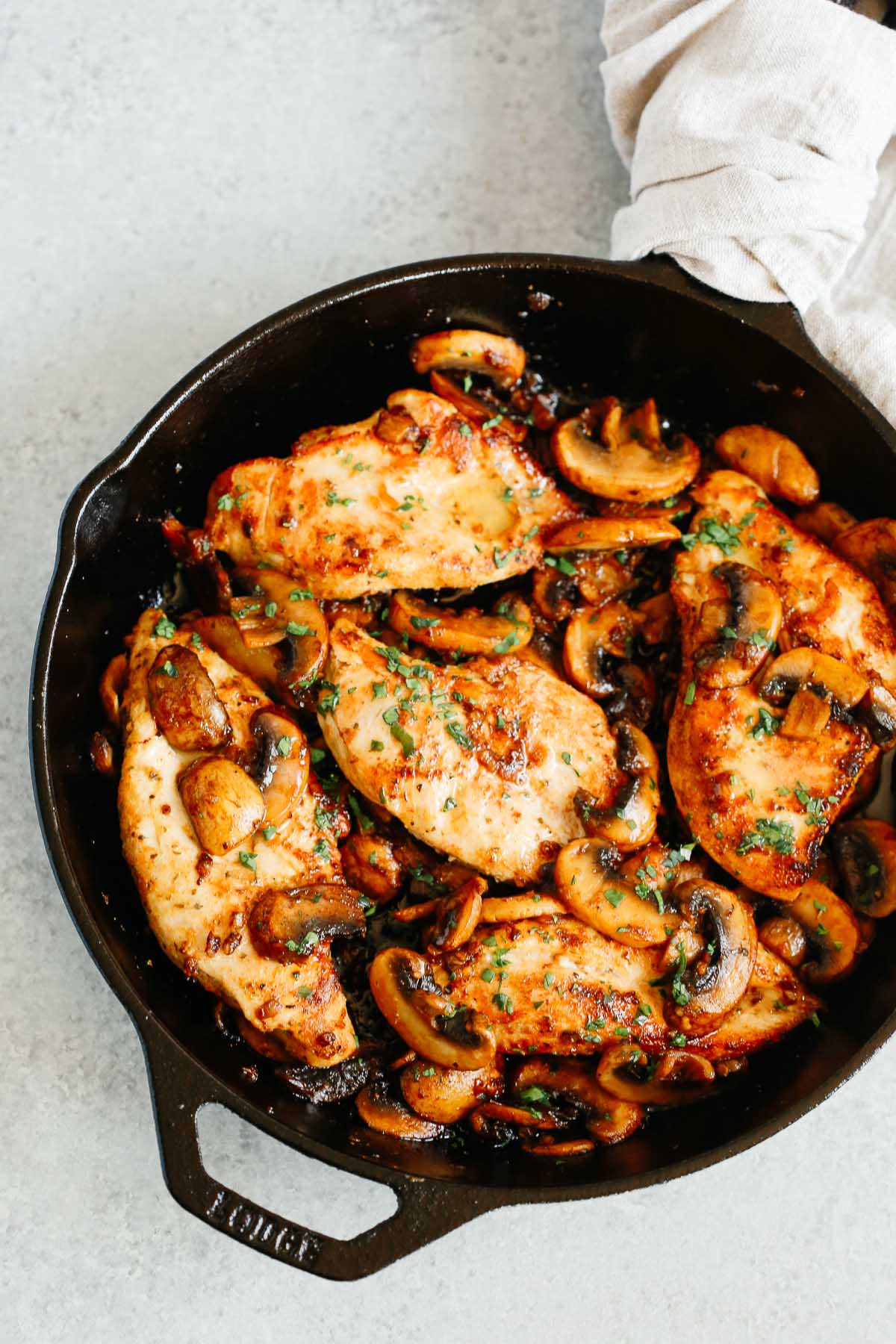 This chicken mushroom recipe is great because everything is cooked in the same pan, so it comes together quickly and you aren't left with a pile of dirty dishes to clean afterwards. These types of recipes are always easy and quick to prepare.
So, this chicken mushroom is perfect for a busy family who still wants to eat homemade food at dinner even when they don't have a lot of time to cook.
Add an easy side of your favorite rice or a tossed green salad to make it a complete meal.
Ingredients to Make Chicken Mushroom Recipe
Boneless, skinless chicken breasts – You can also use chicken thighs, but you'll need to increase the cook time. It should take 15-20 minutes for boneless and 25-30 minutes for bone-in. It is important to use high-quality meat as some chicken breasts are injected with a solution of salt water to plump it up so it looks better on the shelves.
Spices: onion powder, dried oregano, paprika, kosher salt and pepper
Olive oil – Replace with any neutral cooking oil such as canola, avocado, or sunflower.
White or cremini mushrooms – Cremini or Bella varieties would also work well.
Butter – make sure to use unsalted butter so the dish doesn't come out too salty
Garlic
Fresh parsley – feel free to swap for other fresh herbs such as basil, fresh thyme or cilantro.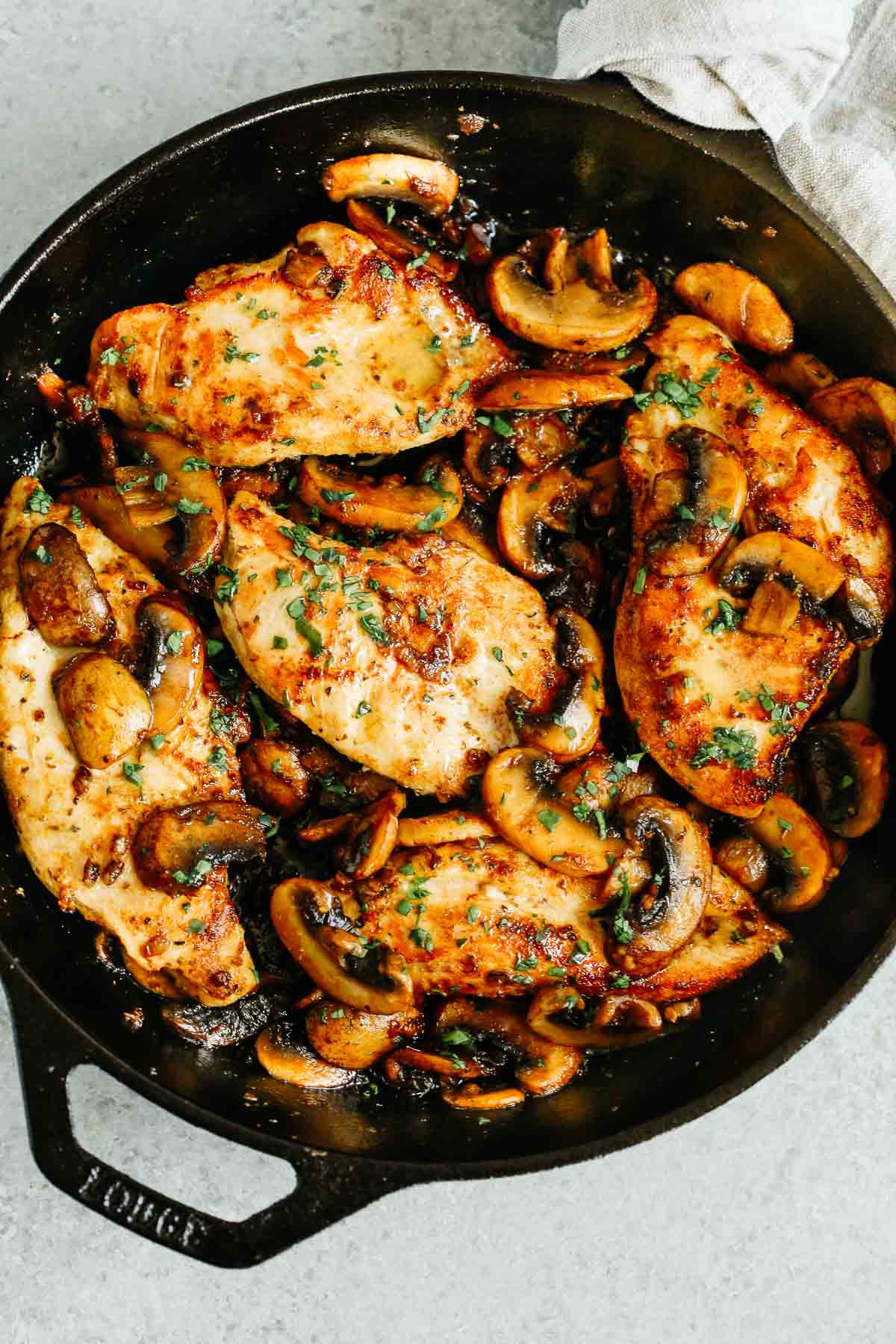 One thing that always makes me happy and excited is to find new recipes that are delicious, healthy recipes that are easy to make (like the one I am sharing today).
How To Make This Chicken Mushroom Recipe
If you are like me, you probably will agree that nothing is better than a homemade chicken recipe for dinner during busy weeknights. So, let's make this recipe together.
Instructions
Prep the ingredients
Set the boneless skinless chicken breasts on a cutting board and pat both sides dry. When you pat the chicken dry, it helps the seasoning stick and you get a nicer sear on them.
Lightly press the top of each breast with the palm of your hand and slice in half lengthwise with a sharp knife. This makes them thinner so they will cook faster.
Combine the chicken and spices in a large bowl. Toss until all pieces are coated evenly. Add salt and pepper to taste.
Slice the mushrooms and set aside.
Cook the chicken
Over medium heat, add the oil in a large skillet, then arrange the butterflied chicken breasts in single layer.
Cook until browned on both sides and the juices run clear.
Remove the tender chicken and place on a plate for later.
Saute the mushrooms
Heat a little more oil in the same pan, then cook the mushrooms until they brown.
Melt the butter in the pan and mix in the garlic. Stir everything together to coat the mushrooms.
Finish and serve
Once the garlic is fragrant, add the juicy chicken back to the pan and combine with the mushrooms.
Top with fresh parsley, then serve the chicken breasts with the mushrooms spooned over the top.
Recipe Tips
Chicken breasts are cooked through once it has reached the internal temperature of 165F. An instant-read meat thermometer is a super helpful kitchen tool.
I love my cast iron skillet but if you don't have one, a regular skillet will work just as well.
While the chicken is freezer friendly, the mushroom is not. So I do not recommend freezing this recipe for later.
I didn't include heavy cream in this recipe, but if you'd like to add 1/2 cup of it, you absolutely can.
How Do I Keep Chicken Breast from Drying Out?
Since we slice the chicken breasts in half, they're thin and cook up real quick. This is my favourite method since if you pan-sear full chicken breasts, the thickness will cause the exterior to dry out before the interior is cooked.
When reheating, microwave your meal prep bowl with a damp paper towel over top the container to keep the chicken moist.
Storage and reheating
Transfer the chicken and mushrooms to an airtight container and keep them in the refrigerator for up to 4 days.
Reheat everything together in the microwave or on the stove until the chicken is warmed through.
Add a little extra melted butter to the mushrooms as needed.
More chicken breast recipes:
For another one pan chicken recipe, try my One Sheet Roasted Chicken and Vegetables. It's cooked in the oven instead of on the stove, but it's just as easy to make.
Otherwise, take a look at these other delicious chicken dinner ideas:
More Mushroom Recipes To Try:
What To Serve With Your Chicken Mushroom Recipe
You can eat this recipe as a main course because it's very satisfying with the mushrooms, but if you prefer, you can have it with delicious fluffy rice, or some pasta or roasted veggies.
Mmm… yummy! I also shouldn't forget about the salad. This Mushroom Chicken Breast Recipe goes really well with any type of salad like quinoa salads, beans salad, air-fryer potatoes wedges, mashed potatoes and of course green salad. Enjoy!
Frequently asked questions
Can I Replace The Mushrooms With A Different Vegetable?
If you are allergic to mushrooms or simply don't like them, you can easily substitute them for something else.
Here are a few options that will also taste great in garlic butter:
Zucchini
Yellow summer squash
Green beans
Asparagus
Can I Replace Chicken Breast For Chicken Thighs?
Yes you can use boneless skinless chicken thighs as well to make this mushroom chicken recipe.
Does This Recipe Work For Meal Prep?
Absolutely!
If you are meal prepping this, be sure to let the chicken and mushroom cool before transferring it to the fridge.  Be sure to keep the meals refrigerated until you're ready to eat.
Make sure to store all your portions in an airtight container. I use glass containers as they don't hold onto any smells and are easier to clean.
When at work, microwave your meal prep with a damp paper towel over top of the container to keep the ground beef meal prep bowls moist.
This meal prep will last for up to 4 days when properly stored.
Pack with some rice, mushrooms, and asparagus if you'd like a side dish to go alongside it.
Want another low carb meal prep? Try my Low Carb Chicken Meal Prep Bowls!
How Far Ahead Can I Meal Prep Chicken?
Chicken can be meal prepped for up to 4 days ahead of time. Be sure to store the chicken in an airtight container to ensure freshness.
Before storing it in the fridge, let the chicken cool to avoid condensation. Be sure to keep the meals refrigerated until you're ready to eat.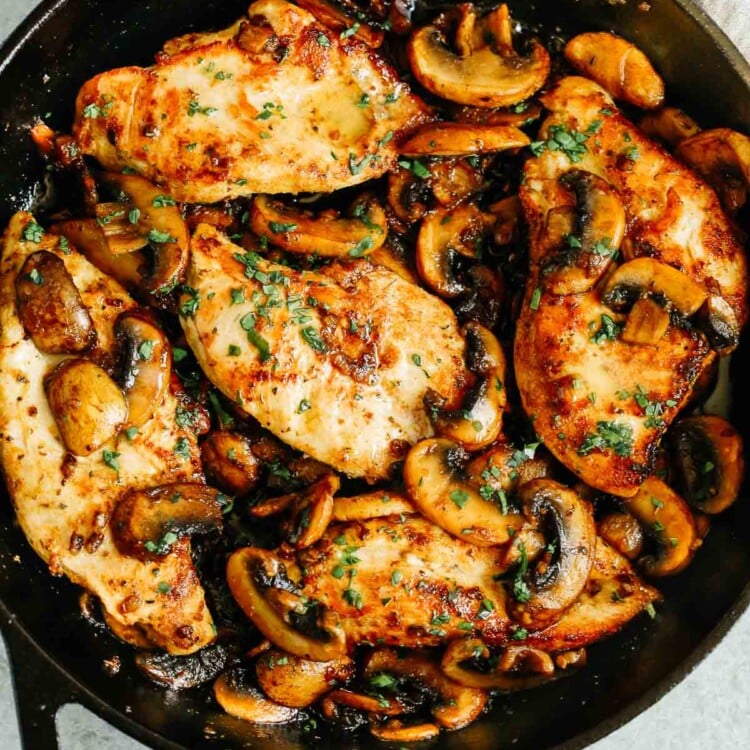 Chicken and Mushroom Recipe
Simplify your weeknight dinner with this Chicken and Mushroom Recipe. This requires little effort and it is very flavorful. 
Instructions
Pat chicken breasts dry with paper towel.

In a bowl, add chicken breast, the onion powder, oregano, paprika, salt and pepper. Mix well to season the chicken breasts evenly.

In a medium skillet, heat 1 tbsp of olive oil over medium-high heat. Place chicken breasts and sear until browned on each side. It'll take about 5 minutes each side, depending on thickness of the chicken breasts. Transfer to a plate; set aside and keep warm.

In the same skillet, add 1 tablespoon of olive oil and add the mushrooms. Season with salt and pepper and cook until they get brown and crispy. Add the butter and garlic. Sauté until fragrant. It's about 1 minute.

Return chicken to the pan. Garnish with fresh parsley. Serve immediately with cauliflower rice or regular rice and green salad.
Tips
Watch the web stories for this recipe HERE.
Use an instant-read meat thermometer to check if the chicken has reached an internal temperature of 165F.
You can use a large non-stick skillet if you do not have a cast-iron skillet.
Cutting the chicken ensures that it is thin enough to cook through quickly so it doesn't dry out. 
To store: Store the chicken and mushrooms in an airtight container in the fridge for up to 4 days.
To reheat: Reheat the leftovers in the microwave until hot. You can microwave with a damp paper towel over top if you're worried the chicken will dry out.
Nutrition Information
Serving:
1
/4
Calories:
237
kcal
(12%)
Carbohydrates:
4
g
(1%)
Protein:
18
g
(36%)
Fat:
17
g
(26%)
Saturated Fat:
7
g
(44%)
Polyunsaturated Fat:
1
g
Monounsaturated Fat:
7
g
Cholesterol:
70
mg
(23%)
Sodium:
456
mg
(20%)
Potassium:
867
mg
(25%)
Fiber:
1
g
(4%)
Sugar:
1
g
(1%)
Nutrition information is calculated using an ingredient database and should be considered an estimate.
To watch the Web Story of this recipe HERE.
If you like this Chicken and Mushroom Recipe recipe, please share with your friends and family. Do you want to taste more? Subscribe to my newsletter and follow Primavera Kitchen on Twitter, Pinterest, Instagram, and Facebook for all delicious recipes updates. As always, I really appreciate you stopping by.