Low carb chicken meal prep bowls are full of protein and fresh veggies. Make this recipe in 30 minutes for healthy lunches or dinners.
Meal-prepping is great because it saves you money since there is no need to order last minute meals. Here are more chicken meal-prep recipes for you: Spicy Chicken Meal-Prep Bowls, One-Pan Chicken and Cabbage (Meal-Prep), Greek Chicken Salad Bowls, and Easy Chopped Chicken Salad.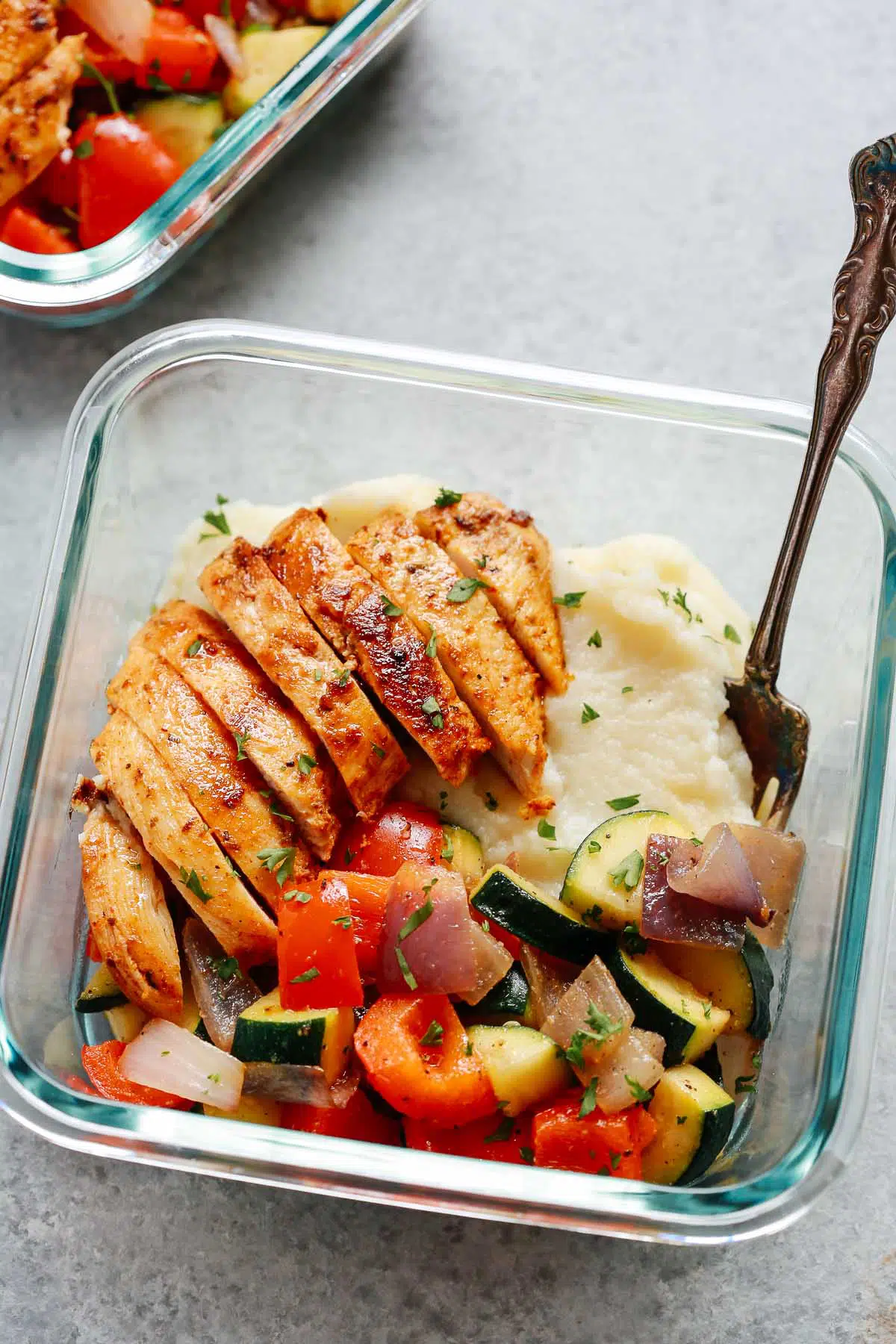 Chicken breast, mashed cauliflower, and sautéed vegetables make a classic meal that's flavorful and filling and perfect for your low carb diet.
Now you can enjoy an easy, low carb and keto meal throughout the week by making easy meal prep bowls!
Packed with protein and healthy, low carb/keto vegetables this easy low carb chicken meal prep will keep you full until your next meal!
Meal Prepping
There are a few ways to approach meal prepping based on what works for you.
Subscribe for new recipes & a free e-cookbook
Cook for the upcoming week: Make a large meal and portion it out into individual containers. This way, you have ready-made lunches or dinners that you can reheat as needed. It doesn't even have to be difficult recipes, easy recipes like my Quick Beef and Zucchini Skillet are such great recipes to meal prep.
Prep ingredients ahead of time: Do all of your chopping and measuring the night before and store fresh ingredients in the refrigerator until you need them. Then, serve as a full-sized family meal as soon as it's done, like my Garlic Butter Baked Chicken Breast (Web Story)
Mix-and-match: Make this chicken and vegetable recipe for dinner, then divide up the leftovers for future meals.
This meal prep bowl recipe is written for the first option, but you can certainly adjust it for the other options if you'd like.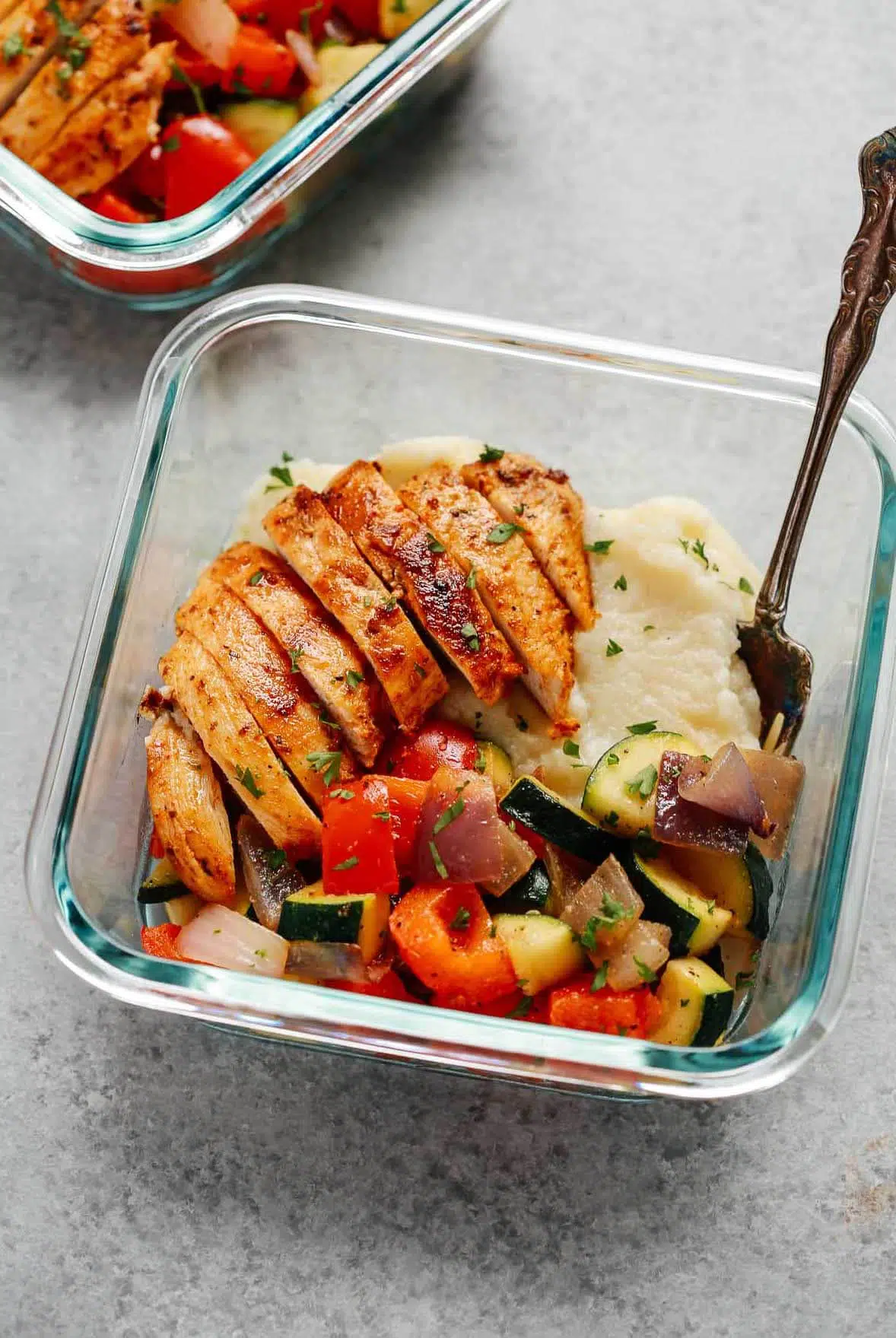 How to make low carb chicken meal prep bowls
Ingredients:
Chicken breasts — free-range organic boneless skinless chicken breasts are what I use. If you use bone-in, skin-on chicken breasts, you'll have to adjust the cook time. It is important to use a high quality meat as some chicken breasts are injected with a solution of saltwater to plump it up so it looks better on the shelves. Want more recipes using chicken breasts? Here are 50 more!
Cauliflower — cut into florets
Zucchini — about 2 medium, chopped
Red bell pepper — about 3 medium, chopped
Red onion — about 2 medium, chopped
Parmesan cheese — buy a wedge and shred yourself
Garlic — about 1 clove or used minced
Butter — use unsalted butter to prevent the recipe from tasting too salty.
Olive oil
Spices – dried oregano, paprika, onion powder, salt & pepper
Feta cheese – This is optional but great on top of the veggies.
Lemon juice – Also optional but I love to squeeze a little bit of lemon juice on top of my chicken.
INSTRUCTIONS
First, chop all the vegetables and grate the cheese, then set aside.
Next, cut the chicken breasts into cutlets so they cook faster. Place one on a cutting board and hold it flat with the palm of your hand.
With your other hand, take a sharp knife and cut through the breast horizontally to make two even pieces. Repeat with the other breast.
Toss the chicken breast halves with the spices, then place them in a heated skillet.
Cook for about 5 minutes on each side, or until golden brown and cooked all the way through.
Make the mashed cauliflower
While the chicken is cooking, bring some water to boil in a large pot. Steam the cauliflower until it's fork-tender, then let it cool for a few minutes.
Blend the steamed cauliflower and garlic together until smooth.
Then, mix with the butter, cheese, salt, and pepper in a large bowl.
When the chicken is done, add more oil and butter to the pan before tossing in the chopped vegetables.
Cook until tender, stirring occasionally. Season with garlic powder, salt, and pepper when done.
Build the meal prep bowls
Divide the chicken, mashed cauliflower, and veggies into even amounts and place in your favorite meal prep containers.
Store in the refrigerator for up to 4 days and reheat in the microwave.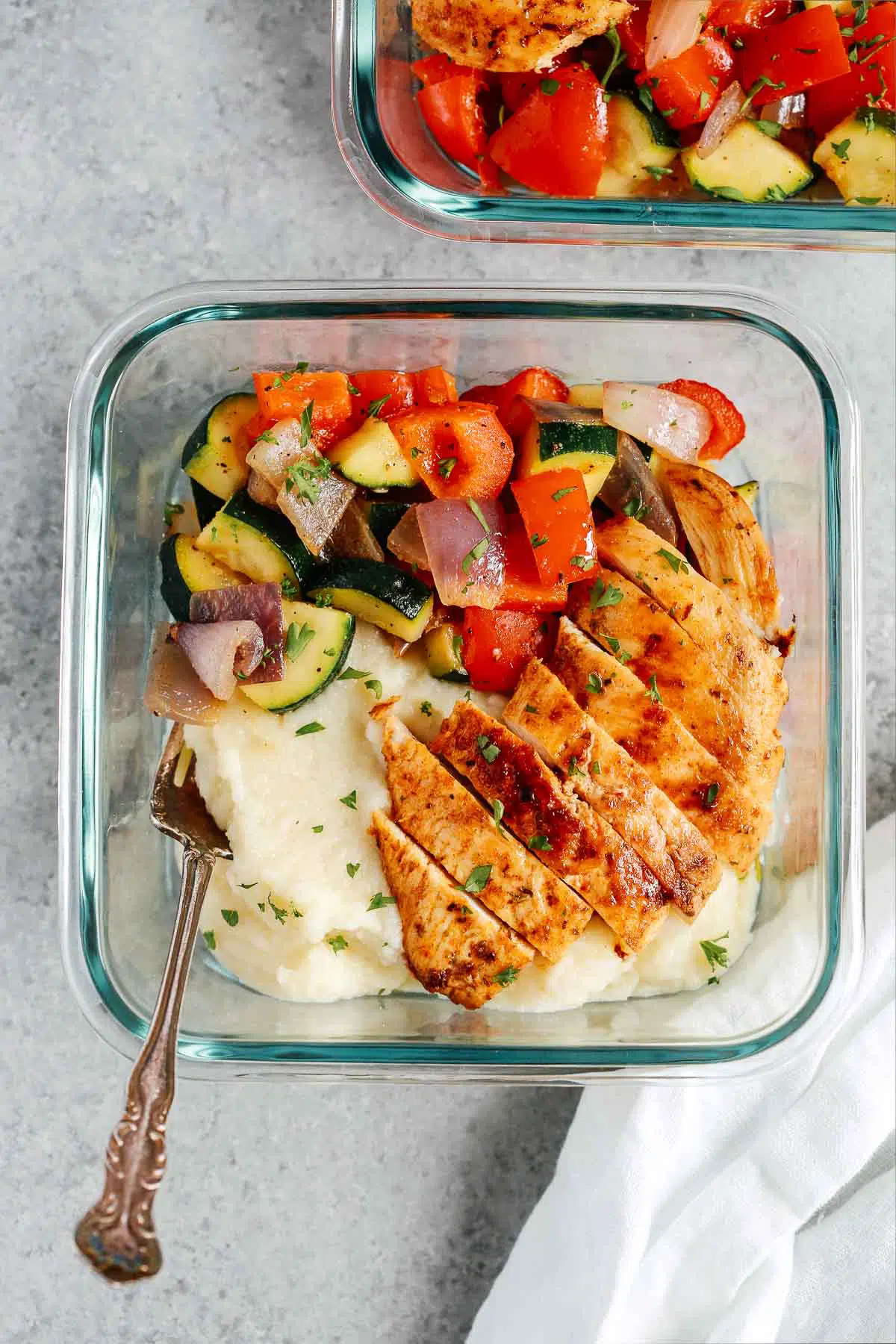 Recipe Substitutions
If you don't have carb restrictions, you can replace the mashed cauliflower with one of the following:
Mashed potatoes
(these are vegan too),
Fluffy rice
and
Mashed sweet potatoes
. And because low carb chicken meal prep bowls are so simple to make, the recipe is very flexible.
Add a wider variety of vegetables or swap them out for different ones. Here are some ideas: Yellow squash, carrots, green beans, broccoli, corn and snap peas.
If you don't want to sauté veggies, you can replace them for a delicious Greek salad made with lettuce, tomatoes, cucumber, olives and delicious tzatziki sauce. Or you can also serve it with zucchini noodles.
You can even swap out the chicken breasts. You can try: chicken thighs, salmon fillets, tofu and pork chops.
How Do I Keep Chicken Breast From Drying Out?
Since we slice the chicken breasts in half, they're thin and cook up real quick. This is my favourite method since if you pan-sear full chicken breasts, the thickness will cause the exterior to dry out before the interior is cooked. When reheating, microwave your meal prep bowl with a damp paper towel over top the container to keep the chicken moist.
Recipe Tips
This recipe is naturally gluten-free. If you'd like more gluten-free recipes, here are 50 more that can be made in under 30 minutes.
Chicken breasts are cooked through once it has reached the internal temperature of 165F. An instant-read meat thermometer is a super helpful kitchen tool.
I love my cast iron skillet but if you don't have one, a regular skillet will work just as well.
If you don't want to make cauliflower mash, cauliflower rice is a great alternative. You can even purchase it, pre-made in the freezer aisle.
For the mashed cauliflower, you can use frozen cauliflower instead of rice. Simply thaw it before cooking it.
This recipe can be paleo and whole30 too if you make it dairy free. Just skip the Parmesan cheese.
The flavor of the sautéed veggies is so good. You can serve them in wraps with slices of chicken breast also for the next day.
How Far Ahead Can I Meal Prep Chicken?
Chicken can be meal prepped for up to 4 days ahead of time. Be sure to store the chicken in an airtight container to ensure freshness. Before storing it in the fridge, let the chicken cool to avoid condensation. Be sure to keep the meals refrigerated until you're ready to eat.
Other meal prep bowl recipes: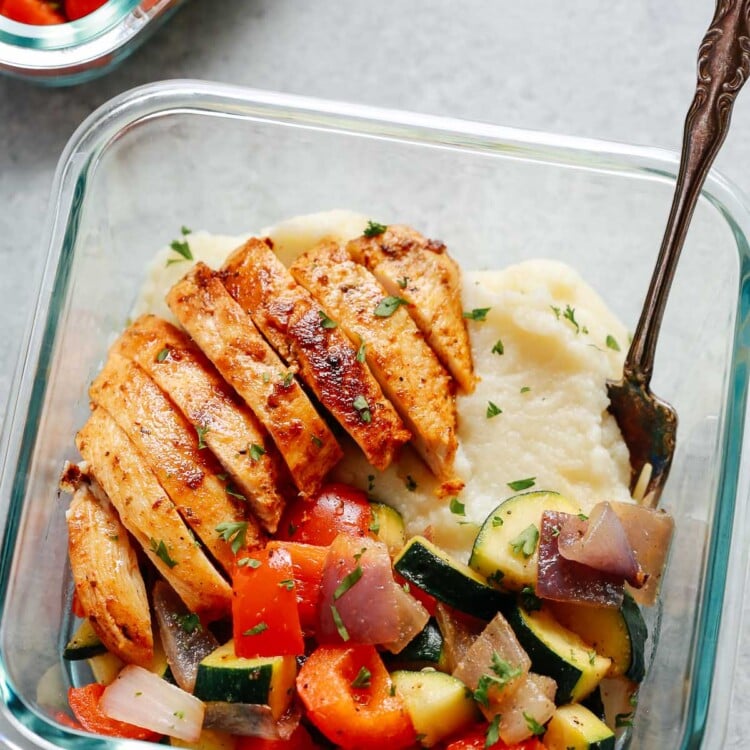 Low Carb Chicken Meal Prep Bowls
These low carb chicken meal prep bowls are full of protein and fresh veggies. Make this recipe for this week's lunches in just 30 minutes!
Instructions
FOR THE CHICKEN:
Cut the chicken breasts into thinner cut by placing chicken breast on a cutting board. Hold it flat with one hand. Using a sharp knife, slice the chicken breast horizontally into two even pieces*.

Heat the oil in a medium skillet over medium-high heat. In a medium bowl, place the chicken with olive oil, oregano, paprika, onion powder, salt, and pepper. Toss everything together.

Place seasoned chicken breast in the pan. Cook for about 5 minutes per side, turning once. Chicken will be ready when it gets the internal temperature of 165˚F. Transfer the chicken breasts to a plate.
FOR THE MASHED CAULIFLOWER
Fill a large pot with about 2 cups of water, and bring it to a boil. Then, place a steamer basket in the bottom of the pot. Add the cauliflower florets to the steamer basket.

Cover the pot, and steam until the cauliflower is fork-tender, about 6-8 minutes. Remove from the heat, uncover the pot and let the cauliflower cool for 3-5 minutes.

Place the steamed cauliflower and garlic in a food processor or blender jar, and puree/blend until the cauliflower is completely smooth.

Transfer to a bowl, add the butter, Parmesan, salt, and ground black pepper, and stir well to combine. Set aside.
FOR THE VEGGIES
In the same skillet you seared chicken breast, heat oil and butter. Add onions, bell pepper and zucchini. Saute them until tender. It's about 4-5 minutes. Season with garlic powder, salt and pepper. Mix to combine.
MEAL PREPPING:
Place an even amount of chicken, veggies, and mashed cauliflower into 4 glass containers. Cover with the lid, and place in the fridge for up 4 days. Heat in the microwave for about 1½ – 2 minutes. The time depends on the power of your microwave.
Tips
Click HERE to watch the web story.
When you cut chicken breast thinner, it cooks faster than full-sized breasts and it's ideal for searing or breading, and frying.
Use an instant-read meat thermometer to check that the internal temperature of the chicken has reached 165F to ensure they're fully cooked.
You can use frozen cauliflower to make the mash.
To store: Store the chicken bowls in the fridge for up to 4 days.
To reheat: Reheat the bowls in the microwave until heated through.
To freeze: I would recommend only freezing the chicken as the vegetables won't hold up well. Freeze the chicken in a freezer-safe bag or container for up to 3 months.
Nutrition Information
Serving:
1
/4
Calories:
313
kcal
(16%)
Carbohydrates:
28
g
(9%)
Protein:
16
g
(32%)
Fat:
17
g
(26%)
Saturated Fat:
7
g
(44%)
Polyunsaturated Fat:
3
g
Monounsaturated Fat:
6
g
Cholesterol:
47
mg
(16%)
Sodium:
1154
mg
(50%)
Potassium:
1139
mg
(33%)
Fiber:
10
g
(42%)
Sugar:
14
g
(16%)
Nutrition information is calculated using an ingredient database and should be considered an estimate.
See the Web Story for this recipe HERE.