Beef and zucchini makes a quick evening meal or a great meal prep solution. Full of flavor and nutrition, it is ready is about 30 minutes.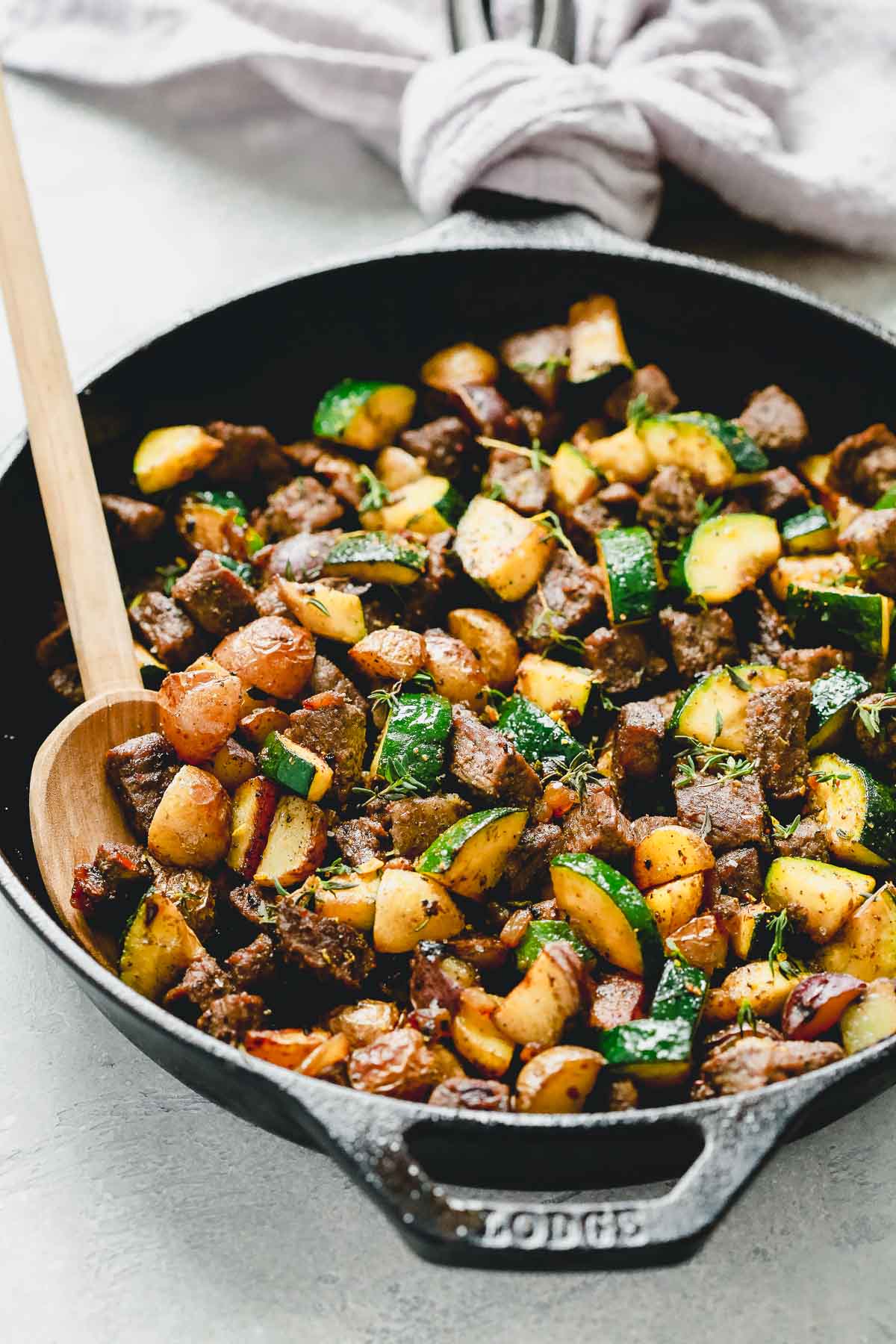 This one pan skillet meal is a quick dinner. It is full of protein plus it's gluten free and paleo and Whole30 friendly. It's easy to turn this into four prepared lunches as well with meal prep instructions. I love meal prepping since it makes my weekday lunches so much easier. I've also been loving making this Meal Prep Recipe for Chicken and Vegetables, Low Carb Chicken Meal Prep Bowls, and Garlic Shrimp and Veggies Meal Prep Bowls. You can meal prep almost anything like this Whole30 Pot Roast Recipe by portioning it out into containers for the week!
This meal is also versatile. You can change up the seasoning for a different flavor. Add some cayenne for a kick or lemon pepper for a bright taste.
If you are looking for more beef recipes to try, please check these delicious recipes out: Slow Cooked Oven Roasted Beef Brisket and Dutch Oven Beef Stew.
Ingredients you'll need
Olive oil – or use any neutral oil of your choice. Avocado oil is a great alternative.
Baby potatoes – you can also use sweet potatoes as well.
Salt and black pepper – to taste
Beef stew meat – cut into bite-sized pieces. I recommend using high-quality beef that does not contain any antibiotics.
Seasoning: I use onion powder and Italian seasoning to season the beef and zucchini.
Butter – use unsalted butter so it's not overly salty.
Garlic cloves – minced
Zucchini – try not to get zucchinis that are too large as they tend to be watery.
Fresh thyme – you can also swap fresh thyme for any herb of your choice.
What kind of potatoes are best for roasting?
Perfect oven roasted potatoes have a crispy crust and a fluffy interior. Russet potatoes get a very crispy crust and are super fluffy and soft inside. Yukon gold potatoes have a lower starch content so they aren't quite as crisp. However, with their higher sugar content, they have more flavor.
Baby potatoes have been harvested before growing to their full size. This leaves them with a very thin skin and a sweet flavor. That makes them another great choice for roasting.
To achieve great tasting roasted potatoes, follow these tips:
Subscribe for new recipes & a free e-cookbook
Cut all the pieces about the same size.
Line your baking sheet with parchment paper so the potatoes don't stick
Spread them out as much as possible. Anywhere the potatoes are touching will not get crispy.
Use high heat. I cook mine at 400F. You actually want the outside to get done faster than the inside.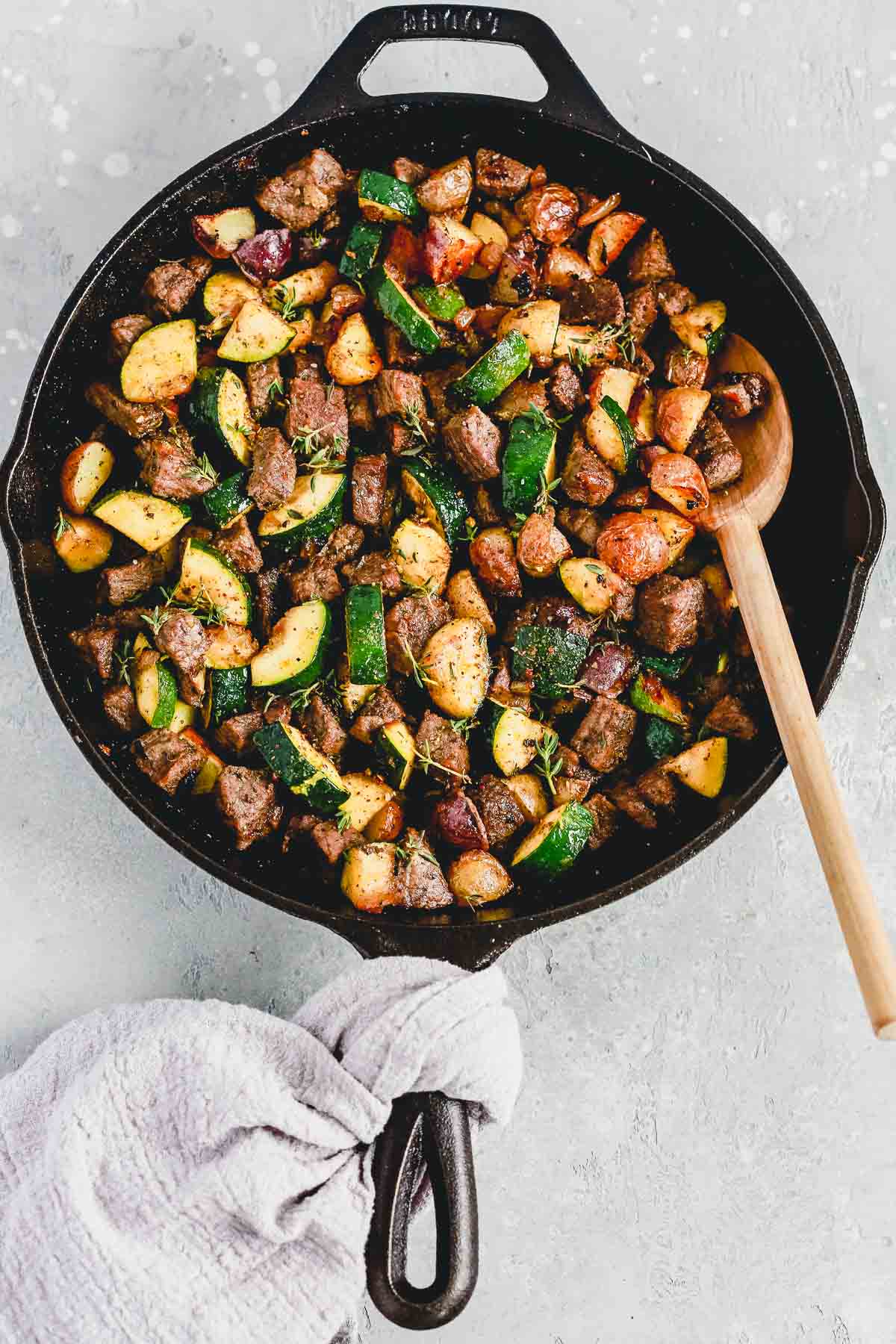 What kind of meat do you use for beef and zucchini?
When you purchase a package labeled beef stew meat at the store, it could be nearly any cut of beef the butcher decided to include. Just ask if you want to know exactly what kind of cut it is.
Both the chuck and round cuts make great stew meat and will work for this recipe. These cuts are tough, but once you cut them in small pieces, they will cook nicely and become tender. These cuts have lots of connective tissue that breaks down as it cooks, leaving the meat tender and flavorful.
Don't have any of those on hand? Try my Ground Beef Butternut Squash Meal Prep Bowls.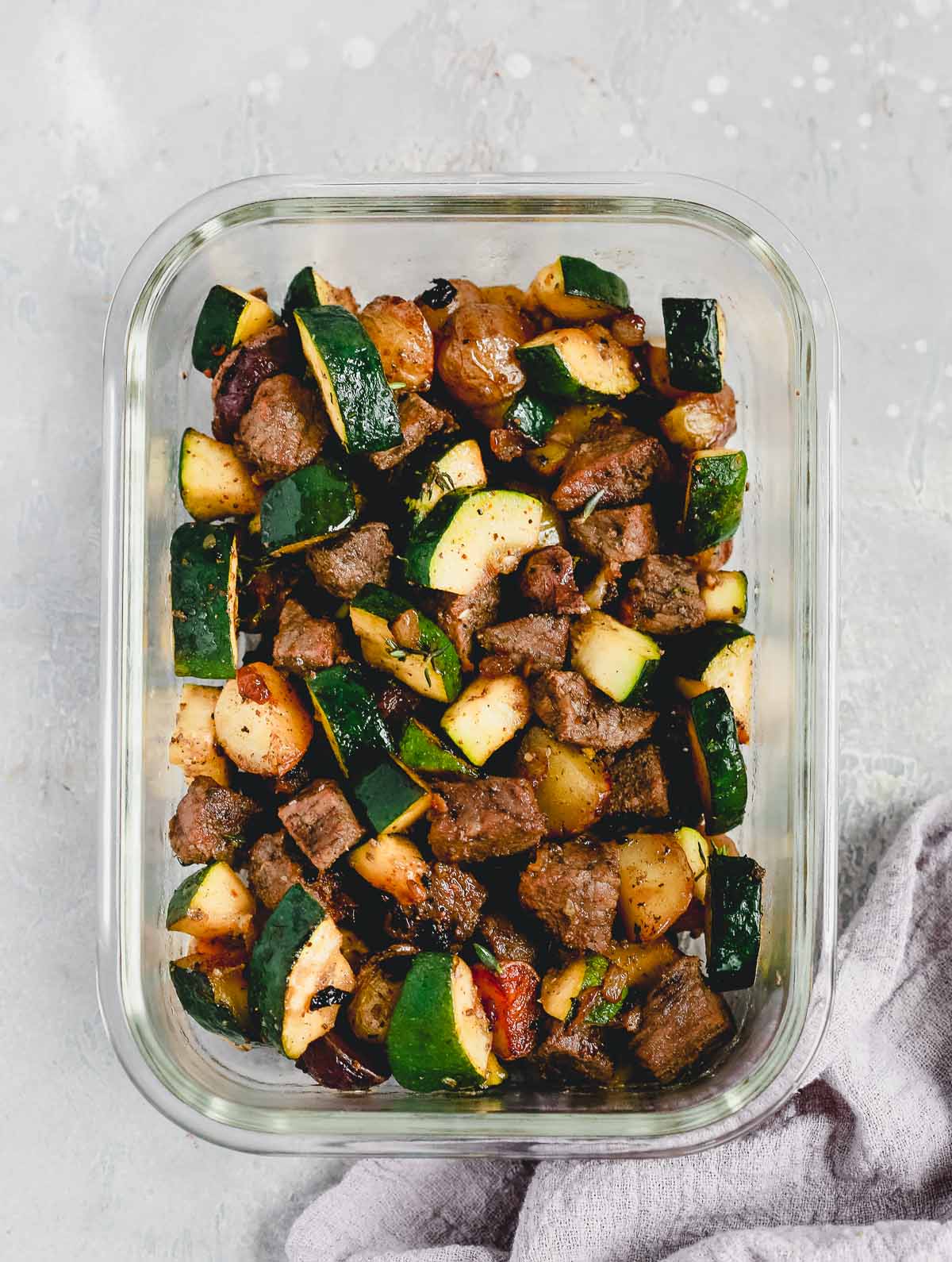 How to meal prep beef and zucchini
This is a great recipe to keep in mind for meal prep. It's a simple meal, yet packed with protein, starches and vegetables. It's all cook in one pan and can be stored together.
This recipe makes four servings. Once it is cooked and cooled, divide the meal into four portions and store. It will last in the refrigerator for four days. Your lunches will be ready to go when you are. Having these beef and zucchini bowls ready to go has taken so much stress off my plate. A few of my other favourites are my Ground Turkey Cauliflower Rice Veggie Bowls and Spicy Salmon Vegetable Meal-Prep Bowls.
The 
meal-prep container that I recommend: 
In my opinion, glass containers are the best to store food because they don't release toxic substances into your food like plastic does when used in a microwave. You are safe with glass containers. But, when you choose glass containers, please consider a few things like:
Choose containers with leakproof lids to avoid spills.
Buy a good-quality glass container that won't break easily.
Make sure it's safe to use in the microwave and has freezer-safe tempered glass.
And finally, buy different-sized containers because it helps to stack them easily and take up less space in the fridge.
Amazon.com has a huge variety of glass containers of different sizes, with or without compartments. Check them out here.
Recipe tips
If your beef was frozen beforehand, make sure it is fully thawed before using so it doesn't cook unevenly.
Zucchini doesn't take long to cook so try not to cut them too small or they'll overcook.
Try to cut the beef into similar-sized pieces so they cook evenly.
Want to add more vegetables? Throw in a handful of spinach or broccoli! Mushrooms are also a great addition to this meal prep as well, like my Chicken and Mushroom Recipe.
Want to make this spicy? Try adding some cayenne pepper or hot paprika instead.
More meal-prep ideas for you: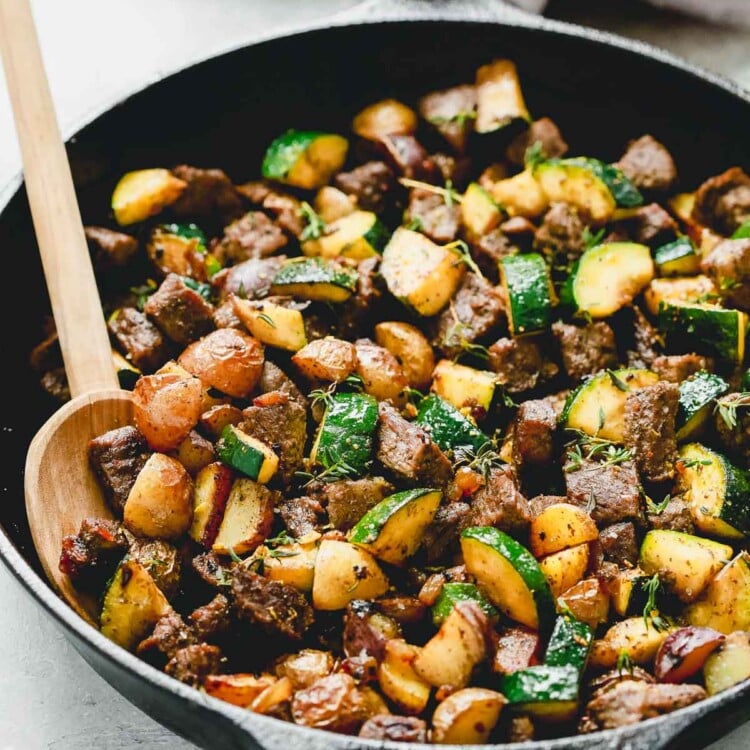 Quick Beef and Zucchini Skillet (Meal-Prep)
Beef and zucchini makes a quick evening meal or a great meal prep solution. Full of flavor and nutrition, it is ready is about 30 minutes. 
Ingredients
For the beef and zucchini
Instructions
For the potatoes
Preheat oven to 400 F degrees. Line a baking sheet with parchment paper. Set aside. In a large bowl, add potatoes, olive oil, salt and black pepper. Mix everything very well to combine.

Place the potatoes in a single layer on the prepared baking sheet. Bake for 30 minutes or until browned and tender. Turn potatoes after 20 minutes.

While potatoes are in the oven, cook the beef and zucchini by placing steak bites, onion powder, Italian seasoning, salt and black pepper in a bowl. Mix everything together well.

Add olive oil in a large skillet over medium-high heat. Once the pan is hot, place the steak bites in the skillet in a single layer. Cook for 3-4 minutes and don't forget to stir. Add butter and garlic to the skillet. Cook for about 1 minutes or until the butter is totally melted and the garlic is cooked.

Add zucchini and cook for more 3 minutes or until zucchini is tender.

Remove potatoes from the oven and add to the beef and zucchini skillet. Mix everything well and garnish with fresh thyme.
Meal-prepping
Place an even amount of beef, zucchini and potatoes into 4 different medium glass containers. Cover with the lid and place in the fridge for up to 4 days. Heat in the microwave for about 1.5 or 2 minutes. Enjoy!
Tips
Click HERE to watch the web story. 
You can use sweet potatoes instead of regular potatoes.
Make sure the beef is fully thawed and pay dry so you get a nice sear on it.
Cut the beef as uniformly as possible so the beef cooks evenly.
To store: Store the beef and zucchini in an airtight container in the fridge for up to 4 days.
To reheat: Reheat the meal prep in the microwave until hot. 
Nutrition Information
Serving:
1
/4
Calories:
380
kcal
(19%)
Carbohydrates:
24
g
(8%)
Protein:
27
g
(54%)
Fat:
21
g
(32%)
Saturated Fat:
8
g
(50%)
Polyunsaturated Fat:
1
g
Monounsaturated Fat:
7
g
Cholesterol:
88
mg
(29%)
Sodium:
1657
mg
(72%)
Potassium:
833
mg
(24%)
Fiber:
3
g
(13%)
Sugar:
3
g
(3%)
Nutrition information is calculated using an ingredient database and should be considered an estimate.