Shrimp and veggies meal prep bowls – a make ahead freezer meal that will save you so much time in the kitchen! Succulent shrimp in garlic butter sauce with zucchini, bell peppers, and onion. This shrimp dinner will become your favorite easy meal prep recipe.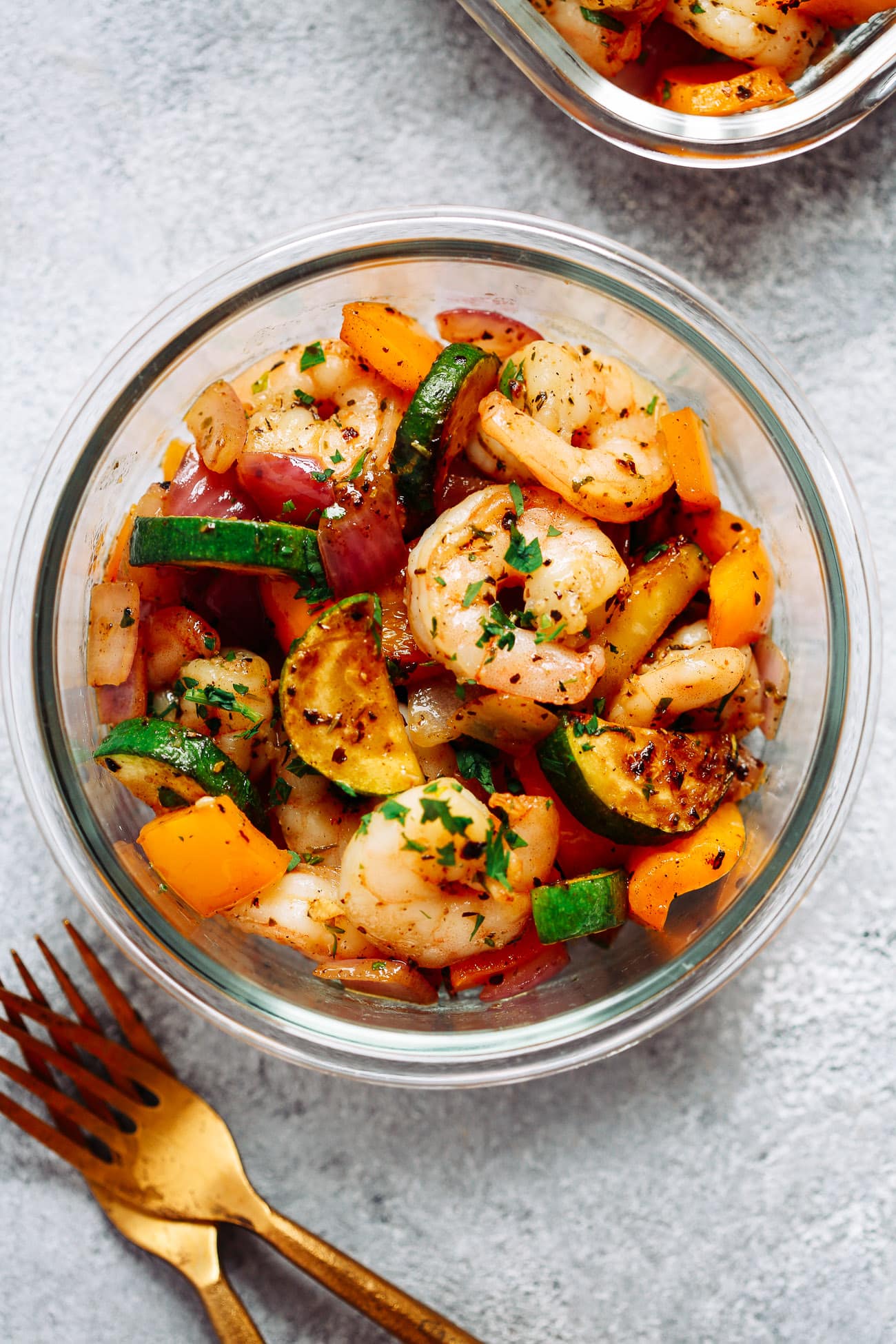 How do you make easy meal prep?
If you have a family that is constantly on the go, make-ahead dinners like this shrimp meal prep can save you so much time. Easy meal prep recipes may not be as quick to make as a bowl of cereal, but trust that they are more nutritious and they taste better, too!
While it may seem like a huge task to plan your meals ahead, it really isn't difficult. There is one simple step you can take that will make preparing meals easier.
Tackle your time trouble spots.
Start by thinking about what activities cause you to lose the most time and what time of the day it happens.
Perhaps mornings are your trouble spot because you have a huge list of to-dos.
Need to pack lunches – 15 minutes
Find missing backpacks – 10 minutes
Help your kids pick out clothes for school – 5 minutes
Make and feed the family some breakfast – 15 minutes
Get everyone out the door and to the bus stop on time – 10 minutes
Pull something from the freezer to thaw out for dinner – 5 minutes
Get yourself dressed and ready for the day – 20 minutes???
This list requires at least 90 minutes worth of time and if you're lucky, you have 45 minutes to tackle it.
Now imagine this.
Instead of packing lunches in a frenzy every morning, you prep them the night before. It will take 10 minutes to pack and store them in the fridge. At the same time, you can cook blueberry oatmeal. Or better yet, pull out healthy meal prep breakfast bowls from the freezer to serve in the morning. You just saved 20 minutes!
You save even more time planning to serve a make-ahead meal you prepared earlier in the week.
Shrimp and veggies meal prep bowls take 10 minutes to cook and then you put them in the fridge. As a result, you won't spend 30 minutes making dinner on a busy night because the shrimp meal prep dinner is ready and waiting – it just needs 10 minutes to reheat!
This is why I LOVE meal prepping. Need a couple more ideas for the rest of the week? Try my Low Carb Chicken Meal Prep Bowls and Shrimp, Bell Pepper and Onions Skillet!
What shrimp should I use?
You can use any shrimp you'd like to make this Shrimp And Veggies. To save time, I used shrimp that have their tails removed, deveined, and peeled. It usually takes around 10 minutes to do it myself so it just cuts down on my prep time.
Jumbo shrimp is also easier to cook as they're less likely to overcook on the stovetop. If you prefer smaller shrimp, keep a close eye on it and make sure to flip it earlier.
Can I use frozen shrimp to make shrimp and veggies Recipe?
Yes, you can make this easy shrimp meal prep dinner using frozen shrimp! Just buy uncooked shrimp and if possible as you want to cook the shrimp in the garlic butter and infuse the shrimp with flavour.
How do I thaw frozen shrimp?
You can thaw frozen shrimp in the fridge overnight. However, if you've forgotten to thaw the shrimp overnight in the fridge, not to worry! You can quickly thaw it by placing frozen shrimp into a bowl or colander in the sink. Then run cold water over it for 5 to 10 minutes, giving it a shake every so often so the water can thaw the shrimp evenly.
It will take longer if your shrimp are larger. Small shrimp take much less time to thaw. After the shrimp has thawed, you'll have to pat them dry with a paper towel or the shrimp will steam instead of sear in the pan. This step is very important to get a nice colour on the shrimp.
Thawed too much shrimp and need another easy shrimp recipe? Try making my Garlic Butter Shrimp Skillet Recipe, Sweet Potato Green Beans Shrimp Skillet, or any of these 35 Healthy Shrimp Dinner Recipes!
What pan should I use?
I like to use a cast-iron skillet to make this shrimp and veggies but a non-stick pan will work as well. I find that cast-iron gives the shrimp a nicer sear.
How long do these Shrimp and Veggies Recipe  last?
You can store this shrimp and veggies in the fridge for up to 5 days. It actually tastes even better as leftovers. Make sure to keep everything covered or in an airtight container. To reheat the meal prep, you can put it in the microwave for a couple of minutes
Want other vegetables can I use?
Some other vegetables ingredients you can use are:
asparagus
butternut squash
sweet potatoes
tomatoes or cherry tomatoes
spinach
kale
collard greens
mushrooms
green beans
snap peas
You can also serve this recipe with rice or pasta as well. Also, add fresh herbs like oregano and some spices like red pepper flakes or even a little bit of ginger and soy sauce for extra flavor if you prefer.
Want More Shrimp And Veggies Recipes?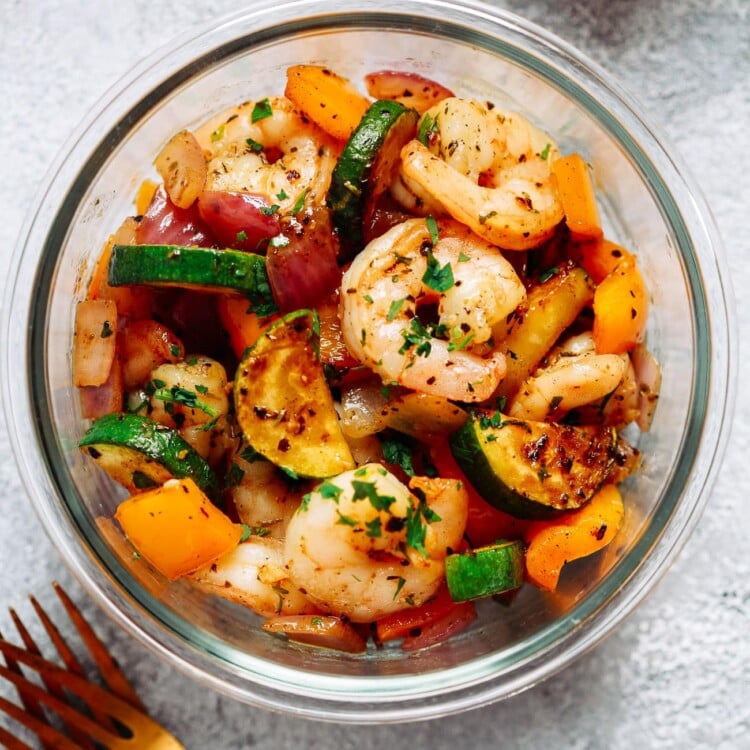 Garlic Shrimp and Veggies Meal Prep Bowls
Garlic shrimp and veggies meal prep bowls are a quick and easy make-ahead meal that is incredibly delicious! Tender shrimp, zucchini, bell peppers, and onion tossed in garlic butter sauce.
Ingredients
3

tbsp

clarified butter or ghee

for whole30 and paleo diets

1

tbsp

olive oil

1

lb

large shrimp

tails off, peeled and deveined

salt and black pepper

to taste

1

tsp

Italian seasoning

3

garlic clove

minced

2

big bell pepper

diced

1

medium red onion

chopped

2

medium zucchinis

chopped

fresh parsley for garnishing
Instructions
Place the butter and olive oil in a large skillet and melt over medium high heat. Add the shrimp and season with salt, pepper and Italian seasoning. Cook for 3 minutes, stirring occasionally, or until shrimp is pink.

Add garlic and cook for one more minute. Set shrimp aside.

If necessary add more olive oil in the skillet and sauté bell pepper, onions, zucchini and season with salt and pepper to taste. Cook for 3-5 minutes. I like my veggies tender, but if you prefer, you can cook them for 2 minutes more to be softer.

Bring shrimp back to the skillet. Stir everything well to combine.

MEAL PREPPING: Place an even amount of shrimp and veggies into 4 different glass containers. Divide the shrimp vegetable skillet recipe into 4 portions. Cover with the lid, and place in the fridge for up 4 days. Heat in the microwave for about 2 minutes.
Tips
Watch the Web Stories HERE. 
You can buy shrimp with tails removed, deveined, and peeled to save time.
You can use frozen shrimp for this meal prep bowl but you need to fully thaw them before using. 
Try to use the largest skillet you have as it'll help prevent the ingredients from overcrowding. 
To store: Store leftovers in the fridge in an airtight container for up to 4 days.
To reheat: You can reheat this shrimp and veggies meal prep in the microwave. 
Nutrition Information
Serving:
1
/4
Calories:
228
kcal
(11%)
Carbohydrates:
11
g
(4%)
Protein:
30
g
(60%)
Fat:
14
g
(22%)
Saturated Fat:
6
g
(38%)
Polyunsaturated Fat:
1
g
Monounsaturated Fat:
6
g
Cholesterol:
196
mg
(65%)
Sodium:
593
mg
(26%)
Potassium:
443
mg
(13%)
Fiber:
3
g
(13%)
Sugar:
5
g
(6%)
Nutrition information is calculated using an ingredient database and should be considered an estimate.