This hearty Roasted Sweet Potato Kale Salad is made with massaged kale, roasted sweet potatoes, pecans, and crumbled feta cheese.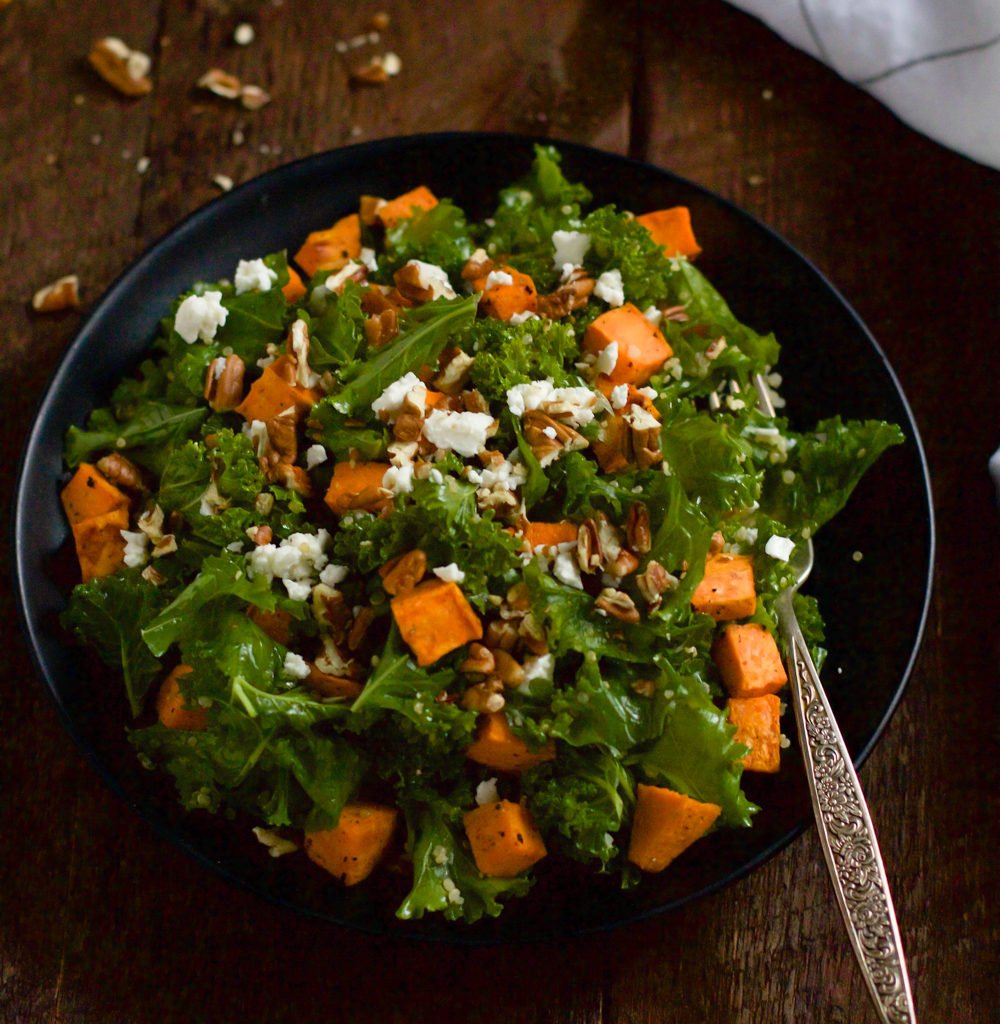 These days I've been very busy organizing Thomas' birthday. Next Monday, February 6th he will be 1 year old. But we're going to celebrate his birthday this coming Saturday with family and a few close friends. It's going to be something small, but fun for him and his friends. I'm pretty sure he will be happy.
I cannot believe it been already 1 year that he was born. People say that time flies and this is totally true. I try to enjoy every single moment (although sometimes it's not possible) because I know this time won't come back. It is really a blessing to have a child in our lives. I'm just so grateful for being his mom. I totally believe he came to this world to make me a better human being. And for this reason, I try hard every day to be a better person for him and for the others. Some days I do very well, others not so much. But I guess this is life. The imperfection is the beauty of life. We make mistakes many times, but that is what makes us who we are… that is what brought us to this moment and I'm grateful for that.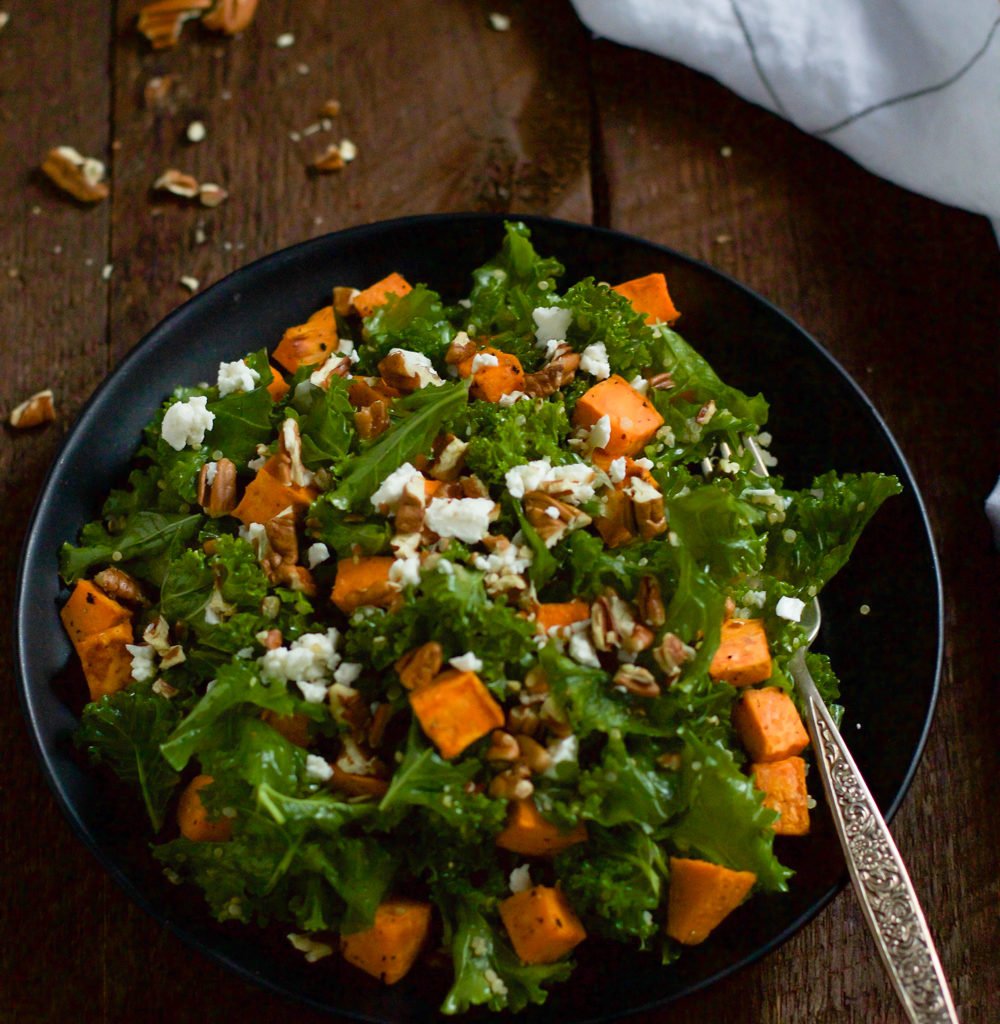 Because we're very thankful for being his parents we want to celebrate his birthday with love and gratitude. And since I'm not having much time to cook this week I've been eating lots of quick meal during lunchtime like this delicious kale salad, Easy Kale Breakfast Salad Recipe, Warm Quinoa Brussels Sprouts Salad with Kale Chips, and Kale Salad with Crispy Sweet Potato. We've had a LOT of kale in our fridge and it's been so easy to whip up these quick salads.
I made this very quick salad dressing and then I poured over the kale and massage it with my hands to help break up the cells in the kale leaves. This way the kale leaves get softer and easier to eat and digest. This salad is super nutritious, easy to make and it stores well. It is also great to have something healthy and yummy on-the-go. Also, this salad makes a delicious side dish along with some roasted chicken or broiled salmon. You can also make this Sweet Potato Chicken Kale Skillet for an easy skillet meal.
Roasted Sweet Potato Kale Salad
This hearty Roasted Sweet Potato Kale Salad is made with massaged kale, roasted sweet potatoes, pecans, and crumbled feta cheese.
Ingredients
6

cups

chopped kale

¼

cup

homemade vinaigrette

click here for the recipe.

3

tablespoons

pecans

chopped

3

tablespoons

feta cheese
For the sweet potatoes
1

large sweet potato

peeled and diced

1

tablespoon

olive oil

Pinch

of salt and pepper
Instructions
Preheat oven to 400 degrees.

On a baking sheet lined with parchment paper, place sweet potato and toss in olive oil and season with a pinch of salt and pepper. Mix well to combine.

Roast in the oven for 20-30 minutes (it'll depend on the size of the sweet potato diced). When 15 minutes have passed, flip the potatoes over.

In a large bowl, add kale and the homemade dressing.

Massage until the kale starts to soften and wilt, 2 to 3 minutes.

Top with pecans, feta, and sweet potato. Enjoy!
Tips
Massaging the kale before adding it to the salad will make the kale more tender.
When roasting the sweet potato, make sure everything is in a single layer with space in between. This allows the sweet potatoes to roast instead of steam.
Cut the sweet potatoes as uniformly as possible so they roast evenly. 
To store: Put leftovers into an airtight glass container and keep them in the refrigerator for up to 3 days.
To reheat: Rewarm the sweet potato cubes in the microwave or in the oven before serving if you'd like.
To freeze: Freeze the roasted sweet potato in a freezer-safe bag once they have reached room temperature. Freeze for up to 3 months.
Nutrition Information
Serving:
1
/4
Calories:
189
kcal
(9%)
Carbohydrates:
15
g
(5%)
Protein:
6
g
(12%)
Fat:
13
g
(20%)
Saturated Fat:
2
g
(13%)
Polyunsaturated Fat:
1
g
Monounsaturated Fat:
3
g
Cholesterol:
4
mg
(1%)
Sodium:
228
mg
(10%)
Potassium:
598
mg
(17%)
Fiber:
5
g
(21%)
Sugar:
5
g
(6%)
Nutrition information is calculated using an ingredient database and should be considered an estimate.
If you like this Roasted Sweet Potato Kale Salad recipe, please share with your friends and family. Do you want to taste more? Subscribe to my newsletter and follow Primavera Kitchen on Twitter, Pinterest, Google+, Instagram, and Facebook for all delicious recipes updates. As always, I really appreciate you stopping by.
More Salad Recipes: