This savory chicken and sweet potato recipe is packed with kale, veggies and protein. It's perfectly seasoned with garlic, salt, black pepper and red chili pepper flakes for a little kick. Get dinner on the table in just 30 minutes, using one skillet. Perfect for a busy weeknight!
I love how healthy and balanced this meal is. You can serve it with a few sides, if desired, but everything you need is right there in a single pan. It doesn't get much better than that.
If you're not keen on doing a ton of dishes, I've got so many one-skillet meals to help keep you away from the sink.
Be sure to check out more chicken and sweet potato recipes here: my Sweet Potato Chili, Chicken and Vegetables Soup and Roasted Veggies and Chicken.
How To Make This Chicken And Sweet Potato Recipe
Ingredients
Bacon — The bacon in this recipe adds both tremendous flavor and crunchy texture!
Chicken — I like to buy free-range, organic boneless skinless chicken breasts when possible.
Seasonings — Simple salt and pepper. You can play around with the spices in your cabinet and add others if you please.
Garlic — Just a touch of garlic will add amazing flavor to this skillet.
Sweet potatoes — I normally buy sweet potatoes with orange flesh, but purple or white options will also taste great.
Chicken stock — Vegetable broth can also be used as a substitute and you can use a low sodium option, if desired.
Kale — A helping of nutritious greens. Remove stems and chop it up into small pieces!
Chili pepper flakes — Add some heat with a sprinkling of red pepper flakes.
Instructions to Make this Chicken and Sweet Potato
Prep work:
Chop both bacon and chicken into small, bite-sized pieces, then place chicken cubes in a small bowl. Season chicken with salt, pepper and red chili pepper flakes.
Next, mince garlic and peel/chop sweet potato. Rinse kale and pat dry. You'll want to remove stems because they're tough and chewy, we just want to use the kale leaves in our skillet.
Sauté meats:
Place a large skillet on medium heat and add chopped bacon directly to the pan, you won't need any oil because bacon is high in fat.
After five minutes, add seasoned chicken cubes to the skillet, along with the bacon. Cook the two together for around 7 minutes, stirring often, until fully cooked through.
Remove meats from the skillet, so they don't overcook, and set aside.
Cook vegetables:
Subscribe for new recipes & a free e-cookbook
Now use the same skillet to cook your veggies, leave the bacon grease in so they brown and become infused with flavor.
Add minced garlic, diced sweet potato and chicken broth to the pan and cook for 7 minutes, until the potatoes are tender.
Reduce heat to low and stir in chopped kale, cook until wilted.
Return meats to the skillet, and mix well. Do a taste test and add more salt, pepper or chili pepper flakes if you feel the dish needs more flavor.
Serve immediately and enjoy!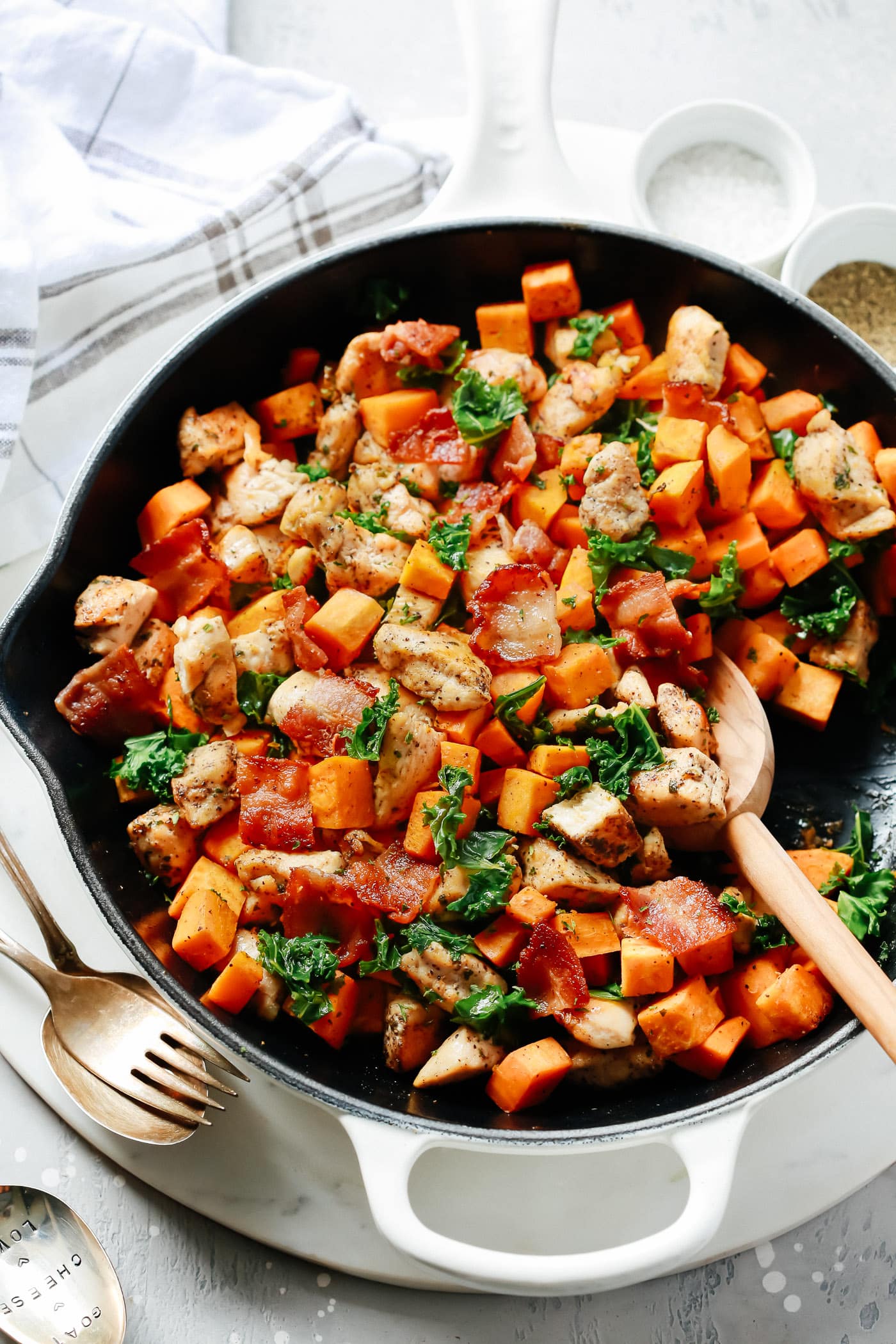 Recipe Tips
Chicken should be cut into small, even sized cubes. This will help with quick, even cooking.
You can also use Chicken thighs instead of chicken breast.
Don't leave your chicken and bacon in the pan while sautéing veggies. Instead, remove them and set to the side so they don't overcook!
If preferred, you can boil sweet potato cubes while the meats cook to get dinner on the table faster.
Leave bacon grease in the pan while you sauté veggies, it will add tons of flavor.
Feel free to use other spices in this recipe if you want! Try paprika, turmeric, curry powder, chili powder, onion powder, dried and crushed rosemary or thyme!
You can also add or substitute veggies as desired.
Use low-sodium broth to cut down on salt content if preferred.
How To Store Leftovers
To Store: Allow leftovers to cool and place them in an airtight container, then store in the refrigerator for up to four days.
To Freeze: Leftovers can also be frozen in a freezer-safe food storage container or Ziploc bag for up to 3 months!
To Reheat: You can use the microwave to reheat your leftovers or place them in a skillet on the stovetop until warmed through completely.
More Potato and Chicken Recipes
Chicken and sweet potato is the best combo! I've got lots of fun recipes that utilize these two tasty ingredients:
Frequently Asked Questions
---
What Meat Goes Good With Sweet Potato?
Sweet potatoes go nicely with pretty much any meat! I love pairing them with chicken, bacon, beef, pork, salmon, tilapia and more.
What Brings Out The Flavor Of Sweet Potato?
It doesn't take much to bring out the fantastic flavor in sweet potatoes. I find that a little bit of salt really takes everything to the next level. Nothing beats the incredible contrast between sweet and salty.
Can I Leave The Bacon Out?
You can, but you'll need to substitute butter or olive oil in order to cook your chicken and vegetables. I highly recommend including the bacon in this recipe because it's super flavorful!
Chicken and Sweet Potato Recipe
This savory chicken and sweet potato recipe is packed with kale, veggies and protein. It's perfectly seasoned with garlic, salt, black pepper and red chili pepper flakes for a little kick. Get dinner on the table in just 30 minutes, using one skillet. Perfect for a busy weeknight!
Instructions
On a plastic cutting board, cut the chicken into small pieces, and season with salt, pepper, and red chili flakes.

In a skillet over medium heat, add the bacon, and cook for 5 minutes.

Add the chicken to the skillet.

Cook for about 7 minutes or until it is cooked through.

Don't forget to stir well. Remove the chicken and bacon from the skillet, and set aside.

In the same skillet, add the garlic, sweet potatoes, and chicken broth.

Cook for 7 minutes or until the sweet potatoes are cooked. It will depend on the size of the sweet potato pieces.

Turn the heat to low, and add the kale, stirring until wilted.

Season to taste with salt, pepper, and chili peppers flakes.

Return the chicken and bacon to the skillet, and stir well until combined. It will take only 1 minute.

Serve immediately.
Tips
Do you like one-pan meals just like this one? I have a list of delicious one-pan meals here for you.
Cut chicken into small, even pieces so it cooks uniformly.
Remove meats from the skillet while sautéing veggies. 
You can boil sweet potatoes separately while cooking bacon and chicken if you'd like to get dinner on the table even faster!
Do not remove the bacon grease from the skillet. It will help the chicken brown and add flavour.
Feel free to use alternate spices and vegetables in this recipe.
Use low sodium chicken broth if you're worried about sodium.
To store: Store leftover sweet potato chicken kale skillet in the fridge for up to 4 days.
To reheat: Reheat the leftovers in the microwave until warmed through.
To freeze: Freeze leftovers in a freezer-safe bag or container for up to 3 months.
Nutrition Information
Serving:
1
/4
Calories:
354
kcal
(18%)
Carbohydrates:
24
g
(8%)
Protein:
39
g
(78%)
Fat:
13
g
(20%)
Saturated Fat:
4
g
(25%)
Polyunsaturated Fat:
2
g
Monounsaturated Fat:
5
g
Cholesterol:
88
mg
(29%)
Sodium:
711
mg
(31%)
Potassium:
1127
mg
(32%)
Fiber:
6
g
(25%)
Sugar:
7
g
(8%)
Nutrition information is calculated using an ingredient database and should be considered an estimate.
If you like this Chicken and Sweet Potato recipe, please share it with your friends and family. Do you want to taste more? Subscribe to my newsletter, and follow Primavera Kitchen on Twitter, Pinterest, Instagram, and Facebook for all delicious recipe updates. As always, I really appreciate you stopping by.
SaveSave