Easy Mediterranean Salad Recipe
Enjoy this delicious, Easy Mediterranean Salad made with cherry tomatoes, cucumber, bell pepper, sundried tomatoes, and red onions. It is a great option for summer lunch.
Now that the temperature is so warm in North American, it is time to have dinner parties outside and enjoy the outdoors. One of the dishes that really screams summer is a good and delicious bowl of salad, don't you agree? It is flavorful and lighter than other meals.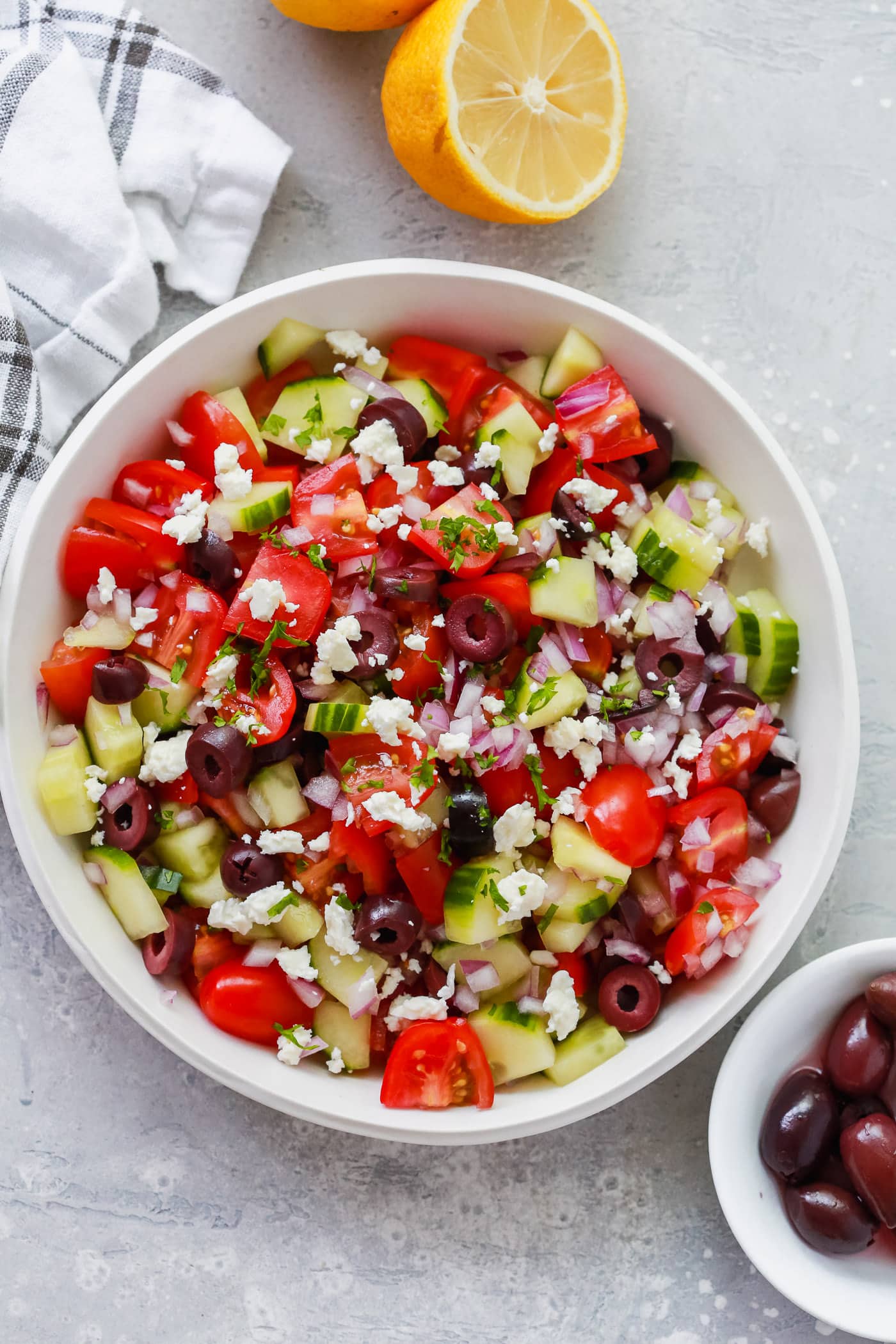 If you are like me, you probably love salad of any kind and eat them all year long not only during summer time. I love salads that have some type of seafood in there such as this Avocado Tuna Salad, Salmon Chopped Salad and Shrimp Avocado Tomato Salad. Mm… They are so good, super simple to make and packed with good protein. Also, the salads with chicken are always a plus and delicious such this Pesto Chicken Salad and this Chimichurri Chicken Chopped Salad.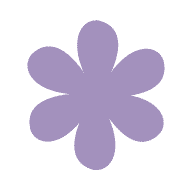 MY OTHER RECIPES
But I have to say that this is Easy Mediterranean Salad is one of my favorite types of salad because it has all the veggies I love such as cucumber, red onions, tomatoes and bell pepper. On top of this, the dressing made with olive oil, lemon juice, and garlic also is very easy to make and goes really well with all these yummy ingredients.
I also love this Easy Mediterranean Salad because of the sun dried tomatoes, since it adds lots flavour. Sun dried tomatoes are also good for your healthy. Why? They have lots of antioxidants, vitamins, and good-for-you minerals. But when I buy my sun dried tomatoes I always choose the ones that are with extra virgin olive oil, since this oil is good for you. Some brands sell sun dried tomatoes with unhealthy vegetable oils, which are loaded with trans fat and various industrial chemicals. So, just sun dried tomatoes that are in olive oil like this one here. You can buy it easy at Amazon.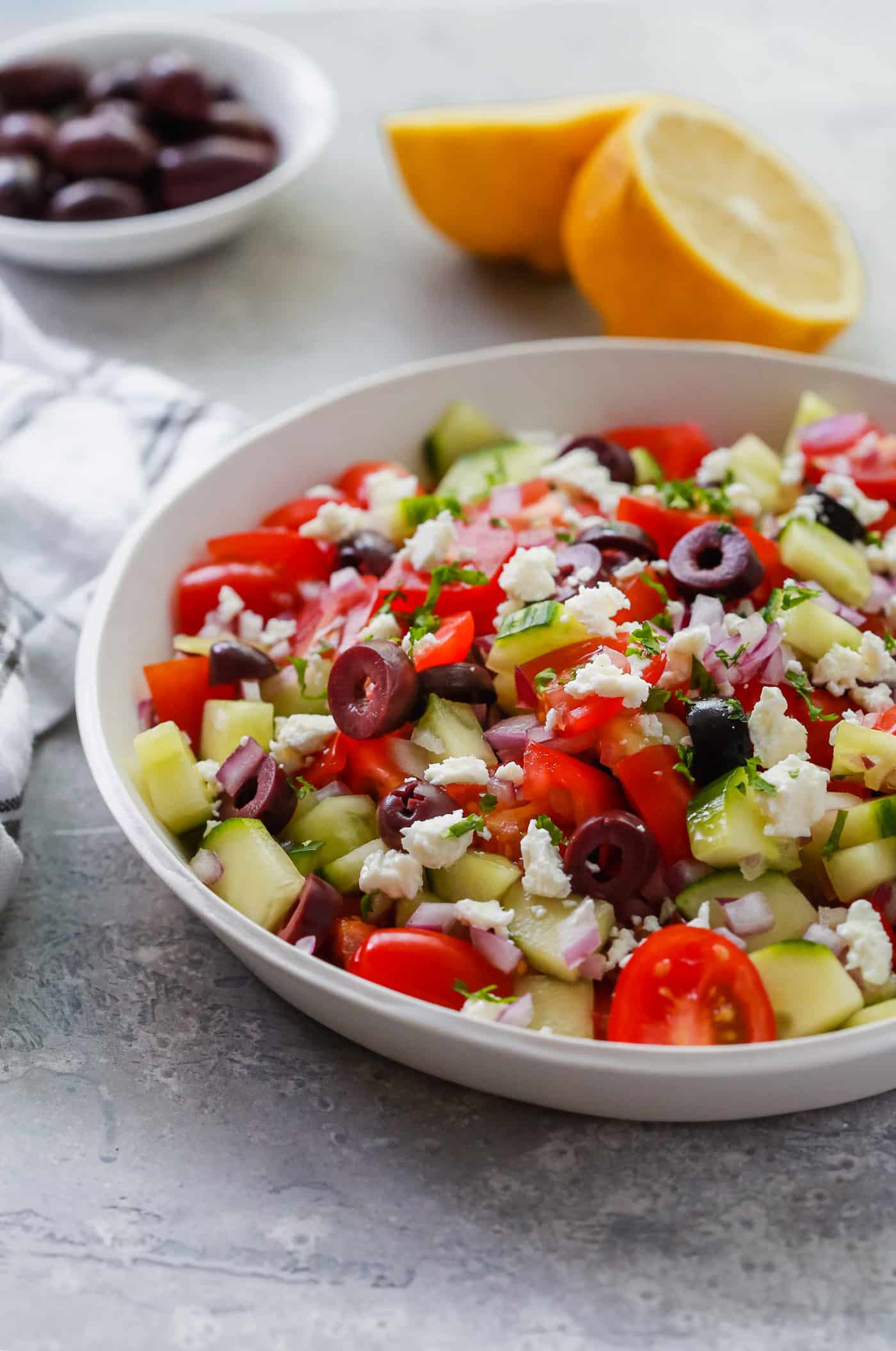 Other Easy Mediterranean Salads and dishes to try:
Although I think this Easy Mediterranean Salad is perfect as it is, you can certainly have it with a delicious salmon or chicken to include a little bit more protein. Keep in mind since you already have feta cheese which has protein. This is a perfect salad to enjoy during summer dinners or lunch outside. I really think you should give this salad a try. I promise you won't regret! 😉
More Delicious Salad Recipes to Try:
Watch Below How to Make this Easy Mediterranean Salad Recipe.
Easy Mediterranean Salad
Enjoy this delicious, Easy Mediterranean Salad made with cherry tomatoes, cucumber, bell pepper, sundried tomatoes, and red onions. It is a great option for summer lunch.
Ingredients
2 cup cherry tomatoes — diced
1 yellow bell pepper — diced
1 cup red onions — sliced
1/2 cup black olives — sliced
1 medium cucumber — diced
3 tablespoons feta — crumble (don't use it if you are doing Whole30)
3 tablespoon sun dried tomatoes —  julienne cut
3 tablespoon olive oil
1 teaspoon garlic — minced
1 tbsp lemon juice
Salt and freshly ground black pepper
1 tablespoon fresh parsley — chopped
Instructions
In a large bowl, toss together cherry tomatoes, yellow bell pepper, red onions, black olives, cucumber, feta, and sundried tomato.

In a small bowl, whisk olive oil, garlic, lemon juice, salt, and pepper.

Pour dressing over salad mixture and toss.

Top with fresh parsley
Course: Salad
Cuisine: Mediterranean
Keyword: Easy Salad, gluten-free, low-carb, Salad, side dish
Nutrition Information
Amount per serving (1/4) — Calories: 241, Fat: 23g, Saturated Fat: 4g, Cholesterol: 10mg, Sodium: 278mg, Carbohydrates: 8g, Fiber: 1g, Sugar: 5g, Protein: 4g
If you make this recipe, please don't forget to snap a photo and hashtag it #primaverakitchen. I really want to see!
This post contains affiliate links. For more information, please visit my disclosure page here.
And if you like this Easy Mediterranean Salad recipe, please share with your friends and family. Do you want to taste more? Subscribe to my newsletter and follow Primavera Kitchen on Twitter, Pinterest, Google+, Instagram, and Facebook for all delicious recipes updates. As always, I really appreciate you stopping by.