Enjoy this delicious Easy Mediterranean Salad made with cherry tomatoes, cucumber, bell pepper, sun-dried tomatoes, and red onions. It's a great option for summer lunches.
Now that the temperature is so warm in North American, it is time to have dinner parties outside and enjoy the outdoors. One of the dishes that really screams summer is a good and delicious bowl of salad, don't you agree? It is flavourful and lighter than other meals.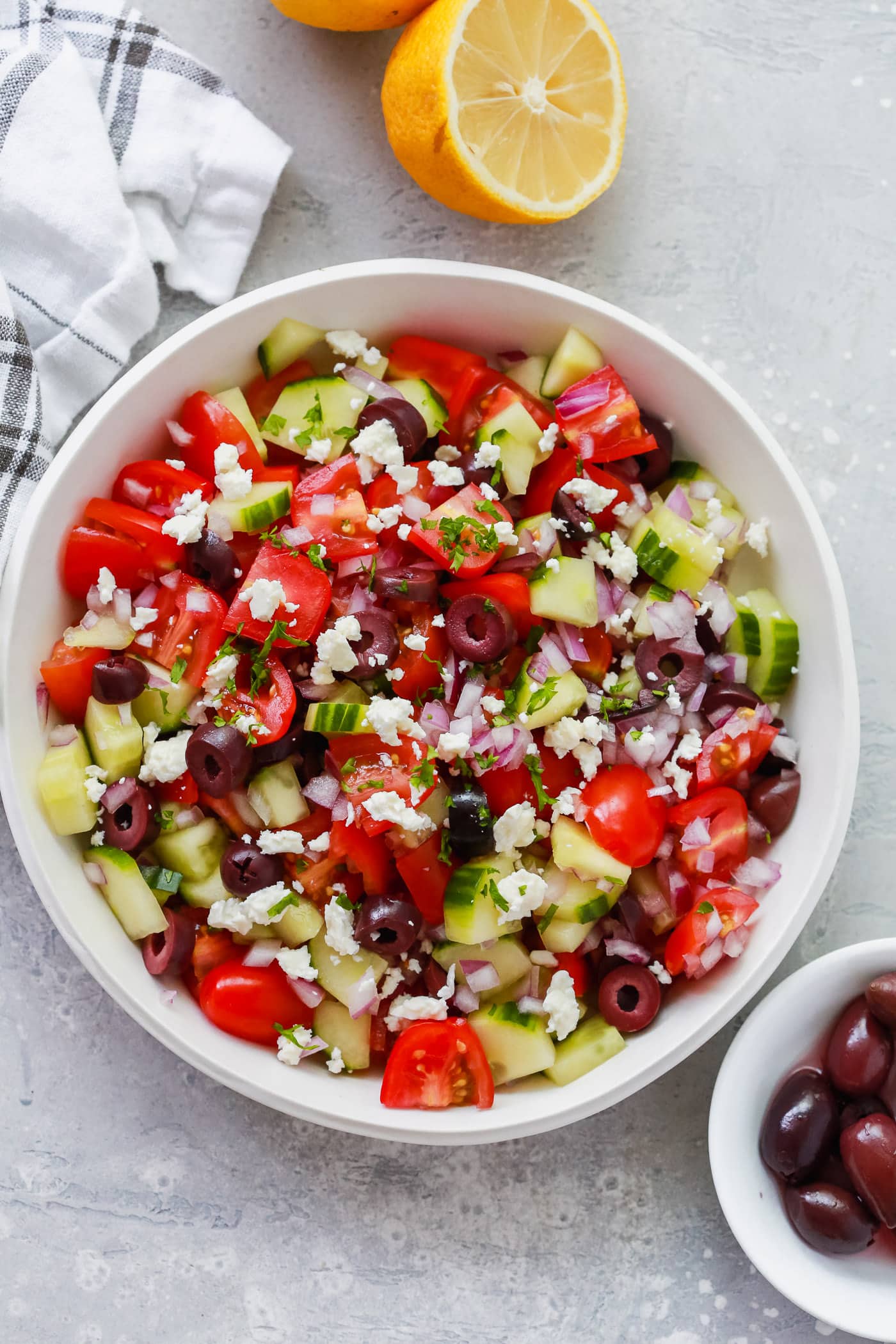 If you are like me, you probably love salad of any kind and eat them all year long, not only during the summer. I love salads that have seafood, such as Avocado Tuna Salad, Salmon Chopped Salad, and Shrimp Avocado Tomato Salad.
Mm… They are so good, super simple to make, and packed with good protein. Also, the salads with chicken are great and delicious, such as Pesto Chicken Salad and Chimichurri Chicken Chopped Salad.
But I have to say that this Mediterranean Salad is one of my favourite salads because it has all the veggies I love like cucumbers, red onions, tomatoes, and bell peppers. On top of this, the dressing is made with olive oil, lemon juice, and garlic and is very easy to make, and goes really well with all these yummy ingredients.
I love Mediterranean flavour, like in my Instant Pot Mediterranean Chicken Recipe, so this salad is always a hit.
I also love this Mediterranean Salad because of the sun-dried tomatoes since it adds lots of flavor. But when I buy my sun-dried tomatoes, I always choose the ones that are packed in extra virgin olive oil since this oil is good for you. Some brands sell sun-dried tomatoes with unhealthy vegetable oils, which are loaded with trans fat and various industrial chemicals. So, buy sun-dried tomatoes in olive oil like this one. You can buy it easily on Amazon.
Subscribe for new recipes & a free e-cookbook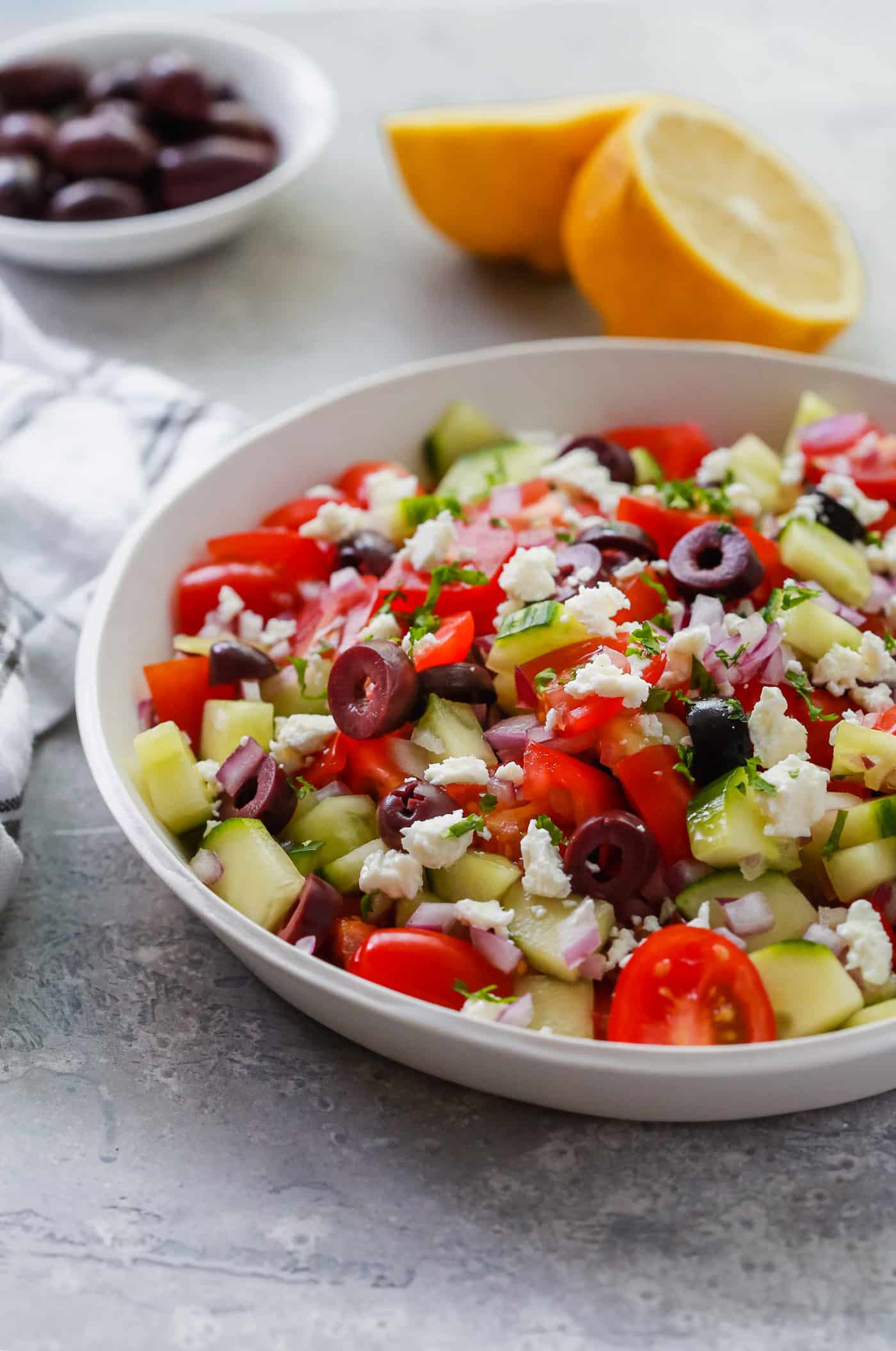 Ingredients To Make This Mediterranean Salad
Cherry tomatoes – you can also use grape tomatoes or Roma.
Yellow bell pepper – you can also use red or orange bell peppers as well.
Red onions – if you find red onions to taste too strong, you can swap for shallots.
Black olives or kalamata olives – sliced in half. If you don't like olives, just skip them.
Cucumber – I like to buy seedless cucumbers to make preparing them easier. You can also use English cucumber.
Feta cheese – crumbled on top, omit the cheese you are following the Whole30 diet.
Sun-dried tomatoes – I like using the tomatoes from a jar in oil but you can use the ones in the bag as well. If you don't have sun-dried tomatoes, replace it for artichoke hearts.
Extra virgin olive oil – you can use avocado oil as well. Any neutral oil is fine.
Garlic – freshly minced garlic is my go-to.
Lemon juice – I recommend using freshly squeezed lemon juice and not bottled lemon juice. You can also replace lemon juice for red wine vinegar.
Salt and freshly ground black pepper
Fresh parsley – or use any fresh herbs of choice. Besides parsley, you can also use fresh dill or fresh mint. They go well with the Mediterranean flavours too. Of course if you don't have fresh herbs, you can use dried parsley or oregano.
How to make this salad
In a large bowl, toss together all of the vegetables.
In a small bowl, whisk the olive oil, garlic, lemon juice, salt, and pepper to make the dressing. Optional: if you like Dijon mustard, add 1 teaspoon of it in this mixture.
Pour the dressing over the salad mixture, and toss.
Top with fresh parsley.
How Long Does This Mediterranean Salad Last?
You can keep this Mediterranean salad in the refrigerator for three to four days, which makes it a perfect meal prep solution.
This recipe will make four servings. You can divide the Mediterranean salad into four portions and be prepared for lunch for the next four days.
Since there isn't any lettuce in this salad, you don't have to worry about it getting soggy with the vinaigrette. The dressing "marinates" the salad, which actually makes it taste even better the next day!
What Else Can I Add To This?
For a serving of protein, I like adding some chicken breasts to this Mediterranean salad as well. To make the chicken, check out this Chopped Chicken Salad recipe or Garlic Butter Baked Chicken Breasts.
You can also add some salmon to this as well. Check out this Pan Seared Salmon Recipe or Simple Garlic Butter Salmon Recipe.
Alternatively, you can add chickpeas or white beans to the mediterranean salad instead. Keep in mind that you already include feta cheese, which has protein. If you're not a fan of feta cheese, crumbled goat or blue cheese would also be delicious in this salad.
You can also add more vegetables to this such as fresh spinach, artichokes, arugula, romaine or radishes. You can also add some nuts and seeds to this for an added crunch.
This is a perfect salad to enjoy during summer dinners or lunches outside. I really think you should give this salad a try. I promise you won't regret it! 😉
Other easy Mediterranean recipes to try:
More delicious salad recipes to try:
Super Easy Avocado Cucumber Tuna Salad: This recipe is light, flavourful, and creamy because of the avocados. And, the lemon dressing is super fresh!
Mediterranean Cauliflower Salad: Loaded with fresh summer veggies, this recipe is vegan, gluten-free, and perfect for a low-carb diet.
Easy Mediterranean Chopped Salad: Another refreshing veggie salad made with red onions, black olives, lettuce, cucumbers, cherry tomatoes, feta cheese, and a light lemon dressing!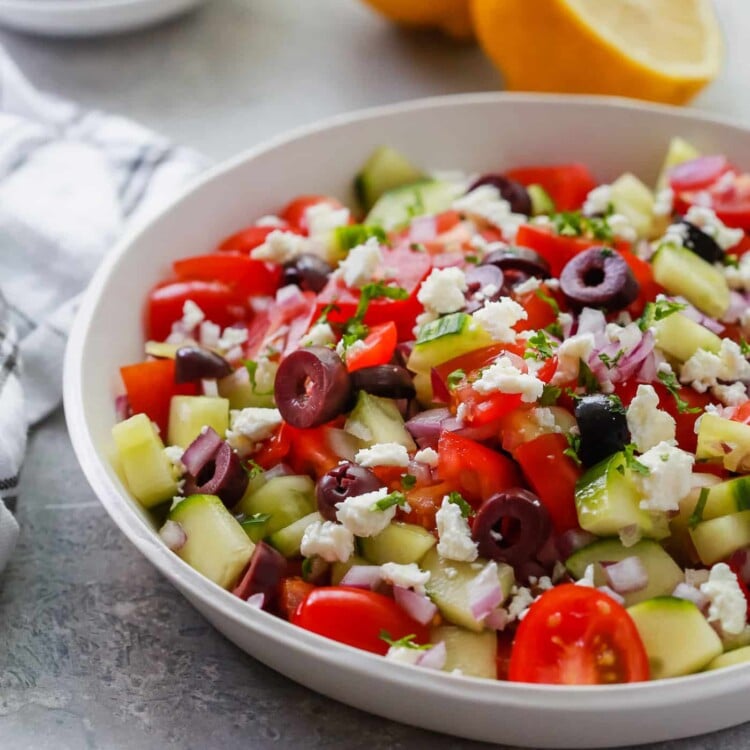 Mediterranean Salad Recipe
Enjoy this delicious Easy Mediterranean Salad made with cherry tomatoes, cucumbers, bell peppers, sun-dried tomatoes, and red onions. It's a great option for a summer lunch!
Instructions
In a large bowl, toss together the cherry tomatoes, yellow bell pepper, red onions, black olives, cucumber, feta cheese, and sun-dried tomatoes.

In a small bowl, whisk the olive oil, garlic, lemon juice, salt, and pepper.

Pour the dressing over the salad mixture, and toss. Top with fresh parsley
Tips
This recipe tastes great on its own for a quick lunch but is truly outstanding with some good quality protein. I love serving this salad with Garlic Butter Salmon in Foil, Low-Carb Salmon Burgers, or Lemon Roasted Breast Chicken and even with Rosemary Lemon Roasted Chicken Breasts. All these protein recipes are delicious and ready in about 20 minutes. Perfect for a light and healthy dinner meal.
I recommend using seedless cucumbers, so you don't have to remove the seeds. The skin is also thinner.
You can replace lemon juice for red wine vinegar.
Other than parsley, you can also use fresh dill or fresh mint. 
To store: Store the Mediterranean salad for up to 4 days in the fridge in an airtight container. 
Nutrition Information
Serving:
1
/4
Calories:
241
kcal
(12%)
Carbohydrates:
8
g
(3%)
Protein:
4
g
(8%)
Fat:
23
g
(35%)
Saturated Fat:
4
g
(25%)
Cholesterol:
10
mg
(3%)
Sodium:
278
mg
(12%)
Fiber:
1
g
(4%)
Sugar:
5
g
(6%)
Nutrition information is calculated using an ingredient database and should be considered an estimate.
Watch the Web Story HERE.
If you like this Mediterranean Salad recipe, please share it with your friends and family. Do you want to taste more? Subscribe to my newsletter, and follow Primavera Kitchen on Twitter, Pinterest, Instagram, and Facebook for all delicious recipe updates. As always, I really appreciate you stopping by.