Turkey Bolognese Zucchini Pasta
Turkey Bolognese Zucchini Pasta – Spiralized zucchini noodles accompanied by a delicious gluten free turkey bolognese sauce. This is a healthy, low-carb and paleo meal that is very easy and quick to prepare and very satisfied.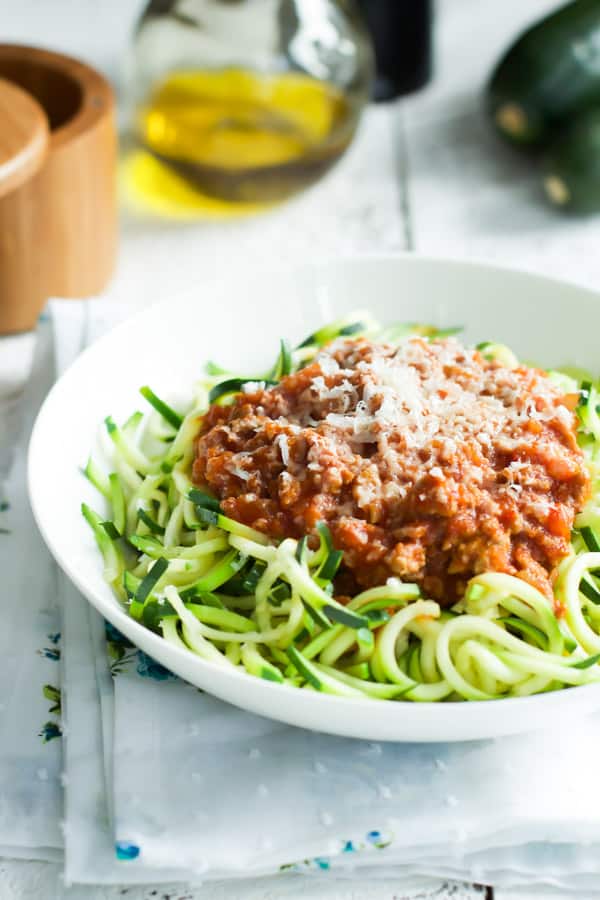 I would like to start this post with an apology. Last week I wasn't here a lot, I just wrote one post about my favourite 15 Spring recipes because I had an emergency trip to Brazil. My lovely uncle passed away unexpectedly and my mom wasn't doing very well. I also was very sad and confused but when I saw my mom suffering miles away from me I didn't think two times and went straight to Brazil. I had to go down there and give her a big hug. My husband gave me all the support to come and my mom was happy to see me. It meant the world for her that I was there by her side. He was like a father to her because when my grandpa passed away she was only 10 years old. So, my uncle was the one who helped my grandma to raise his brother and sisters because he was the oldest of 6 children. It has been very difficult for my family because he wasn't only an uncle. He was a father who was always ready to help people and make all of us smile.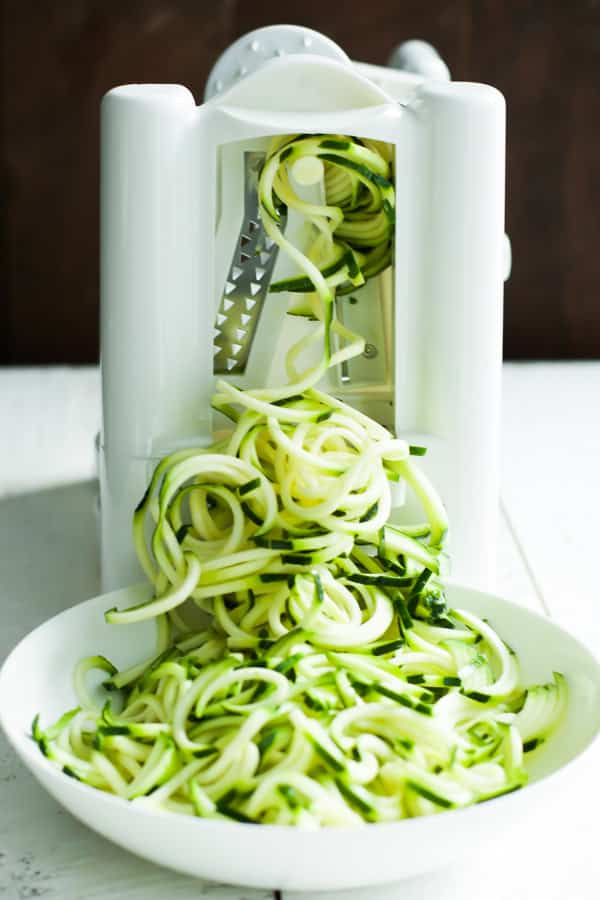 I was off from the internet because the past week I really wanted to spend as much time as I could with my family and it was very important. The pain of a loss hits hard especially when you are not expecting it, but when you have your loved ones beside you things get a little easier. My mom, me, my sister, aunties, uncle and cousins are now getting better, but I am sure we will need more time to heal. The good thing is my entire family has strong faith, which brings comfort during this difficult time. I know God is taking care of him now – he is in a better place and at peace.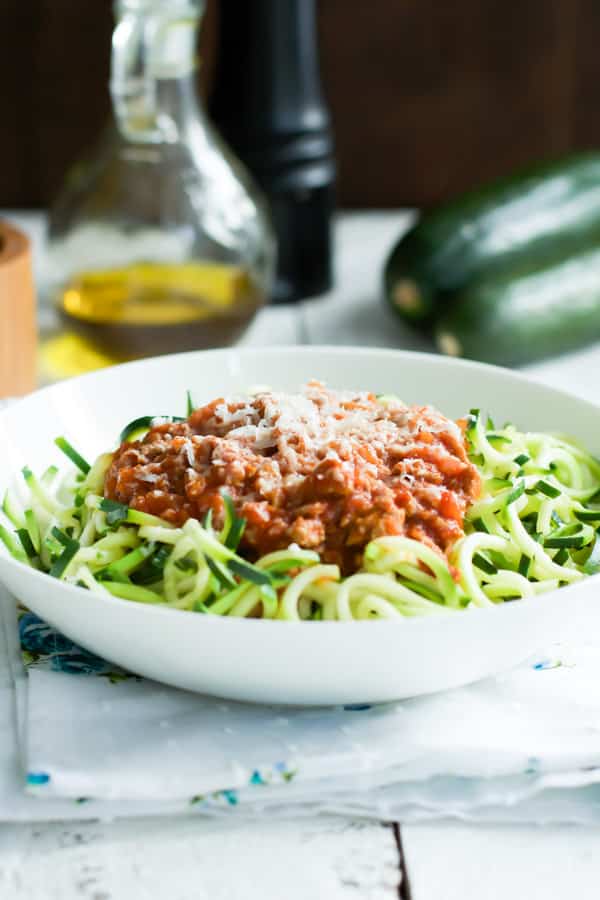 I am sorry if this post is a little sad, but I felt a little sad when I was trying to write this post and not pretending nothing happened. I felt I should share with you guys what happened because now I am felling much better. I am right now at the São Paulo airport writing this post while I wait for my flight back to Toronto 😉 I am excited to come back because when I left Canada my husband was travelling and it has been about 3 weeks we didn't see each other. I miss him a lot. Te amo, meu amor!
So, let's forget about the sad news because life has to go on and let's dig in this yummy-healthy place. Don't you feel like eating this entire delicious dish at once? And you CAN!!! Why? Because it is very low in carbs and sugar, it is gluten free and also it is VERY easy to make. If you have all the ingredients on hand you can make it in less than 30 minutes. When you use your spiralizer to make zucchini noodles you save so much time. I love this tool so much. It is the best small kitchen appliance you can have. So, go ahead and try this recipe. Don't forget to let me know how it torn out 😉
For this recipe I used my spiralizer because this is my favourite way to make beautiful noodles in seconds, it is so affordable, easy to store and also it is very efficient.  
Turkey Bolognese Zucchini Pasta
Spiralized zucchini noodles accompanied by a delicious gluten free turkey bolognese sauce. This is a healthy, low-carb and paleo meal that is very easy and quick to prepare and very satisfied.
Ingredients:
2 tbsp extra virgin olive oil
1 pound extra lean ground turkey
½ medium white onion, finely chopped
1 celery stalk, finely diced
Salt and ground black pepper
¼ tsp red pepper flakes
3 cloves garlic, minced
28 ounce can crushed tomatoes
1 tbsp tomato paste
14.5 ounce can diced tomatoes
1 tbsp dried oregano
1 tsp brown sugar
2 tbsp chopped fresh basil
6 zucchini
2 tbsp parmesan, shredded
Directions:
In a skillet, heat olive oil over medium high heat.
Add ground turkey, onion and celery. Season with salt, pepper and red pepper flakes.
Sauté the turkey mixture (breaking up the turkey into small pieces) until turkey is cooked through or for about 10minutes.
Add garlic and sauté for 1 minute or so.
Add in the crushed tomatoes, tomato paste, diced tomatoes, oregano, and brown sugar.
Bring to a boil and then lower heat to medium low and simmer for 20 minutes.
Add basil and stir to combine everything really well.
Meanwhile prepare the zucchini noodles using a spiralizer or mandoline slicer.
In another skillet, heat olive oil over medium high heat. Add the zucchini noodles and cook, about 3 minutes. If you cook them more than that the zucchinis can be a little soggy. Don't forget to stir occasionally.
When the zucchini noodles are ready, place them on four plates, top with bolognese zucchini pasta.
Garnishing with parmesan.
All images and text ©
If you make this recipe, please don't forget to snap a photo and hashtag it #primaverakitchen. I really want to see!
Products Featured in this Recipe:
(may include affiliate links)
If you like this Turkey Bolognese Zucchini Pasta, please share with your friends and family. Do you wanna taste more? Subscribe to my newsletter and follow Primavera Kitchen on Twitter, Pinterest, Google +, Instagram and Facebook for all delicious recipes updates. As always, you are really appreciated for stopping by.
More Zucchini Recipes
Zucchini Noodles with Tomato Sauce and Shrimp