Arugula blackberry salad has everything you want in a spring salad. With a refreshing vinaigrette, plump blackberries, and peppery arugula, you're going to be a lunchtime hero.
Arugula is not only delicious, it is one of the healthiest leaves to consume. This green is a great source of folic acid and vitamins A, C and K. If you're trying to watch what you eat and would like to get a more vegetable based iron in your diet, arugula is definitely a great option for you.
No matter what are your reasons for eating it, arugula is a fantastic food to add to your diet. I love eating arugula salad because this dark green leaf goes really well with almost everything you want to add in your salad; things like blue cheese or feta cheese, nuts and also berries. But as arugula is a very versatile green, you shouldn't limit yourself to salads.
Want to try another salad? You need to try my Corn Shrimp Salad Recipe.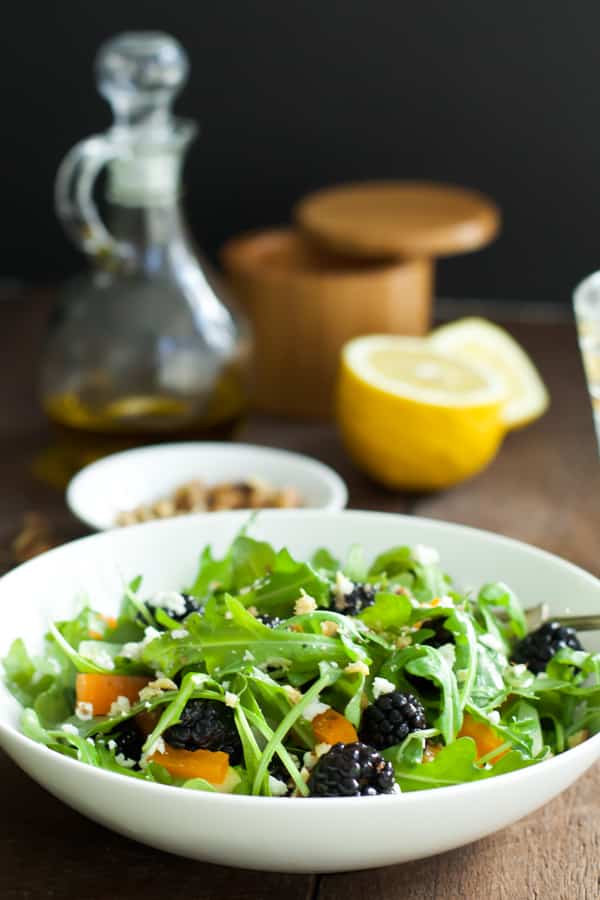 I am not the type of person who adds lots of ingredients in my salads, but this time I added more than five, just because I had all those ingredients in my fridge and pantry. If you don't have all these ingredients you can substitute some of them for something else, or you can simply omit some. Why not, right? This is the beauty of making salads: Simple, easy and practical.
This salad is topped with this simple, fresh and perfect homemade vinaigrette that you can make with only olive oil, lemon juice, garlic, salt and pepper. It is very flavorful and quick to make.
I suggest you to make this vinaigrette ahead of time, put away in a salad dressing bottle and you can keep in your fridge for up 4 days. I think it is great because you will save your time in the kitchen and have more time to enjoy your meal with your family. Also, when you have your salad dressing ready you will be less tempted to use the store brand.
Subscribe for new recipes & a free e-cookbook
This Arugula Blackberry Salad recipe was originally created for Food Fanatic. So, be sure to visit them too! Want another arugula or veggie-packed recipe? Try my Sweet Potato Arugula Salad Recipe, Clementine Arugula Salad Recipe, and Spring Quinoa Salad Recipe!
If you like this Arugula Blackberry Salad recipe and think it is worthy, please share with your friends and family. Do you wanna taste more? Check out my 15 Spring Recipes! Or subscribe to my newsletter and follow Primavera Kitchen on Twitter, Pinterest, Instagram and Facebook for all delicious recipes updates.
Looking for more salad recipes? You can check out some more salad ideas below.
 Spring is here – Spinach Fruit Salad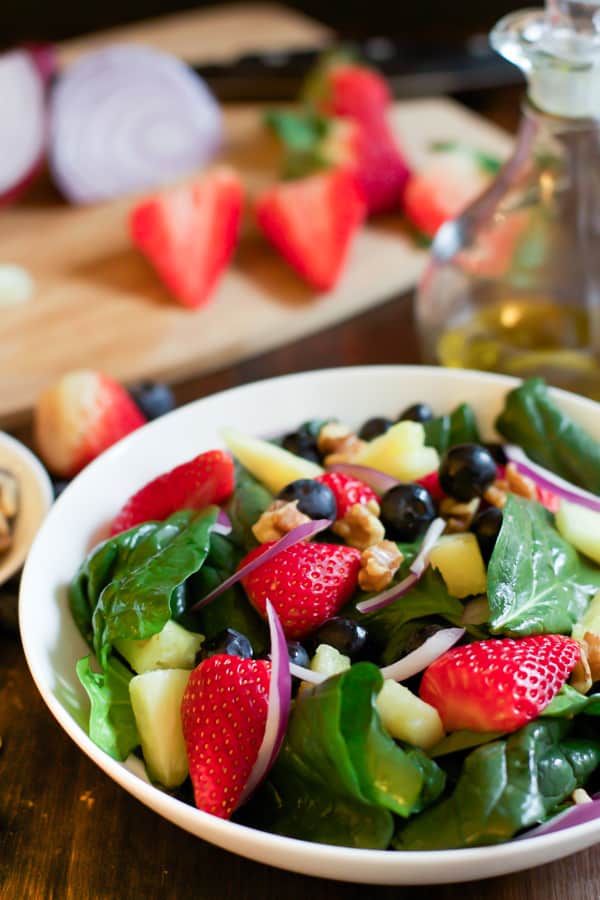 Quinoa lovers – Easy and Quick Quinoa Salad