Easy Cedar Plank Salmon – Enjoy this wild and fresh salmon filet that's been rubbed with Cajun seasoning and grilled slowly over soaked cedar plank to bring a delicious smokey flavor to your fish.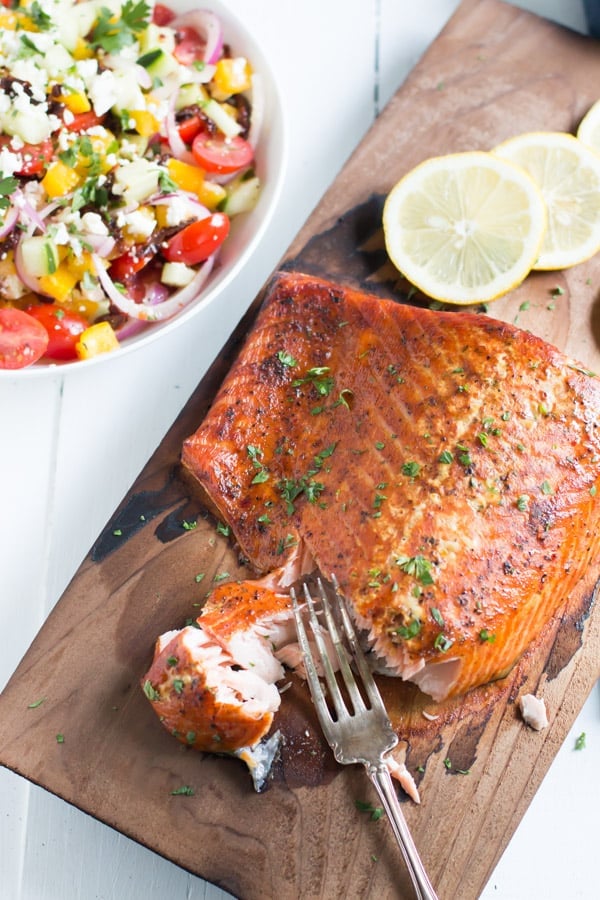 Salmon is one of my favourite proteins! I make it all the time at home like my Dijon Mustard Salmon Recipe, Spicy Salmon Sweet Potato Skillet, and Easy Chopped Salmon Salad!
If you have seen my blog before, you know that I am Brazilian, but I am married with an amazing Canadian man who loves to teach and explain everything about his culture. And I love learning more and more about Canada since I adore this country and Canadians from the bottom of my heart.
At the beginning of our relationship, he used to tell me about pure maple, poutine, creton (meat spread), coquille St-Jacques, and cedar plank salmon. I have to say that what grabbed my attention the most was the cedar plank salmon. I've never heard of and I've never eaten a salmon grilled on a plank before. I guess it's because salmon isn't a traditional fish in Brazil.
So, a few days before we left for Brazil for 5 months, my husband and I went to an awesome cheese store in Toronto and I saw a cedar plank for sale. Immediately I asked Pierre if he would like to have grilled cedar plank salmon for dinner and he said a big yeeeees!!! The packet came with two planks. I made this recipe for us for a nice summer dinner and few days later, I made the same recipe again for my in-law's who came from Montreal to spend the last few day with us in Canada.
Why we love this cedar plank salmon recipe:
We all loved this recipe because the cedar plank brings all the smokey flavor to the salmon filet. The plank also prevents direct heat on the salmon and preserves the moisture inside. You will have a delicious salmon without over-drying it.
What to serve this cedar plank salmon recipe with?
I served it with my easy Mediterranean salad and accompanied the fish perfectly. You also can serve it with Spicy Baked Sweet Potato Fries, Mashed Cauliflower, Roasted Green Beans, Roasted Asparagus, Garlic Parmesan Roasted Cauliflower and Cauliflower Rice.
To get started, I rinsed the plank with water just to make sure it was clean. Then I filled my kitchen sink with water and placed the plank inside. I also used canned goods as a weight. The first time I made this recipe I left the plank immersed in water for about 2 hours.
But I read that you can leave it there for up to 5 hours. After that, my husband placed the plank on the grill for 5 minutes just to preheat while I was rubbing the salmon. Finally, he laid the salmon onto the plank and cook for 15 minutes. Of course, this time will change depending on the thickness of the salmon.
I really hope you'll be making this! Don't have a grill? You can bake salmon as well! I also have this amazing round-up of 35 Easy Salmon Recipes You Need To Make For Dinner.
More Salmon Recipes to Try:
We really enjoyed this recipe and if I were you, I would run to the kitchen to recreate this recipe. Enjoy!
Easy Cedar Plank Salmon Recipe
Easy Cedar Plank Salmon - Enjoy this wild and fresh salmon filet that's been rubbed with Cajun seasoning and grilled slowly over soaked cedar plank to bring a delicious smokey flavor to your fish.
Instructions
Soak the plank in water for at least 1 hour (if you have time, soak it for 4 hours). I normally fill my kitchen sink with water to cover the plank and I use canned foods as weights. This is a great way to keep the plank underwater.

Meanwhile rub the Cajun seasoning, salt, and ground pepper over the salmon.

Preheat the grill* on high heat. Place the soaked plank on the grill for about 3-5minutes or until it begins to crackle and smoke. Place the salmon fillet with the skin down on the plank.

Cook for 12-20 minutes (it will depend on its thickness) or until salmon flakes easily.

Garnish with fresh parsley and squeeze lemon over salmon before serving.
Tips
And if you love salmon recipes, I have HERE a list of other delicious salmon recipes for you to try.
Keep the skin on as it helps keep the moisture in the fish. 
The longer you can soak the cedar plank, the better. The soaked plank helps the fish to gently steam as the plank acts as a barrier between it and the grill.
If you are using frozen salmon, make sure to fully thaw the fish beforehand as frozen fish will cook unevenly and you risk it being overcooked.
To store: Put leftover salmon into an airtight glass container and keep for up to 3 days.
To reheat: Rewarm leftover salmon in the microwave or enjoy it chilled. 
To freeze: Freeze in a freezer-safe bag once the salmon has reached room temperature. Freeze for up to 4 months.
Nutrition Information
Serving:
1
/4
Calories:
111
kcal
(6%)
Protein:
23
g
(46%)
Fat:
2
g
(3%)
Saturated Fat:
1
g
(6%)
Cholesterol:
65
mg
(22%)
Sodium:
500
mg
(22%)
Potassium:
373
mg
(11%)
Nutrition information is calculated using an ingredient database and should be considered an estimate.
I would love to see your version. And if you like this Easy Cedar Plank Salmon recipe, please share with your friends and family. Do you want to taste more? Subscribe to my newsletter and follow Primavera Kitchen on Twitter, Pinterest, Google+, Instagram, and Facebook for all delicious recipes updates. As always, I really appreciate you stopping by.