This cheesy and easy asparagus casserole recipe is delicious and super easy to whip up. It uses only eight ingredients and comes together in just 20 minutes! Truly the perfect, easy side dish for your weeknight dinner table and really versatile.
I always look forward to the arrival of asparagus season in the spring time and love to make this casserole over and over once the weather begins to warm. You can typically buy asparagus year round, but it's most affordable and extra delicious in the spring.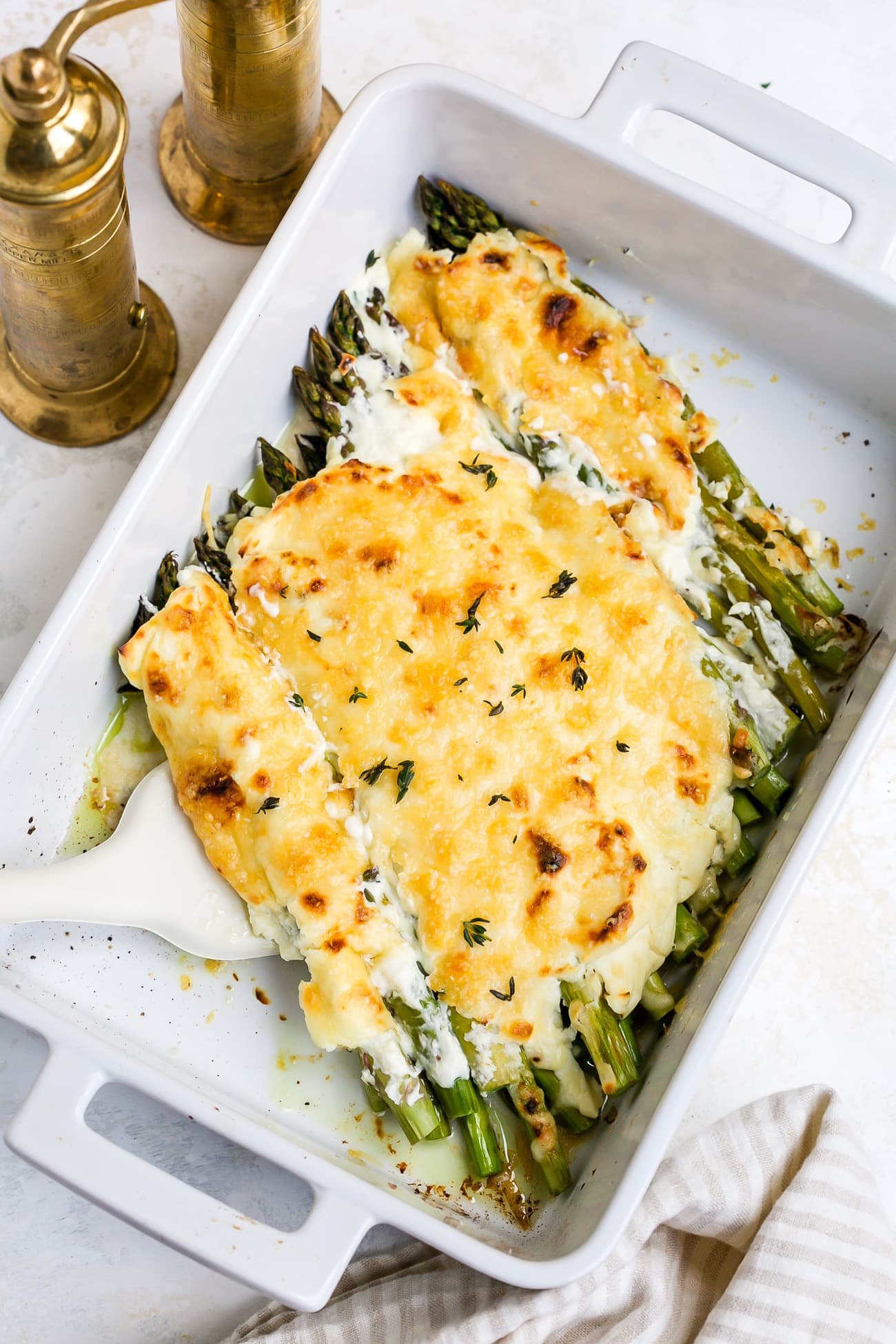 Asparagus casserole recipe is really low carb and therefore keto friendly. If you're trying to eat fewer carbohydrates, I've got a lot of simple veggie sides that all pair nicely with a large variety of mains. Be sure to check out my Zucchini Casserole, fresh Arugula Salad, Cauliflower Bites or mouthwatering, crispy Air Fryer Brussels Sprouts!
How To Make Asparagus Casserole
Ingredients
Asparagus spears — Be sure to remove woody ends before adding fresh asparagus to the casserole so you don't bite into anything tough!
Olive Oil — You can also use avocado oil or melted butter (unsalted butter) if that's what you have on hand.
Seasonings — I keep it simple with some salt and freshly ground black pepper. You can experiment and use different spices if you please.
Cheeses — Cream cheese, mozzarella, and parmesan! I recommend freshly grating your own mozzarella and parmesan if possible. You can also use cheddar cheese instead if you prefer.
Half and half — Heavy cream can be used instead. It's better to use half-half than whole milk for this recipe.
Chopped parsley — Garnish your casserole with freshly chopped parsley leaves for extra flavor and color.
Instructions
Prepare asparagus:
Begin by preheating your oven to 400°F or 204°C. Also, be sure to take your cream cheese out of the refrigerator so it can begin to soften.
Use a knife to cut the woody ends from asparagus stalks, then rinse and pat dry.
Prepare sauce and assemble:
Place stalks in a large baking dish, then drizzle with oil and sprinkle with salt/pepper. Toss until asparagus is well coated in seasonings.
Add cream cheese and half and half to a bowl, then mix and stir until smooth. Add salt and pepper to taste.
Smear the cream cheese mixture evenly atop asparagus stalks, then add shredded mozzarella.
Bake and broil casserole:
Bake until the cheese bubbles and asparagus becomes tender (about 10 minutes).
Take the casserole out of the oven and add your parmesan cheese, then return it to the oven and broil for about 2 minutes, until golden.
Add garnish and serve:
Remove casserole from the oven, let it cool down and set up for a few minutes. Garnish with fresh chopped parsley and enjoy!
Recipe Tips
It is very important to remove the end from each asparagus stalk. Do not skip this step, or you'll be getting mouthfuls that are tough and unappetizing. You can cut the ends with a knife or simply snap them off by hand!
I keep things very simple with this recipe and use only salt/black pepper for seasoning. You can definitely play around with the spices in your cabinet to create different flavors. Try garlic powder, onion powder, paprika or anything else your heart desires.
Occasionally you'll see white and purple asparagus at the grocery store alongside the typical green. Feel free to try a different color or mix two (or all three) together for a colorful medley.
When you broil this casserole, watch it very closely. It's really easy to burn things during broiling because it only takes a few minutes for a golden color to form at such high heat.
For this recipe you don't need to use a cream of mushroom soup, ritz crackers, purpose flour, panko breadcrumbs or cracker crumbs to make this recipe.
You can replace asparagus for broccoli and green beans too.
How To Store Leftovers
To Store: Allow leftovers to cool and transfer them to an airtight container. Refrigerate for up to 3 days. I do not recommend to put this cheesy asparagus casserole recipe in the freezer.
To Reheat: Microwave leftover asparagus casserole on high until warmed through. You can also reheat in the oven, simply bake at 300°F for around 10-15 minutes.
More Asparagus Recipes
Asparagus season is one of the best times of year. I love this healthy veggie so much. It tastes fantastic and is packed full of vitamins and nutrients. Plus, it's really low calorie and low carb! Check out these other heavenly asparagus recipes, you won't regret it!
Frequently Asked Questions
Can I use purple or white asparagus for this recipe?
Absolutely! You'll sometimes see white and purple asparagus at the grocery store along with green, especially during the spring (the high season for this delicious veggie). Purple and white asparagus are a bit sweeter than green, feel free to use another color for your casserole or mix and match!
Can I add breadcrumbs to this casserole?
You certainly can! If you want to add breadcrumbs, sprinkle them on with the parmesan cheese right before broiling.
Is this casserole gluten free?
This casserole is gluten free because it doesn't contain breadcrumbs like many other asparagus casserole recipes. You can look for special, gluten-free crumbs at the store if you want to add them but need a wheat free option.
Should I use thick asparagus or thin asparagus to make this recipe?
Both thick and thin asparagus can work well in a casserole, but they will result in slightly different textures. Thin asparagus tends to be more tender and cooks quickly. It can give a more delicate texture to the casserole and may blend in with other ingredients more easily. On the other hand, thick asparagus has a heartier texture and holds up well during cooking. It can provide a satisfying bite and add some visual appeal to the casserole.
Asparagus Casserole
This cheesy asparagus casserole is delicious and super easy to whip up. It uses only eight ingredients and comes together in just 20 minutes! Truly the perfect, easy side dish for your weeknight dinner table and really versatile.
Ingredients
1.5

lbs

680g asparagus

woody ends removed

1

tablespoon

olive oil

Salt and black pepper

to taste

8

oz

cream cheese

softened

2

tablespoons

half-half cream

1

cup

mozzarella

shredded

1/3

parmesan cheese

shredded

Fresh chopped parsley

for garnish
Instructions
Preheat the oven to 400°F (204°C).

Spread the asparagus in a single layer in your casserole dish. Toss stalks in olive oil, salt and black pepper.

In a medium bowl, combine the softened cream cheese and half-half cream. Mix until smooth. Then, add a little bit of salt and pepper to taste.

Spread cheese mixture over the asparagus in the casserole dish in an even layer. Then sprinkle shredded mozzarella on top.

Bake in the preheated oven for 10 minutes, or until the cheese is melted and bubbly and the asparagus is tender.

Remove the casserole from the oven, sprinkle with Parmesan cheese and return it to the oven. Broil for about 2 mins.

Remove dish from the oven and let it cool for a few minutes before garnishing with fresh chopped parsley. Enjoy!
Tips
It's important to remove the end from each asparagus stalk because they're really tough. 
Try other spices in this recipe if you want. Garlic powder, onion powder or paprika would all be yummy. 
Use purple or white asparagus along with green, if desired.
Be careful not to burn your casserole while broiling.
Nutrition Information
Serving:
1
/8
Calories:
219
kcal
(11%)
Carbohydrates:
8
g
(3%)
Protein:
10
g
(20%)
Fat:
17
g
(26%)
Saturated Fat:
10
g
(63%)
Polyunsaturated Fat:
1
g
Monounsaturated Fat:
5
g
Cholesterol:
49
mg
(16%)
Sodium:
340
mg
(15%)
Potassium:
403
mg
(12%)
Fiber:
3
g
(13%)
Sugar:
3
g
(3%)
Nutrition information is calculated using an ingredient database and should be considered an estimate.