Zucchini casserole is creamy, cheesy and oh so delicious! It's packed full of flavor, seasoned perfectly, and even comes together in just 40 minutes. Plus, this recipe is healthy and very low-carb! Not to mention, zucchini is loaded with vitamins and very nutrient dense.
In many places, you can buy zucchini all year round. However, it's high season comes during the warm summer months. I love making this meal when the weather heats up, but you can enjoy it all year round if you can find zucchini at the store!
If you're looking for more casserole recipes, try my Cauliflower Casserole, Brussel Sprouts Casserole, Broccoli and Cauliflower Casserole and Sweet Potato Casserole.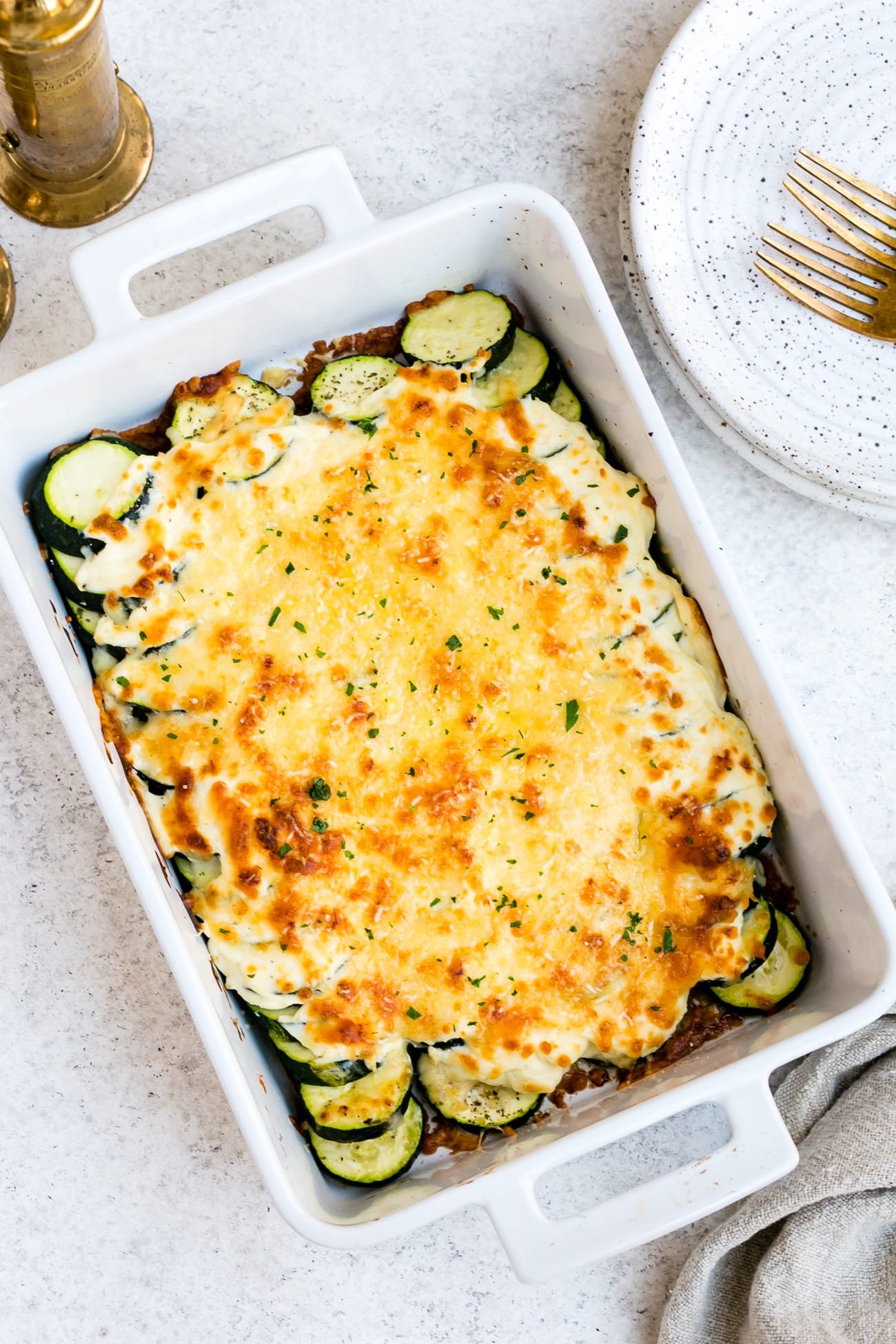 I often serve this casserole as a vegetarian main course along with Broccoli Kale Slaw Salad or a Quick Red Cabbage Salad. And don't forget to include some Low Carb Dinner Rolls or crunchy Garlic Bread. Of course, this dish also makes a great side and pairs nicely with any grilled or baked protein.
If you're trying to eat less meat, I've got a number of tasty veggie mains you can try out like this yummy One-Pot Cauliflower Curry with Fluffy Rice, or mouthwatering Cheesy Broccoli Cauliflower Bake! And if you love zucchini casserole recipes, please try gluten-free meals: Low Carb Eggplant Lasagna and Zucchini Lasagna. They're amazing too.
How To Make this cheesy Zucchini Casserole
Ingredients
Medium Zucchini — Our main ingredient and star of the show! You can use yellow squash as well.
Oil — I like using extra virgin olive oil, but avocado oil and melted butter will also work.
Seasonings — Dried Italian seasonings blend, dried minced onion, salt and ground black pepper.
Cheeses — Cream cheese, mozzarella and parmesan. Use fresh grated mozzarella and parmesan, if possible, as this will certainly elevate flavor to the next level. You can use cheddar cheese too.
Cream — I use half and half in this recipe, heavy cream also works if that's what you've got on hand.
Garnish — Some fresh herbs, chopped parsley looks beautiful atop this dish because it adds great color. However, you can use any other type of herbs such thyme or chives that you have available.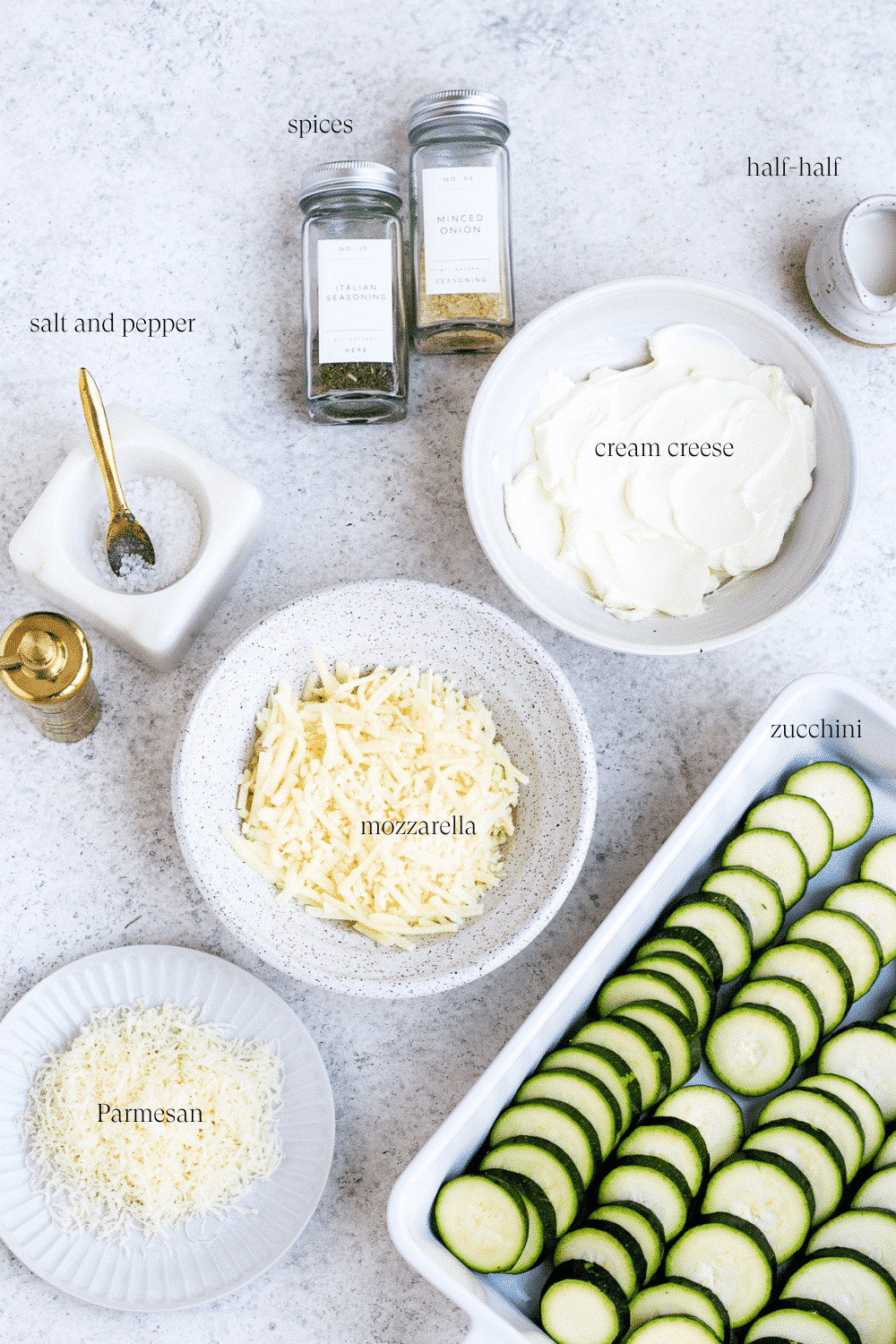 Instructions
Prepare zucchini:
Kick things off by re-arranging your oven rack to the middle position and preheat the oven to 375°F.
Add zucchini slices to a nice, large bowl. Drizzle them in olive oil and sprinkle with Italian seasonings, dried minced onion, salt and black pepper. Then toss until all slices are well coated!
Next, arrange seasoned zucchini slices in a large, 2 & 1/2 quart baking dish.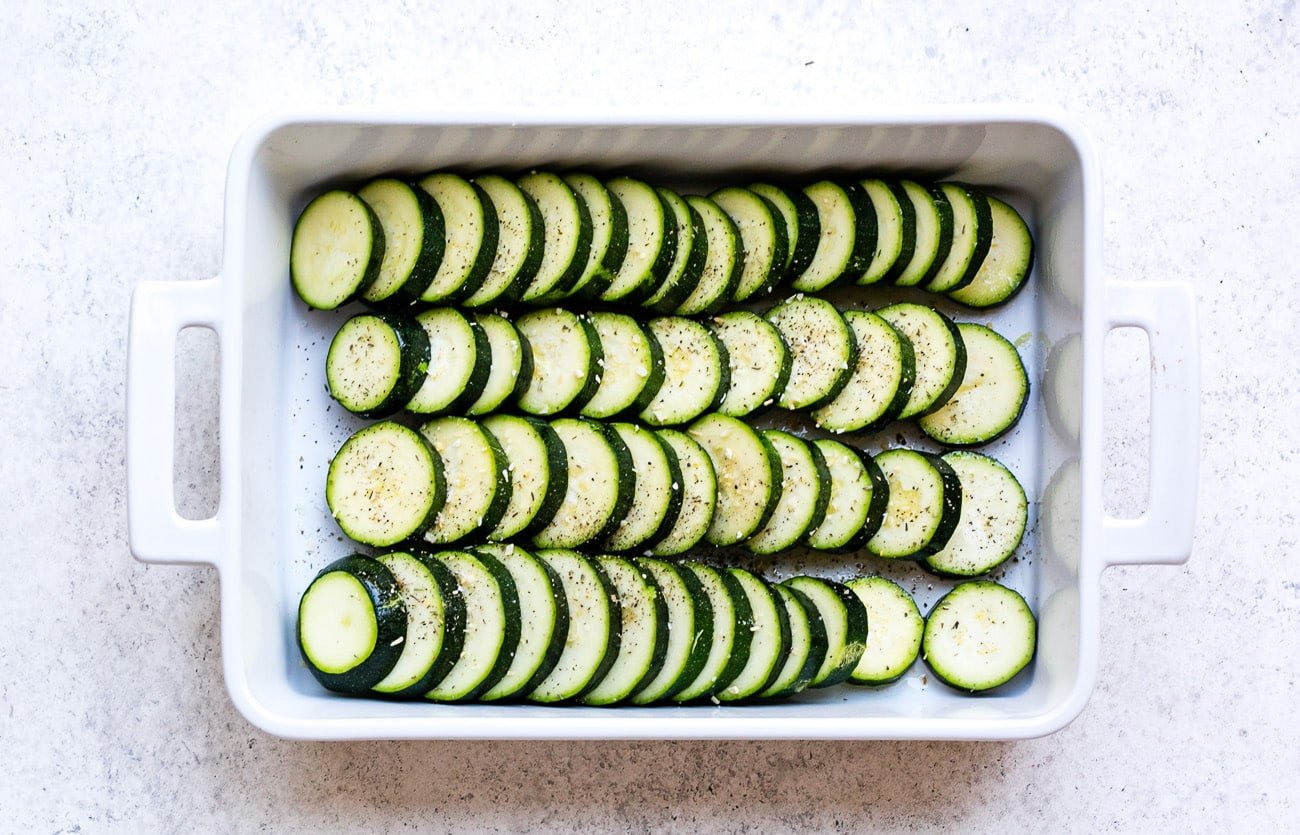 Prepare cream sauce:
Subscribe for new recipes & a free e-cookbook
Now it's time to make your sauce! Simply grab a mixing bowl, then add cream cheese, half and half, salt and pepper. Mix and stir until smooth.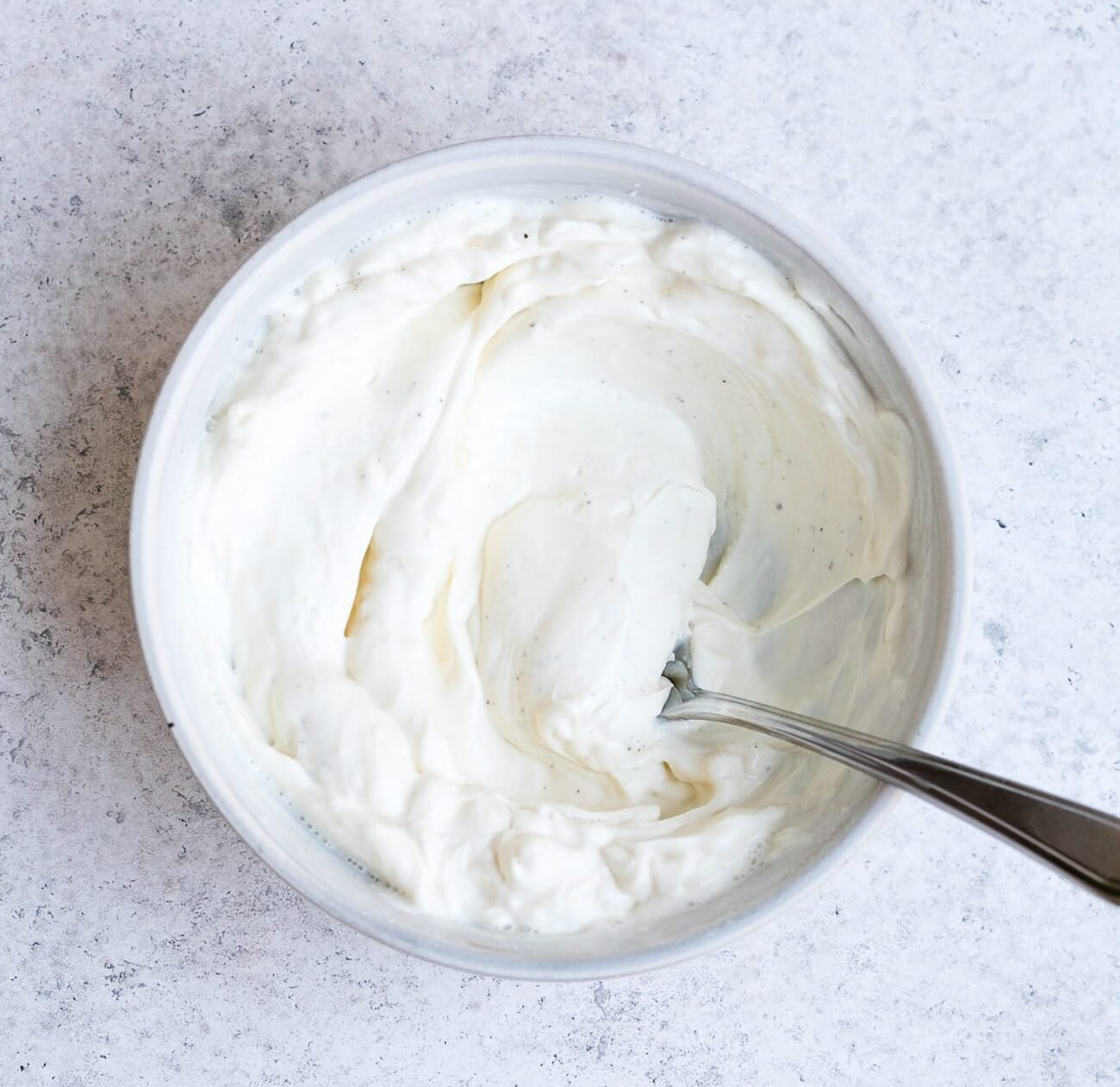 Assemble:
Slather or pour cream cheese sauce mixture over seasoned zucchini slices and sprinkle mozzarella cheese on top.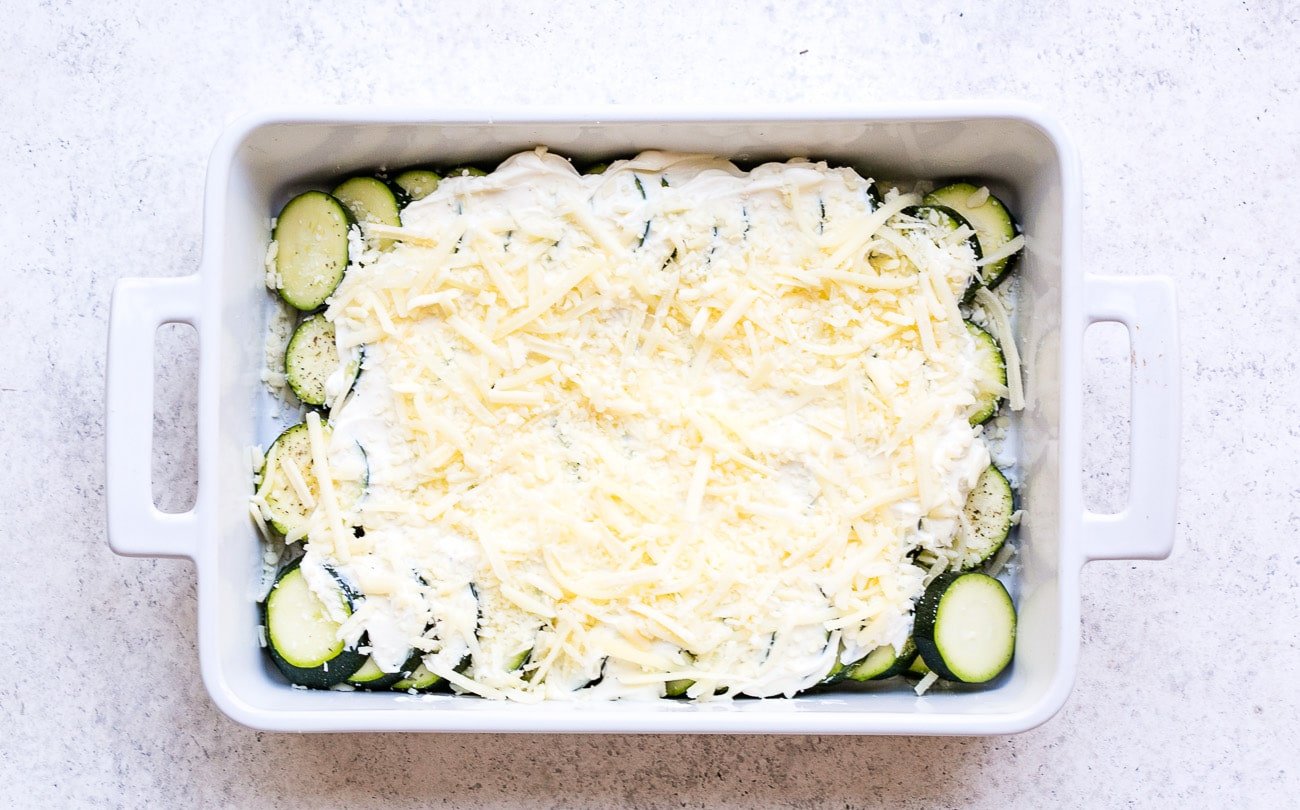 Bake casserole:
Transfer casserole to the oven and bake for 20-25 minutes.
Once zucchini is tender and cheeses are melted/bubbly, remove baking dish from the oven and add parmesan on top.
Broil to brown:
Return casserole to the oven and broil briefly, 2-3 minutes, until golden brown.
Garnish and serve:
Finally, sprinkle some freshly chopped parsley on top. Allow the casserole to rest and set for a few minutes. Then, slice and serve!
Recipe Tips
Feel free to play around with the spices in your cabinet and add extra or different seasonings to your casserole.
This recipe can also be made with half zucchini and half yellow summer squash!
Watch closely during broiling. The oven will get super hot and you don't want the casserole to burn. This step won't take long at all so keep an eye on things and don't turn away.
For this recipe, we're not using panko bread crumbs or sour cream.
How To Store Leftover Zucchini Casserole
To Store: Allow leftovers to cool and transfer them to an airtight container. Keep leftovers in the refrigerator for up to 3-5 days.
To Freeze: I don't recommend freezing this casserole as the texture of the cream and zucchini can change drastically upon thawing/reheating.
To Reheat: Microwave on high until leftovers are warmed through completely. You can also reheat in the oven at 300°F for around 10-15 minutes.
More Zucchini Recipes
It's zucchini season and that's something to celebrate! I have lots of recipes to help you enjoy this delicious vegetable, you can't go wrong with any of these options:
Frequently Asked Questions
What can I substitute for Parmesan cheese?
Pecorino Romano, Parmigiano Reggiano and asiago cheese are all good substitutes for parmesan. You can also use extra mozzarella, but it's milder and way less salty than parmesan.
Is this casserole gluten free?
Yes, this recipe is gluten free. Some zucchini casseroles contain breadcrumbs, but not this one! However, there are gluten free breadcrumbs at many grocery stores if you want to keep this casserole wheat free and add some extra flair.
Is zucchini casserole keto-friendly?
This will vary recipe to recipe, depending on ingredients used. But this particular casserole is keto-friendly and contains approximately 8 net carbs per serving.
Watch the Zucchini Casserole Web Stories.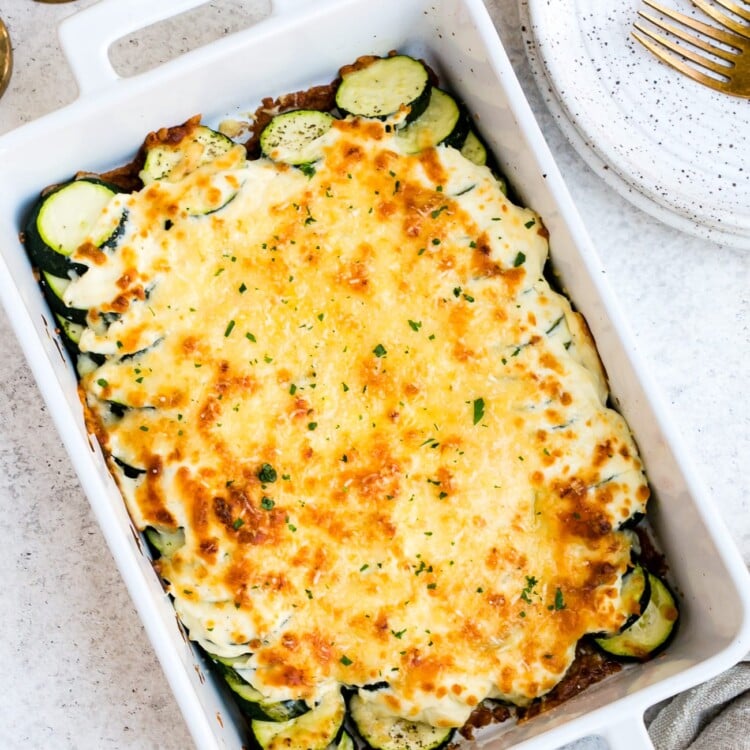 Zucchini Casserole
Healthy, low-carb zucchini casserole is creamy, cheesy and delicious. It's flavorful, perfectly seasoned and comes together in 40 minutes. Serve it as a vegetarian main course or side dish!
Instructions
Adjust oven rack to the middle position, and preheat oven to 375°F.

Combine zucchini slices, olive oil, Italian seasoning, minced onion, salt and pepper in a bowl. Toss everything well.

Meanwhile, in a bowl add cream cheese, half-half cream, salt and freshly ground black pepper. Mix until well combined and set aside.

Place zucchini in stacks in a 2 ½ quart baking dish.

Then, spread the cream cheese mixture on top of the zucchini and sprinkle mozzarella cheese.

Bake for 20-25 minutes or until the zucchini is tender and cheese is melted and bubbly. Remove from the oven and sprinkle with grated Parmesan cheese. Return the casserole to the oven and broil for 2-3 minutes, or until it's golden and brown.

Before serving, top with chopped fresh parsley. Enjoy!
Tips
Use fresh grated cheeses if you can.
Feel free to experiment with spices.
This recipe can also be made with half zucchini and half yellow summer squash! 
Watch closely during broiling to avoid burning.
To Store: Refrigerate in an airtight container for up to 3-5 days. I do not recommend freezing this casserole. 
To Reheat: Microwave on high until warmed through completely. You can also reheat in the oven at 300°F for around 10-15 minutes.
Nutrition Information
Serving:
1
/8
Calories:
273
kcal
(14%)
Carbohydrates:
10
g
(3%)
Protein:
13
g
(26%)
Fat:
21
g
(32%)
Saturated Fat:
11
g
(69%)
Polyunsaturated Fat:
1
g
Monounsaturated Fat:
6
g
Cholesterol:
60
mg
(20%)
Sodium:
578
mg
(25%)
Potassium:
514
mg
(15%)
Fiber:
2
g
(8%)
Sugar:
5
g
(6%)
Nutrition information is calculated using an ingredient database and should be considered an estimate.