Baked tilapia with garlic butter is great for when you want lots of flavor without a lot of work. Make this recipe for dinner in less than 30 minutes!
I have several other fish recipes that use the same garlic butter sauce like my Garlic Butter Salmon Recipe, Cod Fish Recipe, Garlic Butter Halibut Fish Recipe and Garlic Butter Rainbow Trout in Foil.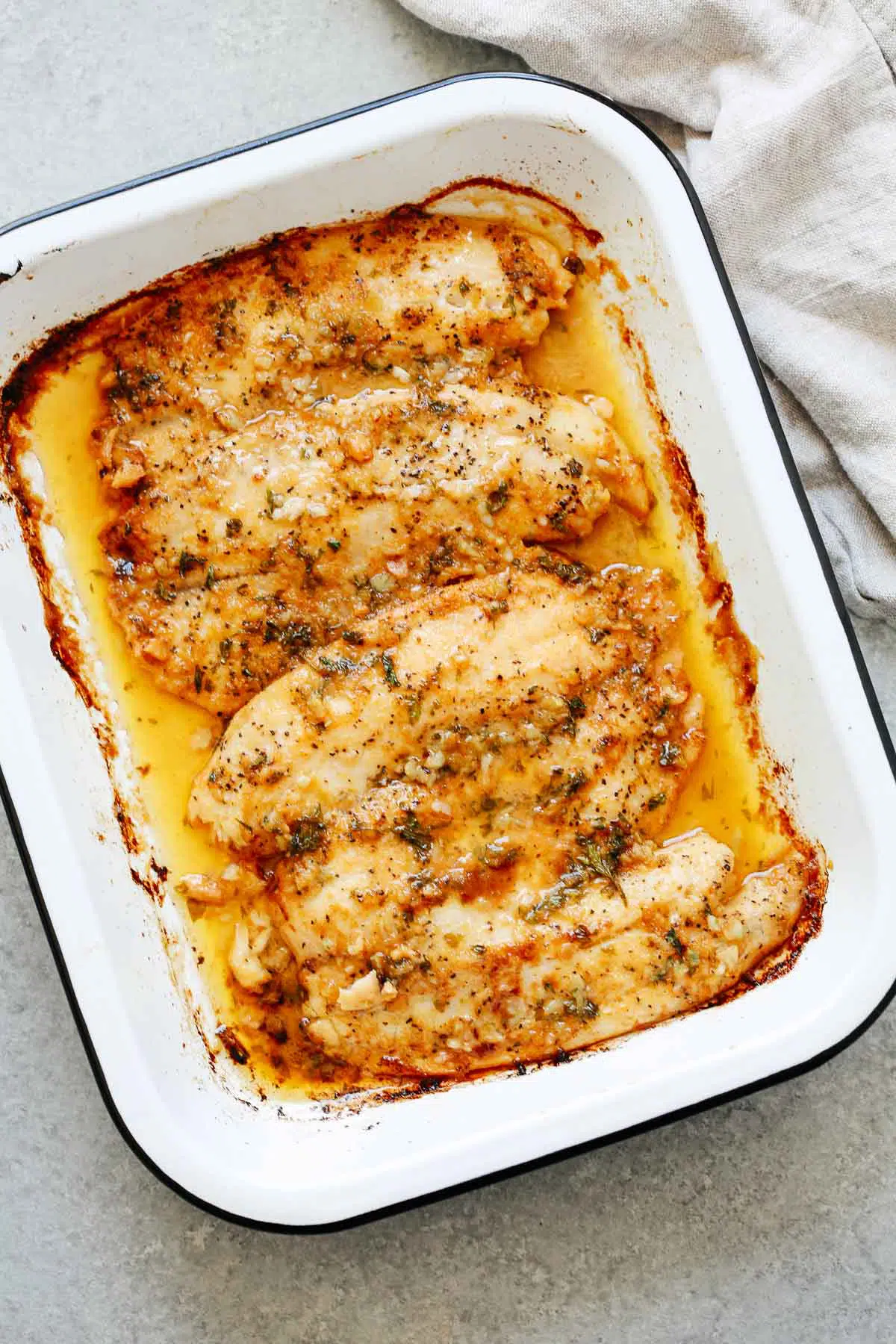 I love fish especially salmon and tilapia. They go with everything, like in my Easy Chopped Salmon Salad. I love tilapia because it's such a versatile fish because it's neutral in flavor, which means it takes on the flavor of whatever it's cooked with.
For this oven baked tilapia recipe, the tilapia is cooked in a simple and delicious garlic butter sauce made with a few simple ingredients that you probably already have on hand.
What's great about this sauce is that it can be used for just about any protein you want to make.
Ingredients
Tilapia filets – Use either fresh or frozen. Be sure to completely thaw frozen fillets in the refrigerator before using in this recipe. Wash tilapia filets with water and pat them dry using a paper towel.
Fresh parsley – I prefer using fresh parsley but if you only have dried herbs, you can use that. Feel free to swap for fresh basil instead.
Garlic – I love freshly minced garlic. You can use garlic powder if needed.
Unsalted butter – For paleo or Whole30, use ghee instead. Any vegan butter alternative will work as well.
Lemon juice – I recommend using fresh lemon juice and not bottled. If you don't have lemon, you can use lime juice too. Optional: use some lemon slices or lemon zest to garnish your fish.
Spices: onion powder, paprika, salt and pepper. Sometimes I like to add a little bit of Italian seasoning too. You can also add a pinch of red pepper flakes or cayenne pepper to give the dish a little bit of heat.
How to Make Baked Tilapia
This baked tilapia recipe couldn't be any simpler – just bake the fish in a homemade butter sauce until done!
While there is a little bit of prep work, the tilapia only takes about 10 minutes to bake.
Subscribe for new recipes & a free e-cookbook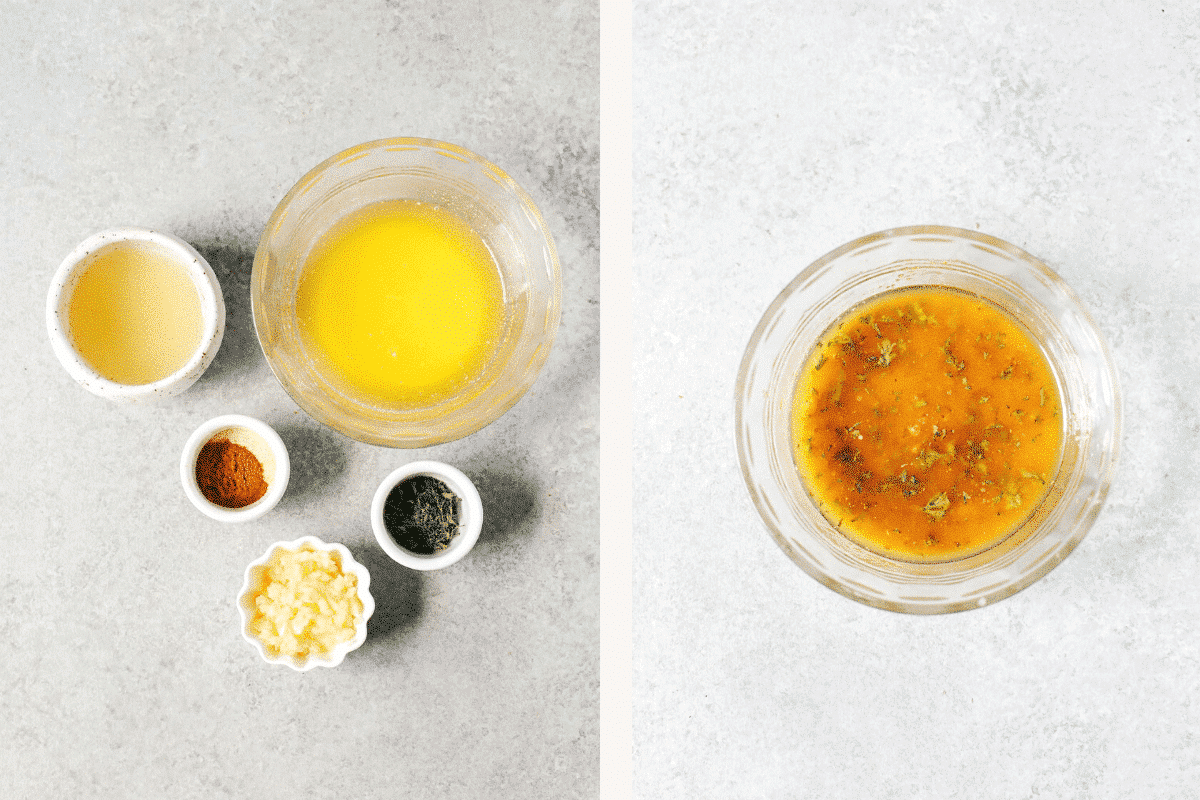 Mix together butter sauce
Melt the butter or ghee, mince the garlic, and chop the fresh parsley.
Next, combine them in a small bowl with the onion powder, paprika, and lemon juice.
Whisk until well combined, then set aside.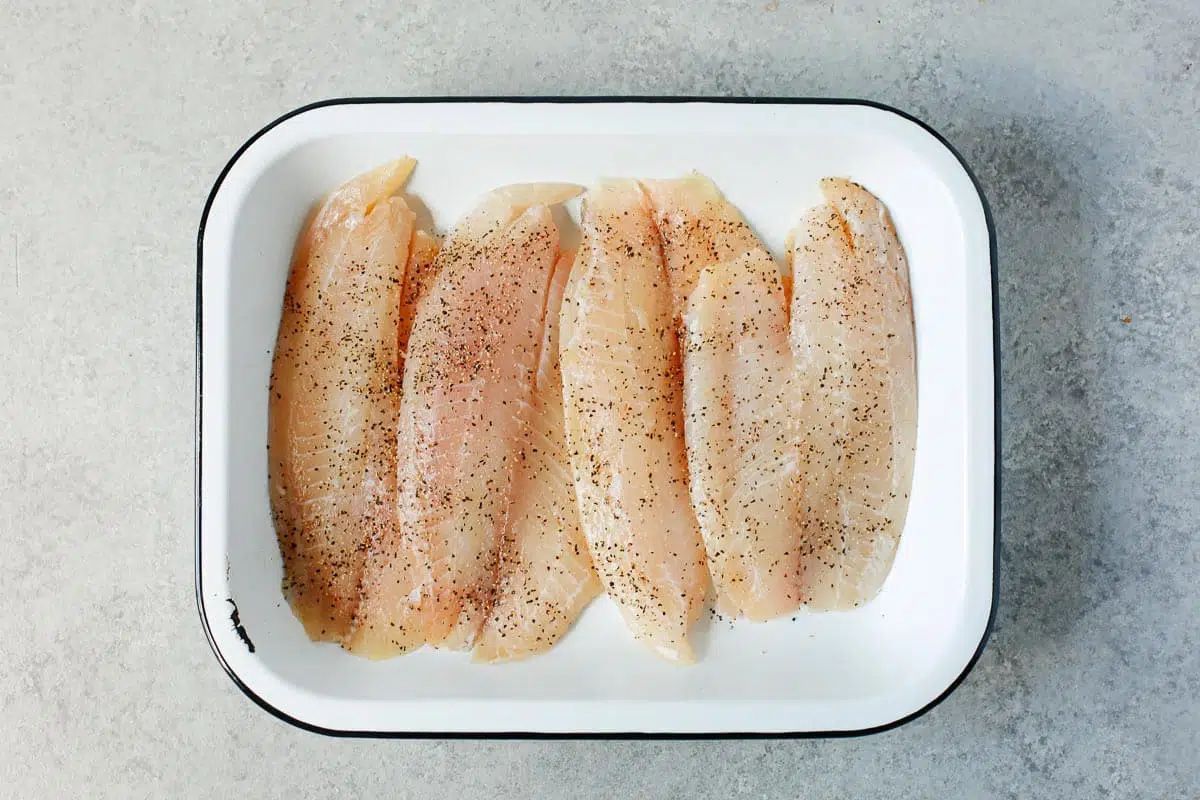 Season the fish
Grease a baking dish and lay the tilapia fillets inside in a single layer.
Then, season the fish well with salt and pepper.
Bake and serve
Next, pour the garlic butter sauce evenly over the top of the fish.
Place the pan in the oven and bake until the fish is done. It will be an opaque white color instead of translucent and will flake easily with a fork.
Garnish with lemon slices, if desired. Serve baked tilapia immediately with your sides of choice and enjoy!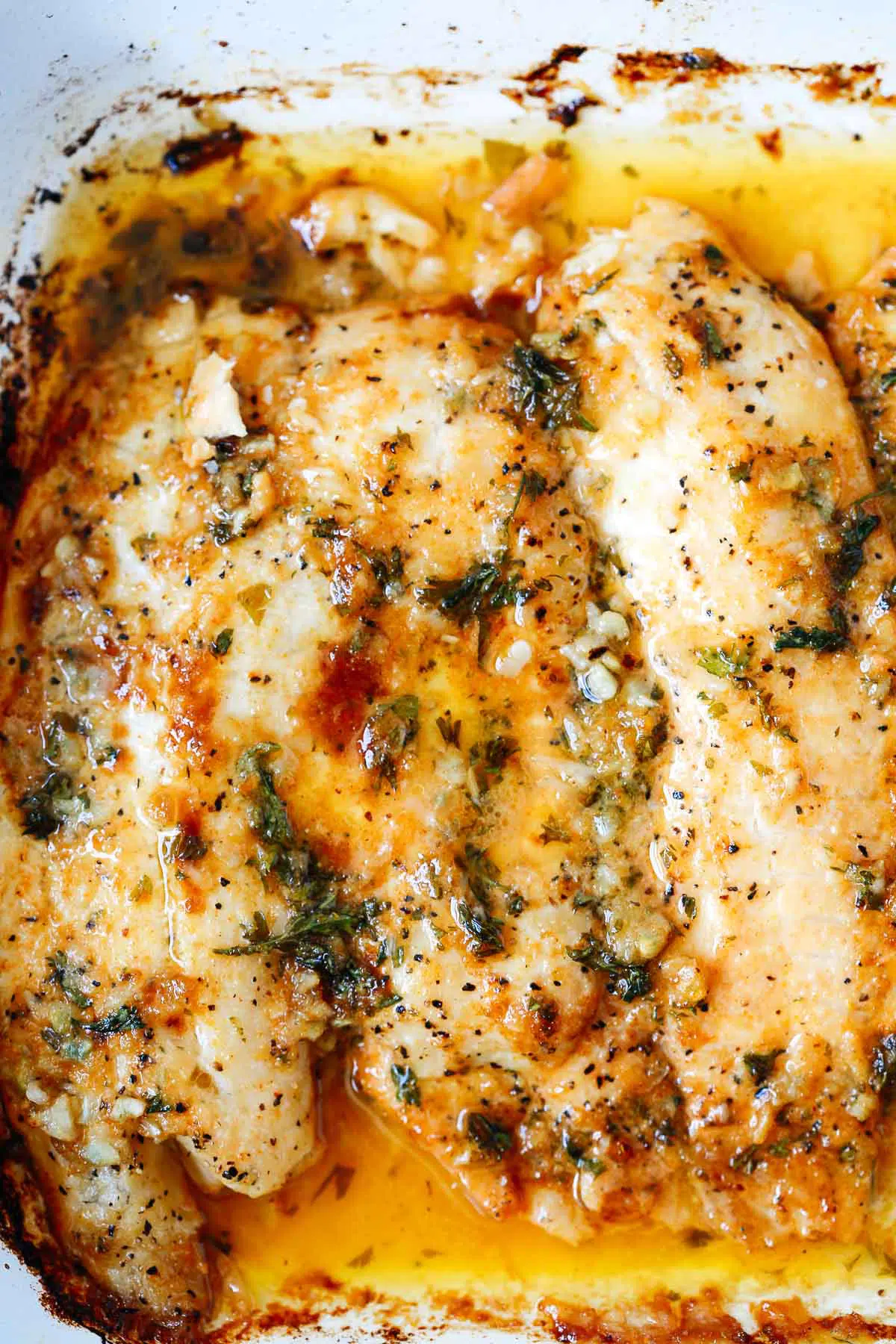 Recipe notes
You can replace tilapia for cod fish or halibut fish if you don't have tilapia.
To know if your fish is done, please insert a meet thermometer into the thickest part of the filet. It should read between 140 and 145 degrees F.
Greasing the pan – Using a nonstick cooking spray is the easiest option, but if you don't have any you can brush the pan with a thin coat of olive oil instead.
Broil – You can broil the tilapia at the end if desired to give the tops a more golden finish.
Storage Tips
Leftovers — Transfer leftover baked tilapia to an airtight container and keep it in the refrigerator for 3-4 days. Or, portion them out into meal prep containers to have for lunches throughout the week.
Freezer — You can freeze baked tilapia by placing completely cooled tilapia in an airtight freezer-friendly container or freezer bag. Keep in the freezer for up to 4 months. Thaw in the fridge overnight before reheating.
Reheating — You can heat the leftover tilapia in the microwave. Add a splash of water if you're worried it will dry out. You can also reheat this on the stovetop. Add some olive oil to a hot pan and add the baked tilapia to it. Cook until heated through.
What to serve with baked tilapia
Because this baked tilapia recipe has such simple, classic flavors, the side dish options are endless! Here are a few ideas to get you started:
Other fish recipes to try
There's no reason simple dishes can't be delicious. However, if you want something a little more complex, try one of these other recipes:
Frequently Asked Questions
What Does Tilapia Taste Like?
Tilapia is a very mild and flakey white fish so it doesn't have a fishy taste to it. Due to how mild it is, it takes on flavour really well, like the garlic butter that I use here.
Is Tilapia Healthy?
Just like salmon, tilapia is protein-packed and is a great source of omega-3 fatty acids and other nutrients. I would call this a healthy fish to enjoy!
How to thaw tilapia fillets?
Just like salmon, tilapia is protein-packed and is a great source of omega-3 fatty acids and other nutrients. I would call this a healthy fish to enjoy!
Do you have to flip tilapia when baking?
When making oven baked tilapia with garlic butter, there is no need to flip halfway through baking time. Simply preheat the oven, prepare fish according to recipe instructions and bake for 10-12 minutes (without flipping) until fish flakes easily with a fork. Add lemon slices for garnish when serving, if desired.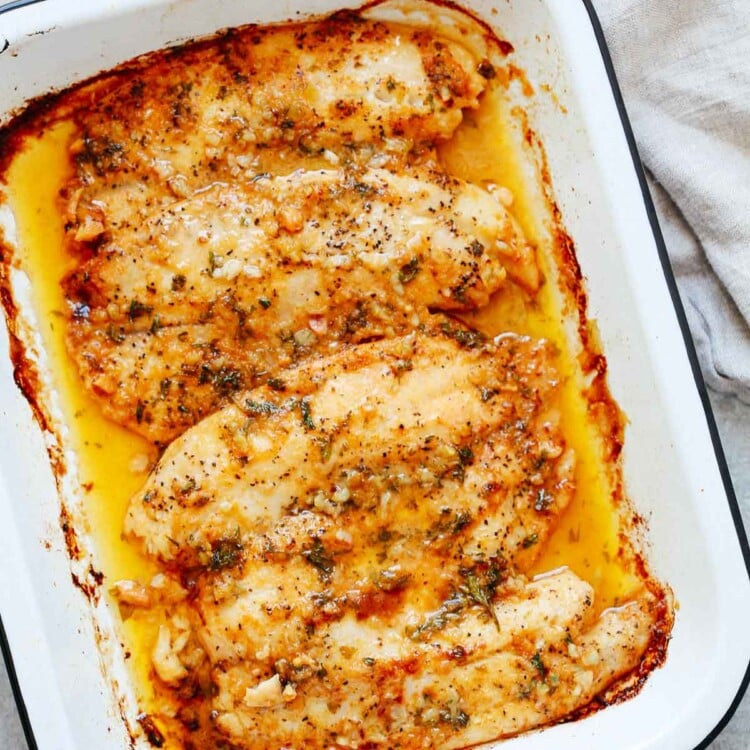 Garlic Butter Baked Tilapia Recipe
Garlic butter baked tilapia is great for when you want lots of flavor without a lot of work. Make this recipe for dinner in less than 30 minutes!
Instructions
Preheat oven to 425 degrees F. Grease an 9×13 baking pan with cooking spray*. In a small bowl, whisk together butter, parsley, onion powder, paprika, garlic and lemon juice. Set aside.

Season tilapia with salt and pepper, to taste and place onto the prepared baking dish.

Pour the butter mixture over the tilapia fillets.

Place into oven and bake for about 10-12 minutes or until tilapia flakes easily with a fork. Serve immediately with rice, cauliflower rice, mashed potato, mashed cauliflower or roasted veggies.
Tips
Click HERE to watch the Web Stories for this recipe.
If you don't have cooking spray, use a cooking brush and olive oil.
If the fish was frozen beforehand, make sure you fully thaw it before using it.
For more golden tops, you can broil the fish for a few minutes.
To store: If you store the leftover fish in an airtight container in the fridge, it'll last 3-4 days.
To reheat: Reheat the fish in the microwave or the stovetop. 
To freeze: Tilapia can be frozen for up to 4 months in a freezer-sage bag or container.
Nutrition Information
Serving:
1
/4
Calories:
193
kcal
(10%)
Carbohydrates:
2
g
(1%)
Protein:
18
g
(36%)
Fat:
14
g
(22%)
Saturated Fat:
8
g
(50%)
Polyunsaturated Fat:
1
g
Monounsaturated Fat:
4
g
Cholesterol:
72
mg
(24%)
Sodium:
194
mg
(8%)
Potassium:
32
mg
(1%)
Nutrition information is calculated using an ingredient database and should be considered an estimate.
Check out the Web Story HERE.