Instant Pot carnitas are a quick and easy way to satisfy your craving for authentic Mexican food. Pork with crispy edges with a variety of toppings will please a crowd or your family.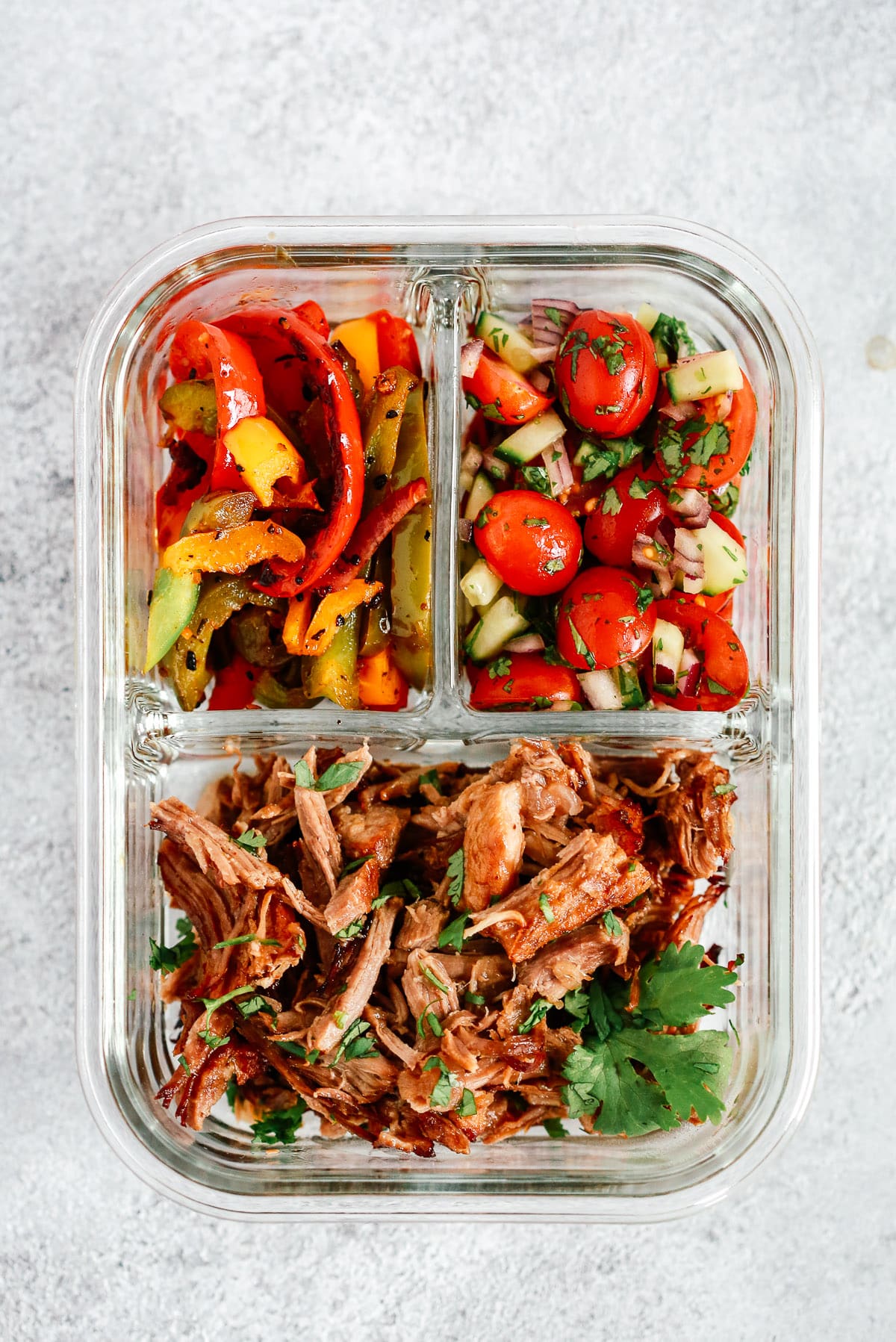 What cut of meat are carnitas?
Carnitas are Mexican pulled pork. It is usually made with pork shoulder, sometimes labeled pork butt, which is a cut from the very top of the front leg of the animal.
I recommend using this because of the high fat content, making it the most flavorful. It is a large, tough cut of pork. However, the meat becomes very tender and juicy after being cooked. Typically, the cooking process is "low and slow" – low heat for a long period of time.
The great news is that it is much quicker to make in an Instant Pot! It will hold up well being cooked under pressure, too. I used to make it in the Slow Cooker but not I'm loving this IP method.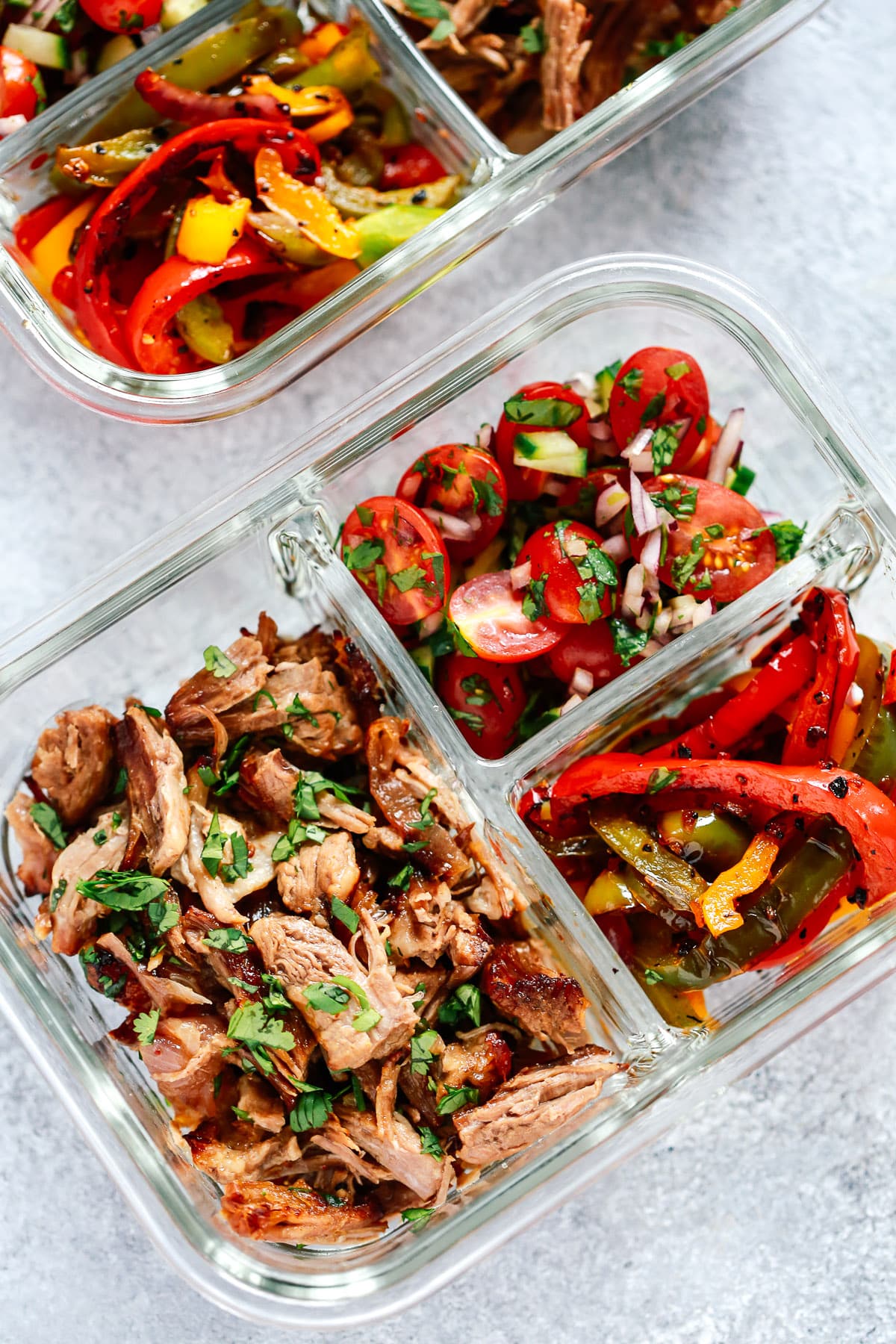 What do you put on carnitas?
I've included a recipe below for tomato salsa, one of my favorite toppings for Instant Pot carnitas, but don't stop there! Find your own favorites and add them for lots of variety. You can make a carnitas bar with all of these choices.
Subscribe for new recipes & a free e-cookbook
Start with some of these:
Sauteed bell peppers
Refried beans
Black beans
Avocado
Lime
Onion
Red cabbage
Cheese
Are carnitas healthy?
Pork is a great source of high quality protein. It is also high in:
Vitamin B
Selenium
Thiamin
Zinc
If you are concerned about the fat content, you can use a leaner cut of meat like pork loin. However, the fat in the pork shoulder is a key ingredient in creating the authentic taste of carnitas.

How do you make Instant Pot carnitas?
Cut the pork into two-inch cubes. It will cook quickly this way. Plus, you can trim away some of the fat at this time.
We're going to start with the saute function on the Instant Pot. Just add a little bit of oil and cook the pork in two batches. This will create a nice brown crust on the meat. You'll have a perfect grilled taste with the edges of the meat caramelized.
Now you let the Instant Pot work its magic. Put all the meat back in the pot along with the spices and onion. Set it to cook for 20 minutes.
Let it complete a natural release. This lets the cooking process gradually stop and the meat will stay intact better. Keep in mind that it can take up to 35 minutes for a natural pressure release.
After this, put all the meat on a foil lined baking sheet. Broil it in the oven for ten minutes. Authentic Mexican carnitas have crispy edges. By cooking everything completely in the Instant Pot, it only takes ten minutes in the oven to achieve that amazing taste and texture.
For meal prep, divide the meat into single portions and refrigerate.
Want to make a keto version of this? Try my Keto Instant Pot Carnitas (Web Story). Or if you've got another cut of meat in the freezer, try my Garlic Butter Baked Pork Chops and Easy Oven Pork Chop Recipe!
Other meal prep recipes to try: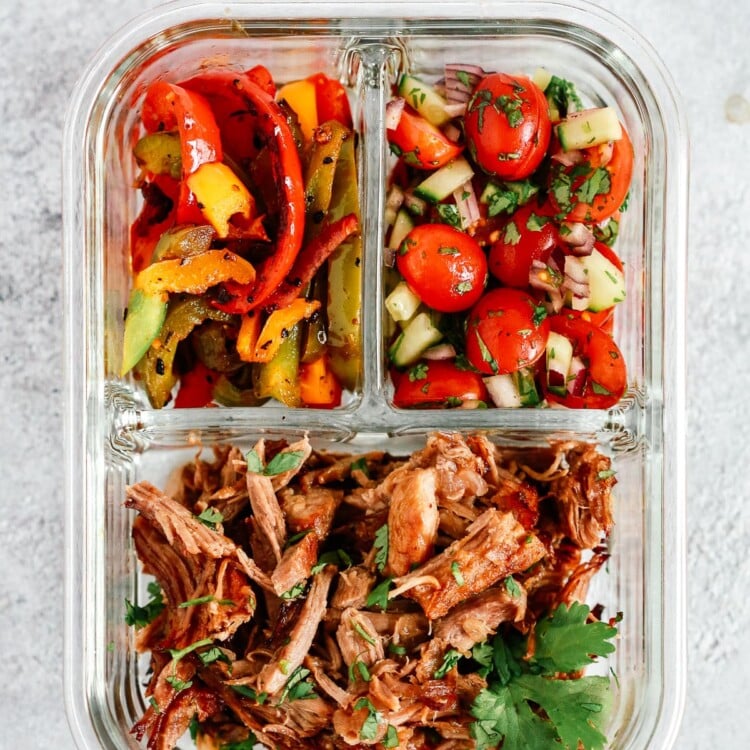 Instant Pot Carnitas Meal Prep Bowls
Instant Pot carnitas are a quick and easy way to satisfy your craving for authentic Mexican food. Pork with crispy edges with a variety of toppings will please a crowd or your family. 
Ingredients
For the sauté bell pepper
Instructions
For the carnitas
Click the "Sauté" setting on the Instant Pot. Add the oil and half of the pork and sear for about 1 minutes each side or until the pork is browned on all sides.

Transfer pork to a plate, and repeat with the remaining pork.

Press "Cancel" bottom on the Instant Pot.

Bring the pork to the Instant Pots and add cumin, chili, salt and black pepper, bay leaves, red onion and chicken broth.

Secure the lid, close the pressure valve and cook for 20 minutes at high pressure.

Naturally release pressure (mine took about 35 minutes).

Remove all the carnitas and transfer to a foil-lined baking sheet, discard the bay leaves and ladle some of the sauce on top.

Broil the meat for 10 minutes, stirring the pork after 5 minutes.
For the salsa
In a large bowl, add all the ingredients and toss well to combine.
For the sauté bell pepper
In a large skillet, pour olive oil and add onions, bell peppers and all the seasonings.

Stir fry for 5-10 minutes on medium heat. The time will depend on how tender you prefer your veggies to be.
Tips
The nutrition facts are only for the carnitas recipe. 
Naturally releasing the steam will help the meat stay moist and tender.
I like to broil the meat at the end to get it crispy but you can skip it if you prefer.
Do not skip browning the pork as it adds a ton of flavour to the overall dish.
To store: Store the leftover carnitas meal prep in an airtight container for up to 5 days in the fridge. 
To reheat: Reheat the carnitas in the oven or in the microwave if you're in a hurry. Make sure to reheat with the sauce so the meat stays moist. 
To freeze: You can freeze this carnitas recipe in a freezer-safe bag or container for 4 months. Don't freeze the salsa or peppers as they won't keep well.
Nutrition Information
Serving:
1
/5
Calories:
259
kcal
(13%)
Carbohydrates:
2
g
(1%)
Protein:
29
g
(58%)
Fat:
16
g
(25%)
Monounsaturated Fat:
2
g
Sodium:
699
mg
(30%)
Potassium:
37
mg
(1%)
Sugar:
1
g
(1%)
Nutrition information is calculated using an ingredient database and should be considered an estimate.