Keto Chocolate Bars are rich, low-carb, and full of chocolate flavor. Make this recipe as the perfect alternative to satisfy your brownie craving!
Sometimes you just need something decadent and sweet to eat, but that can be tricky if you're eating low-carb and low-sugar.
These keto-friendly chocolate bars are full of rich chocolate flavor and healthy fats, while still meeting your dietary needs.
This recipe is also can also be adapted to be Paleo, Whole30, dairy-free, egg-free, and vegan.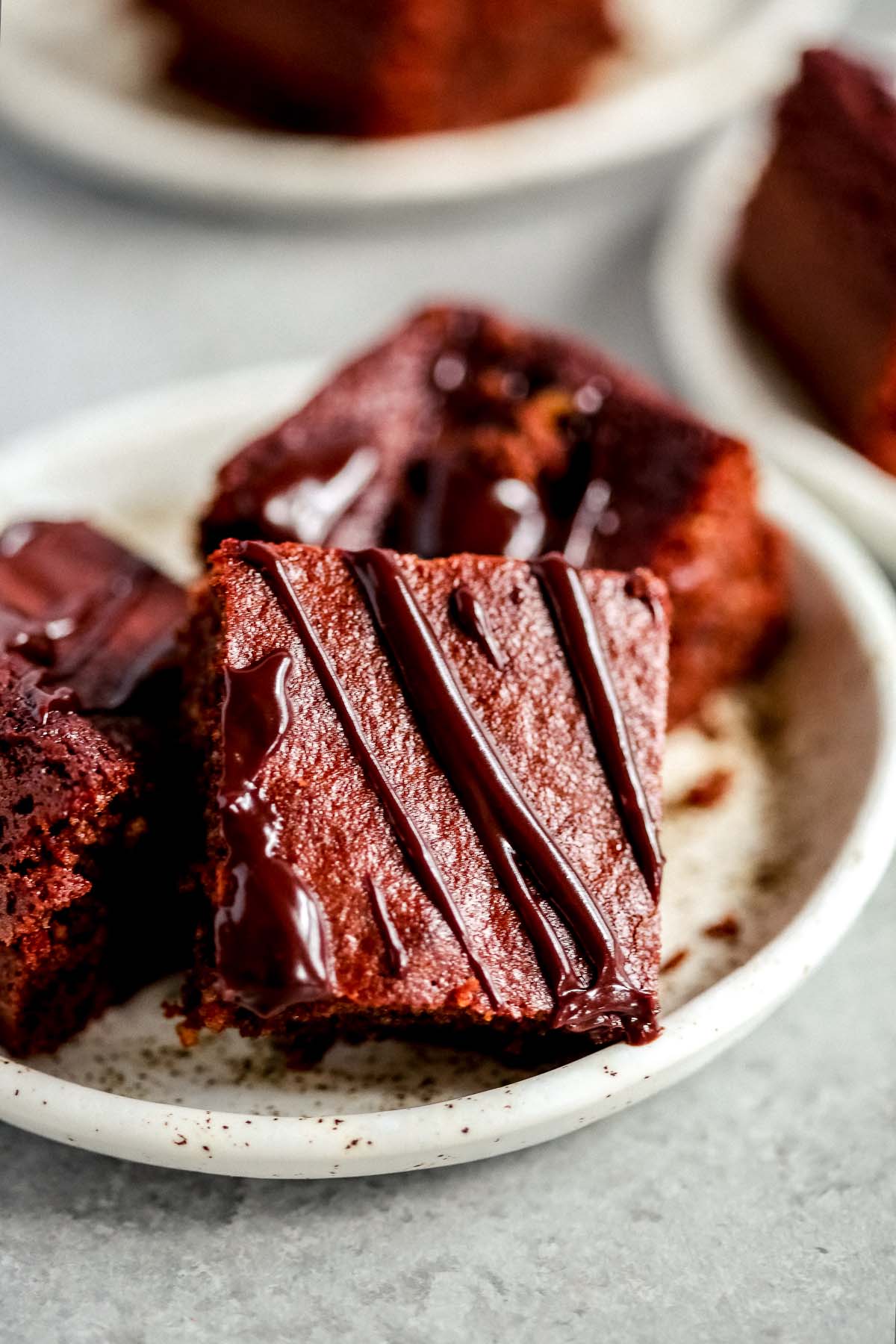 I have a sweet tooth and believe that dessert can definitely be a part of a healthy diet. These keto brownies are filled with healthy ingredients, just like my Healthier Chocolate Chip Cookie Bars, Low-carb No Bake Chocolate Strawberry Bars, and Peanut Butter Chocolate Chip Bars. You won't regret making these.
How to make keto chocolate bars
INGREDIENTS & SUBSTITUTIONS
Almond flour – be sure to use blanched or these will be too dense
Eggs – can be replaced with flax eggs
Keto maple syrup – regular will work too
Butter – or coconut oil for Paleo and vegan
Baking soda
Sea salt – use a fine grind so it's not gritty
Unsweetened cocoa powder
Vanilla extract
Keto chocolate chips – can also substitute regular or vegan options
INSTRUCTIONS
Melt the chocolate
This can be done in the microwave or on a stovetop. Either way will work depending on what you have available.
For the microwave: Add the chocolate chips to a microwave-safe bowl. Cook in 20-second intervals until just melted, stirring after each time.
For the stovetop: Bring about an inch of water to a simmer in a saucepan. Rest a glass bowl over the saucepan and pour in the chocolate chips. Stir continuously until it's mostly melted. Then, remove from heat and keep stirring until smooth.
If you'll be drizzling chocolate over the top of your chocolate bars, spoon out a small amount of melted chocolate into a separate bowl and set aside.
Make the batter
Add the remaining ingredients to a bowl and mix together until smooth. Pour in the melted chocolate and stir to combine.
Next, pour the batter into a greased pan lined with parchment. Cooking spray is the easiest to use, but coconut oil works as well. Just scoop some out with a paper towel and rub along the inside of the pan.
Bake and serve
Place the pan in the oven and bake until the edges are set. Then transfer the pan to a wire rack to cool.
Drizzle any leftover melted chocolate over the top and cut into squares. Serve and enjoy!
Recipe notes
Melting the chocolate: If you do this on the stove, it's extremely important not to get any water into the bowl. Doing so will cause the chocolate to harden and separate. If this happens, try mixing in 2 teaspoons of melted coconut oil to smooth it out.
Flax eggs: These are a common egg-replacer for vegan diets or those with egg allergies. Each flax egg replaces one regular egg, so for this recipe, you'll need to double the ingredients. Mix 1 tablespoon ground flaxseed meal with 3 tablespoons warm water, then let sit until thickened.
TOPPING IDEAS
Depending on your dietary needs, you can add a variety of toppings to make this chocolate bar recipe even more decadent.
Whipped cream – Make your own by whipping canned coconut cream.
Fresh berries – These are both Keto and paleo friendly.
Powdered sugar – Swerve is a popular brand of keto-friendly powdered sugar. You can also find recipes online to make your own substitute.
Need a keto dinner idea to enjoy before these brownies? Try my Instant Pot Keto Chili Recipe or any of these 30 Keto Dinner Ideas You Can Make in 30 minutes.
MORE KETO DESSERT RECIPES TO TRY
Keto Chocolate Bars
Keto chocolate bars are rich, low-carb, and full of chocolate flavor. Make this recipe as the perfect alternative to satisfy your brownie craving!
Instructions
Preheat oven to 350ºF. Grease an 8x8 baking pan with cooking spray, line it with parchment paper, and set aside.

Melt the chocolate chips in a bowl in the microwave in 20 seconds intervals. Stir after each time. Then, remove from the microwave, let it cool down and set aside.

In a medium bowl, add eggs, almond flour, maple syrup (or keto maple syrup), butter, baking soda, salt, and vanilla. Then, add melted chocolate (save some for drizziling) and mix everything together until smooth.

Pour batter into your prepared baking pan and smooth the surface.

Bake for about 25-30 minutes, or until edges are set. Place the baking pan on a wire rack and let it cool down for 10 minutes. Then, drizzle some melted chocolate on the top and cut into squares. Enjoy!
Tips
Please, use the code PRIMAVERAKITCHEN15 to get 15% off. Visit Lakanto.com

and get yours too!

If you do not have a microwave, you can melt the chocolate by bringing about an inch of water to a simmer in a saucepan. Rest a glass bowl over the saucepan and add the chocolate chips. Do not let the water touch the chocolate. Stir continuously until it's mostly melted from the heat of the water. 
You can replace the egg with a flax egg.
Other toppings to try are whipped cream, fresh fruit, or powdered sugar.
To store: You can store leftover chocolate bars in the fridge for up to 4 days.
To reheat: For a warm keto chocolate bar, reheat it in the microwave. 
To freeze: Flash freeze or tightly wrap the chocolate bars and transfer them to a freezer-safe bag.
Nutrition Information
Serving:
1
/16
Calories:
166
kcal
(8%)
Carbohydrates:
7
g
(2%)
Protein:
4
g
(8%)
Fat:
14
g
(22%)
Saturated Fat:
5
g
(31%)
Polyunsaturated Fat:
2
g
Monounsaturated Fat:
6
g
Cholesterol:
33
mg
(11%)
Sodium:
273
mg
(12%)
Potassium:
139
mg
(4%)
Fiber:
5
g
(21%)
Sugar:
1
g
(1%)
Nutrition information is calculated using an ingredient database and should be considered an estimate.