Chia seed pudding is a quick make-ahead breakfast or snack recipe. It's sweet, but nutritious and customizable and fits with any diet plan.
If you love chia pudding, you will love also these delicious chia pudding recipes: Kiwi Chia Pudding, Raspberry Chia Pudding, and Strawberry Coconut Chia Pudding.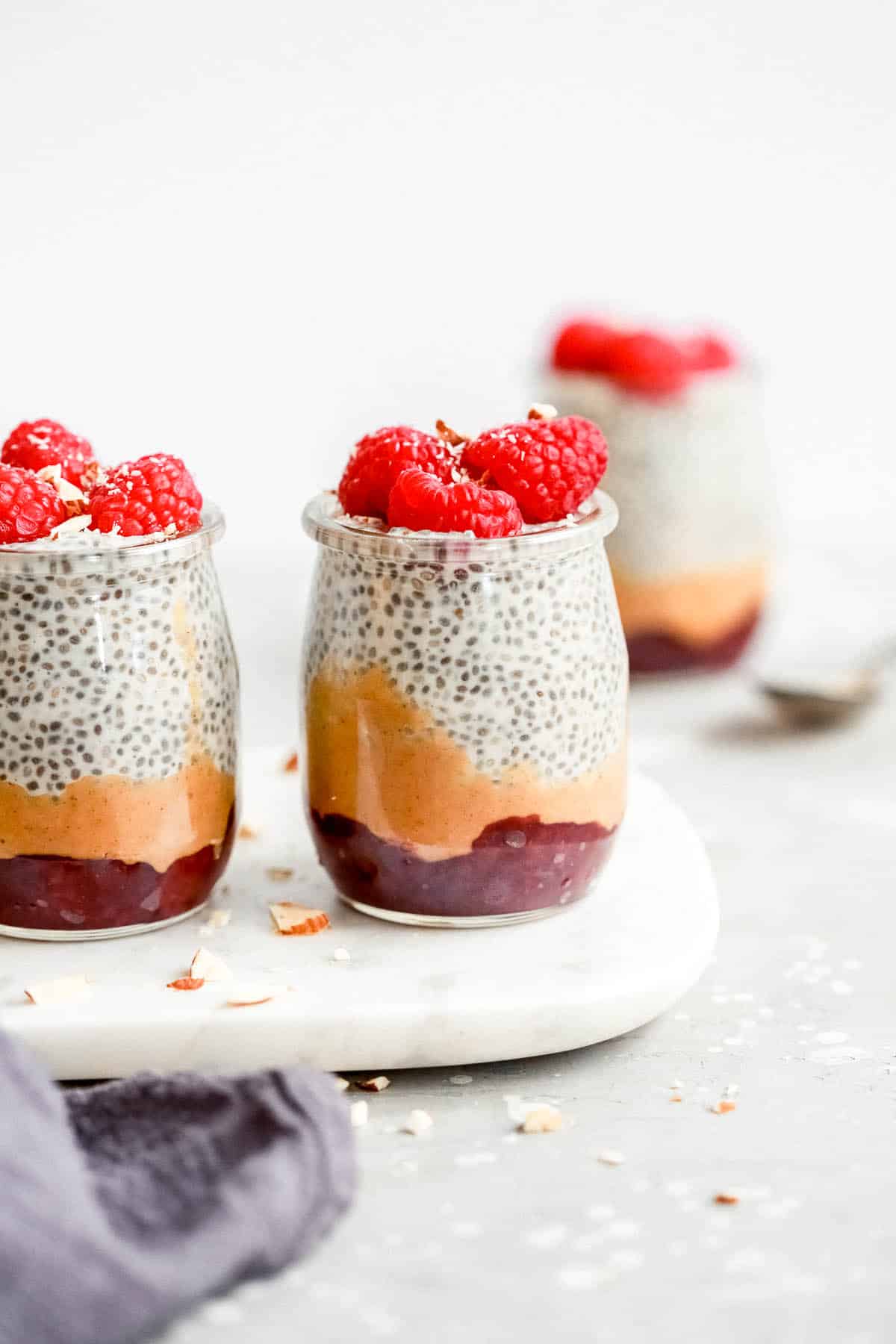 Chia seed pudding takes just a few minutes to make. It's easy to make in large batches and it stores well in the refrigerator. You can enjoy it as a healthy breakfast, snack, or dessert.
It is naturally gluten free and is vegetarian and vegan. I make mine with coconut and almond milk. As a result, it is also dairy free. Because it's low carb and high in good fats, it also fits great with the paleo diet. Chia seeds contain lots of fiber, Omega-3s and protein.
What is the ratio of liquid to seeds?
This recipe will make three servings of chia seed pudding. I use four tablespoons of chia seeds and one cup of liquid.
I like to use two different kinds of liquid. You will need a half cup of coconut milk and half a cup of almond milk. I recommend you use full fat coconut milk which comes in a can rather than the refrigerated kind you find in a box. As a result of the extra fat in canned coconut milk, the pudding will have a very creamy consistency.
When it's finished, your pudding shouldn't be liquidy at all. It should be thick and creamy. If it needs to be thicker, you can add more chia seeds.
Subscribe for new recipes & a free e-cookbook
Chia seeds actually have no flavor at all, so they will absorb the flavor of whatever you soak them in. Choose a liquid you love and you will enjoy eating this even more! For more flavor, I like to use:
Sweetener
Vanilla extract
Strawberry jam
Peanut butter
How to make chia seed pudding
It only takes about five minutes to make these chia seed pudding cups. They do need to sit for a while for the seeds to thicken the mixture.
Whisk together the milk, vanilla, sweetener, salt and chia seeds. This will prevent it from getting clumpy.
Refrigerate – Place the pudding into the refrigerator to chill for at least 20 minutes. Doing this will thicken the pudding.
Layer the ingredients together in a jar. I use jam, peanut butter and chia pudding. Melting the peanut butter makes it easier to combine with the other ingredients.
Chia pudding ingredient ideas
This basic chia seed pudding recipe is a great place to start, but you can make it in a lot of different flavors. Try some of these and then create your own!
Maple– use maple syrup for the natural sweetener
Almond butter or sun butter
Reese's Cup – add cocoa powder to the chia pudding
Creamsicle – add orange zest to the basic recipe shown below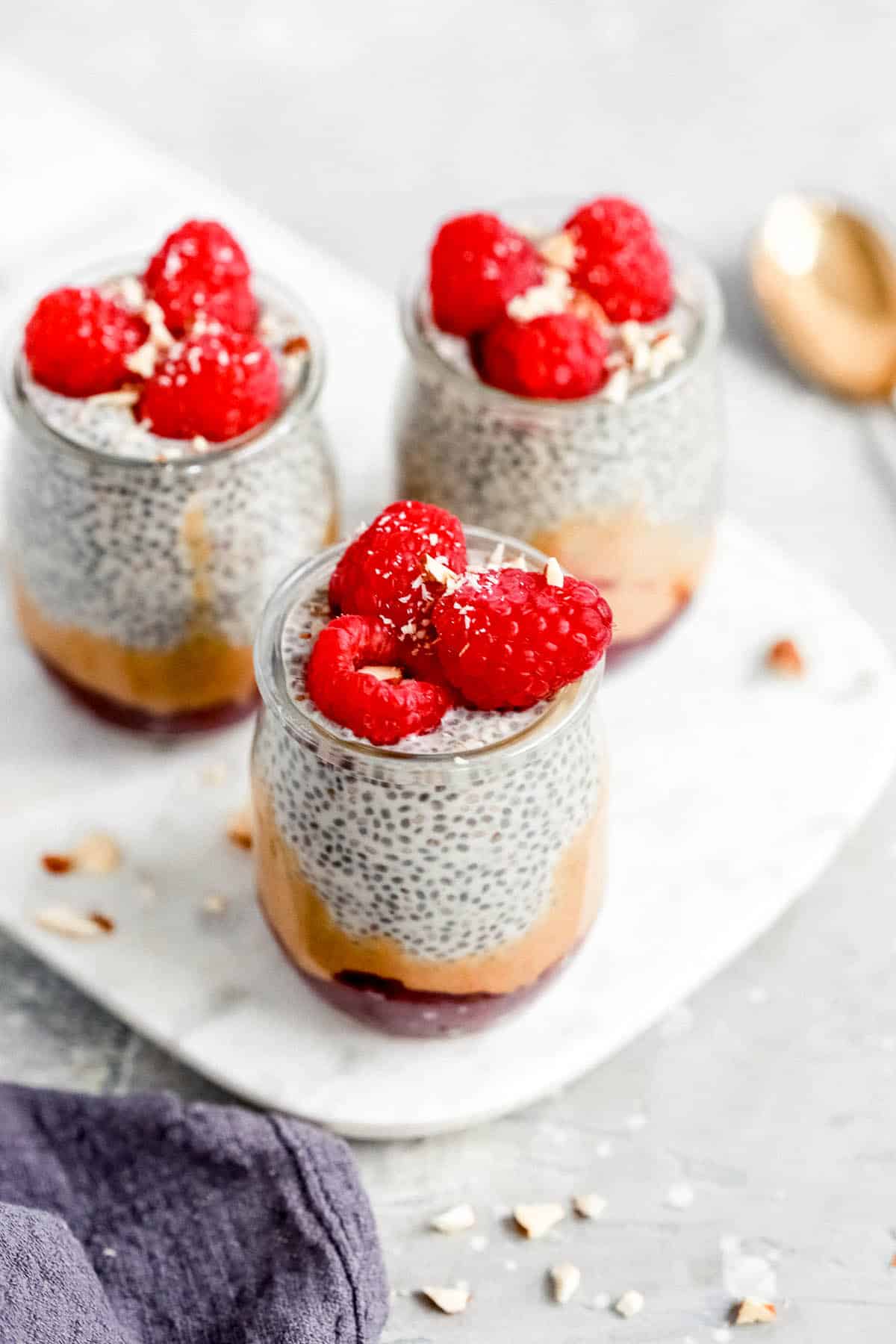 How long will chia seed pudding last?
This chia seed pudding will last in the refrigerator for about five days. As a result, it's a great meal prep idea. Make a big batch and keep them in the refrigerator. This way, you will have a healthy breakfast or snack ready at any time. Want more chia seed puddings? Try these 10 Delicious Chia Seed Recipes!
Need something for lunch after enjoying these chia seed puddings? Try my Easy Roasted Potato Salad!
Chia Seed Pudding
Chia seed pudding is a quick make-ahead breakfast or snack recipe. It's sweet, but nutritious and customizable and fits with any diet plan.


Instructions
To prepare the chia pudding, add coconut milk, almond milk, natural sweetener, salt, vanilla extract and chia seeds into a bowl and whisk together.

Place in the fridge and let sit for 20 minutes or overnight until it gets the thick pudding texture.

To assemble your chia pudding, start with a layer of sugar-free raspberry jam; next add melted peanut butter and chia pudding.

Top with fresh raspberries and chopped almond.
Tips
Don't forget to taste the chia pudding along the way and add more natural sweetener as you desire.
You can also use coconut milk from a box, but it will take much longer to thicken.
Make sure to give the pudding a good whisk as you don't want the pudding to be lumpy.
To store: This recipe will last well for up to 4 days in the fridge.
To freeze: Freeze chia pudding for up to 3 months in an airtight container. 
Nutrition Information
Serving:
1
/3
Calories:
256
kcal
(13%)
Carbohydrates:
18
g
(6%)
Protein:
7
g
(14%)
Fat:
16
g
(25%)
Saturated Fat:
4
g
(25%)
Polyunsaturated Fat:
4
g
Sodium:
119
mg
(5%)
Potassium:
30
mg
(1%)
Fiber:
8
g
(33%)
Sugar:
10
g
(11%)
Nutrition information is calculated using an ingredient database and should be considered an estimate.