Chia pudding is a quick make-ahead breakfast or snack recipe. It's sweet, but nutritious and customizable and fits with any diet plan.
If you love chia pudding, you will love also these delicious chia pudding recipes: Kiwi Chia Pudding, Raspberry Chia Pudding, and Strawberry Coconut Chia Pudding.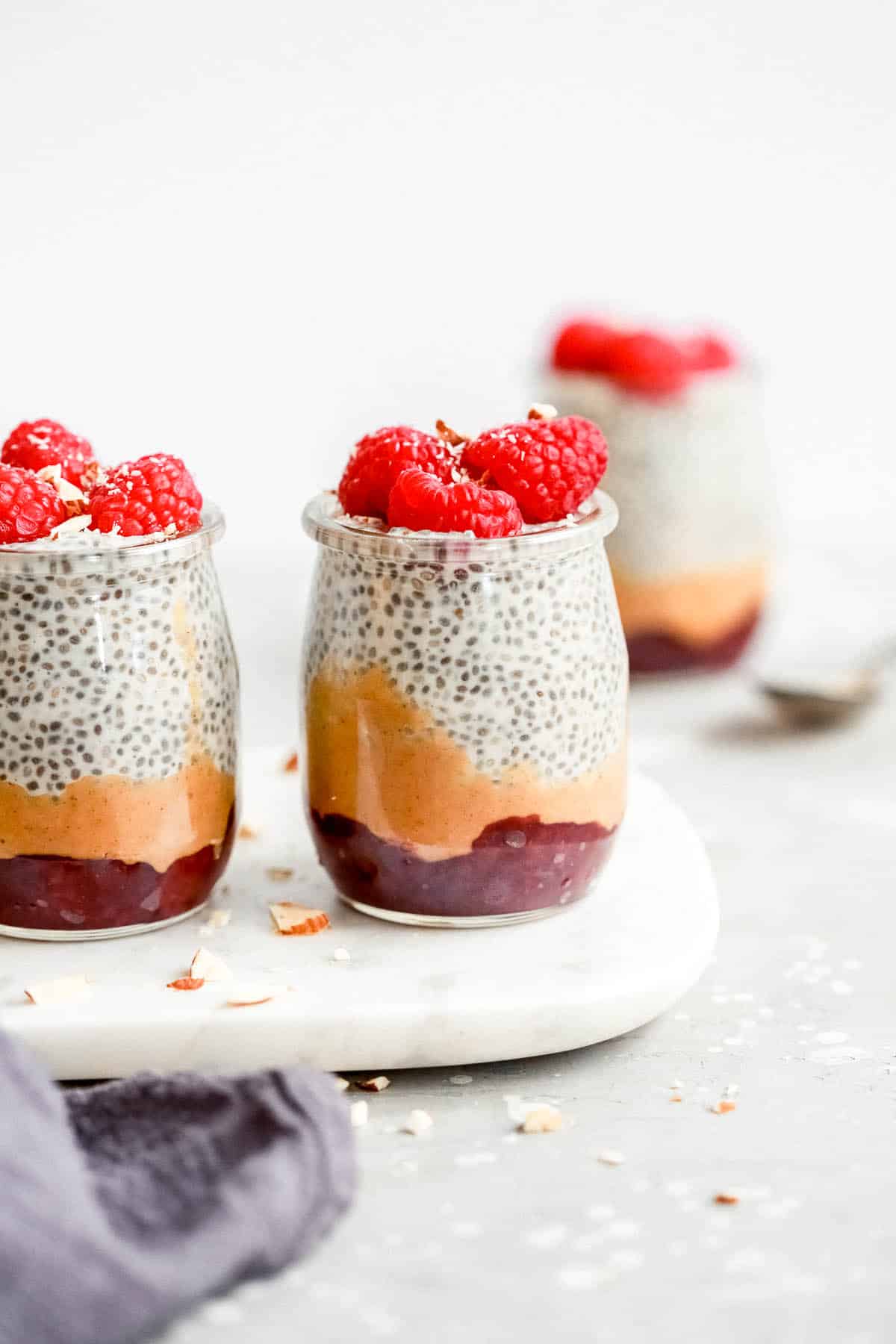 Chia seed pudding takes just a few minutes to make. It's easy to make in large batches and it stores well in the refrigerator. You can enjoy it as a healthy breakfast, snack, or dessert.
Chia seeds contain lots of fiber, Omega-3s and protein. It is also naturally gluten-free and is vegetarian and vegan. I make mine with coconut and almond milk. As a result, it is also dairy free, low carb, keto and high in good fats.
Chia seeds actually have no flavor at all, so they will absorb the flavor of whatever you soak them in. Choose a liquid you love and you will enjoy eating this even more! For more flavor, I like to use:
Sweetener
Vanilla extract
Strawberry or other berries jam
Fresh fruit
Chocolate chips
Peanut butter
Ingredients to Make Chia Seed pudding
Ingredients
Coconut milk — Use full fat, unsweetened coconut milk from a can (not a box). Boxed coconut milk isn't nearly as creamy.
Almond milk — Unsweetened. You can also use other non-dairy milks such as oat milk, cashew milk. But of course you can also use dairy milk.
Natural sweetener — I enjoy using Lakanto monk fruit sweetener, but you can absolutely use your favorite.
Salt — Just a pinch adds depth to the flavor of your pudding.
Vanilla extract — Pure will taste the very best, but imitation will get the job done.
Chia seeds — I typically use dark/black chia seeds. White ones are also perfectly fine!
Strawberry jam — Look for a sugar-free option at the grocery store.
Peanut butter — I generally purchase natural peanut butter, but any will do.
Almonds — Chopped and roasted.
This basic chia seed pudding recipe is a great place to start, but you can make it in a lot of different flavors. Try some of these and then create your own!
Maple or honey – use maple syrup for the natural sweetener
Almond butter or sun butter
Reese's Cup – add cocoa powder to the chia pudding
Creamsicle – add orange zest to the basic recipe shown below
How to make chia pudding
It only takes about five minutes to make these chia seed pudding cups. They do need to sit for a while for the seeds to thicken the mixture.
Whisk or stir together the milk, vanilla, sweetener, salt and chia seeds. This will prevent it from getting clumpy.
Refrigerate – Place the pudding into the refrigerator to chill for at least 20 minutes. Doing this will thicken the pudding.
Layer the ingredients together in a jar. I use jam, peanut butter and chia pudding. Melting the peanut butter makes it easier to combine with the other ingredients.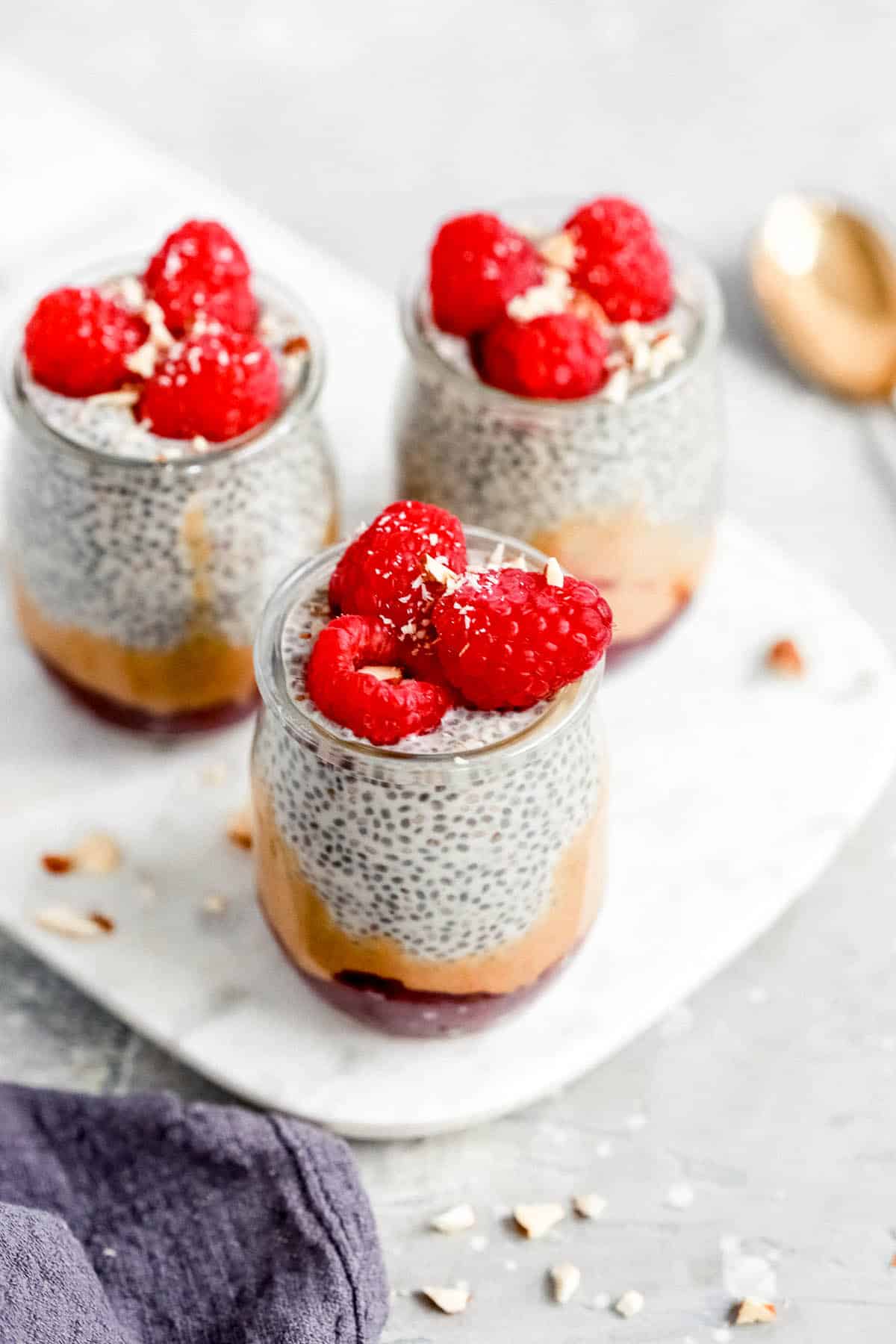 Recipe Tips:
As you make your chia pudding recipe, be sure to preform a quick taste test. If desired, add another sprinkling of natural sweetener and/or salt to get the flavor just how you like it!
I always use canned coconut milk when making my chia pudding. You can use boxed, but it's not nearly as creamy or flavorful and won't thicken your seeds as quickly.
Coconut milk will most likely be chunky out of the can. This is because liquid and fats separate over time as they sit. Consider microwaving your coconut milk for 30-60 seconds to re-incorporate. Just let it cool a bit before mixing into chia seeds.
Be sure to whisk your chia pudding super well to remove any lumpiness from the mixture.
Feel free to use another flavor of sugar-free jam or preserves in your chia pudding recipe. Blackberry, blueberry or raspberry would all be very tasty.
You can also use an alternate nut butter! And, sun-butter is great for creating a nut-free pudding.
How To Store Leftovers
To Store: Chia pudding is great for meal-prep because it lasts for quite a long time in the refrigerator! Simply transfer pudding to one large, singular airtight container or multiple smaller containers and refrigerate for up to 5 days.
To Freeze: You might not guess that chia pudding is freezer-friendly, but it totally is! Place it in an airtight, freezer-safe container and store frozen for up to 3 months. Once thawed, give it a good stir and it should retain it's pudding-like texture.
What To Serve With Chia Pudding
Recipe Variations
Add cocoa powder: Make a chocolate version of this delicious pudding by adding about a teaspoon of cocoa powder, add more if you want it super rich!
Dairy: This recipe is made with coconut and almond milk for a dairy free treat. However, you can use regular milk and even include a splash of cream if preferred.
Sweetener: I often use a sugar-free monk fruit sweetener in my chia pudding, but you don't have to! Maple syrup or honey would also be delicious.
Extract: Instead of vanilla, use almond extract for an extra nutty and delicious treat.
Recommended Tools
Large Bowl. You'll need a large mixing bowl for this recipe, and not much else! Combine all of your ingredients in one place and let them chill in the fridge.  
Whisk. Besides a large bowl, you'll also need a whisk so that you can thoroughly combine all of your pudding ingredients.
Meal Prep Containers. You can leave your pudding in the bowl used to make it, but portioning it into smaller lidded containers makes for an easy grab-and-go breakfast.
How long will chia pudding last?
This chia pudding recipe will last in the refrigerator for about five days. You can also
add chia pudding in a mason jar, top with frozen berries and then put it in the freezer. It will last for a few weeks. When you are ready to enjoy a healthy breakfast, just thaw it in the fridge the night before.
As a result, it's a great meal prep idea. Make a big batch and keep them in the refrigerator.
This way, you will have a healthy breakfast or snack ready at any time.
Frequently Asked Questions
What is the ratio of liquid to seeds?
This recipe will make three servings of chia seed pudding. I use four tablespoons of chia seeds and one cup of liquid. I like to use two different kinds of liquid. You will need a half cup of coconut milk and half a cup of almond milk. I recommend you use full fat coconut milk which comes in a can rather than the refrigerated kind you find in a box. As a result of the extra fat in canned coconut milk, the pudding will have a very creamy consistency. When it's finished, your pudding shouldn't be liquidy at all. It should be thick and creamy. If it needs to be thicker, you can add more chia seeds.

What does chia pudding taste like?
The texture of chia seed pudding is deliciously creamy. As for flavor, it will vary widely depending on the ingredients used! Chia seeds have little-to-no taste, and they'll absorb flavor from the liquids you soak them in.
Are white and black chia seeds the same?
White and black chia seeds are essentially the same thing. They're both highly nutritious and taste the same. And, both colors will form a gel-like pudding substance when soaked in liquid. Really the only difference is appearance!
Is chia seed pudding really good for you?
Chia seeds are very nutritious! They're high in fiber, which helps keep you full. They're also packed with vitamins, minerals and omega-3 fatty acids. A chia pudding made with wholesome, low-sugar ingredients is a great addition to your diet.
Watch the chia pudding web stories here.
Chia Seed Pudding Recipe
Chia seed pudding is a quick make-ahead breakfast or snack recipe. It's sweet, but nutritious and customizable and fits with any diet plan.


Instructions
To prepare the chia pudding, add coconut milk, almond milk, natural sweetener, salt, vanilla extract and chia seeds into a bowl and whisk together.

Place in the fridge and let sit for 20 minutes or overnight until it gets the thick pudding texture.

To assemble your chia pudding, start with a layer of sugar-free raspberry jam; next add melted peanut butter and chia pudding.

Top with fresh raspberries and chopped almond.
Tips
Don't forget to taste the chia pudding along the way and add more natural sweetener/salt as you desire.
You can also use coconut milk from a box, but it will take much longer to thicken.
Coconut milk can separate in the can. Microwave 30-60 seconds to reincorporate and cool before adding to chia seeds.
Make sure to give the pudding a good whisk to remove any lumpiness.
Feel free to use a different flavor of sugar free preserves or an alternate nut butter. Sun-butter is a good nut free option if needed!
To store: This recipe will last well for up to 5 days in the fridge.
To freeze: Freeze chia pudding for up to 3 months in an airtight container. 
Nutrition Information
Serving:
1
/3
Calories:
256
kcal
(13%)
Carbohydrates:
18
g
(6%)
Protein:
7
g
(14%)
Fat:
16
g
(25%)
Saturated Fat:
4
g
(25%)
Polyunsaturated Fat:
4
g
Sodium:
119
mg
(5%)
Potassium:
30
mg
(1%)
Fiber:
8
g
(33%)
Sugar:
10
g
(11%)
Nutrition information is calculated using an ingredient database and should be considered an estimate.