Skillet chicken fajitas are an easy weeknight one-pan meal. This Tex-Mex favorite has healthy protein and fresh veggies all in one amazing yet simple dish.
Everyone loves tacos, but skillet chicken fajitas are a veggie-packed, healthy way to get that Tex-Mex taste.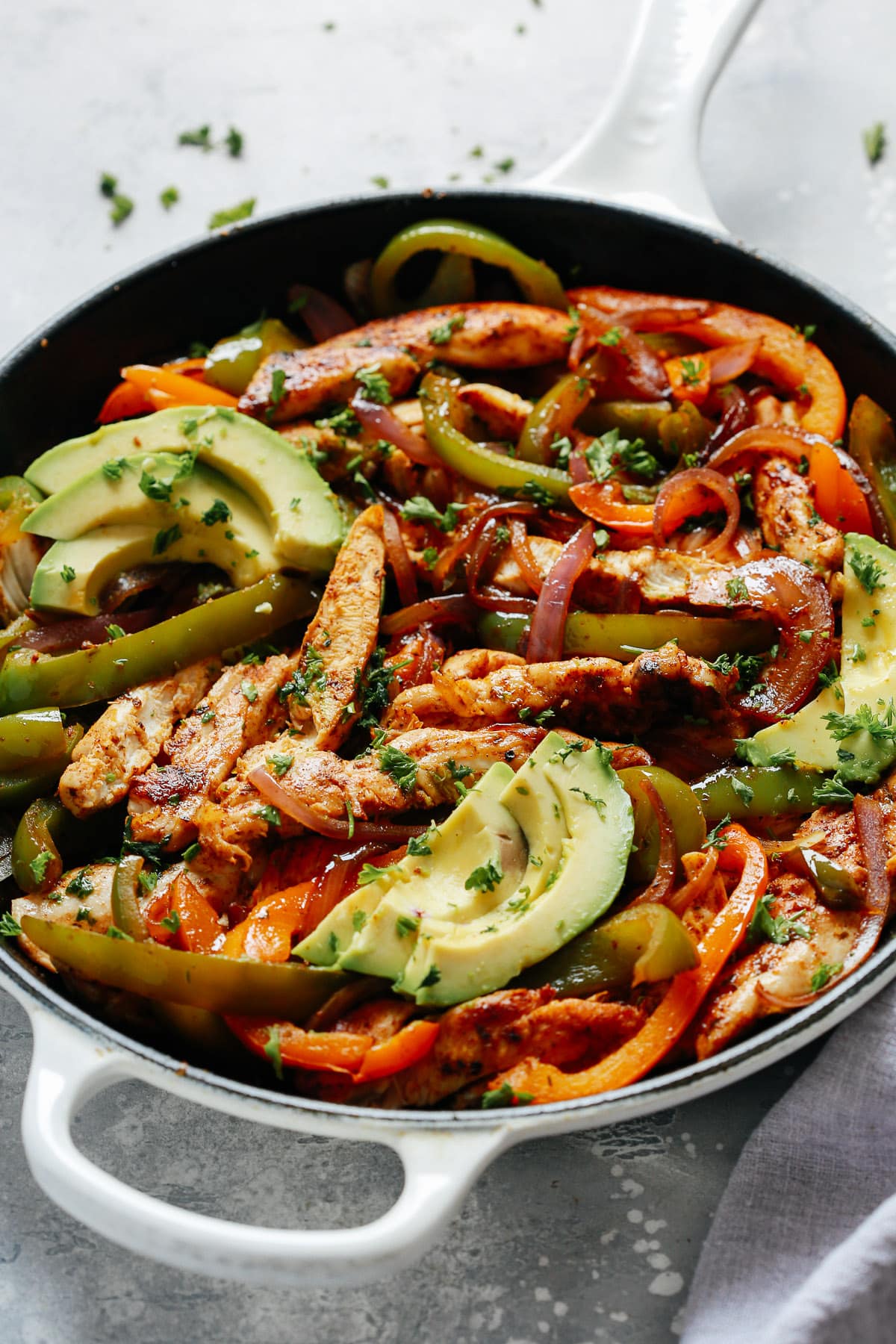 These chicken fajitas are easy to prepare with just a few veggies and chicken to slice. You don't need any fancy gadgets to make this, just a simple skillet. They cook in less than 40 minutes so they come together quite quickly on busy nights, making it the perfect weeknight dinner.
They're packed with flavour and the whole family loves it. You can enjoy them on their own or with tortillas if you wish.
Everyone can also pick their favourite toppings so there's no arguing about what's for dinner! Everyone will be reaching for seconds and asking you to make this again and again, I promise!
Are skillet chicken fajitas healthy?
The fajitas themselves are simply sautéed chicken and vegetables. As a result, it is a very healthy meal. Depending on your choices, the fajita toppings can add a lot of extra fat and calories to the meal. I make it all the time like these Low-Carb Shrimp Fajita Meal-Prep Bowls.
For healthier skillet chicken fajitas, choose toppings that are low in saturated fat and calories, and the ones that are good sources of healthy fats.
Try some of these healthy fajita toppings:
Cilantro
Avocado
Salsa
Pico de gallo
Low-fat sour cream
Pickled red onions
Pickled jalapeno (or fresh)
Cheese
Guacamole
Squeeze of lime juice
Want to make it a Tex-Mex night? Try making these fajitas with my Taco Stuffed Sweet Potatoes and Easy Grilled Fish Tacos Recipe!
Ingredients to make fajitas
Homemade fajitas seasoning — while you can use store-bought pre-mixed seasoning, to make your own, all you need is chili powder, cayenne powder, paprika, cumin, black pepper, and salt. These are pantry staples so I always have them on hand. I like making my own as there aren't any filler ingredients added to them or additional sugars.
Oil — I use olive oil to saute my ingredients but you can use a different oil such as avocado oil.
Garlic — I like to use freshly minced garlic instead of garlic powder for this skillet chicken fajitas recipe.
Chicken breast — I like using free-range organic chicken with no antibiotics or added hormones.
Bell peppers — I use a mixture of red, yellow, and green bell peppers. It's like eating the rainbow! However, you can use whatever bell pepper you prefer. Keep in mind that red bell peppers are the sweetest, then they get less sweet from orange, yellow, to green. Use all red bell peppers if you want the sweetest results!
Onion — I use a medium onion but feel free to use more or less. You can use yellow, sweet, or even red onions.
Salt and pepper
Fresh lime juice for garnish
Instructions to make Fajitas in a skillet
This easy chicken fajita skillet recipe is cooked on your stove top. It's a one-pan meal with plenty of protein and veggies and it is super easy to make.
Slice the chicken into long strips (about the same length as the peppers and onions). Having thin slices helps them cook faster and more evenly.
Allow the chicken to marinate in fajita seasoning for 15 to 20 minutes. You can also let it marinate longer if you are meal prepping your meat in the morning for a quick evening meal.
Cook the chicken thoroughly over medium-high heat and then remove it from the skillet.
Next, cook the veggies. If you prefer crisp veggies, cook them a couple of minutes less than the recipe calls for. Add a minute or two if you like the peppers and onions to be softer.
Add the chicken back to the skillet to combine with the veggies and then serve them up!
If you have a cast iron skillet, cooking the meal in it will produce the flavor of a grill without having to sit outside over hot flames.
Serve chicken fajitas Recipe with:
You have a couple of options for serving this meal.
You can eat the chicken and veggies as is, or wrap everything in a flour tortilla or corn tortilla. If you omit the tortillas, this dish is gluten-free and low carb.
Either with or without the tortilla, you can add any toppings that your family enjoys. Setting up a fajita bar is a great way to serve a crowd. Another benefit is, there will be enough choices to please everyone.
Recipe tips
If your chicken was frozen, thaw them completely and pay them dry with some paper towels before seasoning. This helps the oil and seasoning stick better to the chicken.
If you're worried about overcooking your chicken, use a meat thermometer to check the internal temperature of the chicken breasts. Once they reach 160F degrees, it's cooked and ready to be eaten.
If you want to double or triple this recipe, you can cook them in batches so they cook evenly. You don't want to overcrowd the skillet too much as the ingredients will steam instead of sear.
Use a well-seasoned cast-iron skillet for best results. A cast-iron skillet gives you the best char on the chicken and bell peppers.
store and reheat chicken fajitas Recipe:
Leftovers — Transfer leftover chicken fajitas to an airtight glass container and keep them in the refrigerator for up to 3 days.
Reheating — You can reheat chicken fajitas in the microwave. You can also add everything to a skillet and reheat gently on the stovetop.
Freezing — Once cooled, transfer everything into an airtight freezer-safe bag or container. Freeze for up to 3 months. Thaw overnight in the fridge before reheating.
Frequently Asked Questions:
What's the difference Between Fajita and Taco seasoning?
Taco seasoning has a lot of chili powder and red pepper flakes while fajita seasoning is a bit milder. It has chili powder and a bit of cayenne for flavor. Because the spices in fajita seasoning are common pantry staples, it's not necessary to use the store bought variety with lots of added preservatives!
Can I Use Chicken Thighs?
Absolutely, you can always use boneless skinless thighs instead of chicken breasts if you prefer.
Can I use a different protein to make this recipe?
Want to change things up? Swap the chicken or beef or shrimp so you can enjoy this every day of the week without getting bored!
Other Chicken Recipes to Try: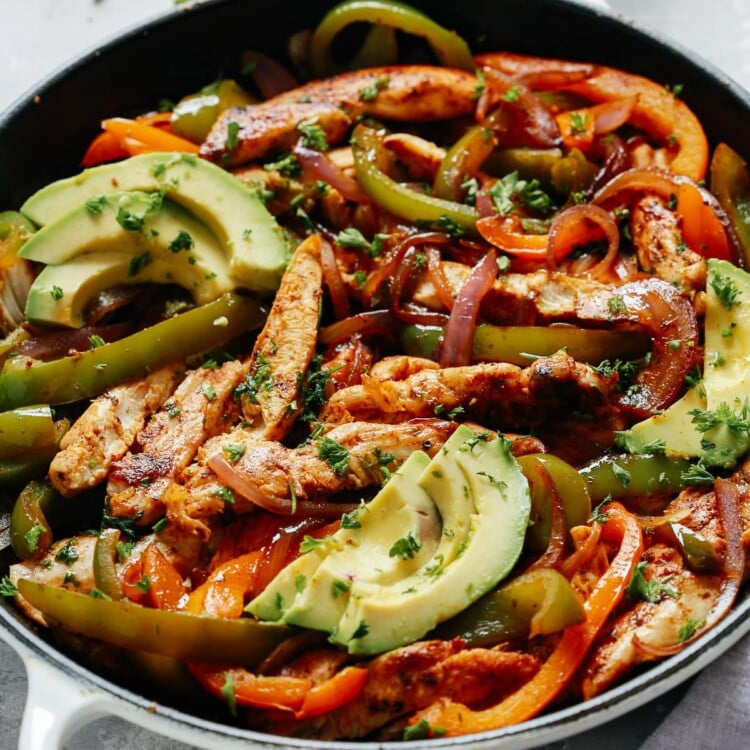 Skillet Chicken Fajitas Recipe
Skillet chicken fajitas are an easy weeknight one-pan meal. This Tex-Mex favorite has healthy protein and fresh veggies all in one amazing yet simple dish.


Ingredients
FOR THE FAJITA SEASAONING
FOR THE CHICKEN AND PEPPERS AND ONIONS
2

tablespoon

olive oil

1

teaspoon

garlic

minced

1.5

lb

free range organic chicken breast

cut into thin strips

2

red bell peppers

sliced

2

yellow bell peppers

sliced

2

green bell pepper

sliced

1

medium onion

sliced

1

teaspoon

salt and black pepper

Avocado slices for topping

Cilantro

chopped for garnishing
Instructions
For the Fajita Seasoning
Mixing all the ingredients from the fajita seasoning recipe in a small bowl. Set aside.
For the Chicken and Peppers
In large bowl, add the chicken strips and half of the fajita seasoning. Mix all well to combine and set aside for about 15-30 minutes.

Heat olive oil over medium heat in a large skillet. Add garlic and cook for 30 seconds but be careful to not burn it. Add the chicken and cook for 10-15 minutes or until the chicken is cooked through. Stir occasionally. Set aside.

In the same skillet, pour more olive oil (if necessary) and add onions, bell peppers and the rest of the fajita seasoning.

Stir fry for 5-10 minutes on medium heat. The time will depend on how tender you prefer your veggies to be. Bring the chicken into the skillet again and mix everything well to combine.

Top with cilantro and slices of avocado. Enjoy!
Tips
Nutrition facts do not include avocado.
Click HERE to watch the web story.
To make sure the chicken is cooked through, use a meat thermometer to check the internal temperature of the chicken breasts has reached 160F degrees.
Make sure not to overcrowd the pan, especially if you are doubling or tripling the recipe. This way the ingredients sear, instead of steam.
Use a cast-iron pan when possible as you get the best char on the chicken and bell peppers with cast-iron pan.
To store: Put leftovers into an airtight glass container and keep them in the refrigerator for up to 3 days.
To reheat: Rewarm leftover chicken fajitas in the microwave or on the stovetop. 
To freeze: Freeze in a freezer-safe bag once the fajitas have reached room temperature. Freeze for up to 3 months.
Nutrition Information
Serving:
1
/4
Calories:
317
kcal
(16%)
Carbohydrates:
15
g
(5%)
Protein:
38
g
(76%)
Fat:
12
g
(18%)
Saturated Fat:
2
g
(13%)
Polyunsaturated Fat:
1
g
Monounsaturated Fat:
5
g
Cholesterol:
105
mg
(35%)
Sodium:
1365
mg
(59%)
Potassium:
476
mg
(14%)
Fiber:
4
g
(17%)
Sugar:
4
g
(4%)
Nutrition information is calculated using an ingredient database and should be considered an estimate.
Watch the Web Story HERE!