Asparagus Sweet Potato Chicken Skillet
This Asparagus Sweet Potato Chicken Skillet recipe is a delicious healthy and easy to make meal that will be on your dinner table in less than 30 minutes. This is a gluten-free, paleo and perfect for your busy weeknight dinner. 
I had to start this post saying thank you for all the emails I got from my last post when I was talking about my sleepless night. You guys were so sweet. I really appreciate all the suggestions and advices. You mamas are AWESOME!! Like many of you said he will sleep better soon. Well he is already better because it's been about two nights that he sleeps for two hours straight on his crib. I can't believe it. I consider it a great start. Let's try to be positive, correct?
MY LATEST RECIPES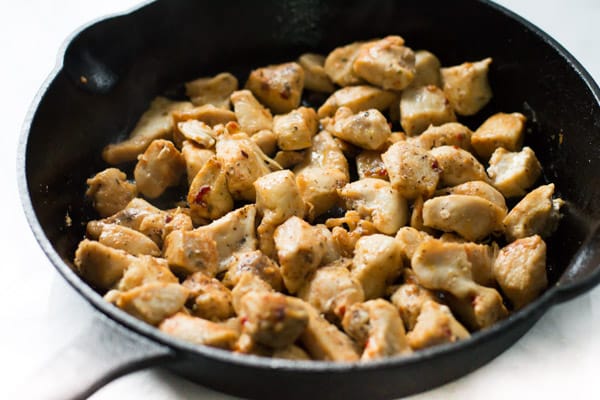 Now let's talk about today's recipe, which is so delicious, easy to make, gluten-free and also paleo friendly. This asparagus and sweet potato with chicken is a great combination of flavors and perfect for a quick and healthy weeknight dinner.
The good side of this recipe is that it only has three ingredients, which are chicken, sweet potato and asparagus because technically salt, pepper and red chili flakes we don't count as ingredients, right? Another good point about this recipe is that it will be ready and on your dinner table in less than 30 minutes. So, grab your skillet, wood board and your chef knife and chop all the ingredients because it will be the only hard work you will have. Awesome!! It is easy as pie! Believe me!
What you need to do is to cut the chicken in small pieces so it will cook though nice and easily. Sauté the chicken in an iron cast skillet to add more flavor to the chicken. Then you have to set it aside and cook the veggies in the same skillet.
I suggest you cook first the sweet potato because it takes more time to be ready and then you add asparagus in the skillet. Once the asparagus are cooked, bring the chicken back to the skillet and stir everything really well.
Season this recipe according to your preference. I love a little bit of heat in my food, so I added more than ½ teaspoon of red chili flakes. But it is totally up to you.
You can even add cumin, coriander, garlic powder and any other type of spice you like. The options are limitless. I am sure you will really love this recipe. Enjoy! Please, if you recreate this recipe, please take a picture and tag @primaverakitchen and #primaverakitchen on Instagram! I would love to see your version. Thanks a lot.
Video of the Recipe: Asparagus Sweet Potato Chicken Skillet
Asparagus Sweet Potato Chicken Skillet
Asparagus Sweet Potato Chicken Skillet – This homemade one-pot chicken skillet recipe is made with asparagus and sweet potato. This is a gluten-free, paleo and easy to make meal for your busy weeknight dinner.
Ingredients:
1 lb. boneless chicken breasts
1 tablespoon olive oil
Salt and ground fresh black pepper
3 garlic cloves, minced
1 medium sweet potato, peeled and diced
½ cup chicken broth or water
½ lb (225 g) fresh asparagus (the spears should be cut at a diagonal in 1 and 2 inch pieces)
½ teaspoon fine sea salt
½ teaspoon freshly ground black pepper
½ teaspoon crushed red pepper
Directions:
On a plastic board, cut the chicken into small pieces and season with salt and pepper.
In a skillet over medium heat, add olive oil, garlic and chicken.
Sauté the chicken for about 7-10 minutes or until it is cooked though. Don't forget to stir well. Set chicken aside.
In the same skillet, add sweet potato and chicken broth.
Cook for about 7-10minutes or until the sweet potato is cooked.
Add asparagus and cook for about 4-5 minutes.
Season with salt, pepper and crushed red pepper.
Nutrition Information
Yield: 4, Serving Size: 1/4
Amount Per Serving:
Calories: 233
Total Fat: 7g
Cholesterol: 99.3mg
Carbohydrates: 9.1g
Sugar: 2.3g
Protein: 32g
All images and text ©
If you make this recipe, please don't forget to snap a photo and hashtag it #primaverakitchen. I really want to see!
Products Featured in this Recipe:
(may include affiliate links)
If you like this Asparagus Sweet Potato Chicken Skillet recipe, please share with your friends and family. Do you wanna taste more? Subscribe to my newsletter and follow Primavera Kitchen on Twitter, Pinterest, Google +, Instagram and Facebook for all delicious recipes updates. As always, you are really appreciated for stopping by.
More One-pan, gluten-free and low-carb recipes!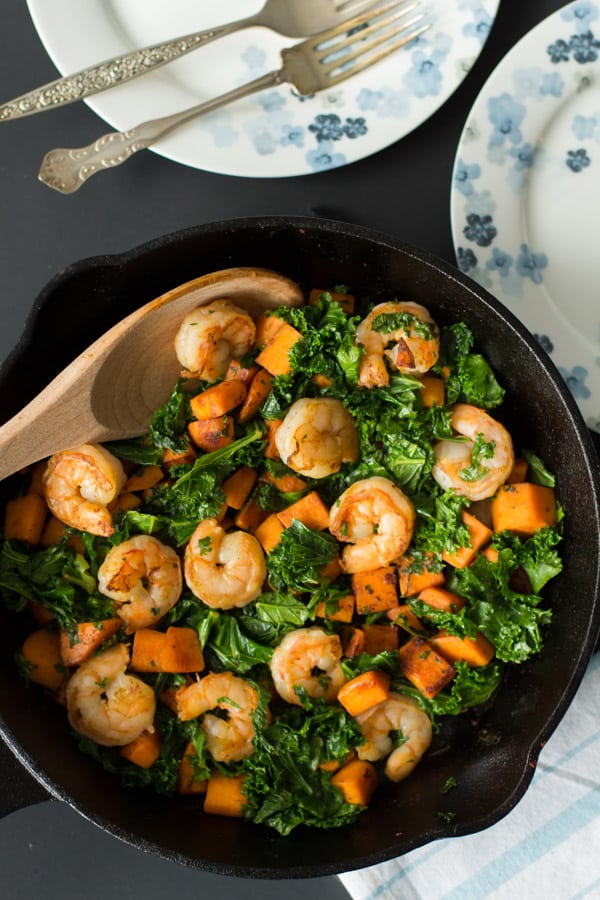 Sweet Potato, Kale and Shrimp Skillet
Ground Turkey Skillet with Green Beans
Turkey Sausage Skillet with Brussel Sprouts and Sweet Potatoes
Sweet Potato Zucchini Casserole
Sweet Potato Green Beans Shrimp Skillet