This photo tutorial will show you how to make fluffy quinoa. Making fluffy and delicious quinoa is easier than you think.
Quinoa is one of our all-time favorite grains here at home. We eat quinoa at least two times a week for lunch or dinner and we absolutely love it so much. Why? Because quinoa has a mild and slightly vegetal flavor and it is very versatile. You can make lots of different recipes with quinoa such as tabbouleh, all kinds of salads, patties, casseroles, cookies, and cakes. You can even have quinoa for breakfast since there are lots of quinoa cereals on the market now.
Quinoa is also a complete protein since it provides all 9 essential amino acids. This gluten-free source of protein, iron, and fiber is easy and quick to make. It takes about 20 minutes to be done, but it will only taste good if you know how to cook correctly. Otherwise, it can mushy and soggy. So be patient because the first batch may be bad.
There are many different methods, but this is the one I like best. Achieving fluffy quinoa is easier than you think. You will cook quinoa with the same liquid to grain ratio as rice (1 cup grain, 2 cups water). As for the liquid, you can use broth or water, but for the sake of simplicity, I particularly prefer to cook with water.
Subscribe for new recipes & a free e-cookbook
Before cooking it, you have to rinse it very well for about 3 minutes or so under running cold water because quinoa has a bitter-tasting coating, which is called saponin. It is naturally occurring chemical compounds that some people may be very sensitive to. Then, when water is boiling add quinoa, cover the pan up and lower the heat so it can simmer for a full 15 or 20 minutes. After that, turn off the heat and leave the pan covered. Let it just rest for a total of five minutes. And finally, take off the cover and fluff the quinoa with a fork. All done 😉
There are SO many ways to enjoy quinoa. Some of my favourite recipes are my Carrot Quinoa Salad, Sausage Quinoa Pasta, and Spring Quinoa Salad Recipe.
I hope I inspired you to make fluffy quinoa in your own kitchen today.
Want to make fluffy rice instead? Check out this post!
How to Make Fluffy Quinoa
This photo tutorial will show you how to make fluffy quinoa. Making fluffy and delicious quinoa is easier than you think.
Instructions
In a pan, combine water, salt, pepper, a clove garlic, and bring to a boil.

Add the quinoa and reduce heat to medium/low. Cover and simmer until tender and all the liquid is absorbed (about 15 or 20 minutes).

The quinoa will be done when it has popped open.

After cooking, just let the quinoa rest for a total of five minutes.

After that time, you can remove the cover. Fluff and separate the grains with a fork.
Tips
Always rinse the quinoa beforehand as some quinoa can be bitter.
For more flavourful quinoa, cook the quinoa in broth.
Allow the quinoa to rest as it helps with making the quinoa fluffy. 
To store: Store cooked quinoa in an airtight container for up to 4 days in the fridge. 
To reheat: You can reheat quinoa in the microwave.
To freeze: Frozen cooked quinoa will last for up to 6 months in the freezer in a freezer-safe bag or container.
Nutrition Information
Serving:
1
/4
Calories:
57
kcal
(3%)
Carbohydrates:
10
g
(3%)
Protein:
2
g
(4%)
Fat:
1
g
(2%)
Sodium:
108
mg
(5%)
Potassium:
83
mg
(2%)
Fiber:
1
g
(4%)
Nutrition information is calculated using an ingredient database and should be considered an estimate.
If you like this recipe, please share with your friends and family. Do you want to taste more? Subscribe to my newsletter and follow Primavera Kitchen on Twitter, Pinterest, Google+, Instagram, and Facebook for all delicious recipes updates. As always, I really appreciate you stopping by.
Try to make some delicious quinoa salads!
This Easy and Quick Quinoa Salad is extremely good for you so fill up on it guilt-free. It's highly nutritious and delicious too.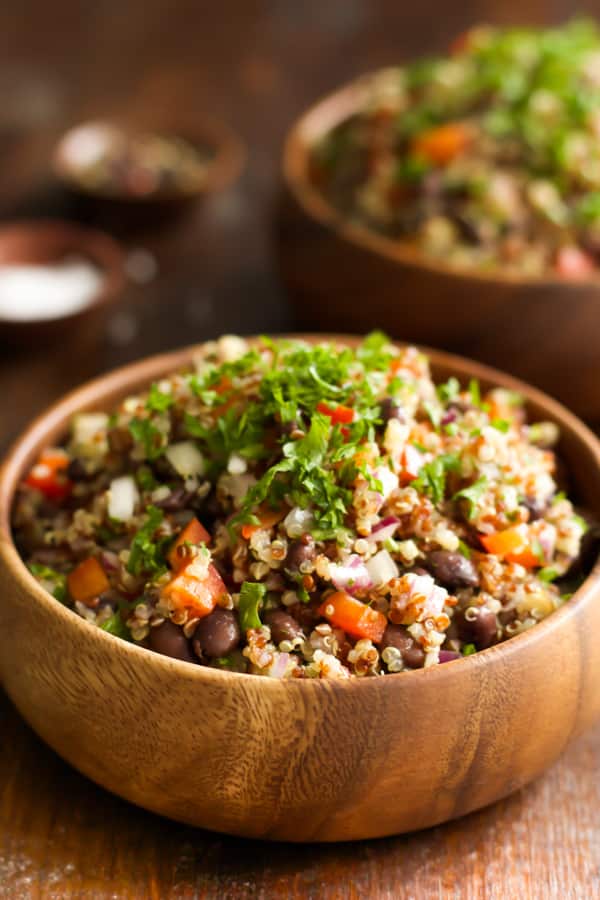 This delicious and healthy Quinoa Salad with Roasted Asparagus is paired with the bright flavors of asparagus and lemon.
Delicious Mediterranean Quinoa Salad ready in under 30 minutes and bursting with the flavors.