You will love how simple and delicious this Baked Salmon Recipe is! It is the perfect weeknight dinner recipe as it is ready in 30 minutes or less! It's a no-fuss, no-muss recipe as the tin foil makes clean up super easy. Make this family-favourite recipe tonight for dinner!
Looking for more salmon recipes? Try these ones too: Salmon with Salsa, Maple Dijon Salmon and Panko Salmon Crust.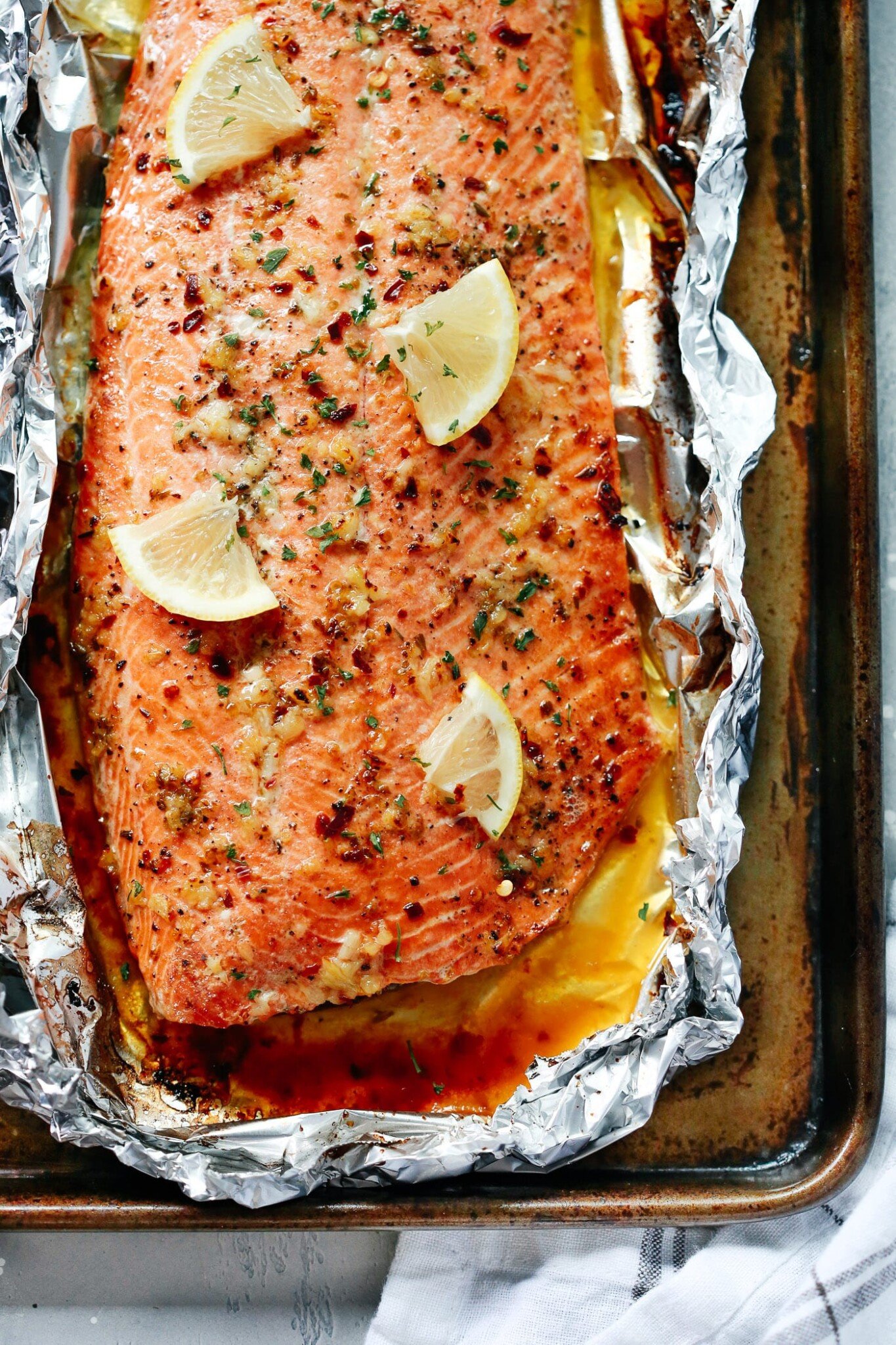 Tender, flaky, and packed with flavor, this baked salmon recipe is going to be a hit with your family just as much as it is with my family. I've been making this baked salmon recipe for years now, and every time I prepare it, my family always asks for more.
It's a hands-off baked salmon recipe that only takes a couple of minutes to throw together and is a delicious healthy dinner option. Even better, this baked salmon is gluten-free, keto-friendly, and low-carb.
Baked salmon is a delicious fish recipe. When you use garlic butter and lemon to create the sauce, it gives this salmon even depth of flavor.
We'll demonstrate how to simplify cleanup with this baked salmon recipe by encasing the fish fillets in foil packs and baking them in the oven!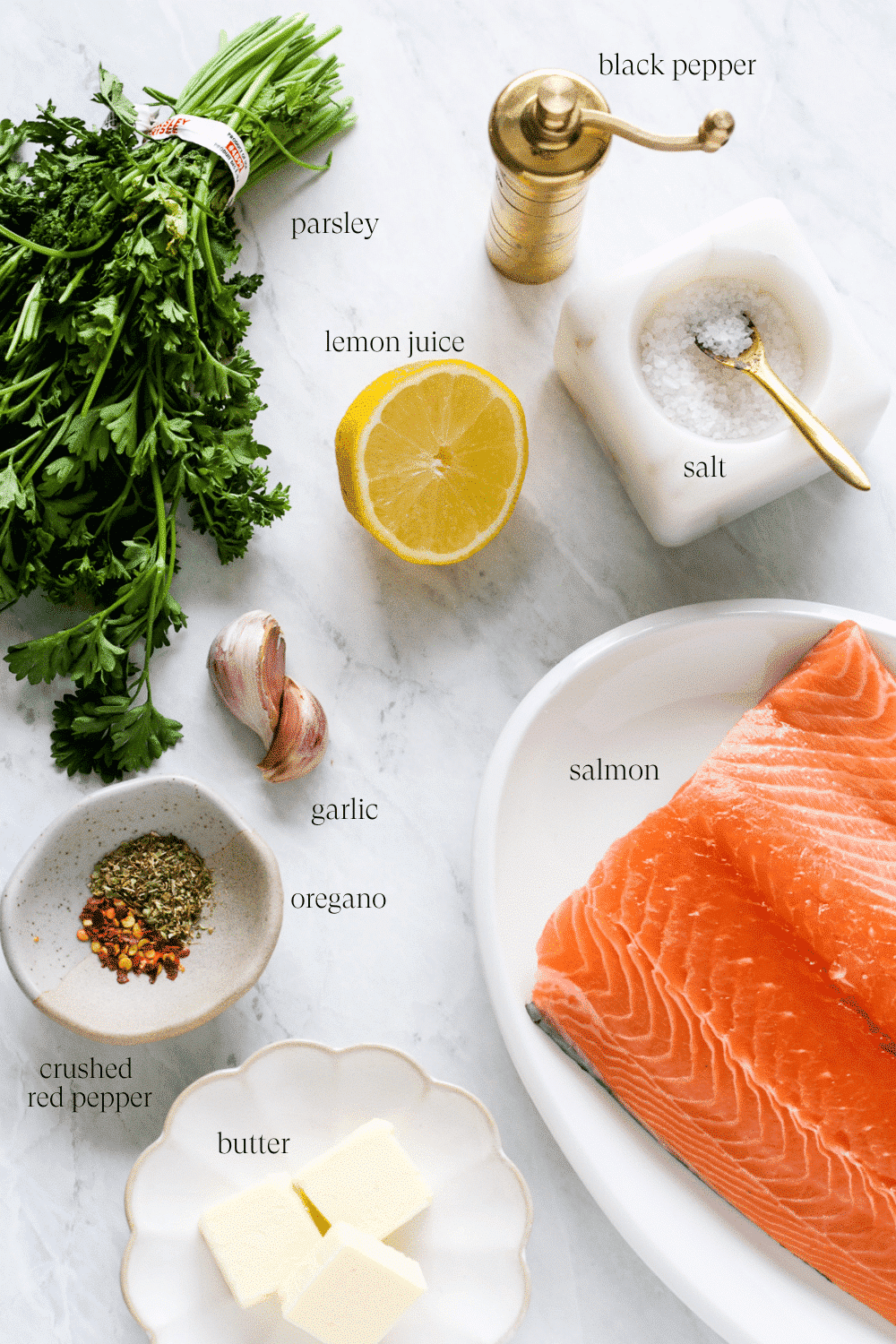 Ingredients To Make This Baked Salmon
Salmon — Take your pick of fillets! See down below to see which your should pick. If you only have small fillets, try making my Spicy Salmon Sweet Potato Skillet instead.
Lemon juice — Fresh lemon juice is best. Skip the bottled stuff.
Garlic – Minced.
Melted butter or melted ghee — Be sure to use unsalted butter.
Seasoning — I used salt, black pepper, dried oregano, crushed red pepper.
Garnish — Chopped parsley and lemon slices to garnish.
Optional – You can add a tablespoon of dijon mustard to the sauce.
How To Cook Salmon
Here are the instructions on how to cook salmon in an incredibly easy way and create the best baked salmon recipe you'll ever taste! Believe me, you'll love this recipe!
Prepare the equipment and sauce
Preheat the oven to 400ºF. Prepare a baking sheet that's large enough to fold over and seal the fish. You won't need a rimmed baking sheet for this, as you'll be folding the salmon with foil.
In a small bowl, add lemon juice, garlic, and melted butter or melted ghee and whisk until combined.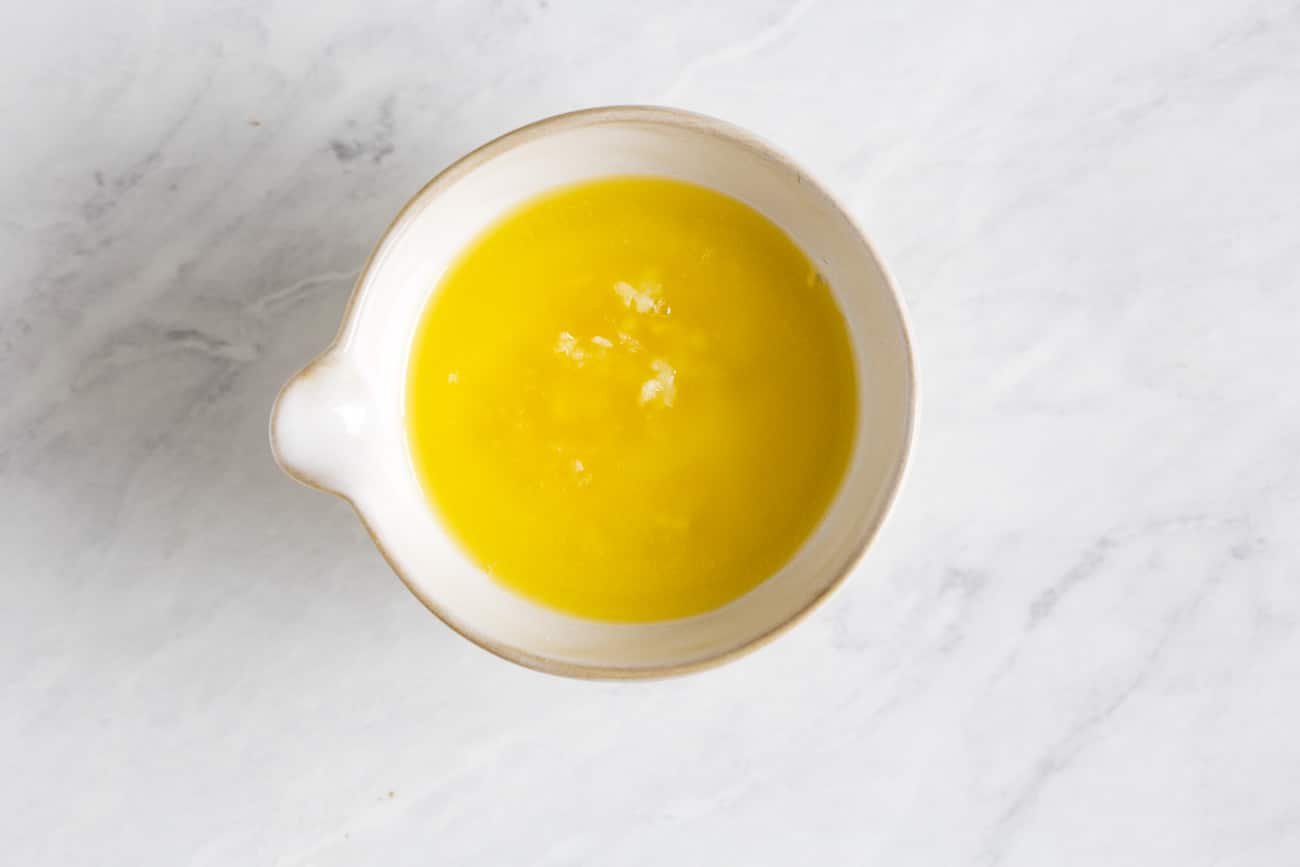 Prepare the salmon
Place the salmon on the prepared baking sheet and then pour the butter mixture over the salmon, careful to keep as much as the butter mixture on the salmon.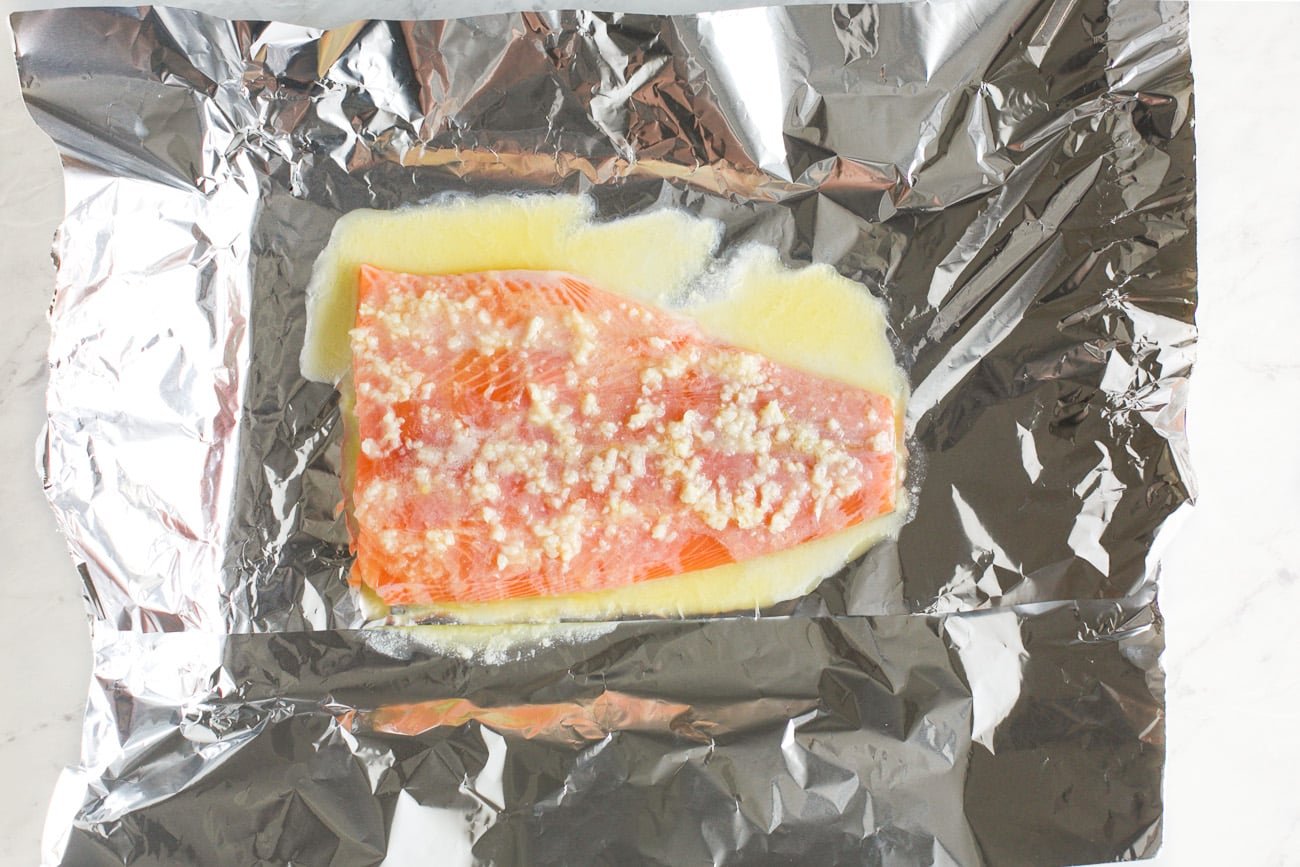 Season with salt, pepper, oregano, and red pepper flakes.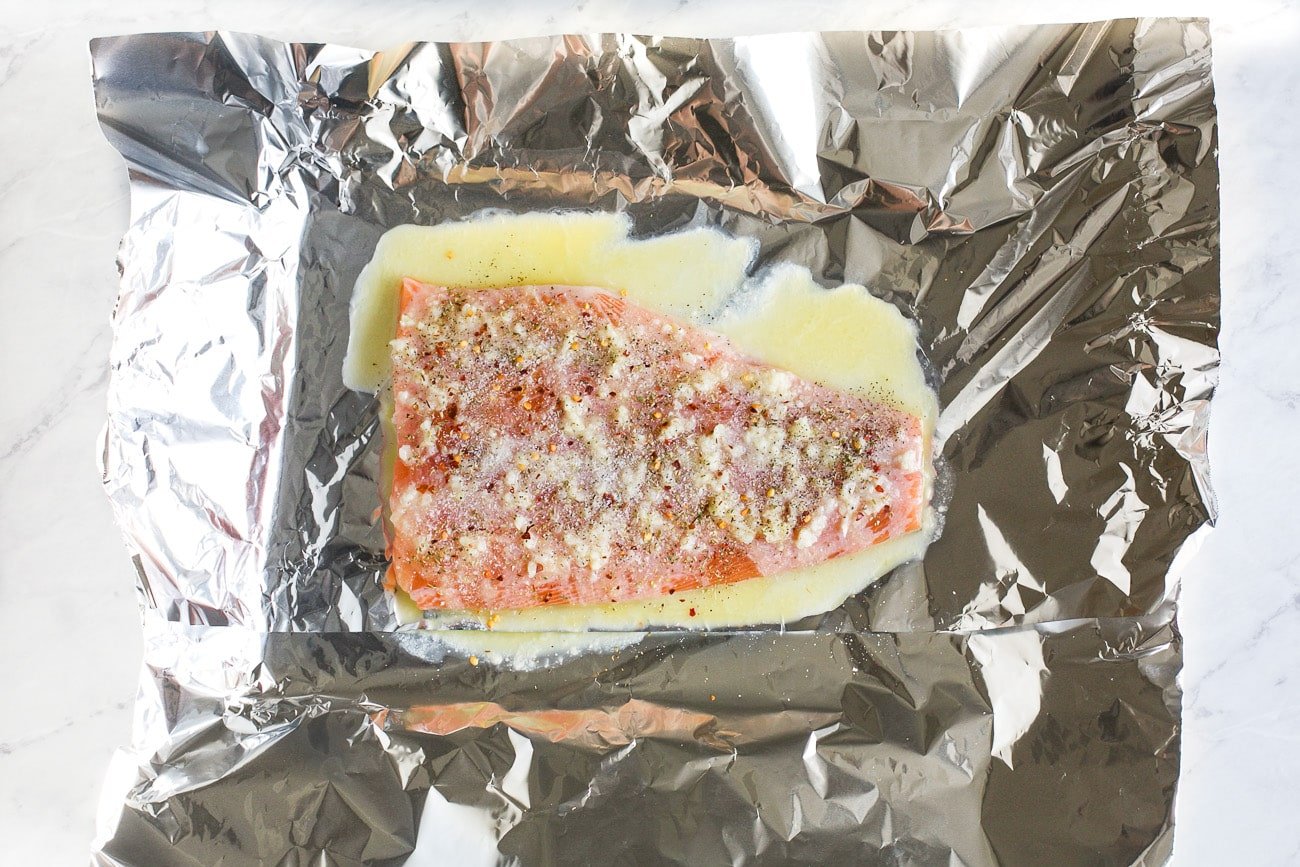 Baking salmon
Fold the sides of the foil over the salmon so that the salmon is fully sealed and the butter mixture cannot leak out.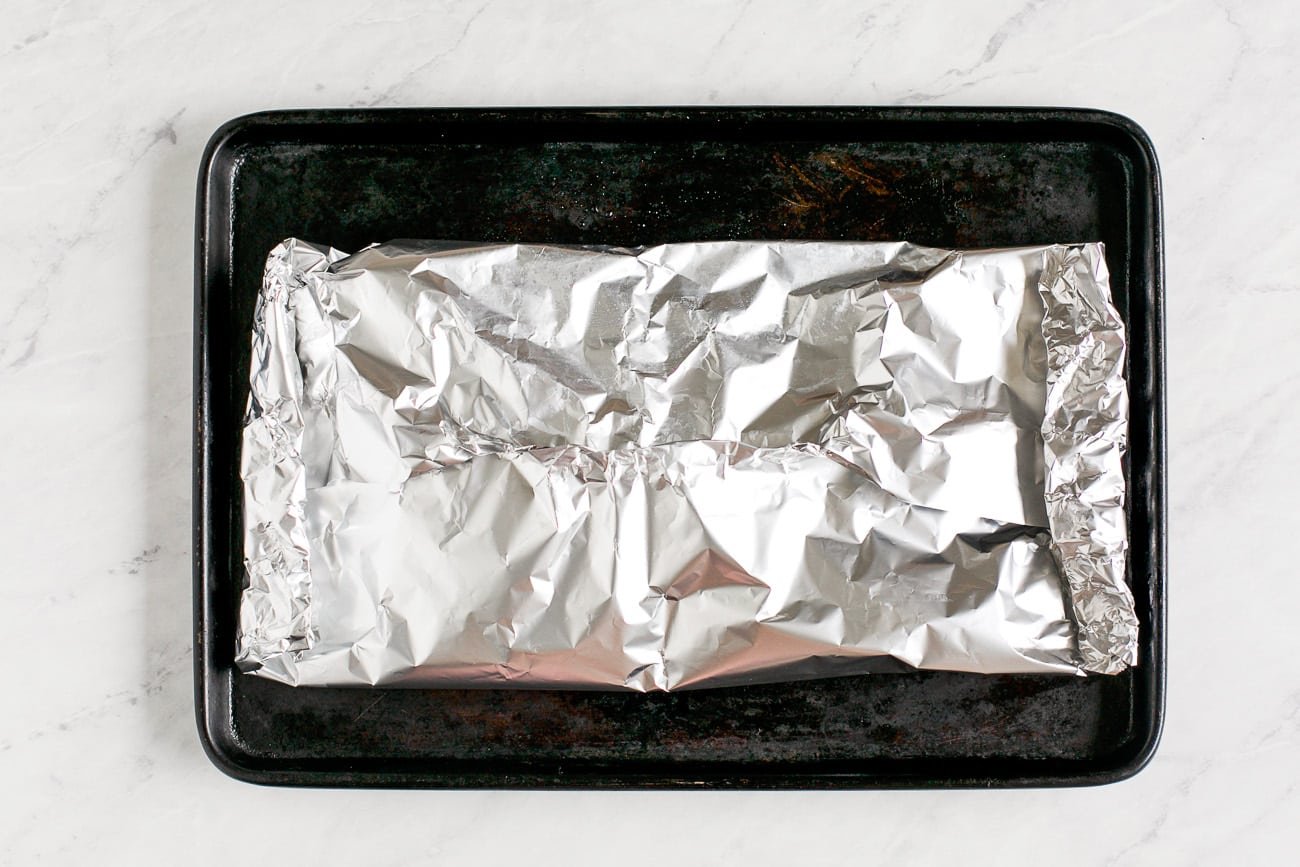 Place the sheet pan into the oven, and bake salmon until cooked, about 12-16 minutes.
Open the foil, and broil salmon for 2-3 minutes until the tops are golden. Be careful not to burn the fish by keeping a close eye on it.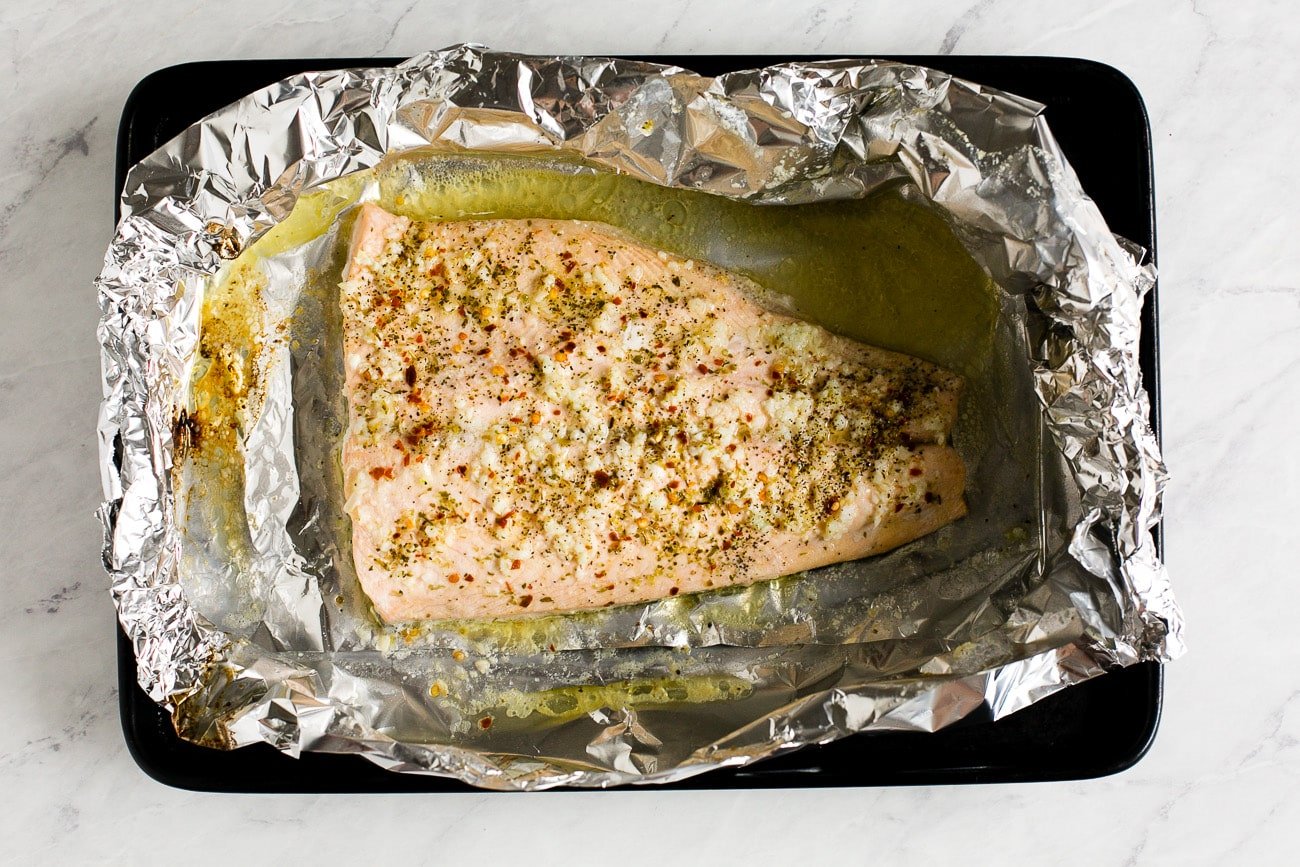 Remove the sheet pan from the oven. Then, using a spoon, pour some of the butter sauce left in the foil onto the baked salmon and garnish before serving.
Tip: Do not use parchment paper if you will broil your salmon. Garnish your baked salmon recipe with slices of lemon.

Is Fresh Salmon Better Than Frozen For This Baked Salmon Recipe?
You can make this baked salmon using either fresh or frozen salmon. I normally use fresh salmon filets because they are easier to find at my local grocery store. I place my salmon in the fridge. When it's time to cook I take my fillet out of the fridge and let it sit on the counter for about 15 minutes. Then, use a paper towel to pat the salmon dry and get rid of any excess moisture.
Most seafood is flash-frozen, meaning that it is frozen at its prime peak of freshness. Technically, the quality will be the same with fresh and frozen fish; there's just the issue of whether or not to thaw frozen salmon.
You can cook frozen salmon in a pan, in the oven, and even on the grill, but you will need to add a few minutes to the cooking time.
Remember to pull the frozen fillets from the freezer in the morning and put them in the fridge to thaw. They'll be perfect to use for making this baked salmon recipe at dinnertime.
How To Store Leftovers
Leftovers — Transfer leftover salmon to an airtight glass container and keep in the refrigerator for 3-4 days. Or, portion this salmon recipe out into meal prep containers to have for lunches throughout the week. Alternatively, see the salmon recipes listed down below to see what you can make with leftover salmon before storing it!
Freezer — You can freeze baked salmon by placing completely cooled salmon in an airtight freezer-friendly container or freezer bags. Keep in the freezer for up to 4 months. Thaw in the fridge overnight before reheating.
Reheating — You can heat the leftover baked salmon in the microwave. Add a splash of water if you're worried it will dry out. You can also reheat this on the stovetop. Add some olive oil to a hot pan and add the salmon to it. Cook until heated through.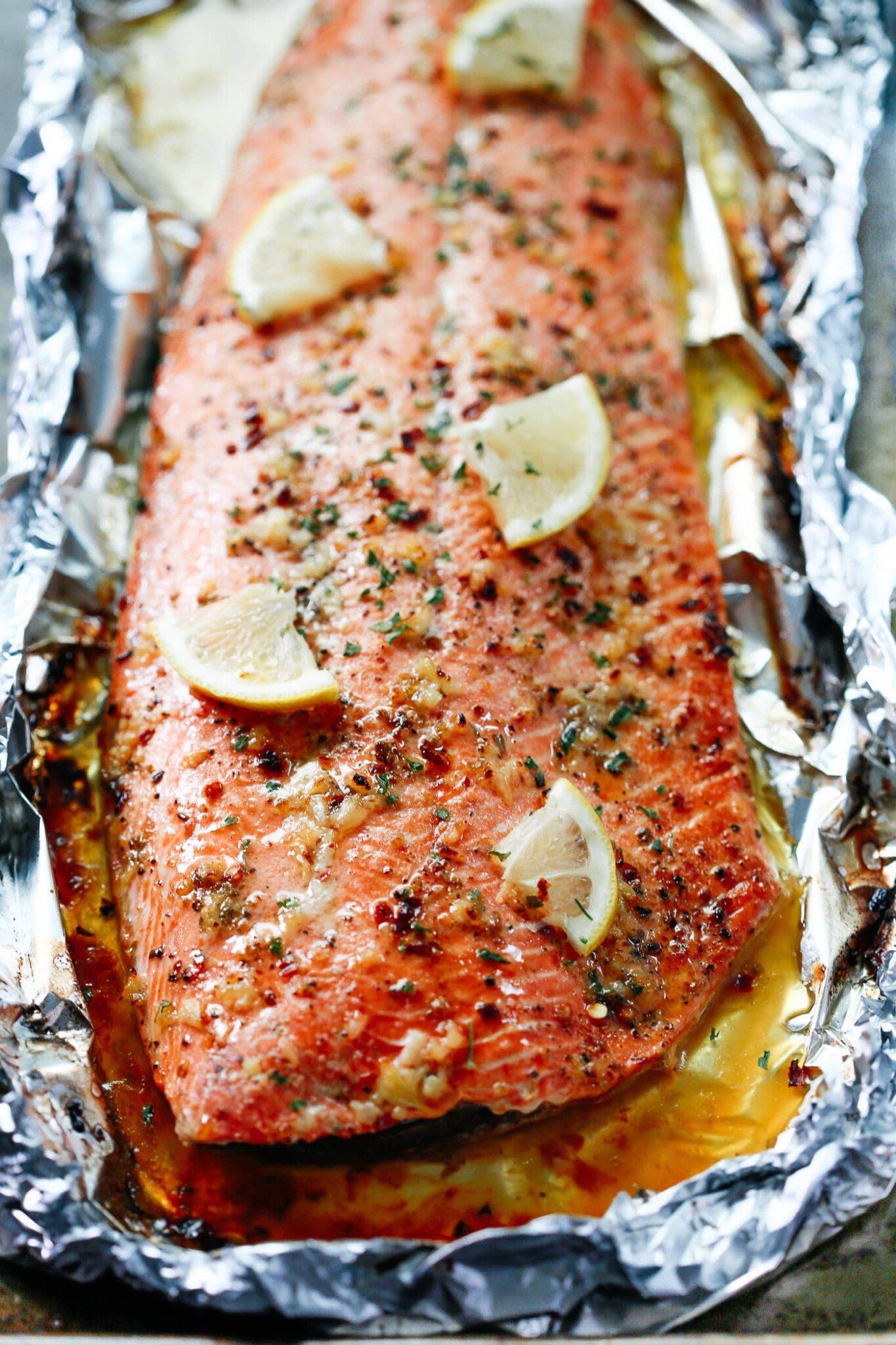 Side Dishes to serve with Baked salmon Recipe
When it comes to salmon recipes, there are a lot of tasty options for vegetable side dishes such roasted potatoes, roasted brussels sprouts and broccoli salad. You can also serve this baked salmon recipe with delicious quinoa salad, couscous salad, roasted vegetables and even more garlic butter on top. But a few favorites of mine are:
Ways to use leftover salmon
If you have leftover salmon and want to change things up, here are some ways to enjoy a salmon recipe:
Salmon tacos: shred the salmon up and serve it in a taco and salad.
Salmon pasta: roughly chop up the leftover salmon fillet and add it to a pasta
Salmon salad: break up the salmon with a fork and toss it in a leafy salad or greek salad. This Salmon Chopped Salad is also really good.
Salmon fried rice: break up the salmon or roughly chop it and toss it in some fried rice
You can make salmon meal-prep for your lunch week since salmon stays go in the fridge for up 4 days.
You can also make salmon patties. These patties are delicious and easy to make, give it a try this weekend!
More Ways To Cook Salmon:
Here are some other ways to cook salmon that I think you will love as well. I've been cooking salmon for years now and have tested all these different cooking methods. My family and I are fond of salmon, which is why I'm constantly experimenting with various salmon recipes to change things up.
Grilling: I love this Cedar Plank Salmon recipe because it grills slowly over soaked cedar plank to bring a delicious smokey flavor to your fish.
Pan-searing: This Pan Seared Salmon is great because you can have a healthy meal on the table in under 15 minutes and with just four ingredients!
Air Fryer: In my opinion, this Air Fryer Salmon recipe is the easiest way to cook salmon and the exterior is always crisp but the inside is ALWAYS moist, flaky, and tender.
Broiling: Broiled Salmon is fantastic because it rapidly caramelizes the top, creating a savory crust. It's easy, just season the fillets and broil them for 5-10 minutes, making it a quick cooking method.
More Baked salmon recipes:
Frequently Asked Questions
What Is The Best Seasoning For This Baked Salmon Recipe?
I think this salmon goes really well with almost any spice blend or fresh herbs for fish that you like to use. My favourite seasonings to use for this baked salmon recipe are minced garlic, salt, and black and red pepper. I also love to use paprika and thyme. If you want to switch things up, these seasonings are also delicious on fish: fresh parsley, fresh dill. oregano, tarragon and Italian seasoning.
How Long Do You Cook Salmon In The Oven at 375F?
It depends on the size and thickness of your salmon fillet. If your fillet is very thick, I would say about 15 minutes in the oven at 375ºF. But if it is a normal size, I would say about 12-13 minutes or until the baked salmon recipe flakes easily with a fork.
What Is That White Stuff That Comes Out Of Salmon? Is It Normal?
Sometimes while salmon cooks, there might be a white liquid that will come out of the salmon fillets. It looks a little weird but it's perfectly fine to eat. The white stuff is called "albumin" and it's just protein that solidifies as salmon cooks. If it bothers you, you can scrape it off.
Should I Cook The Salmon With Or Without The Skin On?
There's no need to remove the skin before you cook it! The skin actually helps keep the moisture locked in when it is baking. If you're not a fan of the skin, it comes right off once it's been cooked.
Which Type Of Salmon Is Best For You?
This topic comes up for discussion a lot, especially when comparing the wild salmon fillets from Alaska and the farmed Atlantic salmon.
Farmed salmon is raised in fish farms, eats a diet of processed feed and contains Omega-3 fatty acids as well as Vitamins A and D.
Wild salmon is raised in a natural habitat, such as rivers and oceans, eats organisms and other food found in their natural environment and has a color that is more vibrant. If given the option, I would pick wild-caught salmon varieties such as coho salmon, sockeye, pink salmon or King salmon or Chinook salmon. They are a little more expensive but I feel like the extra nutrition and health benefits that the fillets have is worth it.
How Do You Know When Salmon Is Fully Cooked?
The FDA states that once your baked salmon recipe has reached an internal temperature of 145°F as its thickest part of the salmon, it is fully cooked. If you don't have a meat thermometer, you can check when your salmon recipe is fully cooked, by using a fork to check if the fillet flakes apart easily.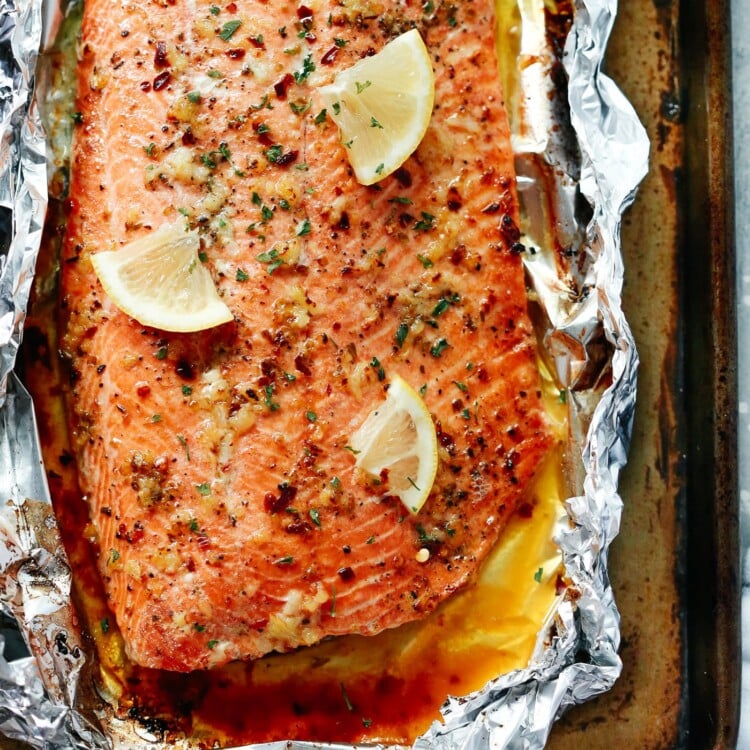 Garlic Butter Baked Salmon Recipe
This Baked Salmon Recipe is an ultra-easy and flavourful dinner to make during your busy weeknights. It's ready in less than 30 minutes and is delicious with salads and roasted veggies.
Ingredients
1¼

pounds

salmon fillet

2

tablespoons

lemon juice

2

cloves

garlic

minced

3

tablespoons

melted butter or melted ghee

½

teaspoon

salt

¼

teaspoon

black pepper

¼

teaspoon

dried oregano

¼ 

teaspoon

crushed red pepper

1

tablespoon

chopped parsley

to garnish

lemon slices

to garnish
Instructions
Preheat oven to 400ºF. Line a baking sheet. The piece of foil should be large enough to fold over and seal the fish.

In a small bowl, add lemon juice, garlic, and melted butter or melted ghee. Whisk everything together.

Place the salmon on the prepared baking sheet. Pour the butter mixture over the salmon.

Season with salt, pepper, oregano, and red pepper flakes.

Fold the sides of the foil over the salmon. Make sure it is well sealed so that the sauce does not leak. Place the pan into the oven, and bake until cooked, about 12-16 minutes. The cooking time depends on the thickness of the fillet.*

Open the foil, and broil the fish for 2-3 minutes. Be careful not to burn the fish!

Remove from the oven. Using a spoon, pour some of the butter sauce left in the foil onto the salmon before serving. Then, garnish with fresh chopped parsley and lemon slices.
Tips
Cook the salmon until it reaches an internal temperature of 145ºF.
If you have salmon leftovers, make this Salmon Chopped Salad recipe. So good!!
And if you love salmon recipes, try these delicious salmon recipes. 
Do not wrap the salmon too tightly as the tin foil can take off some of the salmon, making it less pretty when serving.
To store: Put leftover salmon into an airtight glass container and keep for up to 3 days.
To reheat: Reheat leftover salmon in the microwave or eat it chilled. 
To freeze: Freeze in a freezer-safe bag once the salmon has reached room temperature. Freeze for up to 4 months.
Nutrition Information
Serving:
1
/4
Calories:
250
kcal
(13%)
Carbohydrates:
0.5
g
Protein:
29.6
g
(59%)
Fat:
18.1
g
(28%)
Saturated Fat:
6.9
g
(43%)
Cholesterol:
105
mg
(35%)
Sodium:
201
mg
(9%)
Fiber:
0.1
g
Sugar:
0.1
g
Nutrition information is calculated using an ingredient database and should be considered an estimate.
You can also watch the Web Stories about How to Cook Salmon in the Oven.
If you like this Baked Salmon Recipe, please share it with your friends and family. Do you want to taste more? Subscribe to my newsletter, and follow Primavera Kitchen on Twitter, Pinterest, Instagram, and Facebook for all delicious recipe updates. As always, I really appreciate you stopping by.