Pasta soup is delicious, cozy and hearty! It's packed full of healthy veggies, perfectly seasoned and is even dairy free. You can also easily make this soup gluten free and vegan if desired.
Even better, this soup comes together in only 25 minutes using one pot. Perfect for a chilly weeknight when you want to get dinner on the table fast with minimal cleanup afterwards, and leftovers reheat beautifully for a tasty lunch the next day.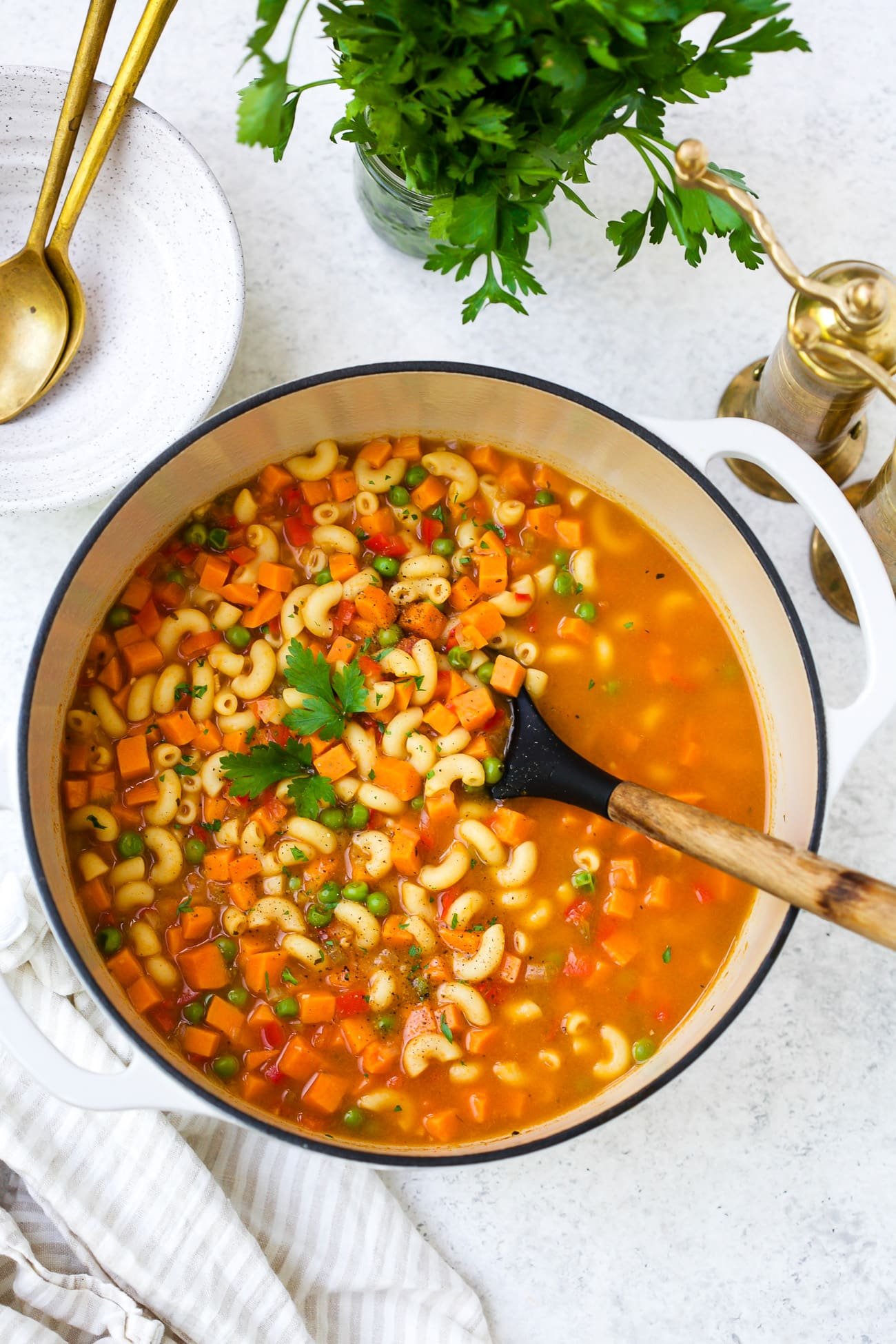 Soup season is here, my friends! The nights are getting colder and I'm constantly craving something hot and cozy to warm me up. If you're in the same boat, be sure to check out my many soup recipes!
Some of my favorites pasta soup are this savory Kale Tortellini Soup, or my classic Chicken Noodle Soup, White Bean and Kale Soup and my Ground Turkey Pasta Soup. And if you've got a hankering for creamy soup, be sure to try my mouthwatering Butternut Squash Soup! You can also try these
Ingredients To Make Pasta Soup
Extra virgin olive oil — Avocado oil also works well.
Aromatics — Onion, celery and garlic.
Bell pepper — I generally use a red bell pepper, but you can use any color you like!
Tomato paste — Adds fabulous, rich flavor to this soup.
Seasonings — Italian seasonings, paprika, dried basil, salt and black pepper.
Sweet potato — An orange or white sweet potato both work great!
Pasta — I like using brown rice pasta for a gluten free soup. If you don't need this recipe to be gluten free, you can certainly use regular wheat pasta.
Broth — You can use vegetable broth for a vegan soup, but chicken broth or beef broth works fine if you're not worried about making a veggie soup.
Peas — Frozen or fresh.
Parsley — Garnish for extra flavor and color!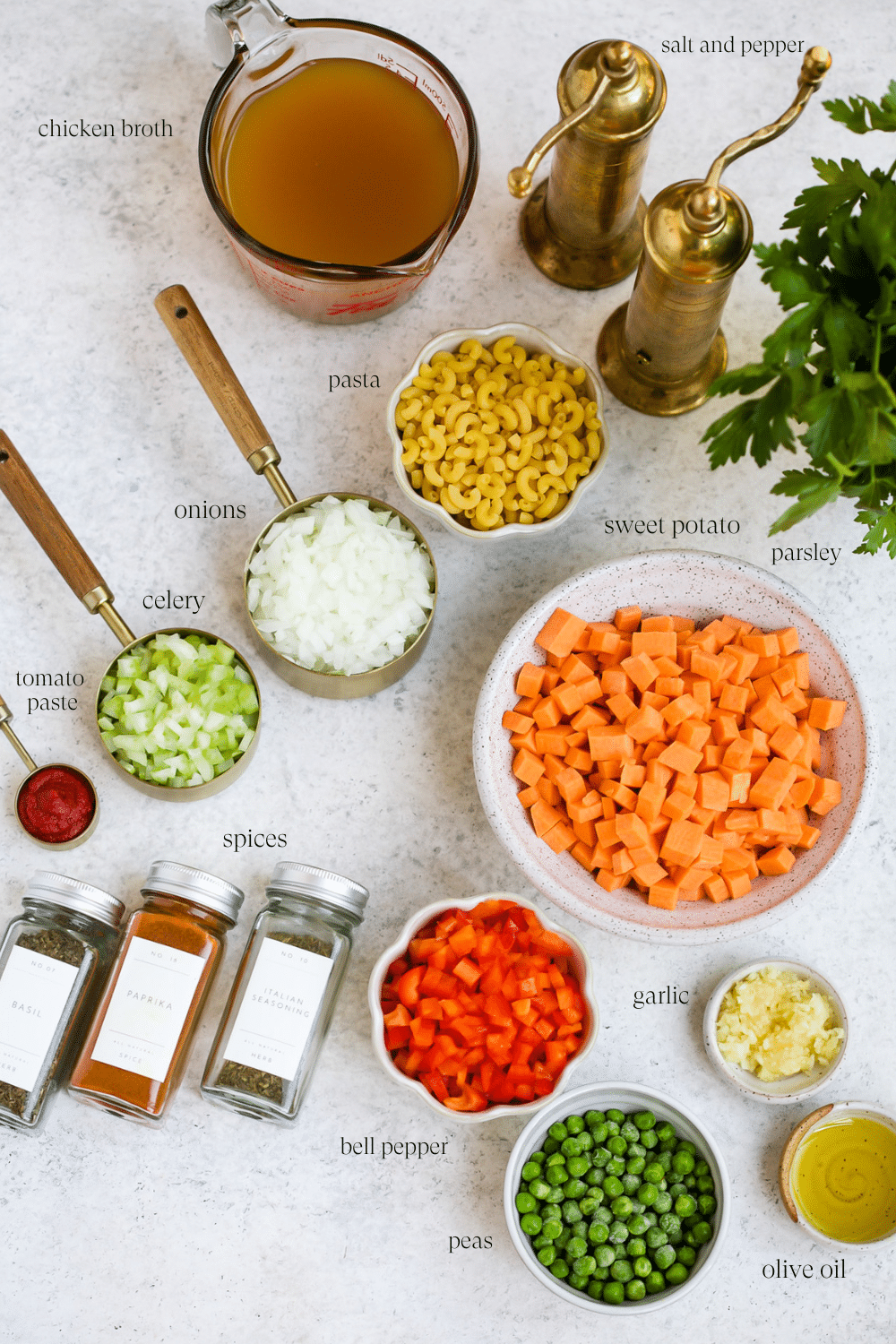 Instructions To Make Pasta Soup
Sauté aromatics:
Place a large soup pot on the stove over medium heat, add olive oil and allow it to heat up.
Add onion, garlic and celery, sauté for 3-5 minutes until tender and fragrant!
Next, stir in tomato paste, diced bell pepper and all of your seasonings.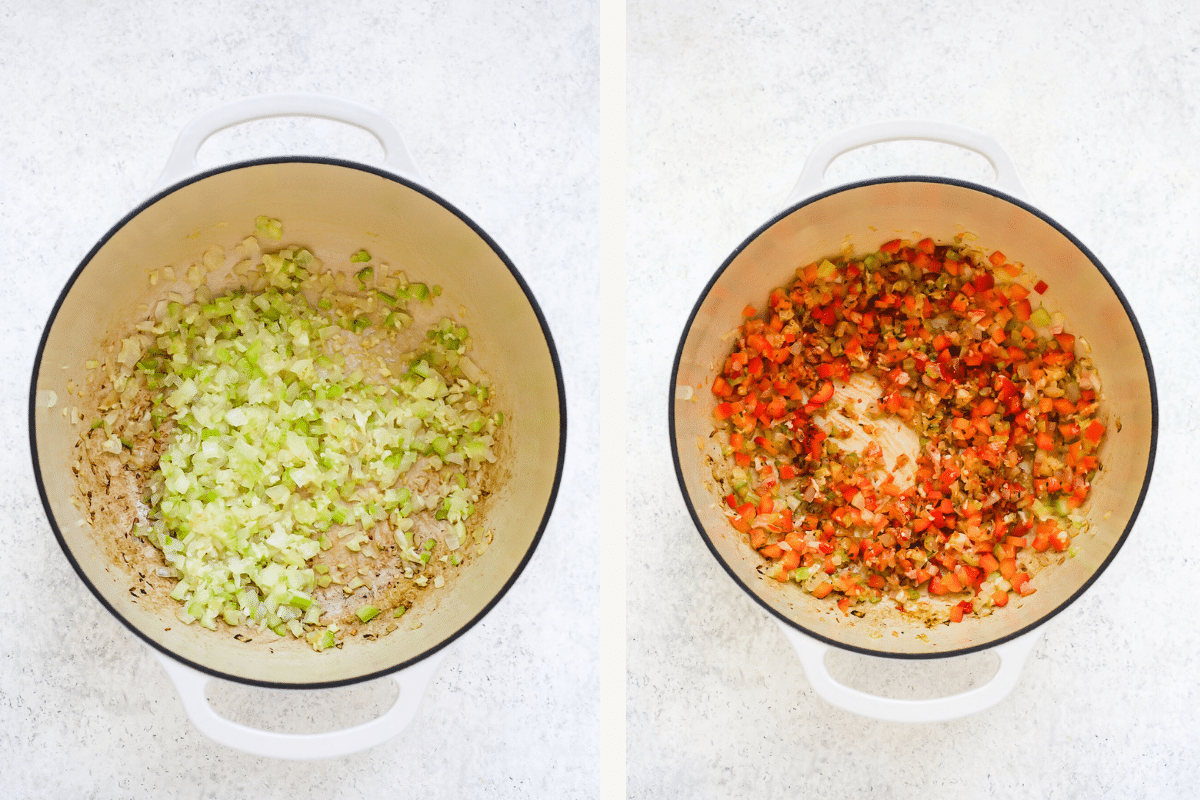 Add sweet potato, broth:
Now add your diced sweet potato and stir ingredients together until they're well incorporated.
Add broth and increase heat to high, once boiling, reduce the heat back down to low and place a lid on the pot. Simmer mixture for about 15 minutes, until the potatoes are tender.
Simmer peas, pasta:
Add peas and pasta to the soup and continue simmering until pasta is cooked (check pasta packaging to see cook time)!
Serve:
Do a quick taste test and add a bit more salt and pepper if desired.
Garnish soup with parsley, then ladle into serving bowls and enjoy!
How To Store Leftovers
To Store: Allow leftovers to cool and place them in an airtight container, then place it in the refrigerator for up to 5 days.
To Freeze: You can freeze this soup, but keep in mind that the pasta will lose some quality once thawed because it can become mushy. Another option? Make this soup without pasta for freezing, then add it when you reheat!
To Reheat: I typically reheat portions in the microwave or in a saucepan on the stovetop!
Recipe Tips
Try to chop veggies and potatoes into even sized pieces for more quick, uniform cooking.
Chopping veggies is the most time-consuming part of making this soup. You can dice them up ahead of time and refrigerate for later use.
I really prefer to peel my sweet potatoes for this recipe. You can eat sweet potato skin, but I like the taste of this soup better without it.
Worried about high salt intake? I recommend looking for a low-sodium brand of broth at the grocery store.
If you're using frozen peas for this soup, you don't need to thaw them first. They'll cook in the hot broth!
What To Serve With Pasta Soup
Recipe Variations
Pasta: I use brown rice pasta in this recipe to make it gluten free. If you don't need a gluten-free soup, feel free to use regular wheat pasta. You can also play around with different shapes like bow-tie, orecchiette or even tortellini!
Sub a grain or legume: Instead of pasta, make this soup with rice or lentils. You can also make a bean soup by adding beans.
Add cream! Mix in a splash of half and half or heavy cream if you don't need this recipe to be dairy free.
Vegetables: This soup is great for using up produce, add what you've got on hand! Think corn, zucchini, broccoli, cauliflower, brussels sprouts and more.
Seasonings: You can also add other fresh herbs that you prefer such as oregano, thyme, rosemary and bay leaf.
Add a protein: Make this soup with ground beef or Italian sausage.
Recommended Tools
Large Pot: I recommend using a lidded pot so you can cover this soup while it simmers on the stovetop.
Cutting Board: A durable, sturdy cutting board is essential in the kitchen. Use it to prep your produce for this soup recipe.
Sharp Knife: Speed up your produce prep with a small, sharp knife. Dull kitchen tools will slow you down and make it harder to chop up ingredients.
Frequently Asked Questions
Can you add dry pasta to soup?
You sure can! There is absolutely no need to cook pasta separately before adding it to a pot of soup as noodles will cook right in the hot broth.
Can I make this soup without tomato paste?
You can, but it won't be quite as flavorful. Tomato paste is very potent and adds a surprising amount of flavor and richness to this recipe.
Is this pasta soup gluten free?
I use brown rice pasta to make my soup gluten free. It's really good and essentially tastes the same as regular pasta, especially when cooked into a soup!
Watch Pasta Soup Web Stories.
Pasta Soup
Pasta soup is delicious, cozy and healthy! It's packed full of veggies, perfectly seasoned and even dairy free. You can also make this soup gluten free and vegan if desired. Whip it up in 25 minutes using only one pot for easy cleanup!
Instructions
In a large pot or Dutch oven, heat the extra virgin olive oil over medium heat.

Add the diced onion, chopped celery, and minced garlic. Sauté for about 3-5 minutes, or until the vegetables start to soften and become fragrant.

Add bell pepper, tomato paste, Italian seasonings, paprika, dried basil, salt, and ground black pepper and cook for an additional 2 minutes, allowing it to meld with the vegetables.

Add the diced sweet potato and stir well to combine. Add broth and bring it to a boil. Reduce the heat to a simmer, cover, and cook for approximately 15-20 minutes, or until the sweet potatoes are tender.

Stir in the peas and brown rice pasta. Simmer until pasta is al-dente (check packaging for cook time)! Taste and add any extra seasonings, if necessary. Serve topped with fresh parsley.
Tips
Make sure the vegetables are chopped uniformly and into small bite-sized pieces so you don't have large chunks when you try to take a bite.
Plan ahead! Chop produce ahead of time and store in the fridge for later.
I recommend peeling your sweet potatoes for this soup.
If you're worried about salt, you can use low sodium vegetable broth and season to taste.
Feel free to use frozen peas, no need to thaw first! They'll cook in the soup.
To store: Store leftover soup in an airtight container in the fridge for up to 5 days. 
To reheat: Reheat the soup in the microwave or on the stovetop until hot.
To freeze: Freeze the soup for up to 3 months. Make sure you leave space when freezing as liquid will expand. The texture of the pasta may change when frozen and thawed. You can also make this soup without pasta for freezing, and add the noodles when reheating!
Nutrition Information
Serving:
1
/4
Calories:
250
kcal
(13%)
Carbohydrates:
40
g
(13%)
Protein:
5.3
g
(11%)
Fat:
8.3
g
(13%)
Saturated Fat:
1.7
g
(11%)
Polyunsaturated Fat:
1.7
g
Monounsaturated Fat:
4.1
g
Cholesterol:
2.5
mg
(1%)
Sodium:
1222
mg
(53%)
Potassium:
532
mg
(15%)
Fiber:
5.8
g
(24%)
Sugar:
11
g
(12%)
Vitamin A:
113
IU
(2%)
Vitamin C:
112
mg
(136%)
Calcium:
7
mg
(1%)
Iron:
11.7
mg
(65%)
Nutrition information is calculated using an ingredient database and should be considered an estimate.
If you like this Pasta Soup recipe, please share with your friends and family. Do you want to taste more? Subscribe to my newsletter and follow Primavera Kitchen on Twitter, Pinterest, Instagram, and Facebook for all delicious recipes updates. As always, I really appreciate you stopping by.