These Healthy Ground Beef Recipes (or ground turkey recipes) are all super easy to make and great for a cheap and healthy family-approved dinner meal. Also, many of these recipes are made with pantry staples and very flavourful. Now, grab your stash of ground beef in your freezer and make one of these meals today!
These easy ground beef recipes are perfect for anyone who loves cooking with ground beef/turkey/pork. Here you will find delicious, easy, quick to make healthy ground beef recipes (ground turkey recipes) for dinnertime. Most of the recipes are paleo, dairy-free, gluten-free and even low-carb. Also, many of them are made with lean ground beef for less fatty recipes.
It is always easy to cook with ground beef because it takes less time to cook. Normally these healthy ground beef recipes are made in less than 30 minutes, using simple ingredients I bet you have in your fridge or pantry like vegetables, spices, black beans cans, soy sauce and olive oil. You'll also find ground beef skillet recipes, one-pot recipes and baked recipes too.
Also, these good quality protein recipes are made on a budget since ground beef is very affordable. These ground beef recipes for dinner also make great leftovers for lunch next day. I promise to you, it tastes even better on the next day.
All these recipes can be made with ground beef, ground turkey or ground pork too.
These healthy ground beef recipes are all you need to have a healthy dinner during your busy weeknight with your family. All these recipes serve 4 people. So, what are you waiting for?! Choose your favorite healthy dinner idea and make it for dinner tonight! Enjoy!
Subscribe for new recipes & a free e-cookbook
_________________________________________________________________
Ground Beef Taco Salad: Fresh greens, velvety avocado slices, tomato salsa and ground beef with taco seasonings! You can't go wrong with this super easy and delicious combo. Whip it up in just 20 minutes for the perfect lunch or light dinner.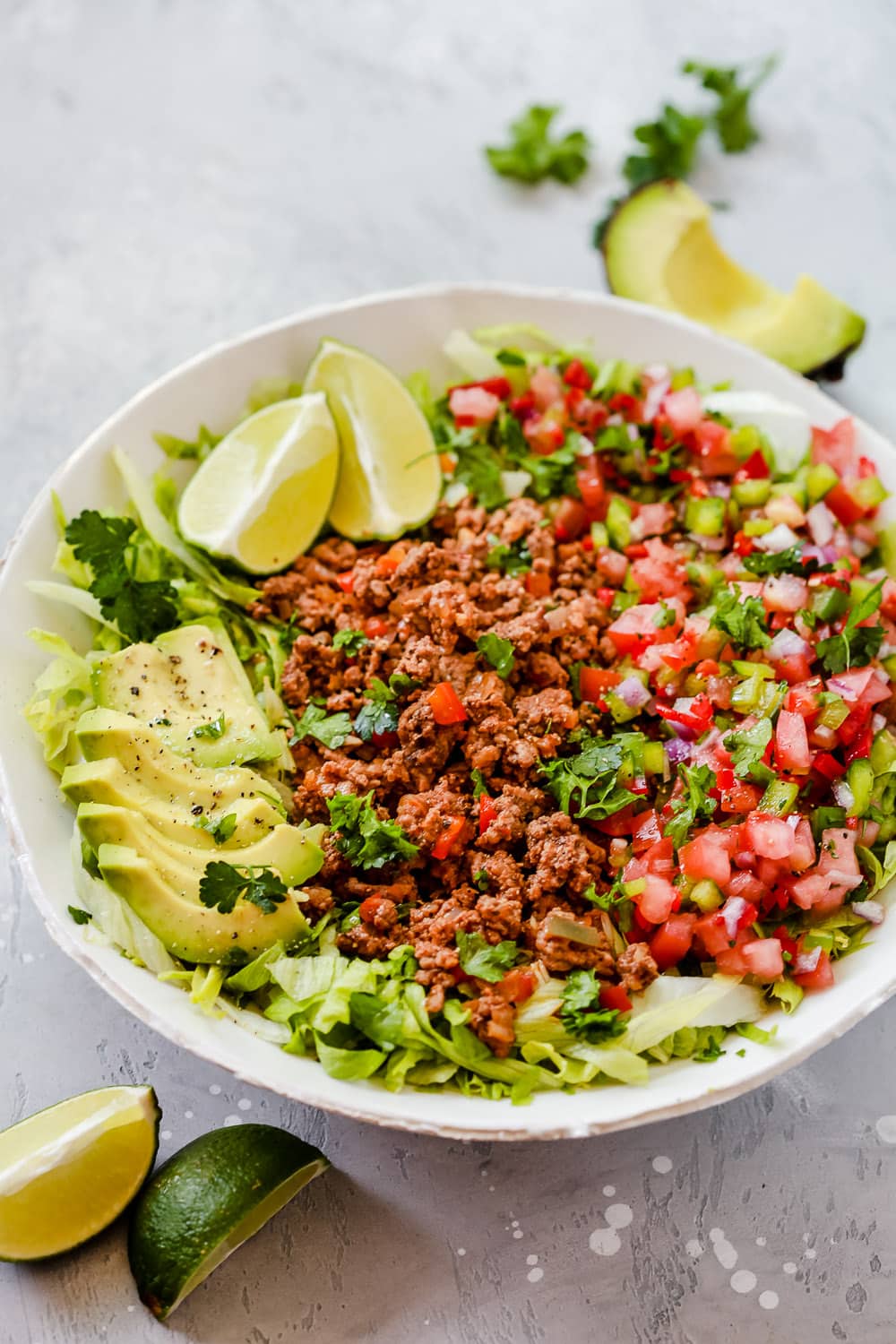 Instant Pot Taco Soup: Enjoy fantastic taco flavors but skip the mess with this convenient, family friendly soup. Load it up with diced avocado and cilantro topping. You can even add some shredded cheese or sour cream, if desired! Make it in just 30 minutes, perfect for a busy weeknight.
Healthy Meatball Soup: If you've never tried hearty meatball soup, you're missing out. It's truly the ultimate, healthy, low-carb comfort food. The next time you need a hot meal to warm your home on a chilly fall or winter night, be sure to check out this recipe.
Healthy Meatloaf Recipe: This savory loaf is a classic and family friendly go-to. It's juicy, full of flavor and can be made by following six simple steps. Meal prep doesn't get any easier than this freezer-friendly favorite. Make it ahead of time and quickly reheat when life gets busy. This recipe is so easy. Just follow the instructions on the recipe card and you are ready to go. Serve it with mashed potatoes or cauliflower rice.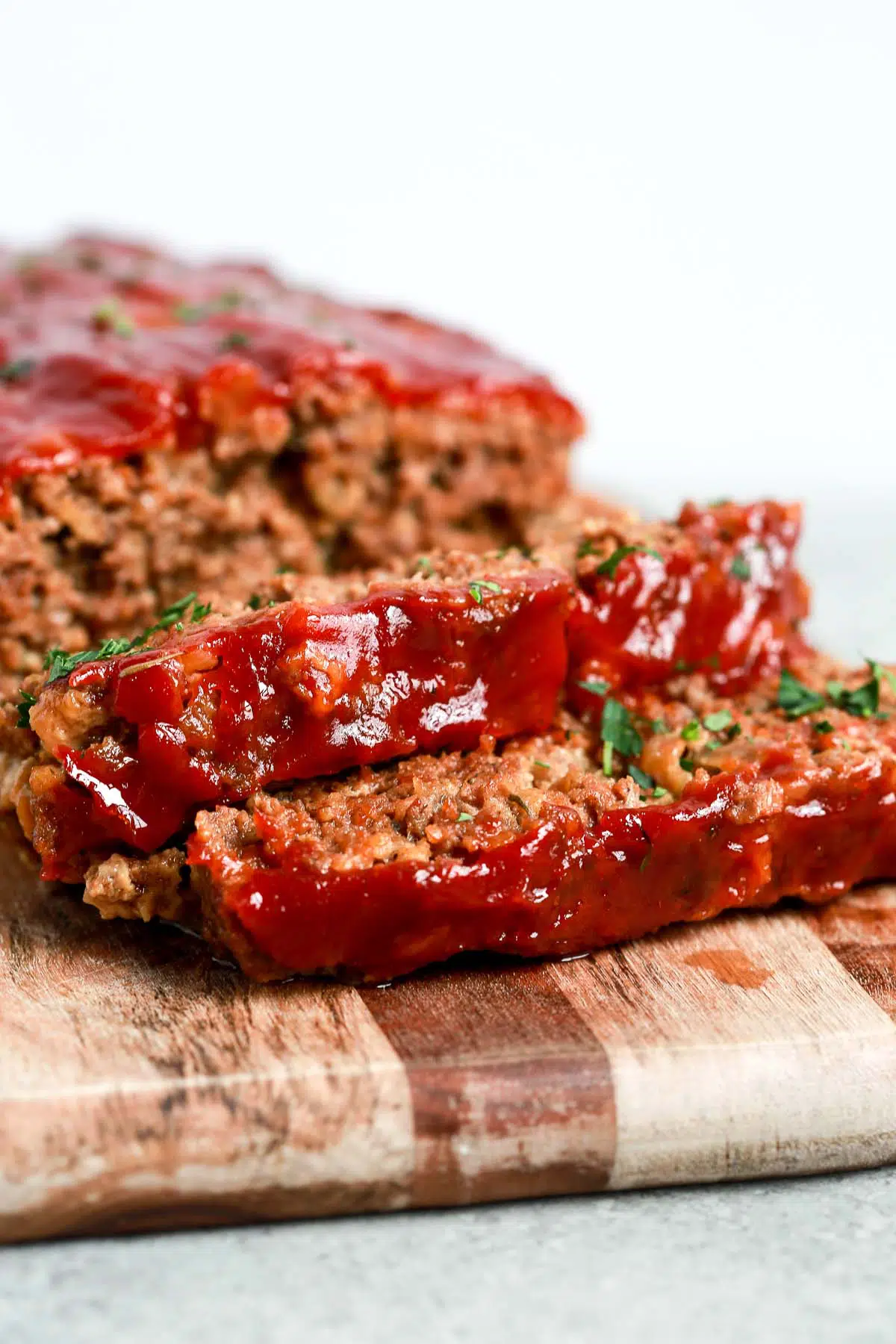 Instant Pot Keto Chili: You won't find any beans in this low-carb beef chili recipe, but it's packed full of traditional flavors to fulfill your cravings. Be sure to add all of your favorite toppings like avocado slices, sour cream, shredded cheese and lettuce! If you don't have an Instant Pot, don't worry! You can easily make this recipe on the stovetop.
Homemade Meat Sauce: Fresh Bolognese or meat sauce is so much better than the canned stuff. It's thick, hearty, healthy and absolutely packed full of flavor. I love using this sauce on veggie noodles or traditional pasta. Another cool thing about this recipe? You can make it ahead of time and store it in the freezer for up to 3 months.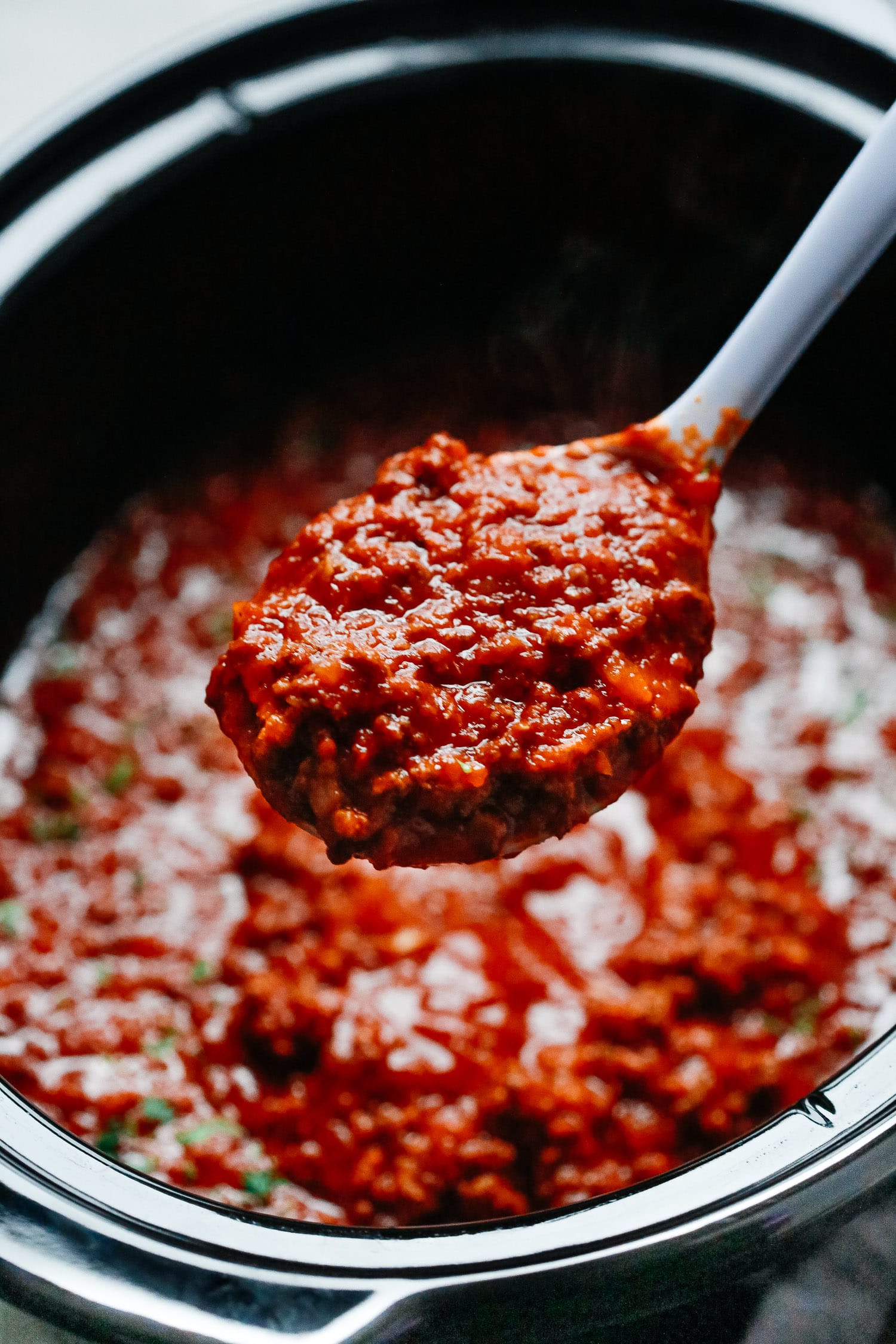 Low-carb Egg Roll in a Bowl: Skip the takeout, save money and eat healthier! You can get dinner on the table in just 30 minutes with this delicious recipe. Leftovers reheat really well which is convenient for low-carb meal prep and easy lunches. This flexible dish is great for reducing produce waste, swap out veggies and utilize what you've got on hand.
Taco Stuffed Sweet Potatoes: If you're in the mood for Mexican food, this healthy recipe will satisfy your cravings. Baked sweet potatoes taste extra fantastic when they're stuffed with savory, taco seasoned ground beef filling. It's a match made in heaven! Don't forget to add toppings like diced avocado and fresh pico salsa.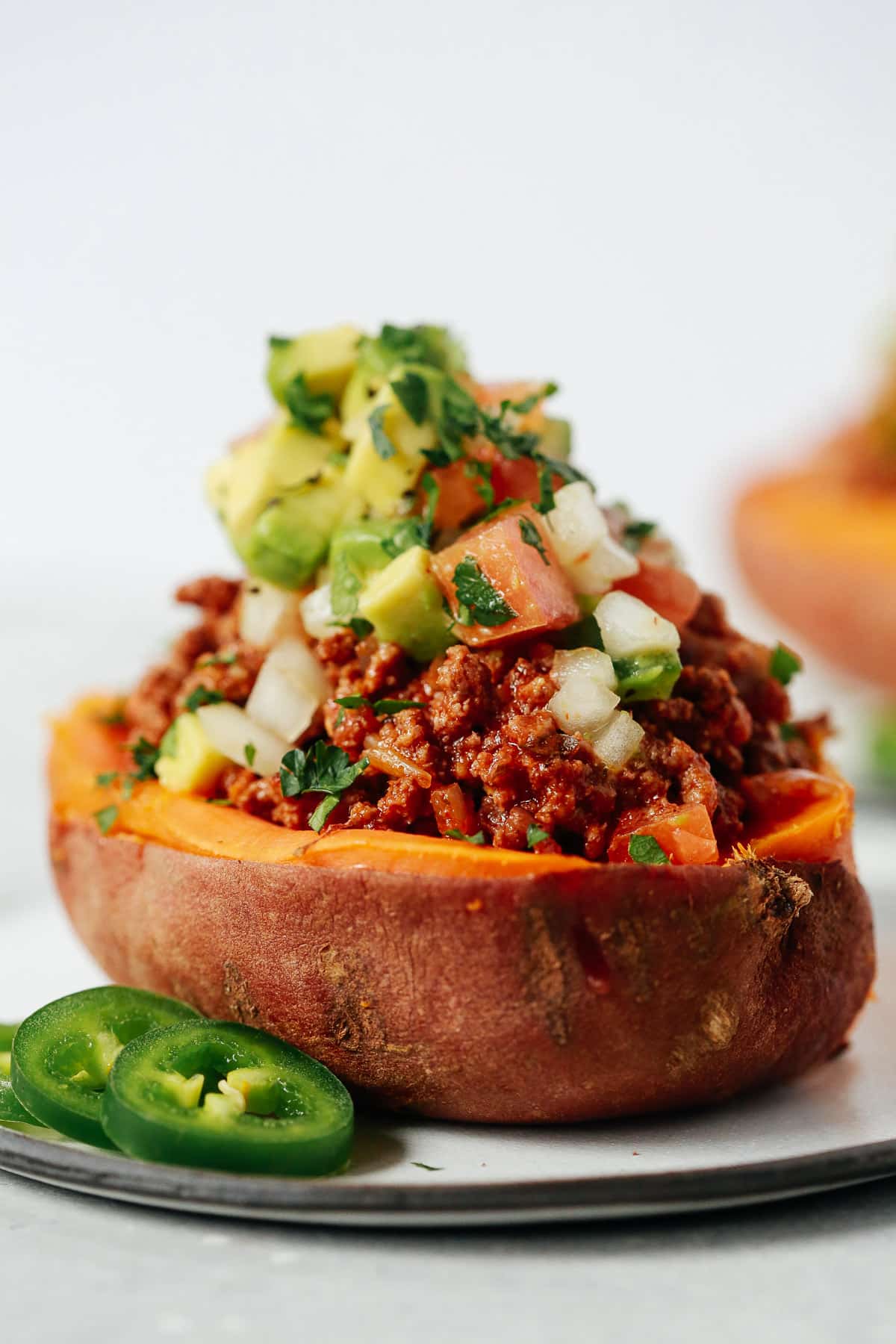 Taco Stuffed Acorn Squash: Taco seasoned ground beef filling also pairs fabulously with sweet, roasted acorn squash. If you purchased an acorn squash to decorate your porch or table during the holiday season, don't let it go to waste. This recipe is the perfect way to use it up.
Healthy Meatloaf Meal-Prep Bowls: Need a quick, healthy lunch idea? I've got you covered with these easy, flavor filled meal prep bowls. They're simple, nutritious, delicious and perfect when you're craving comfort food midday. This healthy ground beef recipe is great for a delicious lunch all week long.
Low-Carb Spaghetti Squash With Meatballs: Cut down on carbs by swapping traditional noodles with delicious, roasted spaghetti squash. Top with savory meatballs, homemade tomato sauce, parsley and a sprinkle of parmesan cheese if desired.
No Bean Whole30 Butternut Squash Chili: Indulgent and oh so healthy, you won't even miss the beans. This veggie packed chili is to die for and it comes together in under an hour. You can make it even faster if you purchase pre-cut butternut squash at the grocery store.
Easy Whole30 Sweet Potato Chili: This fun variation of traditional chili is made with sweet potatoes. It features both sweet and spicy flavors, a mouthwatering and cozy combination. And if you're sick of doing dishes, I've got great news for you! This recipe is made with just one pot. This is the perfect Healthy Ground Beef Recipe.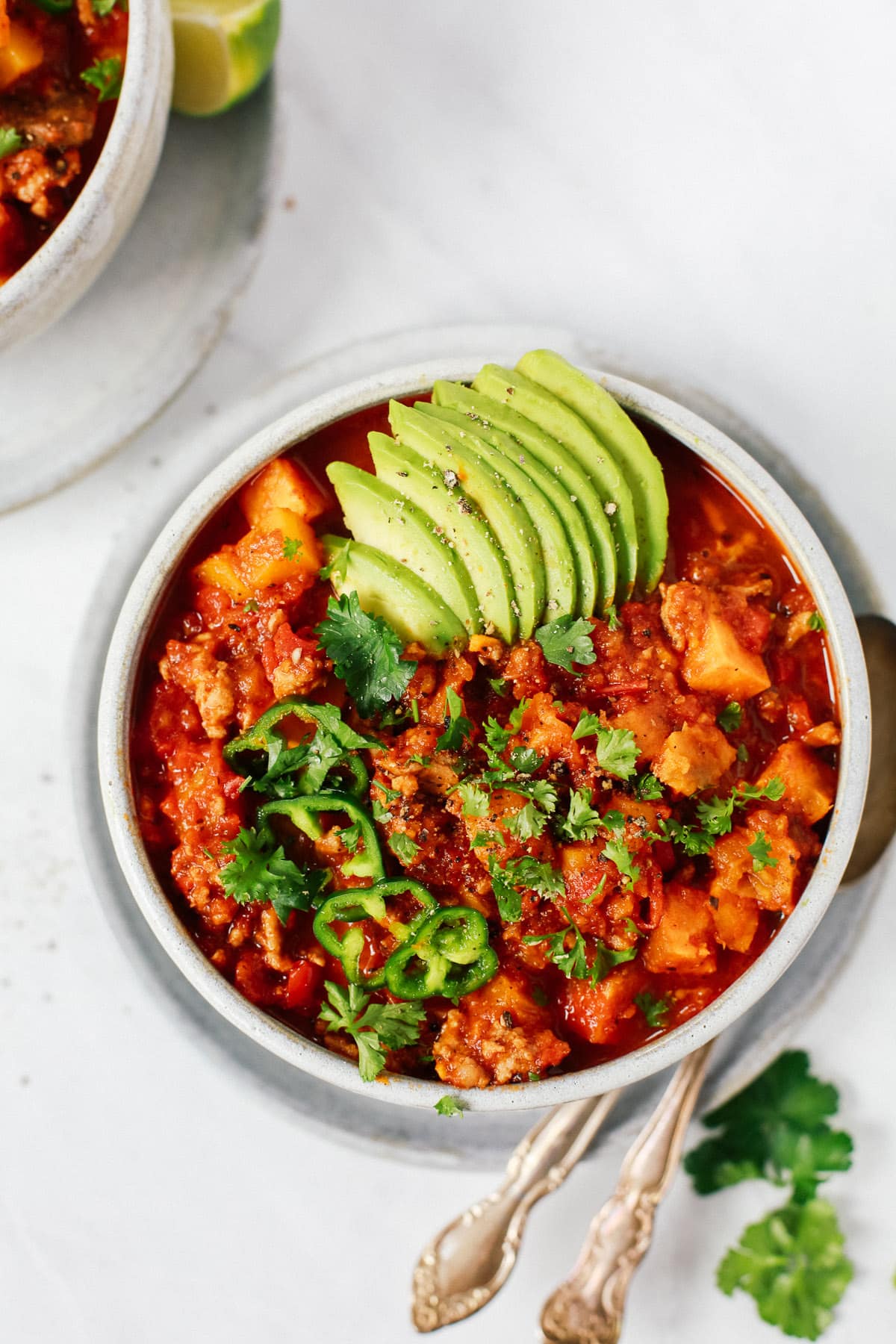 Easy Low-carb Bunless Burgers: You don't need a bun to thoroughly enjoy a hamburger. Load a juicy, perfectly seasoned beef patty with all of your favorite toppings like pickles, avocado, red onion, tomato, ketchup and mustard. Wrap everything in iceberg lettuce and dive in.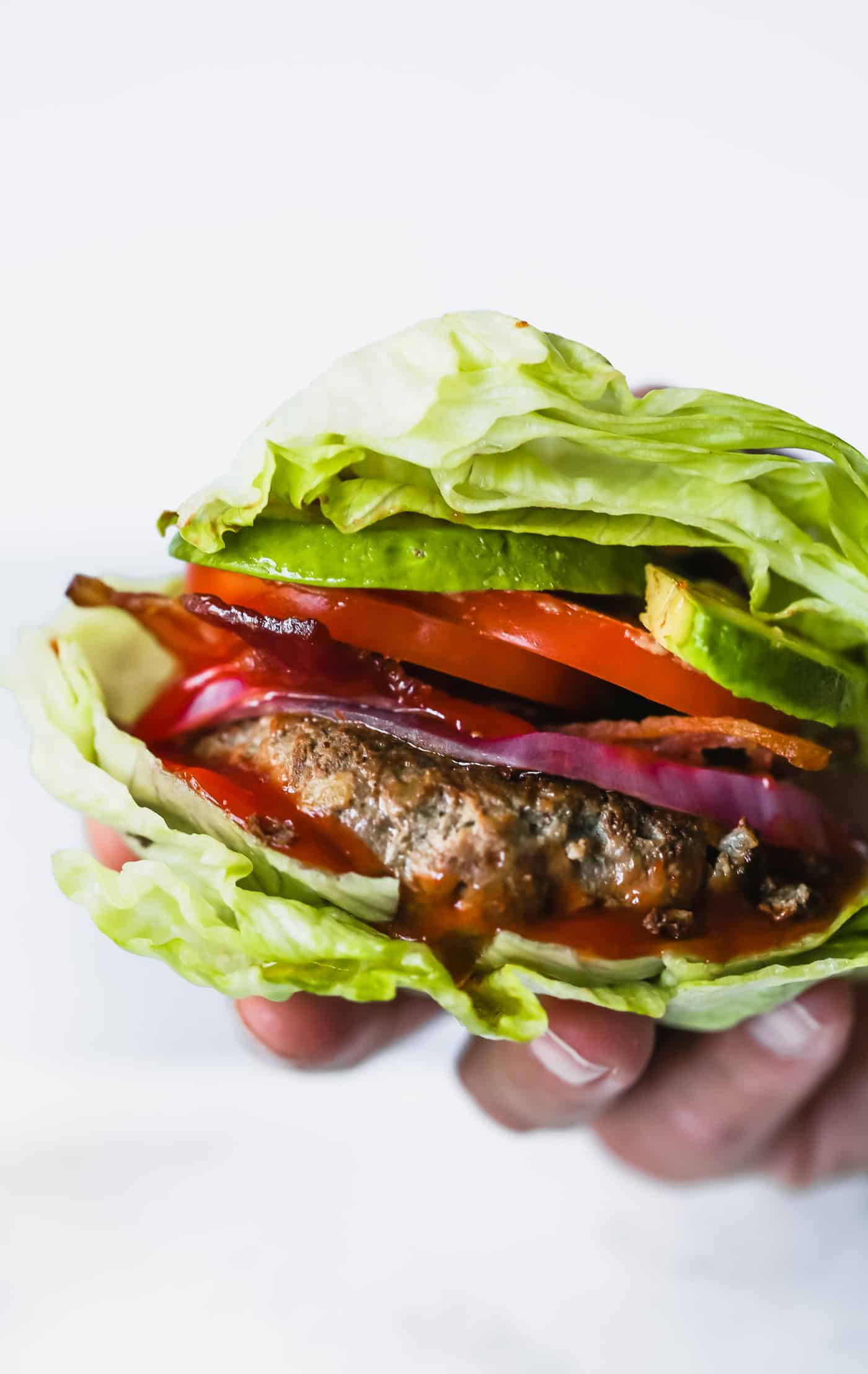 Spinach Sauce Bunless Burger: Don't feel like you have to miss out on a barbeque when eating low carb. Enjoy this no-bun burger slathered in creamy spinach and garlic sauce. Bunless hamburgers are so easy to make and perfect for lunch or as a light dinner.
Portobello Mushroom Bun Burgers: If you're all about a no-bun burger but find yourself tired of lettuce, this is the perfect solution. Delicious, savory and juicy beef patties with all of your favorite low carb toppings, sandwiched between two succulent mushroom slices. Yum!
Easy Bolognese Stuffed Spaghetti Squash: Hearty, healthy and filling. Roasted spaghetti squash stuffed with Bolognese meat sauce is the best, healthy, low-carb dinner idea. You can eat food that's both good for you and comforting, this recipe is proof.
---
Recipes that are made with ground turkey but can be made with ground beef too:
Healthy Ground Beef Recipes
Cook up delicious and healthy ground beef dinner recipes with this guide! You'll learn how to make awesome dinner recipes just like this ground beef taco salad Recipe!
Ingredients
For The Salad
4-6

cups

romaine lettuce

chopped

half avocado

sliced

lime wedges – for garnish

cilantro for garnish
Instructions
For The Taco Ground Beef
In a large pot or Dutch oven, heat olive oil over high heat. Add the ground beef and cook it until it gets completely brown. Set it aside.

Reduce the heat to medium-low, add onion and bell pepper. Cook until onions are soft and translucent. It's about 5 to 8 minutes.

Add garlic and sauté for 30 seconds. Add all the spices (paprika, onion powder, coriander powder, chili powder, cumin powder, dried oregano, cayenne pepper, salt and black pepper).

Stir everything together and bring cooked ground beef to the pot. Give a stir and add chicken stock.

Bring the ground beef mixture to a boil and then, lower the heat to low, cover with a lid and simmer for 20-30 mins (the longer, the better), stirring occasionally to avoid burning.
For The Salsa
Combine all the ingredients in a bowl. Cover tightly and refrigerate for up to 5 days.
For The Salad
In a large salad bowl, add lettuces, sliced avocado, salsa and half of the cooked ground beef.

Squeeze some lime on top of the salad and season it with salt and pepper if necessary.

Garnish with fresh cilantro. Enjoy!
Tips
For more Salad recipes? Here is a list with lots of low-carb, gluten-free and Whole30 salads recipe for you to make during your busy week.
If you want to use pre-made taco seasoning, make sure to get a whole30 approved one with no filler ingredients.
If making this ahead of time, you should hold off slicing the avocado as it'll brown as it oxidizes. 
For the best flavour use fresh lime juice.
To store: If this salad will be your lunch at work, bring the salsa and avocado in a separate container to avoid the salad getting soggy. Everything will keep well when separate for up to 4 days.
To reheat: You can reheat the beef separately in the microwave from the salsa and lettuce. 
Nutrition Information
Serving:
1
/4
Calories:
348
kcal
(17%)
Carbohydrates:
15
g
(5%)
Protein:
26
g
(52%)
Fat:
18
g
(28%)
Saturated Fat:
6
g
(38%)
Polyunsaturated Fat:
1
g
Monounsaturated Fat:
3
g
Cholesterol:
78
mg
(26%)
Sodium:
382
mg
(17%)
Potassium:
856
mg
(24%)
Fiber:
7
g
(29%)
Sugar:
7
g
(8%)
Nutrition information is calculated using an ingredient database and should be considered an estimate.
Hope you are inspired and will try to make one of these recipes! If you like this post, please share with your friends and family. Do you want to taste more? Subscribe to my newsletter and follow Primavera Kitchen on Twitter, Pinterest, Instagram, and Facebook for all delicious recipes updates. As always, I really appreciate you stopping by.