The 50 Best Chicken Breast Recipes in this recipe roundup will give you great ideas to make delicious and healthy chicken breast dinner recipes for your family, especially on the busy days.
Chicken Breast Recipes
I went ahead and searched the whole Internet for THE BEST Chicken Breast Recipes to put together in this recipe roundup for you.
I want this post to be your guide and help you to find inspiration to create the best chicken breast meals for your whole family. Here you'll find delicious Baked Chicken Breast recipes, Chicken Salad recipes, Chicken Breast Skillet, Stuffed Chicken Breast and more. Check them out and let me know which one is your favourite 😉
But before… I thought it would be an awesome idea to share my super simple and quick baked chicken breast recipe with you that you could make it in less than 20 minutes. Feel free to use this baked chicken breast recipe in another recipe you prefer since it's pretty versatile. You can slice these chicken breasts and toss them over a green salad, shred and put it into tacos, wraps, sandwiches and soups. Enjoy!
Did you make a recipe? Tag @primaverakitchen on Instagram so we can find you!
Subscribe for new recipes & a free e-cookbook
Baked Chicken Breast Recipe
The 50 Best Chicken Breast Recipes in this recipe roundup will give you great ideas to make delicious and healthy chicken breast dinner recipes for your family, especially on the busy days.
Instructions
Preheat oven to 425F.

Pound chicken to 0.6" at the thickest part with a meat mallet, rolling pin, your fist or even a heavy cast iron skillet. This step will help the chicken to cook evenly.

Mix all the spices (paprika, dried oregano, garlic powder, salt and pepper) in a small bowl.

Line baking dish or roasting pan with parchment paper. Place the chicken breasts in a single layer.

Pour olive oil on top of the chicken breast, rub over with your fingers and sprinkle the seasonings on top of the chicken. Do step 5 on both sides.

Bake for about 18-20 minutes, or until it gets the internal temperature of 165˚F. To know exactly when it is fully cooked, use a meat thermometer.

Remove from oven and transfer chicken breast to a cutting board. Allow cooling down for about 5 minutes before serving.

Store in a sealed container in the fridge for up to 4 days, or freeze for up to 3 months.
Tips
Pounding the chicken helps it cook through quickly and evenly so the exterior doesn't dry out before the interior cooks. 
Allowing the chicken to rest before cutting will allow the moisture to redistribute inside the chicken breasts. 
Pat the chicken dry before you season it so the oil and seasoning stick better. 
To store: Store leftover chicken breasts in an airtight container for up to 4 days in the fridge. 
To reheat: You can reheat the chicken in a microwave when ready to eat. You can also eat chicken cold.
To freeze: You can freeze chicken breasts in a freezer-safe bag or container for up to 3 months. 
Nutrition Information
Serving:
1
/3
Calories:
193
kcal
(10%)
Carbohydrates:
1
g
Protein:
28
g
(56%)
Fat:
8
g
(12%)
Saturated Fat:
2
g
(13%)
Polyunsaturated Fat:
2
g
Monounsaturated Fat:
2
g
Cholesterol:
77
mg
(26%)
Sodium:
395
mg
(17%)
Potassium:
455
mg
(13%)
Fiber:
1
g
(4%)
Nutrition information is calculated using an ingredient database and should be considered an estimate.
Chicken Breast Recipe
Chicken breast recipes don't have to be boring! I'm sure, you'll agree with me when you make one of these amazing baked chicken recipes from this list. The following recipes are super easy and fast to make and more importantly they're a family-friendly weeknight staple.
These Chicken breasts recipes are a must for busy families especially because they're versatile, affordable, and delicious. So, let's to check them out!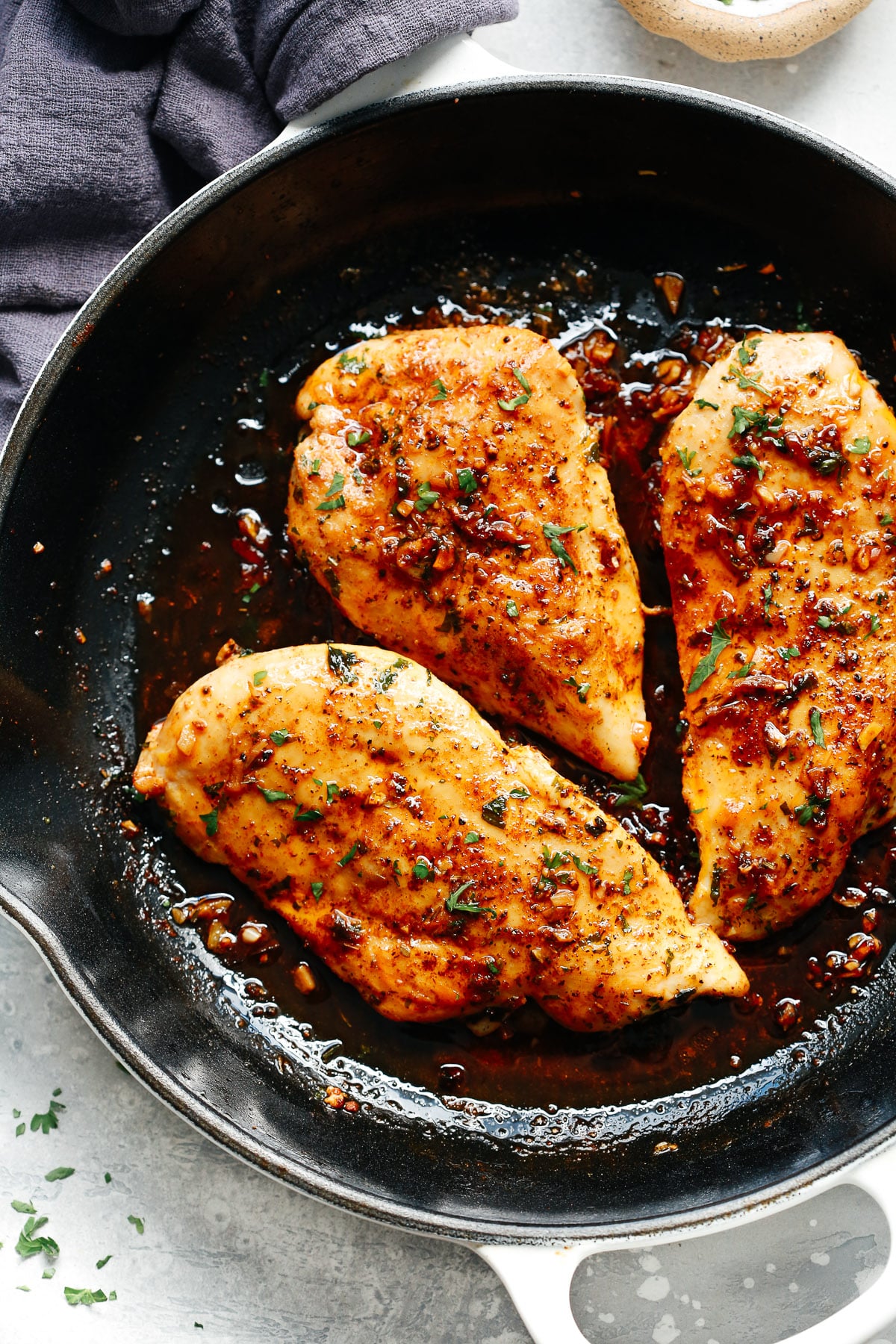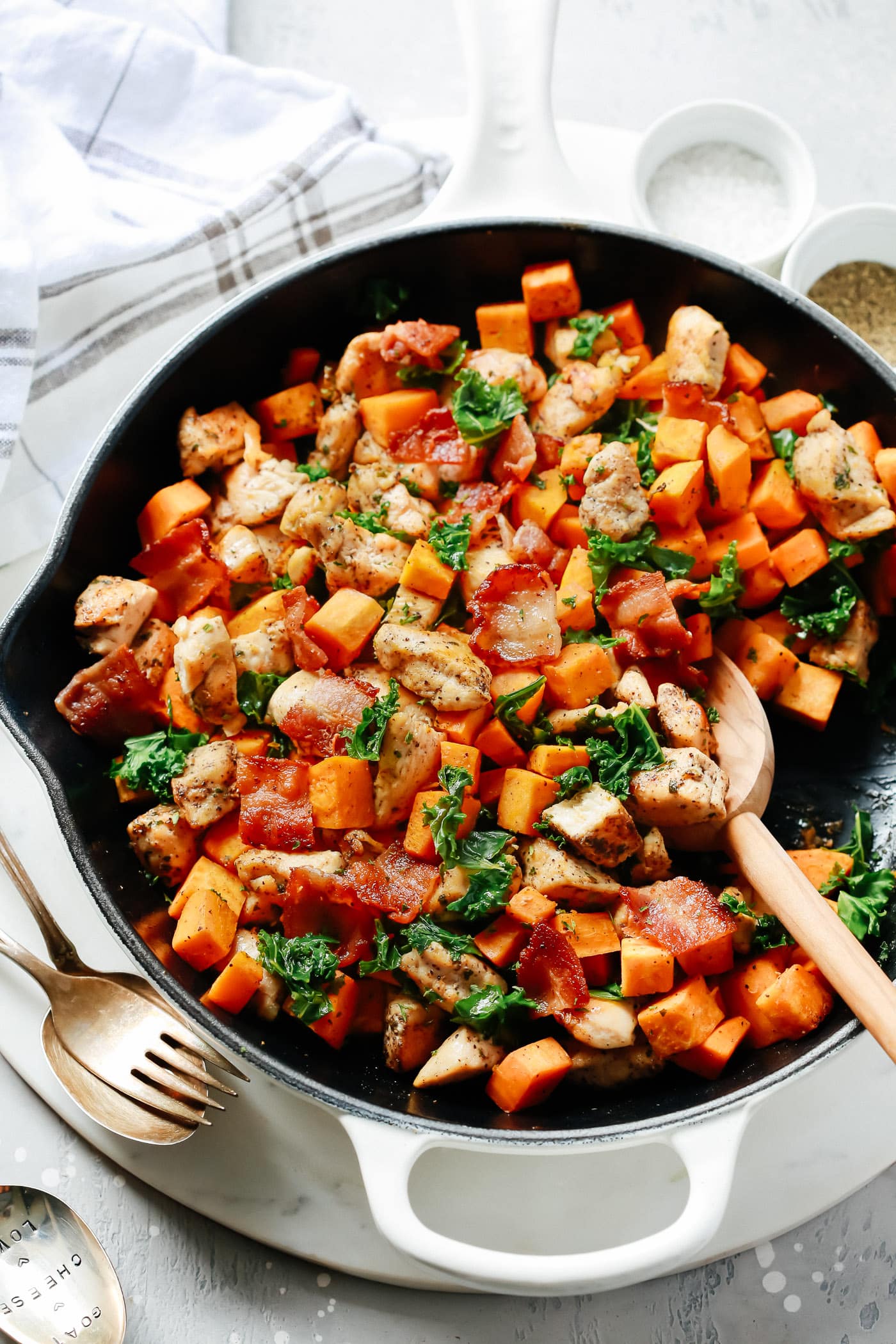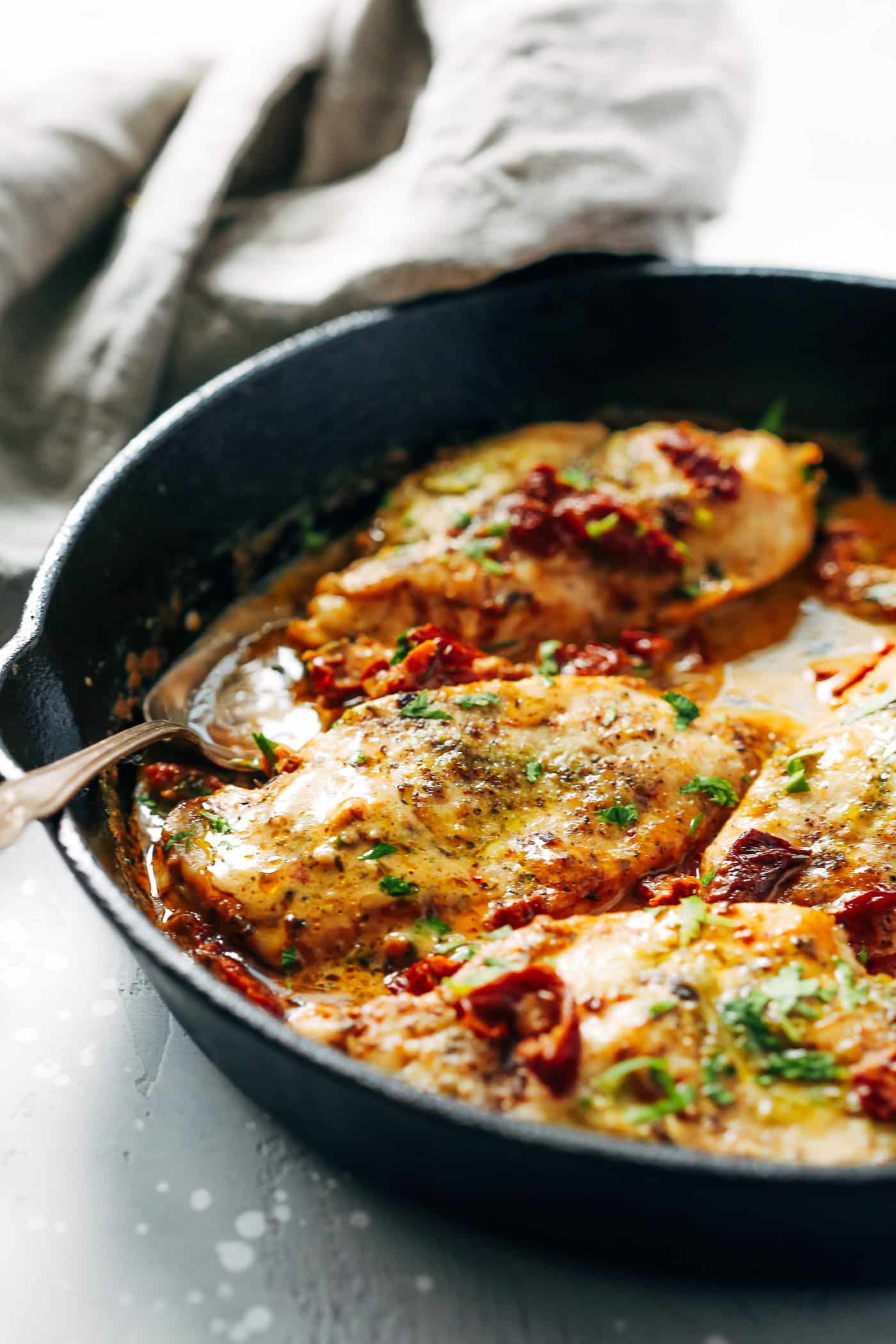 Chicken Breast FAQ
How long do you cook chicken breast in the oven at 375?
First, it's important to know that the cooking time will depend on the size of your chicken breast and also on the power of your oven. Some ovens have slight heat differences.
But according to USDA, a 4-oz. chicken breast should be bake at 350°F (177˚C) for 25 minutes or 30 minutes. But if the chicken breast is smaller then 4oz, bake it for about 20 minutes. Or it can be bake at 425˚F for about 18-20 minutes.
What is the healthiest way to cook chicken?
For me the best two healthiest ways to cook chicken is to bake it in the oven or to stir fry it with your favourite vegetables and healthy fats (olive oil, ghee, coconut oil or avocado oil). On the list above you'll find a variety of baked chicken breast recipes or stir fry recipes for you to try.
How many calories are in a cooked chicken breast?
Chicken breast is known for its lean protein. It has about 31g of protein per serving and if you cook it without the skin, it doesn't have lots of fat or calories. The nutrition facts for 3.5 ounce of roasted chicken breast is:
Calories: 165
Protein: 31 g
Fat: 4 g
Saturated fat: 1 g
Carbohydrates: 0 g
How long does cooked chicken last in the fridge?
According to the USDA, you can keep cooked chicken is safe to eat for 3-4 days if it is properly stored in a sealed container. It will last for about 3 months in the freezer.
I really hope you enjoy this post and if you try one of these delicious chicken breast recipes, please let me know on the comment below 😉