This Chicken with Vegetables recipe is simple and filling, perfect for lunch or dinner tonight. You can make this easy recipe in just a few simple steps!
If you love sheet pan dinner recipes, you'll love this dish. You will need only one pan to make this chicken complete meal and if you use aluminium foil or parchment paper it will be even easier to clean the baking sheet after eating. Awesome!!!
Also if you love chicken breast recipes, you will love these other chicken breast from Primavera Kitchen: Baked Chicken Breast Recipe, Garlic Butter Roasted Chicken Recipe and Asparagus Stuffed Roasted Chicken Recipe.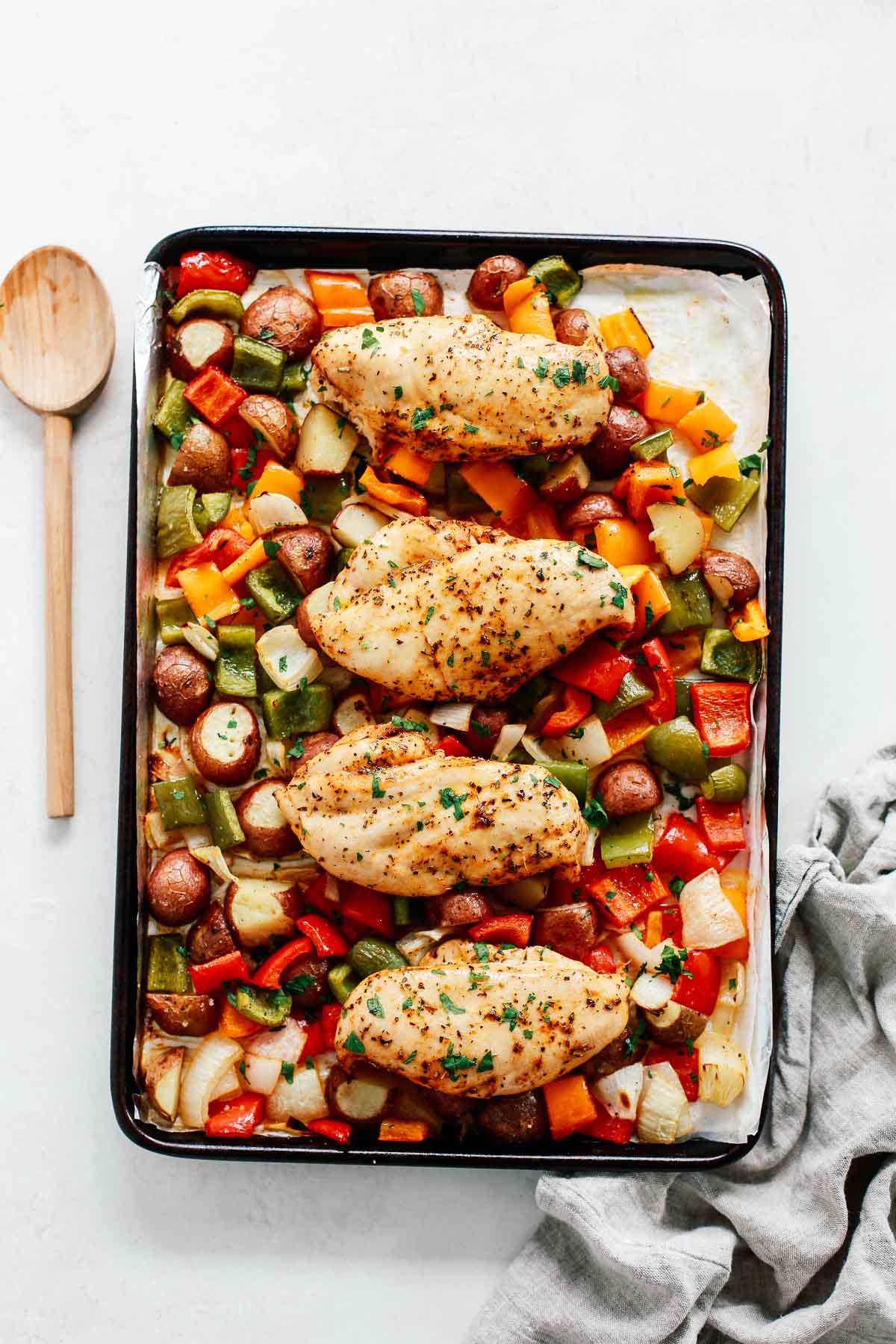 Chicken and vegetables are a classic pairing, and so versatile when it comes to flavor options. All you need are some simple spices to bring out the natural flavors. It's my go-to combo and I make it so often, like my Meal Prep Recipe for Chicken and Vegetables and One-Pan Chicken and Cabbage.
Plus, it is easy to make your meal spicy (like my Spicy Chicken Meal-Prep Bowls) or globally inspired (like my Greek Chicken Salad Bowls) with a few extra ingredients. Also, it's easy to make as much or as little as you need.
Whether you want dinner to feed the whole family or something for several days of lunches, this roasted chicken recipe is sure to do the trick.
Meal prepping
There are a few different ways to approach meal prepping depending on what works with your schedule.
Cook for the upcoming week: You can make a large quantity on your day off and portion it out for lunches or dinners. Store in individual containers and reheat as needed.
Prep ingredients ahead of time: This is a great option if you'll be cooking at the end of a busy day or right after work. You can chop up your vegetables the night before and store in the refrigerator until you need them. Measuring out spices and dry ingredients or making any sauces you might use can save you time as well.
Turn leftovers into lunches: If you're already making dinner, divide what's left over into smaller portions, or double the recipe and put into individual containers for the rest of the week.
For this recipe, you'll be cooking the chicken and vegetables in a large batch.
This way, you can divide them up immediately into meal prep containers, or eat some first and save the rest.
How to make this Chicken with Vegetables recipe
First, line your baking sheet with aluminum foil or parchment paper.
Chop up all of your veggies into bite-size pieces and arrange them in a single layer on your pan.
Drizzle with oil and season with salt and pepper. Then, use a mixing spatula or large spoon to toss the veggies so they are evenly coated.
Toss the chicken breasts with oil or cooking spray and spices (paprika, onion powder or garlic powder and so on), then lay them on top of the veggies. Be sure there is plenty of space between each one. As a result, they will all cook evenly.
Bake for 20-25 minutes, or until chicken is cooked through. If you're meal prepping, divide the chicken and vegetables into equal amounts and place into individual containers.
Frequently asked questions
How should I store leftovers?
Store any leftovers in the refrigerator. They will keep well for up to 3 days.
How else can I make this ahead of time?
If you want, you can chop the vegetables ahead of time, store them in an airtight container, and then leave them in the fridge for 2 to 3 days. This way, you can quickly get all your ingredients on the pan for a quick weeknight dinner or meal prep if you want to prepare this on a weekend but want to enjoy it later in the week.
How do I best reheat this sheet pan meal?
If you're at work, this meal prep can just go into the microwave for a couple of minutes, until everything is heated through. At home, you can always reheat in the oven or in a skillet so the vegetables keep their crunchy texture.
Can I freeze leftovers?
Store leftover chicken and vegetables in an airtight freezer-safe container in the freezer for up to 3 months. Let thaw overnight in the refrigerator before reheating when ready to enjoy.
What are the best meal prep containers?
Meal prep containers are available in glass, silicone, and BPA-free plastic. Divided containers can also be helpful for when you want to keep ingredients separate. I prefer glass meal prep containers, but the material used will depend on your personal preferences.
Can I substitute something else for the chicken?
Yes, if you don't want to make this sheet pan chicken recipe with boneless chicken breast, you can use a different protein such as sausage links, turkey, and tofu would work well with this recipe.
Can I use skin-on bone-in chicken?
If you want crispy skin on your chicken, feel free to use skin-on chicken breasts! The same goes for skin-on chicken thighs. However, if you change the protein, you will have to adjust the time as bone-in cuts of chicken take longer to cook.
Can I use different vegetables?
Yes! There are plenty of other vegetables to use for this roasted chicken recipe. Try any, or a combination of the following:
Zucchini
Yellow squash
Shallots
Carrots
and more!
If the vegetables you are using are root vegetables such as sweet potatoes or parsnip, be sure to give them a head start whereas broccoli can be added later on as they roast quickly so that all of the vegetables finish roasting in the pan at the same amount of time.
What can I serve with this?
This sheet pan recipe is a complete meal on its own but if you want, you can serve it with a side of cauliflower rice, salad, quinoa, or rice to stretch the meal further. I like quickly tossing together some spinach or arugula with some olive oil and lemon juice for a quick side salad.
What else can I add to this?
If you have some fresh or dried herbs that need to be used up, feel free to toss that into the sheet pan as well. A few pinches of red pepper flakes or cayenne pepper will add some nice heat to the recipe if you like your lunch spicy. You can also add a splash of freshly squeezed lemon over top of the sheet pan before serving if you have half a lemon hanging around the fridge!
Want to try another meal prep recipe? Try my Quick Beef and Zucchini Skillet (Meal-Prep), Low Carb Chicken Meal Prep Bowls, or Spicy Salmon Vegetable Meal-Prep Bowls! They're the perfect healthy lunch recipes!
More Chicken with Vegetables Recipes to Try: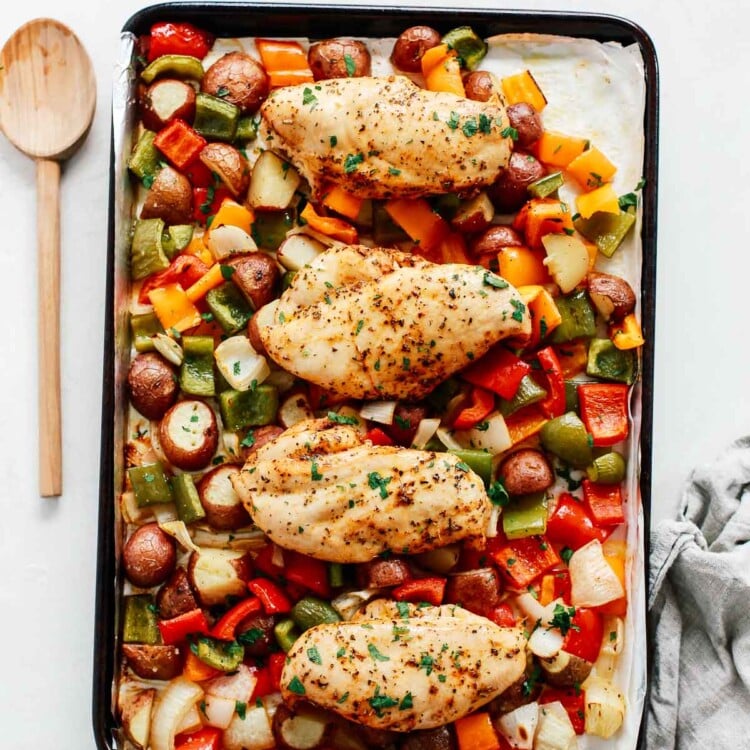 One Sheet Roasted Chicken and Vegetables
This roasted chicken recipe is simple and filling, perfect for lunch or dinner tonight. You can make this easy recipe in just a few simple steps!
Ingredients
For the veggies
2 1/2

cups

big diced potatoes

1

medium

red bell pepper

diced

1

medium

orange bell pepper

diced

1

medium

green bell pepper

diced

1

small

onion

diced

5

garlic cloves

1

tbsp

olive oil

Salt and black pepper

Fresh parsley for garnish

chopped
Instructions
Preheat the oven to 425˚F. Line a large baking/sheet pan with parchment paper or aluminum foil.

In a medium bowl add the chicken breast, 1/2 tbsp olive oil, Italian seasoning, paprika, garlic powder, salt and black pepper. Mix well to evenly coat the chicken. Set aside.

Place all the veggies, add 1 tbsp of olive oil, salt and black pepper in the prepered baking sheet. Mix well to evenly coat.

Next, place the chicken breasts on top of the veggies on the baking.

Bake for 20-25 minutes. If desired, sprinkle freshly parley over the veggies and chicken. Enjoy!
Meal-Prepping
Place an even amount of chicken and vegetables into 4 different medium glass containers. Cover with the lid and place in the fridge for up to 4 days. Heat in the microwave for about 1.5 or 2 minutes. Enjoy!
Tips
Make sure to use chicken breasts that are similar in size so they cook evenly.
Feel free to swap the vegetables for another root vegetable! See the blog post for a full list of swaps.
Add a pinch of cayenne pepper to the chicken or vegetables for some extra heat.
To store: Store the chicken and vegetables in the fridge for up to 3 days.
To reheat: Reheat in the microwave until heated through.
To freeze: Freeze the chicken and vegetables in a freezer-safe bag or container for up to 3 months.
Nutrition Information
Serving:
1
/4
Calories:
219
kcal
(11%)
Carbohydrates:
12
g
(4%)
Protein:
27
g
(54%)
Fat:
7
g
(11%)
Saturated Fat:
1
g
(6%)
Polyunsaturated Fat:
1
g
Monounsaturated Fat:
4
g
Cholesterol:
80
mg
(27%)
Sodium:
414
mg
(18%)
Potassium:
444
mg
(13%)
Fiber:
4
g
(17%)
Sugar:
5
g
(6%)
Nutrition information is calculated using an ingredient database and should be considered an estimate.
Watch the Web Stories HERE.
And if you like this One Sheet Roasted Chicken and Vegetables recipe, please share with your friends and family. Do you wanna taste more? Subscribe to my newsletter and follow Primavera Kitchen on Twitter, Pinterest, Google +, Instagram and Facebook for all delicious recipes updates. As always, you are really appreciated for stopping by.