Subscribe to receive new recipes!
Taste more! Sign up and you'll be getting to your inbox brand new content weekly such as recipes, cooking tips, videos and my FREE E-COOKBOOK.
This Sweet Potato Tuna patties are very soft inside and crispy from the outside. It is delicious, easy, quick and healthy appetizer recipe!
One of these past days I came back home from work very tired. I opened my pantry and my fridge and I didn't see much. So, I thought I could go do some groceries, but I was so tired and lazy to do anything ;-(
So, I saw two sweet potatoes and two tuna cans in my pantry. I thought to myself "what can I do for dinner with this two ingredients?" Immediately these Sweet Potato Tuna Patties crossed my mind. I opened my fridge again and I saw I still had half of a red onion and a yellow pepper that was just waiting to be cooked. So, cooked them and it turned out so delicious! I know this is an appetizer recipe, but if you serve them with some grill veggies you will have a great light summer dinner after a long, tiring and busy workday.
About the recipe:
What I like most about this recipe is that you probably have all the ingredients you need in your pantry and fridge. I also love the fact that they don't fall apart when you cook them like most fish cakes. I think it is because the texture of the sweet potato.
These Sweet Potato Tuna Patties are so easy to make and taste so good. It is incredible how they are soft inside and crispy from the outside. I also think this recipe is great for those who like to leave everything almost ready before you leave for the day, cause you can combine all the ingredients together, leave the mixture/patties in the fridge and then just sauté them right before dinner.
For more delicious, easy, quick and healthy appetizer recipes, visit my Healthy Appetizer Pinterest Board!

Sweet Potato Tuna Patties
This Sweet Potato Tuna patties are very soft inside and crispy from the outside. It is delicious, easy, quick and healthy appetizer recipe!
Author:
Primavera Kitchen
Ingredients
Two medium sweet potato, peeled and sliced into chunks
2 x 180g cans tuna in water, drained and flaked

½ cup green onions
½ cup gluten-free breadcrumbs
2 eggs
½ cup red onions
3/2 cup yellow pepper
½ teaspoon garlic powder
¼ teaspoon chili pepper
Salt and pepper for taste
Olive oil cooking spray
Instructions
In a medium pan, bring water to a boil and add sweet potatoes.
Cook them for about 10-15 minutes or until tender.
Drain and run them under cold running water. Transfer to a large bowl and mash with a fork.
Add the tuna, green onions, breadcrumbs, eggs, red onions, yellow pepper, garlic powder, chili pepper, salt and pepper. Mix well until the all ingredients are combined.
Use your hand to shape mixture portions into patties.
Heat non-stick frying pan over medium-high heat and addcooking spray.
Cook patties for 3 minutes both sides or until golden brown.
If you like this Sweet Potato Tuna Patties recipe, please share with your friends and family. Do you wanna taste more? 
Subscribe to my newsletter
 and follow Primavera Kitchen on 
Twitter
, 
Pinterest
, 
Google +
, 
Instagram
 and 
Facebook
 for all delicious recipes updates. As always, you are really appreciated for stopping by.
More sweet potato recipes just for you:
Starting your day with this Superfood Breakfast Tacos!
Try my most popular dish – Sweet Potato, kale, shrimp Skillet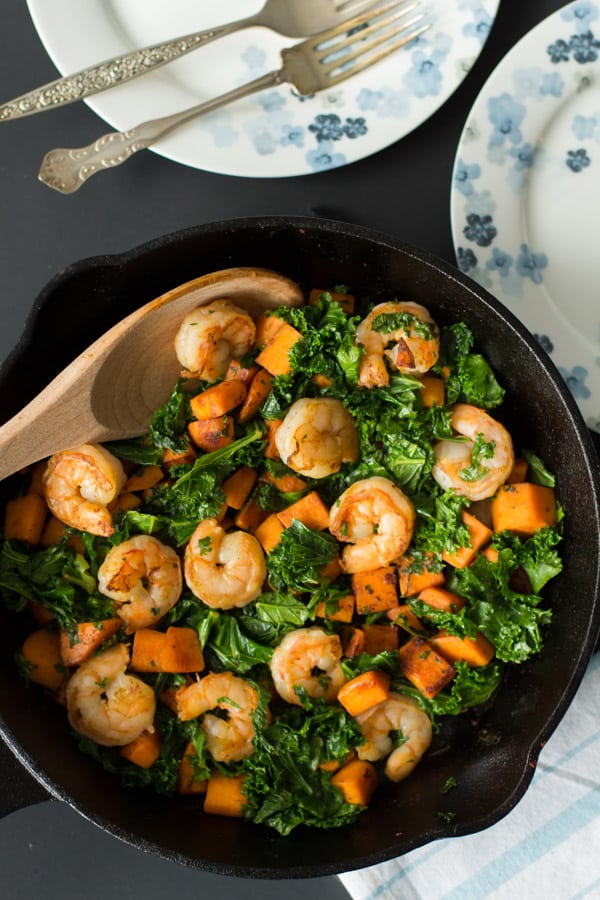 This Baked Sweet Potato with Cashew is a great side vegetable dish!