This very easy Ground Turkey Cabbage Skillet recipe is perfect for a quick dinner during the week cause it takes less than 30mins to be ready! It is also gluten-free and very flavorful.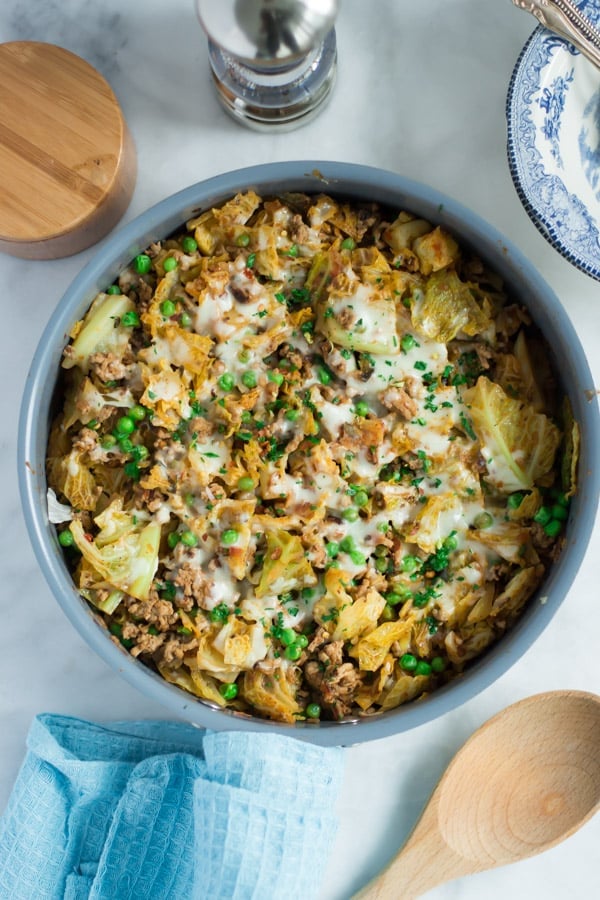 Hello, guys! How are you today?
Did you enjoy the Cinco de Maio celebrations with lots of Mexican food like guacamole and tacos?! I hope you had a better day that we had. Yesterday, we had a very bureaucratic day dealing with lots of papers at the Brazilian consulate. Why did we need to go to the consulate? So, this is probably the exciting news I want to share with you guys today.
In June my husband, my little baby and I are MOVING TO BRAZIL. Well, it is nothing permanent, but we will be living there for about 5 months. Isn't that awesome?!! What are the reasons we are doing that now? First, I love Canada a lot and I am sure I'll miss the Canadian summer, but since I had my little baby, I've been missing my family a lot (they are from Brazil). Every new thing my beautiful little boy does, I wish my family could see and share the special moments. Second, my husband is Canadian but he has business in Brazil, which allows him to work easily from there. And third, right now, I am not working because, in Canada, we have one-year maternity leave. I'll go back to work only in February 2017 (if I decide to go back).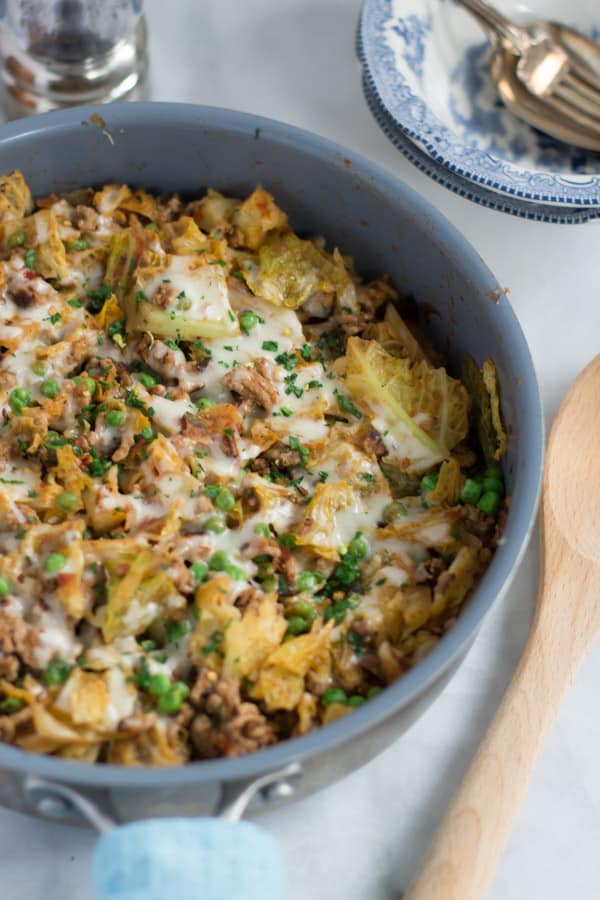 So, this is the perfect moment to go and spend more time with my family. Also, they can help me take care of my three year old boy and at the same time, my son will have the opportunity to be with his grandparents. It is going to be a good move for everybody! My husband had the idea to live in Brazil again for few months and I was very happy with that. My family is also very excited, especially my mom. She told me yesterday she is so happy that she is having trouble sleeping … hahhahahah!
That's why we are preparing all the legal stuff to go like a passport for Thomas and a visa for my husband. Since he is married to a Brazilian woman, he has the right to get his permanent visa. So yesterday, we spent a good part of the day trying to get all these documents ready at the Brazilian consulate. It all went well and we are receiving all the papers in the middle of the month. Now I have to start packing, which is something that I really don't like to do, but I have to.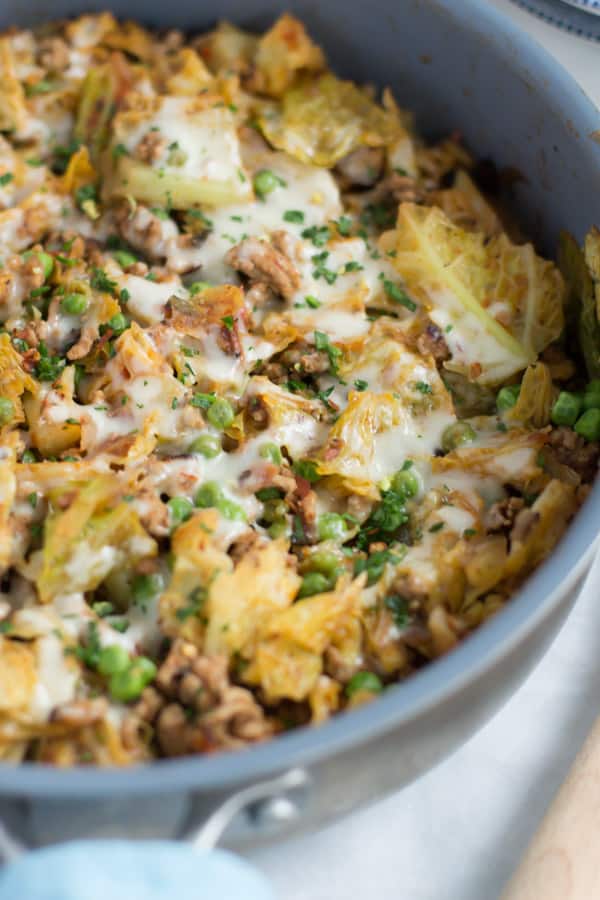 Before you ask … Yes, of course, I'll be blogging from Brazil and I keep doing what I really like to do, which is sharing my recipes with you guys. Speaking of sharing recipes, today I brought you this easy, quick, and flavorful Ground Turkey Cabbage Skillet recipe that you will be made in less than 30 minutes.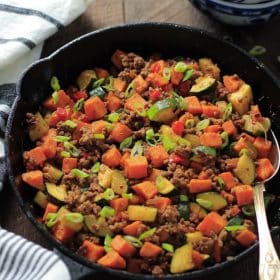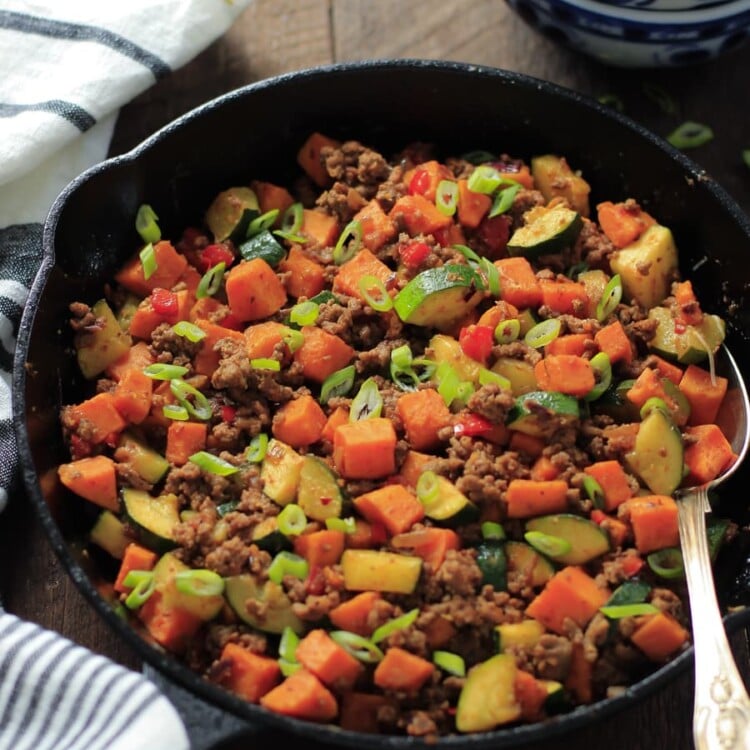 Who doesn't like easy and quick skillet recipes, right? (This Garlic Shrimp Asparagus Skillet has been on repeat!) The only real work you have to do is to chop the cabbage. Easy, right?
When it is done, you just need to sauté the onions, cook the ground turkey well, and add all the rest of the ingredients in the skillet and cook for about 20miuntes total. Awesome!
Do you have extra cabbage? I have SO many cabbage recipes that you should try like this Grilled Chicken Cabbage Salad, One-Pan Chicken and Cabbage, Spicy Chicken with Sauteed Cabbage and Zucchini Bowls, and Cabbage Steak Recipe!
Let's go ahead and check out the recipe. Enjoy!
If you like this Ground Turkey Cabbage Skillet recipe, please share with your friends and family. Do you want to taste more? Subscribe to my newsletter and follow Primavera Kitchen on Twitter, Pinterest, Instagram, and Facebook for all delicious recipes updates. As always, I really appreciate you stopping by.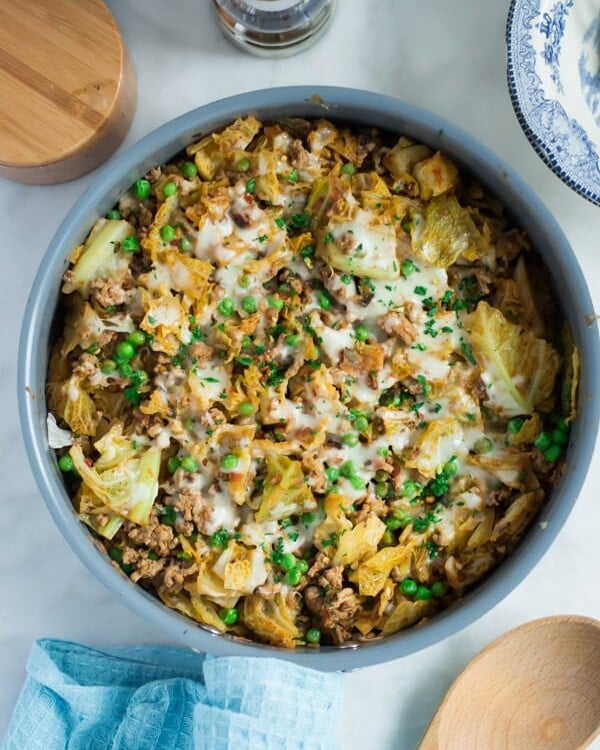 Ground Turkey Cabbage Skillet
This very easy Ground Turkey Cabbage Skillet recipe is perfect for a quick dinner during the week cause it takes less than 30mins to be ready! It is also gluten-free and very flavorful.
Ingredients
1

medium onion

chopped

1

tbsp

olive oil

2

lbs

cabbage

coarsely chopped

1

cup

homemade tomato sauce

or your favorite tomato sauce

1/2

cup

vegetable broth

1

cup

frozen peas

½

cup

mozzarella cheese

shredded

Fresh parsley for garnishing
Instructions
Add onion and cook until golden brown, stirring occasionally.

Add ground turkey and cook for 10 minutes or so, breaking it into small pieces and stirring occasionally.

Add cabbage and cook for about 5 minutes. Don't forget to stir well.

Add tomato sauce, broth, salt, and pepper and stir well to combine all the ingredients together.

Cook for 7 minutes.

Add peas and cook for more 2 minutes.

Top with mozzarella cheese and cover the skillet just to melt the cheese. It only takes about 1 or 2 minutes.

Serve warm topped with fresh parsley.
Tips
It's fine to use a large non-stick skillet if you do not have a cast-iron skillet.
If possible, use low sodium broth and salt to taste.
Feel free to use any type of cabbage such as green or purple. 
To store: Store the turkey and cabbage skillet in an airtight container in the fridge for up to 4 days.
To reheat: Reheat the leftovers in the microwave until hot. 
Nutrition Information
Serving:
1
/4
Calories:
277
kcal
(14%)
Carbohydrates:
20
g
(7%)
Protein:
22
g
(44%)
Fat:
13
g
(20%)
Saturated Fat:
2
g
(13%)
Polyunsaturated Fat:
1
g
Monounsaturated Fat:
3
g
Cholesterol:
7
mg
(2%)
Sodium:
452
mg
(20%)
Potassium:
590
mg
(17%)
Fiber:
8
g
(33%)
Sugar:
11
g
(12%)
Nutrition information is calculated using an ingredient database and should be considered an estimate.
More One-pan Recipes!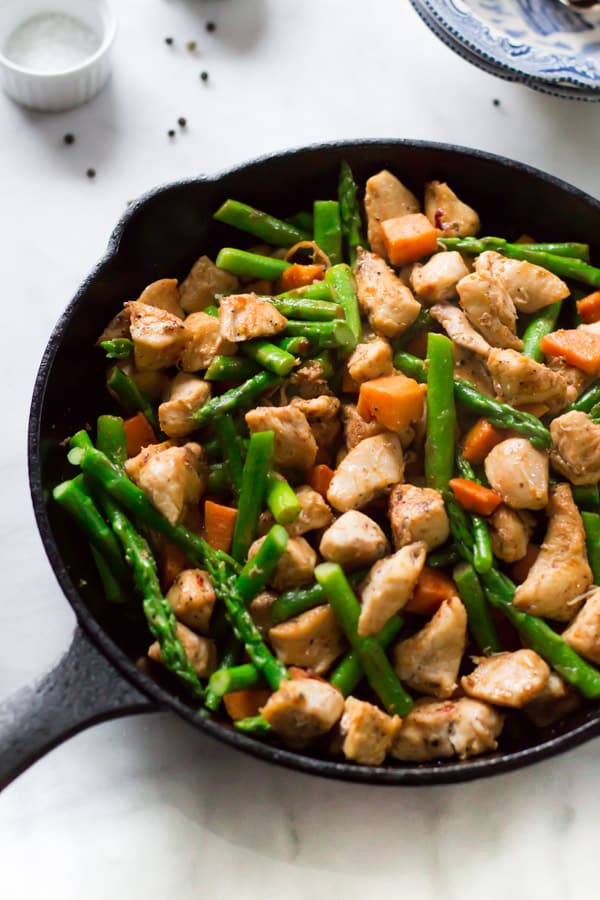 Asparagus Sweet Potato Chicken Skillet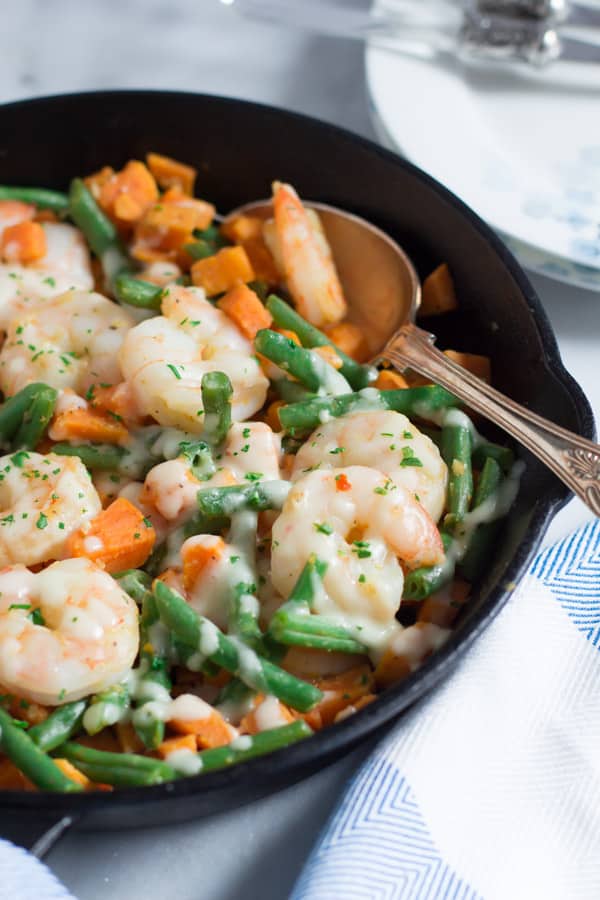 Sweet Potato Green Beans Shrimp Skillet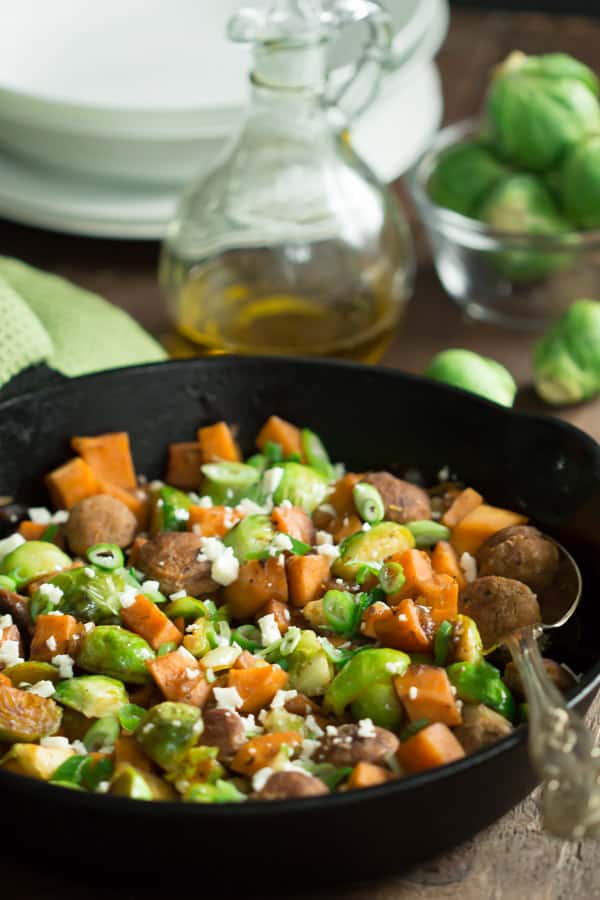 Turkey Sausage Skillet with Brussel Sprouts and Sweet Potatoes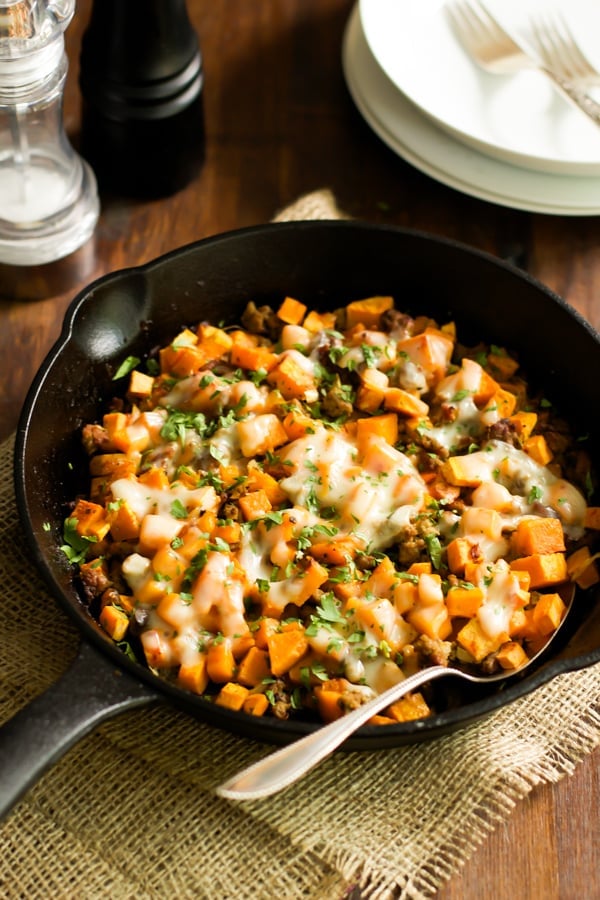 Ground Turkey Sweet Potato Skillet