Garlic butter sautéed zucchini is the easiest and most delicious dinner side dish! It's super quick and pairs well with almost any main course. You'll only need a handful of ingredients and 10 minutes to whip it up, plus it's super low-carb.
I love wholesome, healthy veggie sides because they pair nicely with any protein (grilled, baked or pan-fried)! Often times, a simple healthy side dish also goes great with a vegetarian main. For instance, I love serving this sautéed zucchini alongside my cheesy Low-Carb Eggplant Lasagna.
Zucchini is one of my favorite ingredients because it's insanely versatile. It has a mild, sweet taste and really takes on the flavor of anything it's added to. On top of that, this nutrient dense and low-carb veggie is the perfect addition to a healthy diet.
Use this yummy vegetable to make sides like Zucchini Cauliflower Rice or Zucchini Casserole. It's also great in main courses such as Chicken Zucchini Boats, Low-Carb Chicken Zucchini Enchiladas, 4-Ingredient Chicken Zucchini Rolls or Zucchini Lasagna!
How To Make Garlic Butter Sautéed Zucchini
Ingredients
Extra virgin olive oil — Avocado oil will also work well.
Butter — I recommend using unsalted butter.
Fresh garlic cloves — Fresh garlic tastes best, but you can use a jar of minced garlic to save time, if desired.
Zucchini — At the grocery store, look for zucchini that's still firm to the touch. If it's beginning to soften, it's not very fresh.
Italian seasonings — You can use a seasoning blend from the store, or make your own at home. You can also use dried basil, thyme or dill.
Crushed red pepper flakes — If you don't like spicy food, you can leave these out!
Salt and pepper — I prefer kosher salt and freshly ground black pepper.
Fresh herbs — A little chopped fresh parsley makes a nice garnish for sautéed zucchini.
How To Sauté Zucchini
Heat the pan:
Set a large skillet over medium-high heat and let it warm up, add butter and olive oil.
Add garlic:
Once the butter has melted, reduce the heat to medium and add your minced garlic. Sauté for around 30 seconds, or until fragrant. Be careful here as garlic burns easily!
Cook then serve:
Place the zucchini on the hot skillet in a single layer. It will take about 7 minutes to sauté zucchini slices. You will know it's ready when it becomes caramel in color and crisp tender.
Add some fresh parsley garnish, if desired, and serve this easy sautéed zucchini warm!
Recipe Tips
Because there is added salt in this recipe, it's best to use unsalted butter when sautéing zucchini. If you only have salted butter, consider omitting or reducing added salt seasoning.
Garlic burns quickly! You'll only need to sauté it briefly before adding zucchini to the pan. Be sure you don't have the stovetop heat set too high and keep a close eye during this step.
You do not need to peel your zucchini before cooking it. The skin on zucchini is thin, easy to eat and delicious. You won't really even notice it's there!
You'll know your zucchini is done once it becomes tender and has golden brown or caramel coloring. Avoid overcooking as it can become mushy!
How To Store Leftovers
To Store: Refrigerate leftovers in an airtight container for 1-2 days. I really prefer to eat all of my zucchini in one sitting as it tends to get soggy in the refrigerator, but it will last for a day or two.
To Freeze: I do not recommend freezing leftovers.
To Reheat: Reheat in a pan on the stovetop with a bit of additional olive oil. You can also reheat zucchini in the microwave, but it may get a bit mushy.
What To Serve With Garlic Butter Sautéed Zucchini
Zucchini goes great with a variety of proteins and can also be mixed and matched with other sides!
Recipe Variations
Roast it: Instead of sautéing your zucchini, cook it in the oven! I recommend placing sliced zucchini in a bowl and tossing it with olive oil and seasonings, then place on a baking sheet and roast at 350°F for 5-10 minutes, until tender.
Air fryer: Zucchini can also be made in the air fryer. Season and cook at 350°F for 5-10 minutes, until tender.
Alternate seasonings: I generally use Italian seasonings, salt, black pepper and crushed red pepper flakes. You can definitely use any seasonings you like! Try onion powder, garlic powder, oregano, crushed/dried rosemary and more.
Add some cheese! Once your zucchini is done cooking, sprinkle on some fresh parmesan cheese, asiago or Romano cheese.
Use yellow squash/onion: Sometimes I enjoy using half zucchini and half yellow squash for some nice color (you can also opt for yellow squash only). Diced white or yellow onion is also very yummy with zucchini.
Add citrus: Squeeze some fresh lemon juice or lemon zest over your sauteed zucchini recipe for extra-fresh taste!
Recommended Tools
Large Skillet: For sautéing zucchini!
Tongs/Wooden Spoon: To stir zucchini while it cooks.
Sharp Knife: For chopping up produce.
Frequently Asked Questions
Should I peel my zucchini?
There is no need to peel zucchini before cooking and eating. The skin on zucchini tastes good, plus it's very thin and easy to eat/chew.
Can I eat zucchini seeds?
Absolutely. There is no need to remove the seeds from your zucchini, they are tasty and delicate. You most likely won't even notice them while eating.
Is zucchini good for you?
I definitely consider zucchini to be healthy! It contains lots of antioxidants, minerals and vitamins. It's also low-calorie and low-carb.
Want another low-carb recipe? Try this Low-carb Egg Roll in a Bowl with Sautéed Kale or any of these 10 Low-Carb Zucchini Dinner Recipes!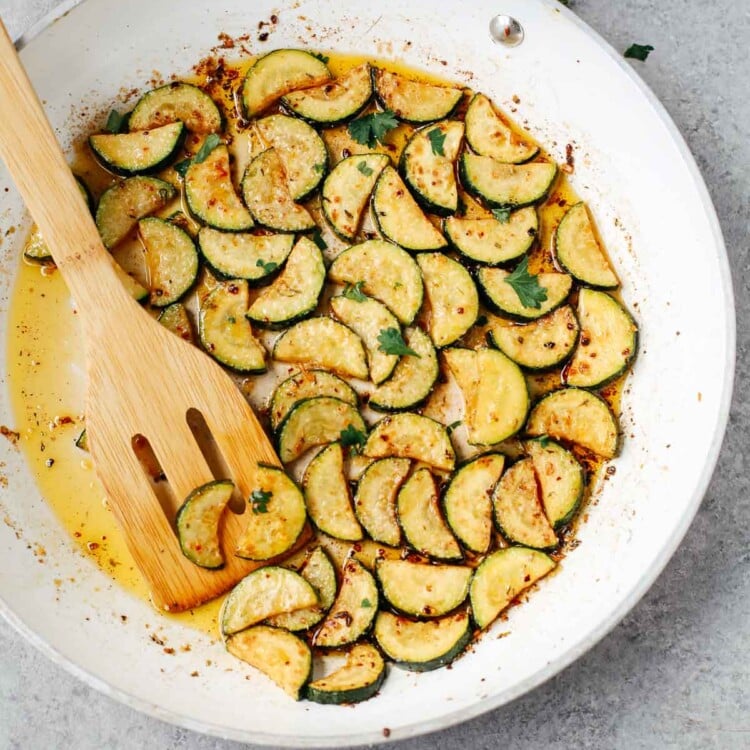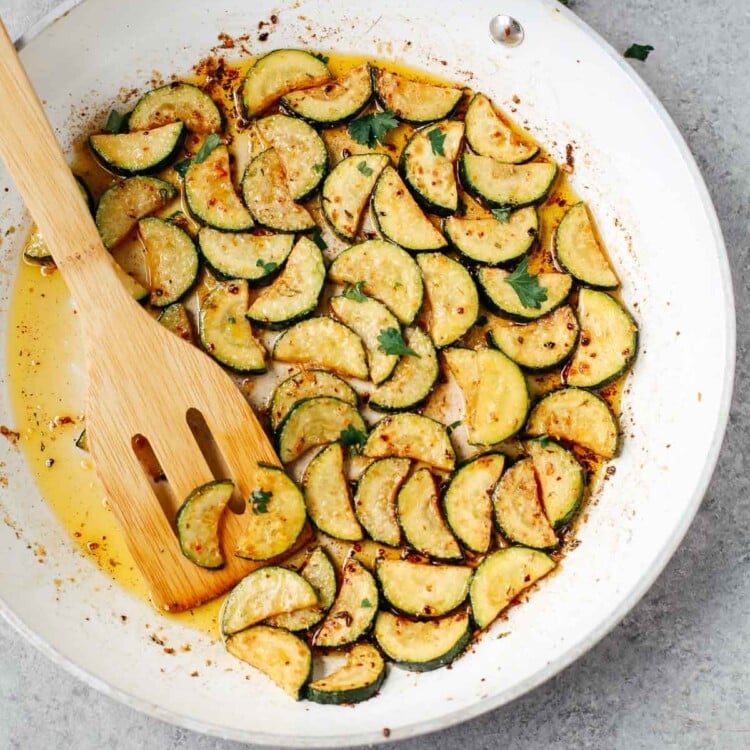 Garlic Butter Sautéed Zucchini
Garlic butter sautéed zucchini is the easiest and most delicious dinner side dish! It's super quick and pairs well with almost any main course. You'll only need a handful of ingredients and 10 minutes to whip it up, plus it's super low-carb.
Ingredients
1

tablespoon

extra-virgin olive oil

2

tablespoons

butter

unsalted

2

cloves

garlic

minced

3

large

zucchini

cut into rounds

½

teaspoon

Italian seasonings

Kosher salt and freshly ground black pepper to taste

Chopped Fresh parsley for garnish
Instructions
In a large skillet, add olive oil and butter over medium heat.

Add garlic and cook until fragrant, 30 seconds.

Add zucchini, Italian seasonings, salt, pepper and a pinch of red pepper flakes. Cook until zucchini is tender for about 7 minutes.

Garnish with parsley.

Serve warm. Enjoy!
Tips
I like to use unsalted butter as we season with salt. If you only have salted butter, make sure to adjust the added salt.
Garlic burns quickly, so keep a close eye when sautéing.
There's no need to peel the zucchini before cooking. 
Zucchini is done once tender and golden!
To store: I don't recommend storing this zucchini dish for more than a few days as it'll get soggy over time.
To reheat: Gently reheat on the stove to try to prevent the zucchini from getting soggy.
Nutrition Information
Serving:
1
/4
Calories:
98
kcal
(5%)
Carbohydrates:
3
g
(1%)
Protein:
1
g
(2%)
Fat:
9
g
(14%)
Saturated Fat:
4
g
(25%)
Polyunsaturated Fat:
2
g
Monounsaturated Fat:
3
g
Cholesterol:
15
mg
(5%)
Sodium:
71
mg
(3%)
Potassium:
251
mg
(7%)
Fiber:
1
g
(4%)
Sugar:
1
g
(1%)
Nutrition information is calculated using an ingredient database and should be considered an estimate.