Low Carb Dinner Recipes for you and your family to get back on track and enjoy! These recipes are gluten-free and paleo-friendly, too.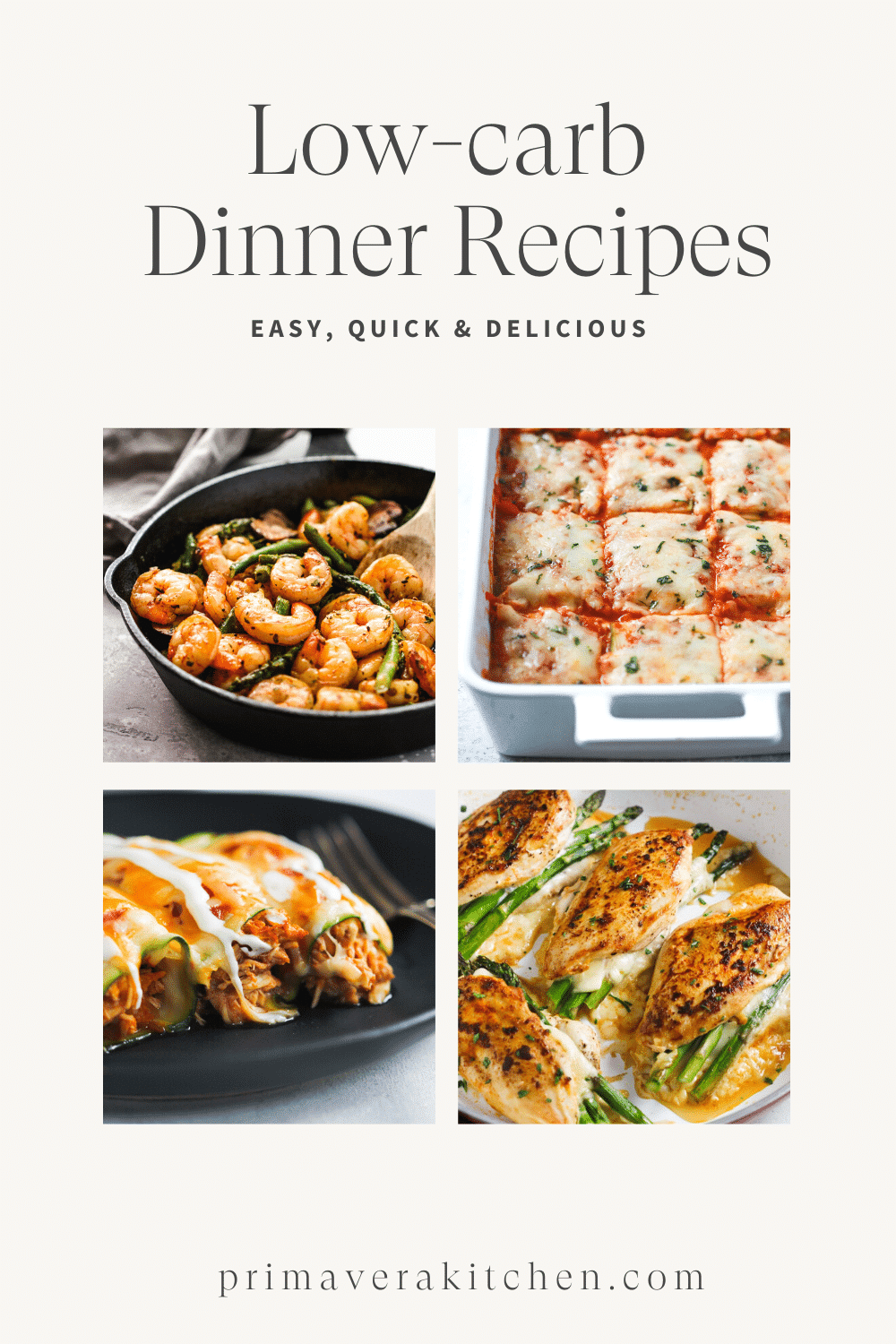 Trying to reduce the number of carbs in your diet but don't know how? Well, I've rounded up the most popular low-carb dinner recipes from my blog for you.
Here you'll find healthy dinner ideas for weeknight that will help you to eat healthy and make you feel very satisfied. All these recipes are loaded with fresh veggies, lean protein, and free from sugar and unhealthy ingredients. Delicious recipes for the entire family!
check out all the Low carb Dinner Recipes
---
Mm… This is one of my favourite Low-carb Dinner Recipes! It's packed with flavour from the melted cheese, sun-dried tomatoes, and fresh spinach. On top of that, the chicken is so juicy and tender!
Do you love enchiladas but hate all the carbs? Not a problem! This recipe is made with "zucchini tortillas" and is loaded with enchilada sauce, chicken, and cheese. It's definitely much healthier than the traditional recipe.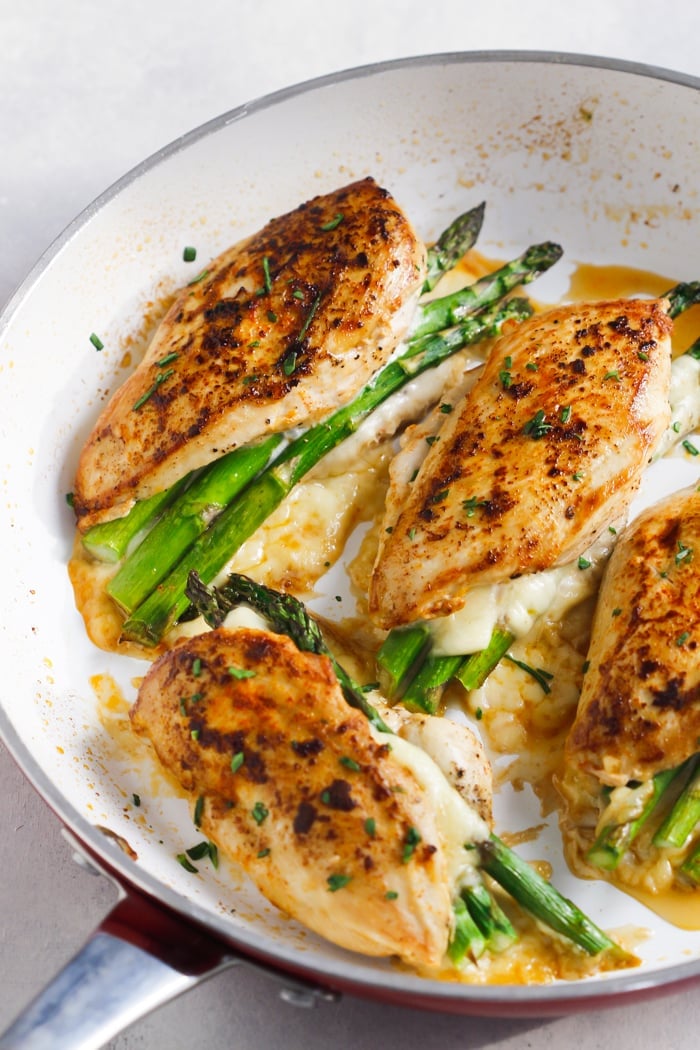 What is better than a delicious and healthy low carb recipe? It's a ONE-PAN, delicious, and healthy low carb recipe! 😉 This is the perfect recipe for a busy night.
This recipe can be made in less than 15 minutes, and I'm not kidding! It's super flavourful because of the sun-dried tomato pesto. Amazing!
Subscribe for new recipes & a free e-cookbook
This screams comfort food without all the bad white carbs. And, the bolognese sauce tastes out of this world!!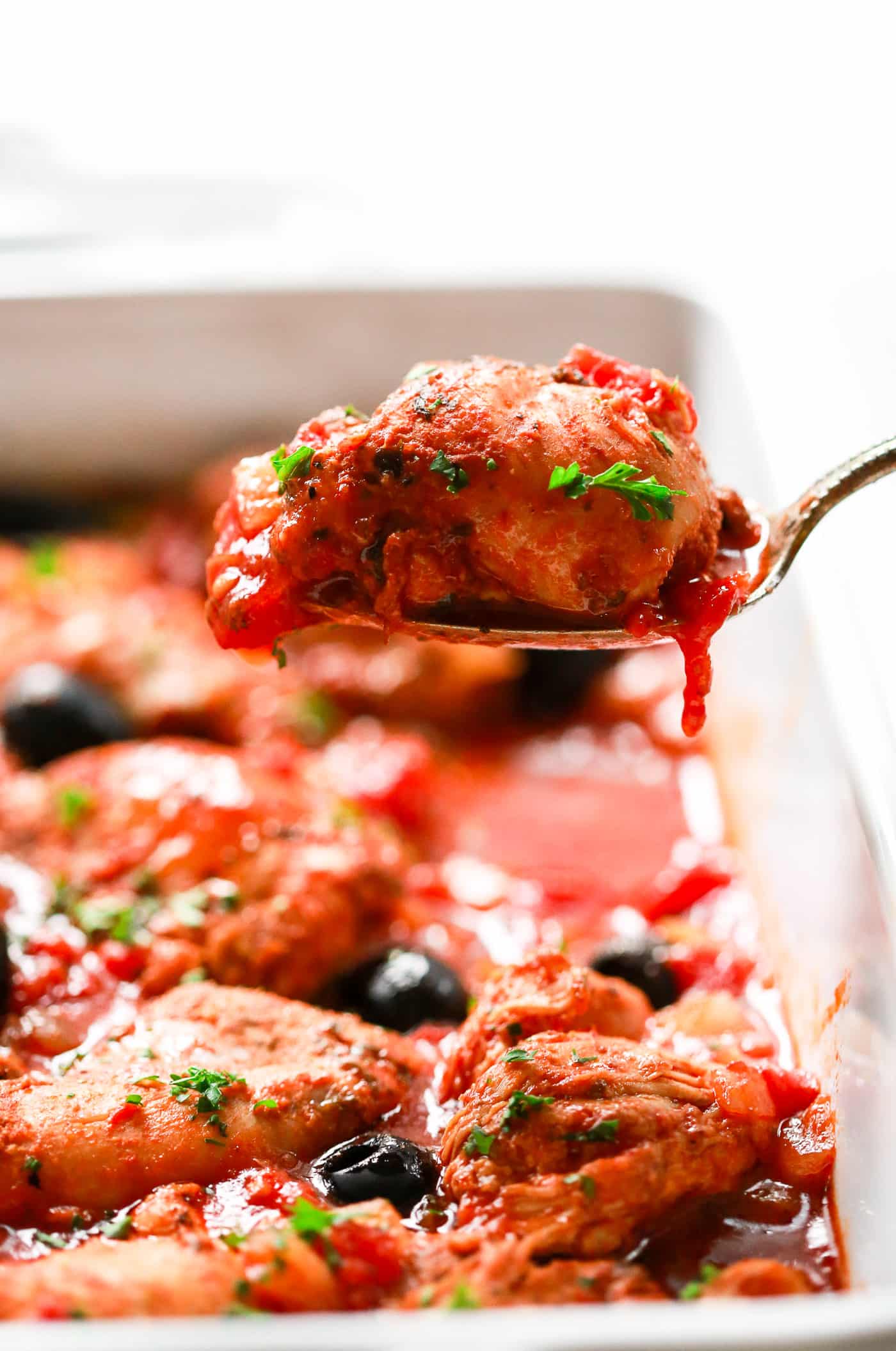 Who doesn't love a good Instant Pot recipe, right? Especially when it's loaded with flavour and ready in less than 20 minutes with almost no work.
7. 5-Ingredient Chicken Zucchini Boats
Casserole recipes are so welcome during the winter, don't you think? This one is so rich in flavour and super easy to make with only 5 ingredients!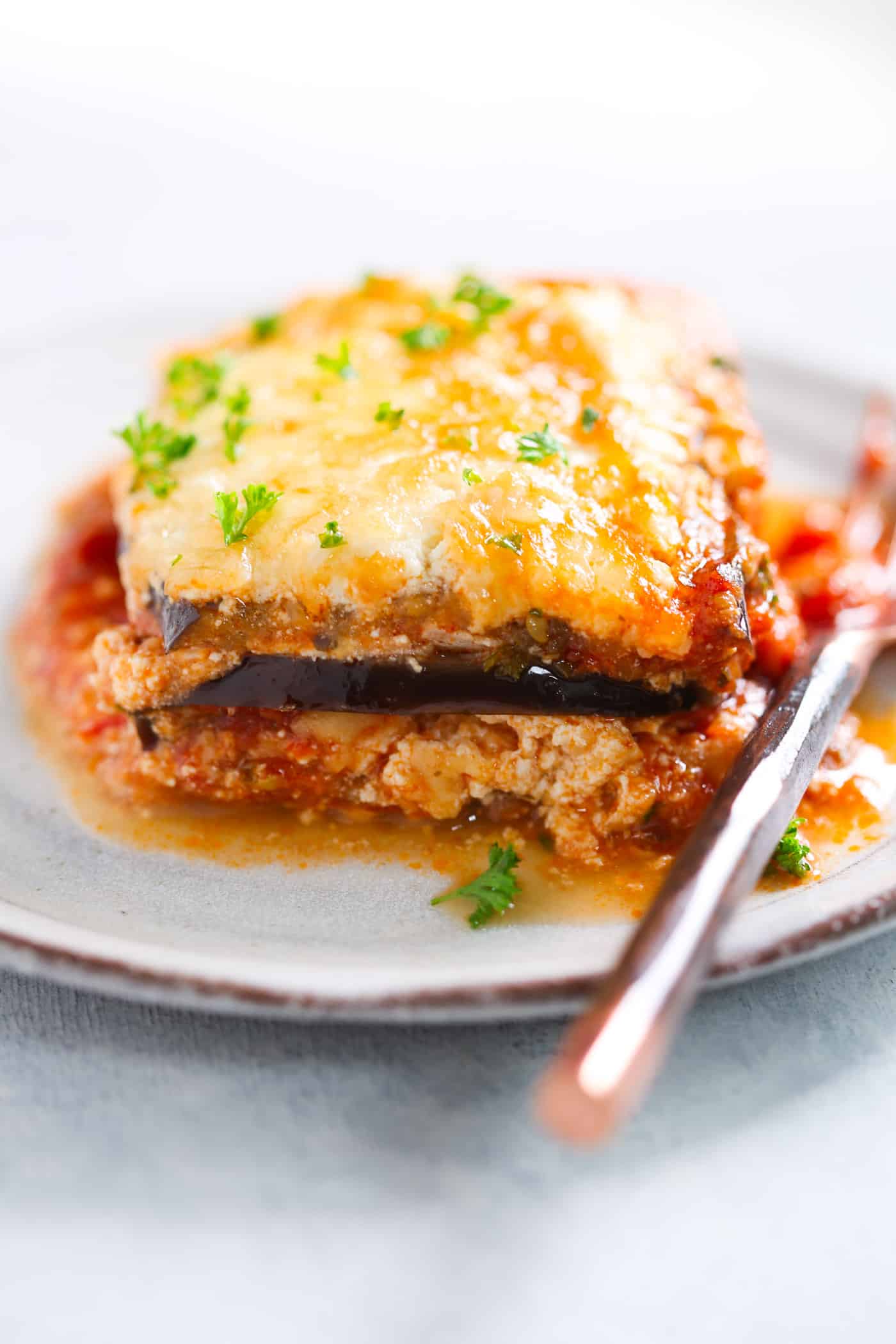 Who said making a good lasagna has to be loaded with bad carbs? No way! This one proves that veggie noodles are as good as the regular noodles. Yummy!! This is become one of your favorite low carb dinner recipes and I'm sure your family will ask for more and more.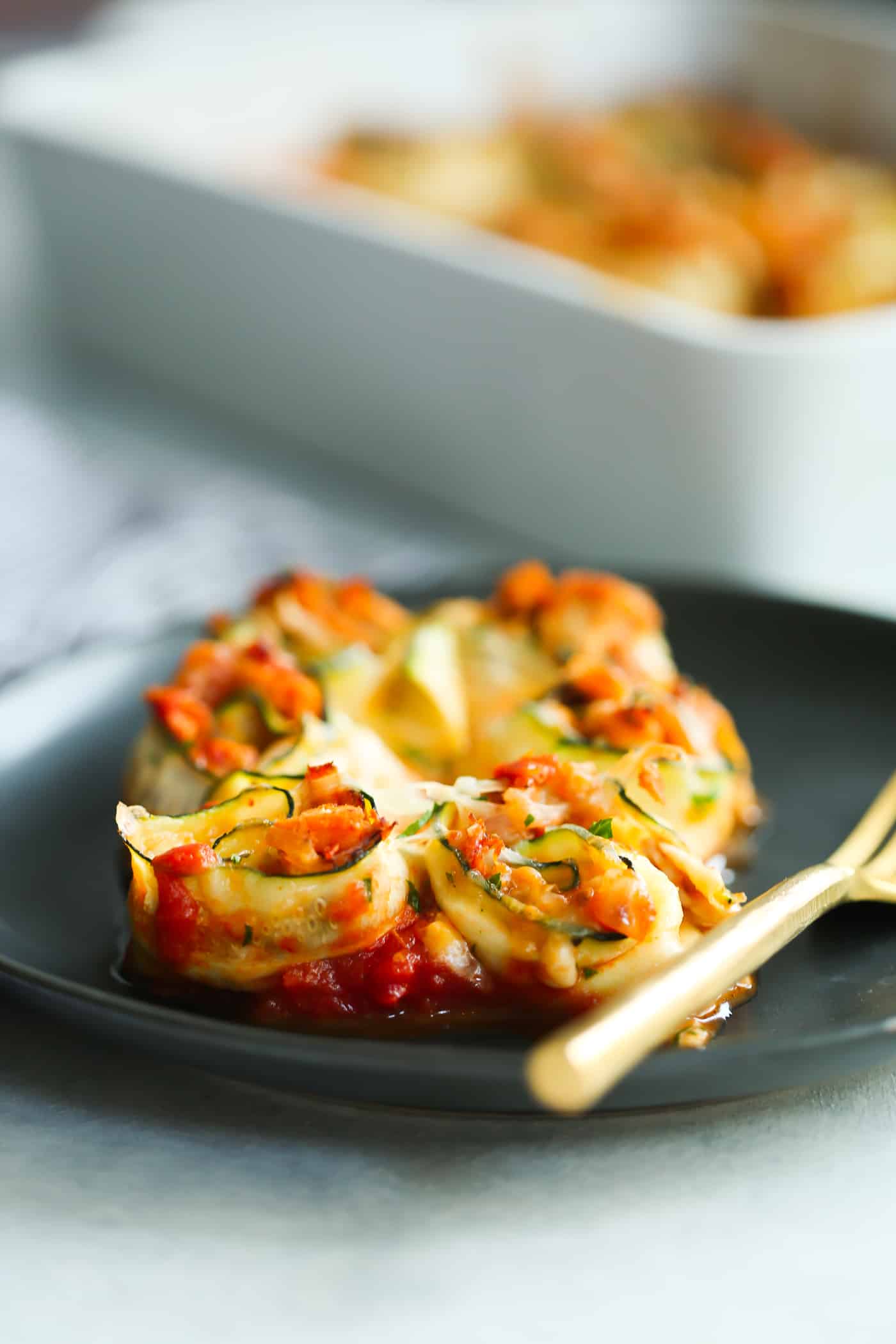 I guarantee that your entire family will enjoy this recipe. It needs only 4 ingredients: chicken breasts, tomato sauce, zucchini, and cheese!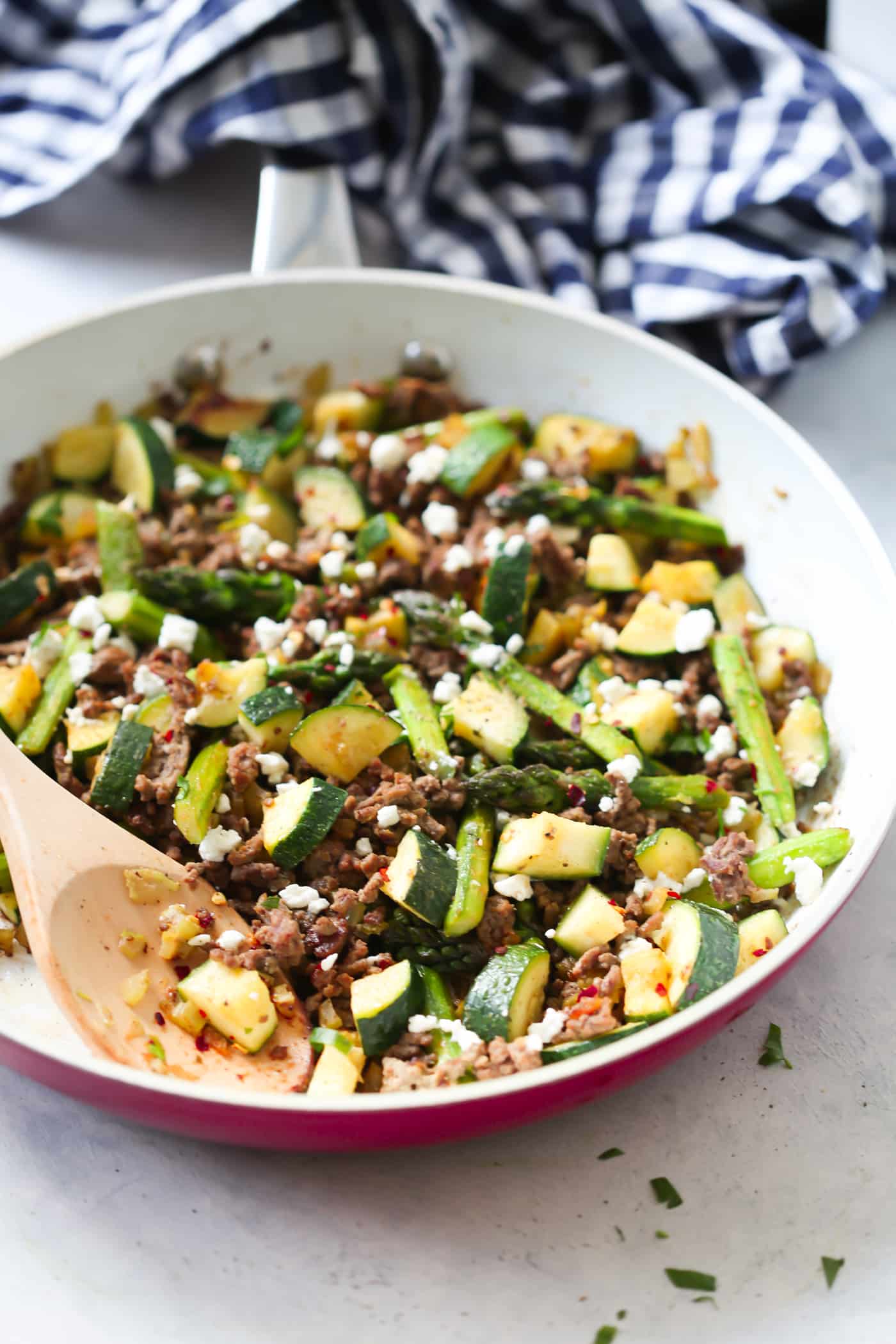 Just 3 words: DELICIOUS, EASY, QUICK!
This recipe is such a big deal that I don't even think I should call it a "salad." This is totally a complete and delicious meal. Perfect for lunch!
Making low carb dinner recipes can be pretty easy just like this delicious salad. I always make this recipe when I have salmon leftovers. It's perfect for a quick lunch, and you'll feel very satisfied after eating it. Also, the dressing is very light, made with extra virgin olive oil, lemon juice, salt, and pepper. Delicious!!
Low carb meatballs? Yes, pleaseeeeee! They are made with almond flour, and I promise they taste amazing!
You need this in your life! Please, try it!! Awesome flavour and gluten-free, too.
Give a healthy spin to your traditional shepherd's pie recipe by making it with mashed cauliflower.
Cheesy casserole made with zucchini strips instead of traditional lasagna noodles! This vegetarian casserole is perfect for meatless Monday and each serving contains less than 11 grams of carbs.
Simple, easy and practical! These delicious skewers are made with just 4 simple ingredients in 15 minutes.
This recipe is the epitome of healthy comfort food and can be enjoyed year-round. It's made with ground beef or ground turkey. t's wholesome, juicy, packed with delicious flavors and family friendly.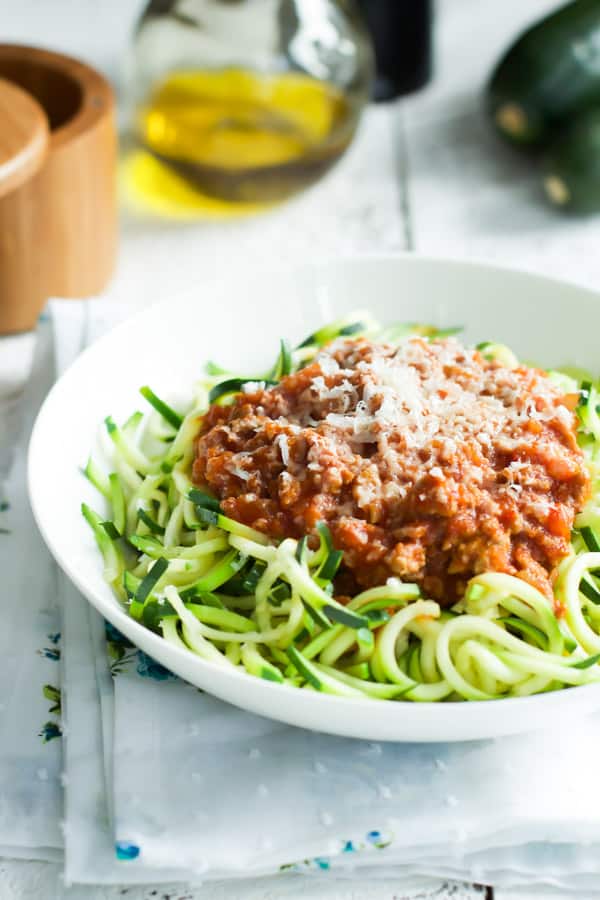 Spiralized zucchini noodles are the tastiest wheat pasta replacement. Pair them with a meaty tomato sauce for the easiest, healthy, low carb meal! Don't forget to add some fresh shredded parmesan cheese on top.
Creamy casserole made with delicious cruciferous veggies, chicken, cheesy goodness (lots of cream cheese) and spices. I guarantee it will quickly become a family favorite in your home! And you can serve it with cauliflower rice on the side.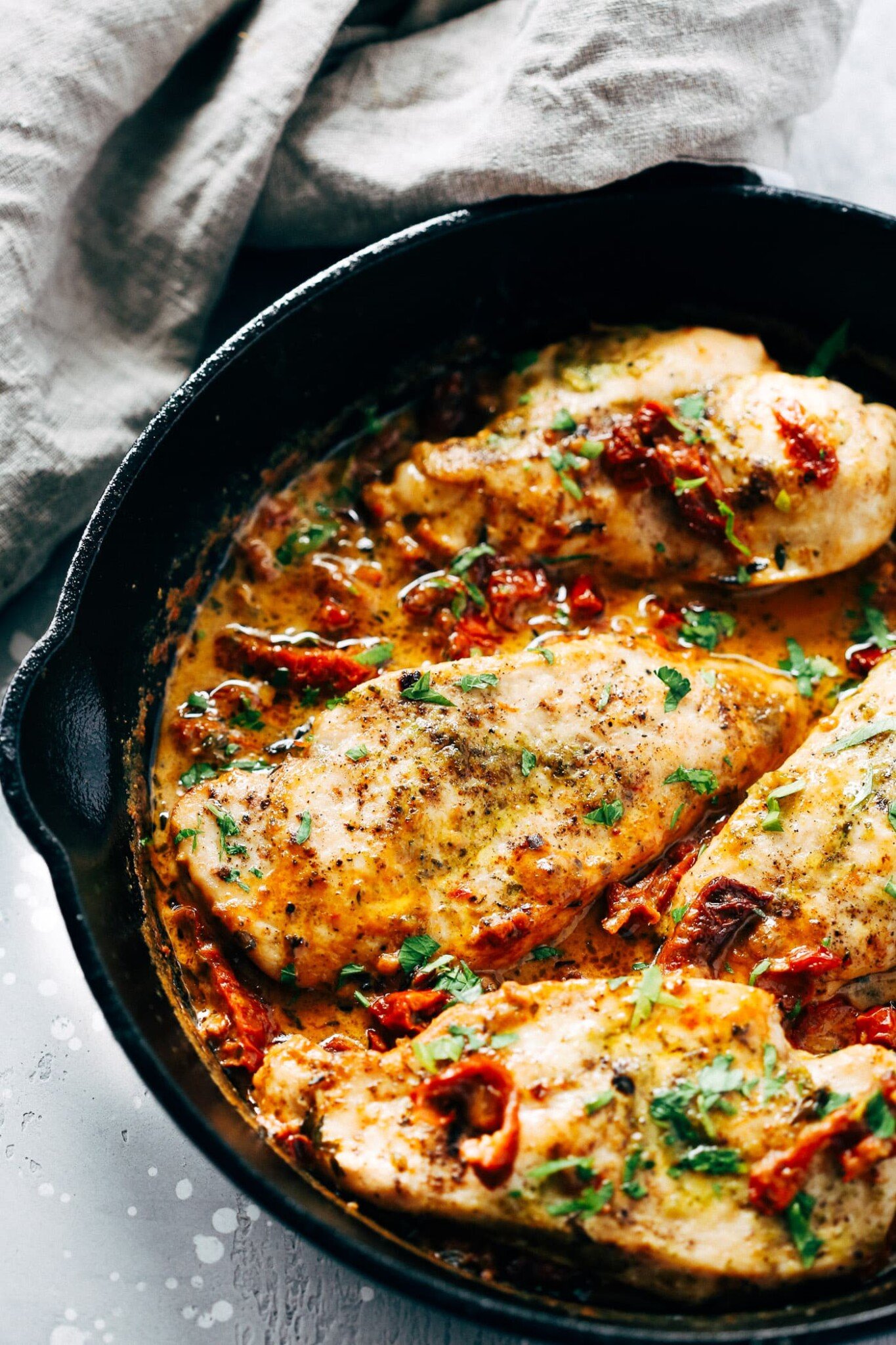 You can't go wrong with this chicken drenched in luxurious sauce made with broth, heavy cream, sun dried tomatoes, parmesan cheese and seasonings. It's so yummy and full of amazing flavor. You can use the leftovers to make delicious chicken salads or lettuce wraps.
This is another favorite recipe of mine and I'm sure, it will become one of your favorite low-carb dinner recipes too. Get dinner on the table in half an hour with this colorful skillet meal. It's made with just a handful of ingredients in one pan, so you won't have lots of dishes to deal with later.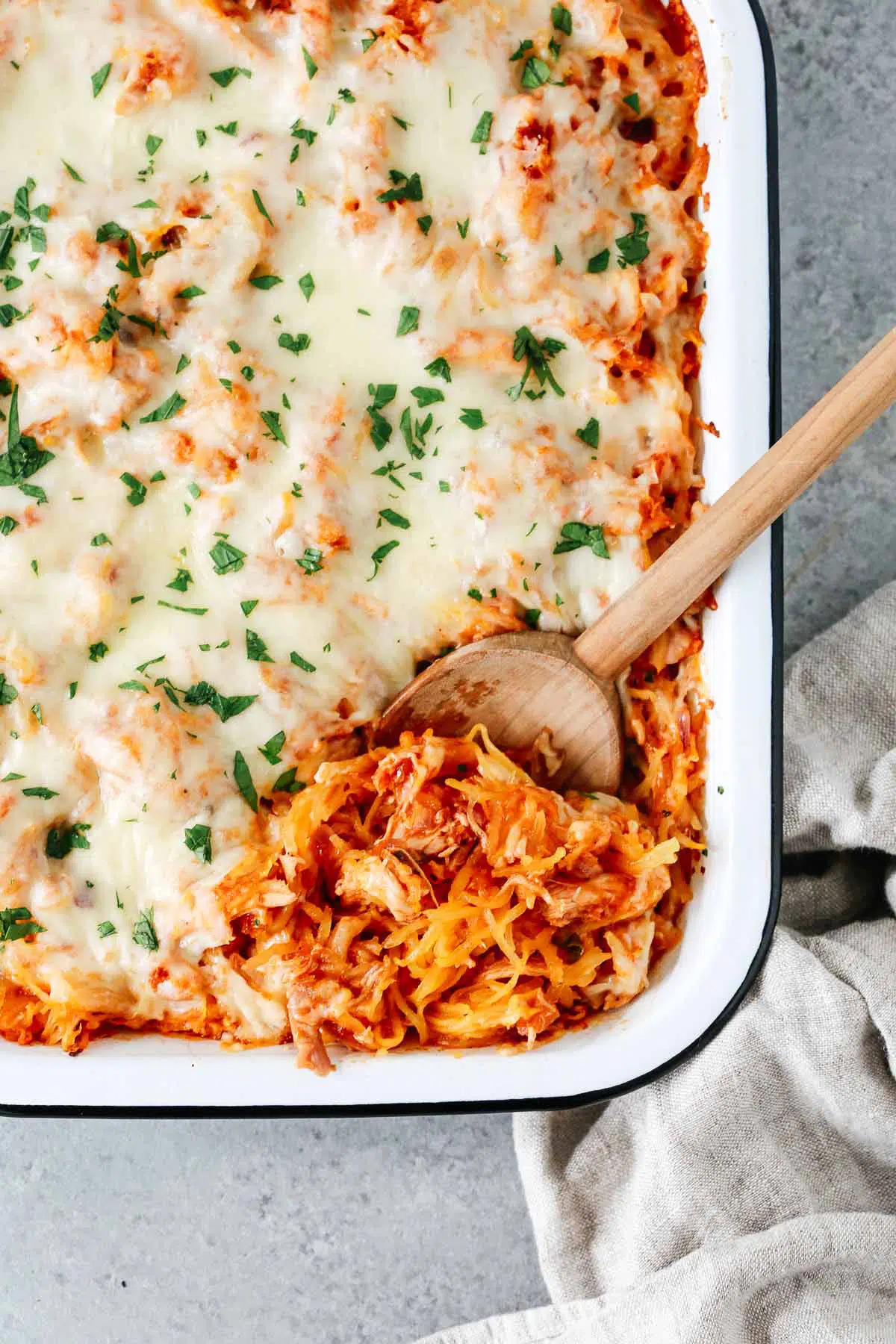 A cozy, low carb casserole made with spaghetti squash instead of regular wheat noodles. Add shredded chicken for a boost of hearty protein!
Tex-Mex with all of the flavor but far fewer carbs! Add all of your favorite toppings like chopped cilantro, avocado, sour cream or fresh pico de gallo salsa.
Chicken, bell peppers, onion and lots of delicious seasonings. I normally use red and orange bell peppers because they tend to be the sweetest, but you can use any color you prefer!
This is such a quick and easy low carb dinner recipe that will be perfect for those busy days we all have.
I love everything with eggs. So, this egg salad is divine and I love to serve it on top of green salad. You can also add a little bit of chopped bacon and basil on top. So yummy!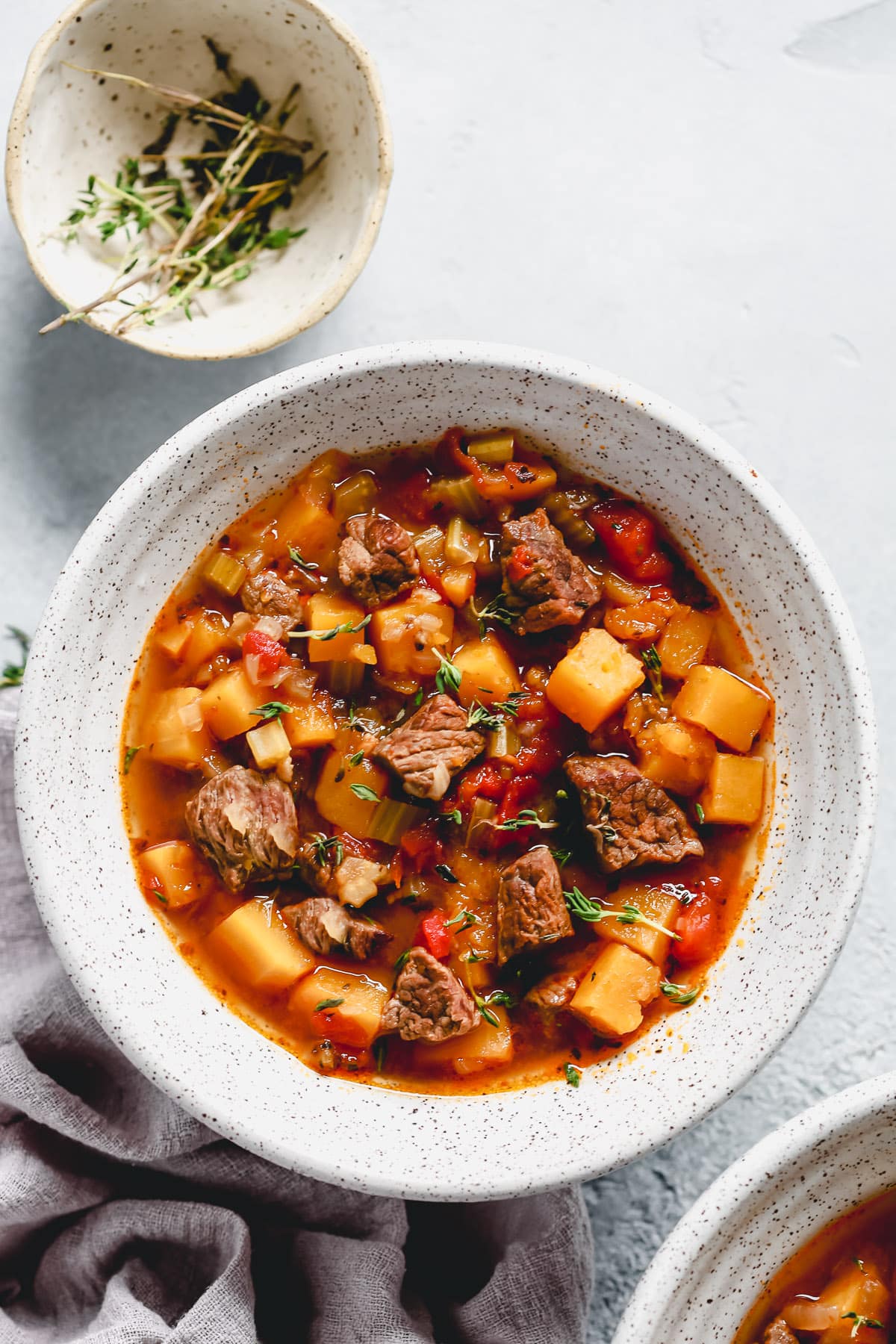 Perfect soup for those cold winter evening. Easy and super quick to make!
Frequently Asked Questions
What foods are very low in carbs?
There are lots of different things you can eat that are low in carbohydrate content. Meat is free from carbs! So chicken, steak, pork and fish are all fair game. Shrimp is also another fabulous option, though it does contain .2 grams of carbs per 100 grams, according to the USDA. Lots of veggies are low in net carbs: broccoli, cauliflower, brussels sprouts, green beans, bell peppers, turnips, zucchini and so much more! Though be sure to avoid potatoes and other starchy vegetables if you're trying to eat a low carb diet.
What does "net carbs" mean?
To calculate net carbs, simply subtract grams of fiber from the carbohydrates in a food. This means that high fiber foods are often a good option when following a low carb or keto diet. Fiber is actually a type of carbohydrate that the human body is unable to digest.
What can I eat instead of bread and pasta?
Believe if or not, there are some low-carb bread options out there! It all depends on the flour used in baking. These Easy Low-Carb Dinner Rolls are made with almond flour and they're completely delicious. When it comes to pasta, I like to use veggie noodles! Spiralized zucchini or butternut squash are so tasty. Make your own veggie pasta or purchase it at the grocery store, I normally find it in the frozen foods section. Spaghetti squash strands are also an excellent pasta replacement.
What foods should I avoid on a low-carb diet?
Try to avoid traditional bread and pasta and use the replacements mentioned above. Minimize your intake of grains, starchy vegetables, sugary food, sugary drinks, etc.
Low Carb Dinner Recipes
Looking for some low carb dinner recipes with this guide! You'll learn how to make delicious dinner for you and your family just like this Garlic Shrimp Asparagus Skillet.
Ingredients
1

pound

uncooked extra-large shrimp

peeled

1/4

teaspoon

red pepper flakes

1

teaspoon

onion powder

3

tablespoons

grass-fed ghee butter

or extra virgin olive oil

3

cloves

garlic

minced

2

cups

mushrooms

sliced

1

bunch of asparagus

ends trimmed and cut in half

1

tablespoon

fresh parsley

chopped (optional)
Instructions
In a bowl, add the shrimp, salt, pepper, red pepper flakes, and onion powder. Mix everything well.

In a cast iron skillet, add 2 tablespoons of olive oil or grass-fed ghee butter over medium heat.

Add the garlic, and sauté for 30 seconds. Add the shrimp, and sauté for about 4 minutes or until the shrimp are cooked through. Be careful not to overcook them because they will have a rubbery texture. Set aside.

In the same skillet, add 1 tablespoon of olive oil and the mushrooms. Sauté for 5 minutes. Then, add the asparagus, and cook until it's tender. Stir occasionally.

Return the shrimp to the skillet, and mix everything well to combine.

Garnish with fresh parsley. Enjoy!
Tips
Do you love one-pan meals with shrimp and lots of veggies? Great because I have lots of other recipes just like this one for you. Try this Chimichurri Shrimp Broccoli Skillet, and you'll be amazed by the flavour. I also love this Shrimp, Bell Pepper and Onions Skillet and the Sweet Potato, Kale and Shrimp Skillet because they are all done in 20 minutes or so, super-delicious, and loaded with veggies. You'll love them. I promise!!
Try to use the largest skillet you have, as it'll help prevent the ingredients from overcrowding. 
The ends of asparagus are tough, so make sure to remove them!
Buy shrimp that is pre-peeled to save yourself the effort from doing it. 
To store: Leftovers can be stored in the fridge for up to 3 days.
To reheat: You can microwave leftovers or reheat on the stovetop.
Nutrition Information
Serving:
1
/4
Calories:
187
kcal
(9%)
Carbohydrates:
8
g
(3%)
Protein:
20
g
(40%)
Fat:
9
g
(14%)
Saturated Fat:
6
g
(38%)
Cholesterol:
173
mg
(58%)
Sodium:
233
mg
(10%)
Fiber:
3
g
(13%)
Sugar:
3
g
(3%)
Nutrition information is calculated using an ingredient database and should be considered an estimate.
If you like these Low Carb Dinner Recipes, please share them with your friends and family. Do you want to taste more? Subscribe to my newsletter, and follow Primavera Kitchen on Twitter, Pinterest, Instagram, and Facebook for all delicious recipe updates. As always, I really appreciate you stopping by.